Nutty, al dente, and evenly cooked brown rice is now easier than ever with an Instant Pot or another electric pressure cooker. This hands-free method of cooking rice will give you a quick side of steaming brown rice in under 30 minutes with reliable results every time.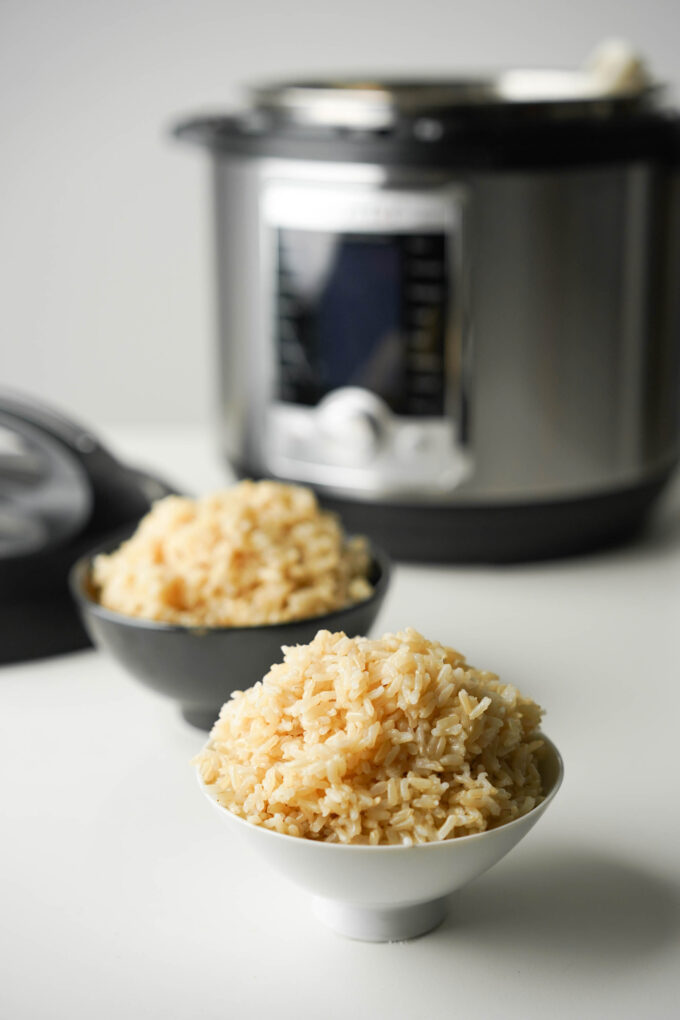 Brown rice in Instant Pot or pressure cookers
I've tested and made brown rice (and rice in general) in many different ways: rice cookers, stovetop, microwaves, and instant pots. These days, Instant Pots are super popular electric pressure cookers that can cook many different types of recipes.
Brown rice is one of my favorite things to cook in an Instant Pot because it's almost foolproof. Cooking brown rice in an instant is definitely faster than using a rice cooker or more hands-free than using a microwave. Using an Instant Pot for brown rice is also much less finicky than cooking jasmine rice in an Instant Pot or cooking white rice in an Instant Pot because the ratios for water and brown rice are similar across the board.
Since brown rice still has the outer layer of bran intact (compared to white rice that has the hull and bran removed), it takes a bit longer for it to cook. With the use of an Instant Pot, cooking brown rice takes about 20 minutes of cooking time plus the pressure release time (about 10 minutes). This is significantly quicker than using a rice cooker, which can take upwards of 45 minutes to cook.
Types of brown rice
Similar to white rice, there are various types of brown rice you can buy. For example, long-grain brown rice (like basmati rice) will give you more separated grains of rice after cooking and short-grain brown rice has a stickier and chewier consistency when it's fully cooked.
For this recipe, I tested Mogami brand long grain brown rice and Botan brand Calrose short grain brown rice. I was pleasantly surprised to find that both of these varieties had excellent results with a 1:1 ratio of water to brown rice.
Water to brown rice ratios to use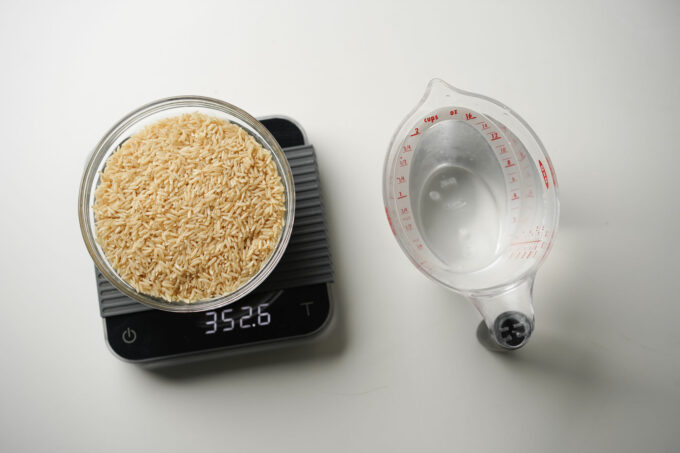 Here is a breakdown of the measurements I used for each variety:
Please note that I only tested 1 and 2 cup recipes for both of these varieties. If you want to make more brown rice at a time, I would suggest starting with the same 1:1 ratio and adding or removing water in the future depending on the final texture of the rice.
How long does it take to cook?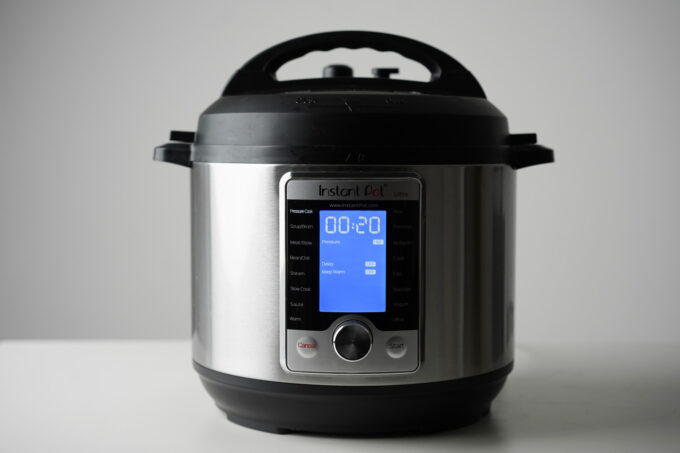 For both short and long grain brown rice, my brown rice was cooked in 20 minutes plus additional time to release the pressure. It's a remarkably quick process to make brown rice in about 30 minutes.
What pressure setting to use & pressure release
You can use an Instant Pot model or any other brand electric pressure cooker if you follow the pressure settings here and pressure release time for similar and perfect results. It's important to note that I did NOT use the "rice" setting, but "Manual Pressure Cooking" setting on high for 20 minutes with the natural release on. I also turned off the keep warm setting. The level of pressure and timing works well for both short grain and long grain rice that I tested.
Troubleshooting the recipe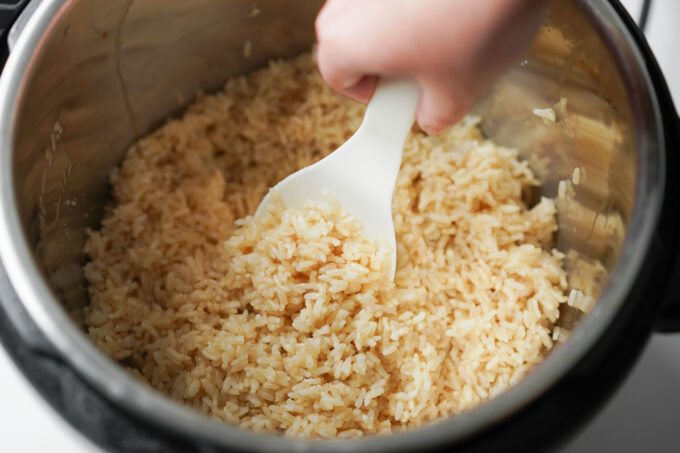 The best way to measure your rice is using a scale. This will give you more accurate measurements for the brown rice versus using the rice scoop that comes with the Instant Pot or a standard measuring cup. Not all measuring cups or scoops are similar.
If your rice is too mushy or watery, reduce the water by 1/4 a cup or reduce the cooking time by 1 minute and retest it.
If your rice is too hard and dry, increase the water by ¼ cup next time before cooking, and possibly increasing the cooking time too.
Serving and storage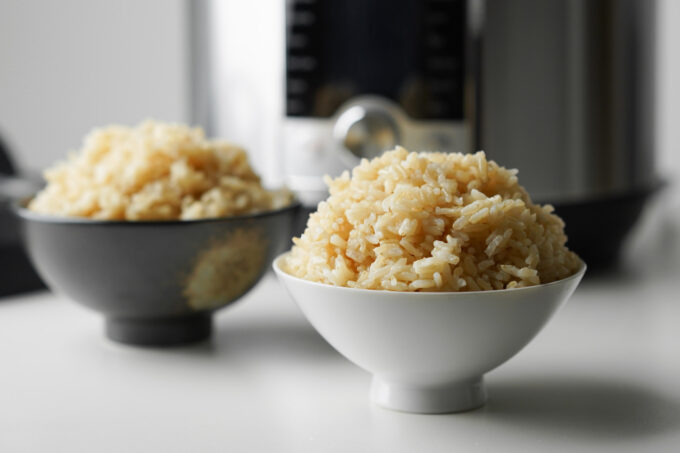 I like to serve brown rice with various savory and flavorful dishes like Vietnamese pork chop sườn nướng, Filipino pork bbq skewers, or cá kho tộ (Vietnamese caramelized & braised catfish).
If you have extra brown rice, you can keep it in an airtight container in the fridge for up to 4-5 days. To reheat, place it in a bowl and add a few drops of water, and microwave it in 30-second intervals until it's nice and hot.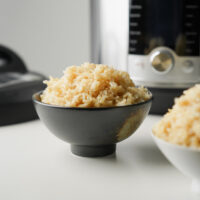 Perfect Instant Pot Brown Rice Recipe (Easy & Fluffy!)
Fluffy and al dente brown rice grains are super easy and quick when you use your Instant Pot. You'll learn the basic ratio and recipe to make brown rice any day of the week.
Ingredients
Short-grain brown rice
tap water for rinsing

200

g

(

1

c

)

short-grain brown rice

240

g

(

1

c

)

filtered water
Long-grain brown rice
tap water for rinsing

178

g

(

1

c

)

long-grain brown rice

240

g

(

1

c

)

filtered water
Equipment Used
scale or liquid measuring cups and dry measuring cups

Strainer

rice paddle
Instructions
Place the pot inside the Instant Pot, close the lid and rotate to lock.
Notes
Note: nutritional value is for one cup of short-grain brown rice
Nutrition Facts (per serving)
Calories:
362
kcal
|
Carbohydrates:
76.17
g
|
Protein:
7.5
g
|
Fat:
2.68
g
|
Saturated Fat:
0.54
g
|
Sodium:
10.45
mg
|
Potassium:
268
mg
|
Fiber:
3.4
g
|
Calcium:
36.87
mg
|
Iron:
1.8
mg
Nutrition Facts
Perfect Instant Pot Brown Rice Recipe (Easy & Fluffy!)
Amount per Serving
% Daily Value*
* Percent Daily Values are based on a 2000 calorie diet.
Like this recipe? Subscribe to my newsletter!