Nước Màu, or caramel sauce is added for color in a lot of Vietnamese recipes, and it's easy to make! All you need is sugar and water.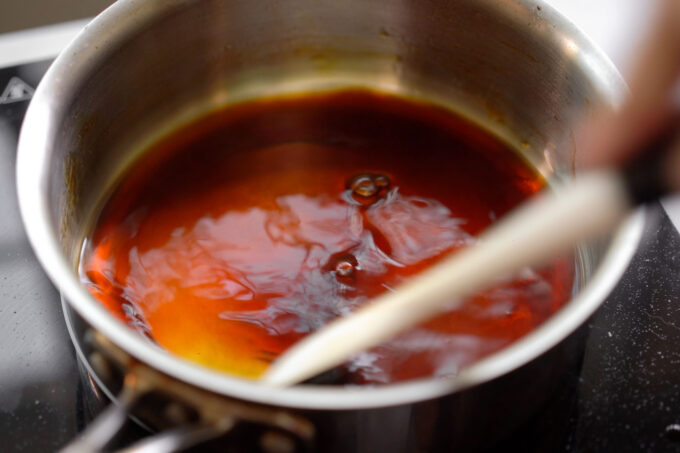 This recipe makes enough for my thịt kho recipe, but you can easily triple or quadruple this recipe to store in the fridge. It's currently tailored to be more liquidy for Thịt Kho.
If you want the dish you're making to be more concentrated and less liquid, simply halve the amount of water in this recipe.
Ingredients
4 tablespoons sugar (enough for my thit kho recipe)
1/2 cup of warm water
silicone spatula (I like that it's non stick, but you can use anything, really. Just don't scratch up your pan.)
How to make the caramel sauce
1. Add sugar to the pan on 50% heat. 50% is low enough to control the process, but we will jump to the caramel stage of sugar quickly, so don't take your eyes off the pan.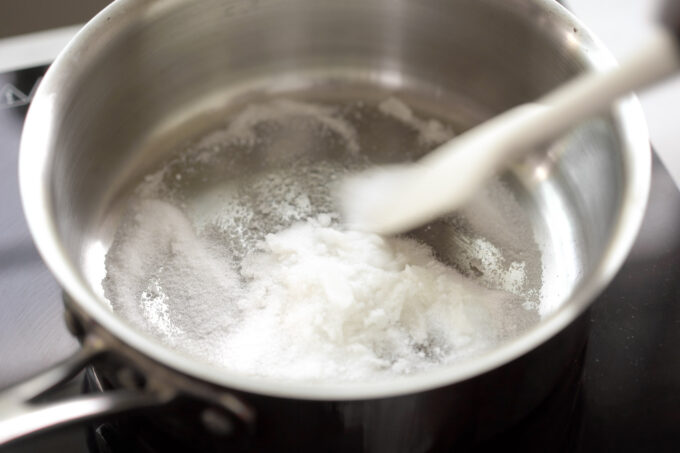 2. Constantly stir the sugar so it heats evenly. It will begin to clump.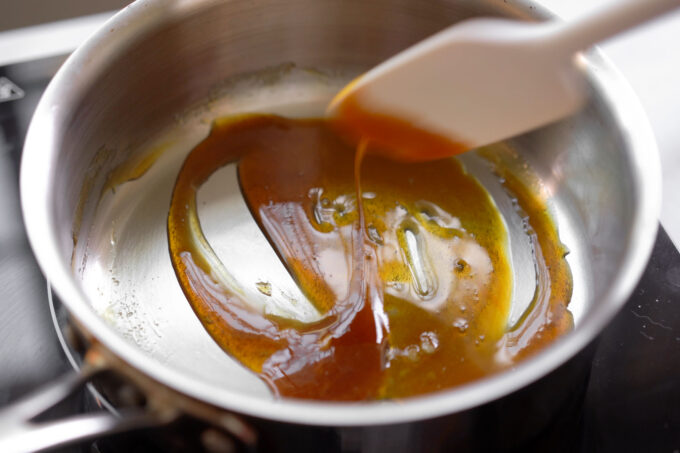 3. Not dark enough yet! It will start to take the color of caramel, but we want it a bit darker. For Thịt Heo Kho (Vietnamese Braised Pork with Egg), we are adding this to a pot of about 1-2 quarts of water so the color will be diluted.
If you are using an electric stove like me, you can lift the pan off the heat to slow down the cooking process and continue to stir until it reaches the desired darkness. Otherwise, just turn your heat down towards the end.
4. When it gets darker than caramel and just starts to smoke, you know it's close to being done. Add the warm water to the sugar to halt the cooking process and stir until the sugar dissolves.
5. If you're cooking a recipe you can add the caramel sauce to it right away, but if you want to make extra and reserve in the fridge, let it cool before transferring.
How the caramel sauce looks after fully dissolved and cooled down.
What is caramel cooking sauce?
Caramel cooking sauce is a rich and thick sauce that you can add to dishes, like thịt kho, as base and adds a nice brown coloring to stewed dishes.
Why is my caramel sauce bitter?
After adding your sugar over a heated pan, carefully watch over and occasionally stir your sauce. When you overcook the sugar, it can burn and give you a bitter caramel sauce.
What should caramel look like?
You should cook the sugar down to a darker caramel color. When it starts to smoke a bit, you can add the warm water and stir. It should be a dark copper color.
[adthrive-in-post-video-player video-id="zLPmrQFc" upload-date="2020-06-01T00:00:00.000Z" name="Vietnamese Caramel Sauce Recipe (Nước Màu)" description="How to cook down sugar in a pan to make a darker caramel sauce / color to darken and sweeten your recipes. This nuoc mau is easy to scale up and save for future uses also." player-type="default" override-embed="default"]
Vietnamese Caramel Sauce (Nước Màu)
This easy and fast caramel sauce is the perfect base to add to Thit Heo Kho (Vietnamese Braised Prok with Egg stew).
Ingredients
4

tbsp

sugar

1/2

c

filtered warm water

(or half for a thicker sauce)
Instructions
This recipe is tailored to cook one batch of my Thịt Kho Recipe, and results in a more watery sauce. If you want a thicker sauce, halve the amount of water. If you want to store a larger amount of this in the fridge also, halve the water and you can easily triple or quadruple this recipe.

On medium heat, add sugar to your pan. Carefully watch over your pan and stir the sugar evenly to prevent your sugar from burning. The sugar will start to melt and continue cooking as it reaches a caramel color. This process can take up to 8-10 minutes depending on how high hot your stove is. The hotter it is, the faster you have to stir to keep it even.

When the sugar becomes very dark brown and begins to smoke, you know it's almost done. Keep stirring constantly, until it gets darker maybe 20-40 seconds. Then shut off the heat or remove off the heat immediately and add the warm water to stop the cooking process. Stir until the sugar dissolves.

Add this sauce to your Thịt Kho or other recipe or let it fully cool, pour into a jar and store in the fridge.
Nutrition Facts (per serving)
Calories:
186
kcal
|
Carbohydrates:
48
g
|
Sodium:
6
mg
|
Sugar:
48
g
Nutrition Facts
Vietnamese Caramel Sauce (Nước Màu)
Amount per Serving
% Daily Value*
* Percent Daily Values are based on a 2000 calorie diet.
Like this recipe? Subscribe to my newsletter!