Rich in texture and eggy flavor, this umami-bomb of a condiment is more than just your everyday mayonnaise–Kewpie has a fairly large following around the world and it's no surprise because it is delicious! Learn more about this Japanese favorite, how to use it, and even how to make a homemade version at home if you can't find it.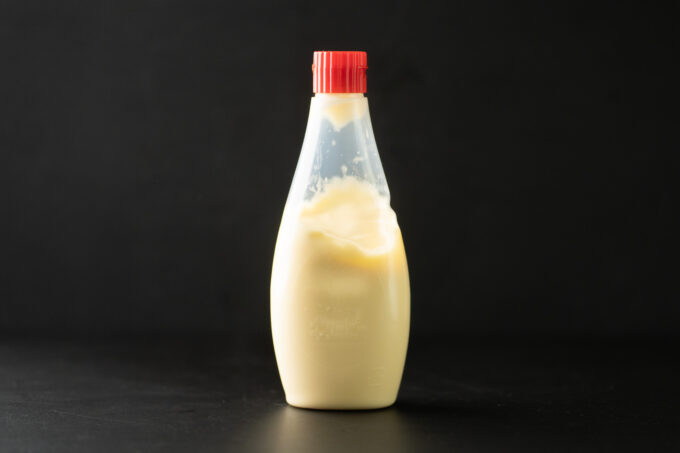 Kewpie mayo history
Kewpie is a Japanese company that specializes in a variety of food products and its most popular item is Kewpie mayonnaise (pronounced like "kyoo-pee" but some people understandably are spelling it "qp"). Kewpie Corp. has been selling its famous Japanese mayo since 1918. While its namesake is actually a doll from a 1909 cartoon strip by Rose O'Neill, today you can find Japanese mayo synonymous with the name Kewpie.
When the founder of Kewpie, Toichiro Nakashima, was interning in the UK and US for the Japan Department of Agriculture and Commerce during the 1910s, he was first introduced to mayonnaise which soon gave him the idea to make his own variety. He named the condiment after the baby-faced character that soon showed up as dolls and mascots for other products that represented a cherry and merry personality.
What does Kewpie mayo taste like?
What makes this mayonnaise Japanese or rather different from American or western versions of mayonnaise is its flavor. Japanese Kewpie mayo has a rich eggy flavor that is slightly sweeter and savory at the same time.
Japanese mayo vs. regular mayo (American mayo)
Japanese Kewpie mayonnaise differs from traditional western mayonnaise by only using egg yolks (as opposed to the whole egg) to make it creamier and also the addition of monosodium glutamate (or MSG) that gives it its umami flavor. American mayo typically tastes tangier than Japanese mayo due to more vinegar.
I have come across other brands of Japanese mayonnaise that are also egg yolk-based like Shirakiku mayonnaise and Sei-agri Egg Japanese mayonnaise, however, Kewpie is more widely available. Kenko mayo is another popular brand of Japanese mayonnaise but differs from Kewpie because it doesn't include MSG.
Japanese Kewpie vs. American Kewpie
If you've been shopping in the international aisle of your local grocery store and find Kewpie, you might notice that the packaging might be a little different. In 2017, Kewpie came out with a new American version of its beloved mayonnaise that excluded MSG (probably because MSG is still a taboo product even though we all know it's the best).
There is an important distinction with Kewpie mayo in that they have a Japanese variety and an American variety. If Kewpie is packaged in a loose, plastic bag, it's the original Japanese version that is egg-yolk and MSG based. If the Kewpie bottle has a label directly on the bottle with a sandwich on the branding, then it's the American version.
Where Japanese Kewpie has an eggy and umami flavor, American Kewpie is also rich, but tangier in flavor due to the extra ingredients. In my opinion, Japanese Kewpie mayo is the best variety for any recipe because it's creamy and has that umami flavor that only MSG can give you.
Kewpie mayo ingredients
Now that we know the difference between Japanese and American Kewpie versions, here's more detail about what ingredienst are in each version:
Japanese Kewpie mayo ingredients: vegetable oil, egg yolk, vinegar, salt, monosodium glutamate, spice, and natural flavor.
American Kewpie mayo ingredients: soybean oil, egg yolks, water, distilled vinegar, salt, sugar, mustard flour, red wine vinegar, rice vinegar, yeast extract, and natural flavors.
Popular Japanese recipes that use Kewpie mayo
Here are some of the most popular ways to use Kewpie mayonnaise and some of our favorites:
Since Kewpie mayonnaise has a rich savory flavor, these recipes and foods have been made with that in mind. While substituting these recipes with other Japanese or egg-yolk-based mayonnaise brands may work, replacing Kewpie with American mayonnaise-like Hellman's or Best Foods will most likely not taste the same.
Where to buy Kewpie mayo
You can find Kewpie mayo at local markets like Mitsuwa Markets, Nijiya, Target, and even Costco (although they only sell the American version). If you don't have access to these stores nearby, you can also buy them online at Target online, Amazon, Albertsons, Bokksu Grocery, and Yummy Bazaar.
Can I use regular mayo instead of Kewpie mayo?
While you might think all mayo is the same, it is certainly not. Since Kewpie mayo is creamier and has MSG, it has a thicker and slightly sweeter flavor than traditional, western mayo. If you want something closer to the original you can also make our homemade version of Kewpie mayonnaise below.
Is Kewpie mayo healthier than regular mayo?
Kewpie mayonnaise is actually slightly fattier in content than regular mayonnaise (if you are comparing it with Hellman's mayonnaise) and has more cholesterol than traditional mayonnaise so make sure to eat this tasty condiment sparingly.
Kenko mayo vs Kewpie
Kenko mayo is also another type of Japanese mayonnaise popular in Japan. This brand also features different varieties of mayonnaise that range from whole eggs to egg yolks only, however it does not include MSG like Kewpie. Sometimes they are sold next to each other and they have similar packaging–both are in transparent bottles with plastic bag packaging and have icons that are doll-shaped.
Kewpie mayo substitute: homemade Kewpie recipe
If you don't have access to Kewpie mayo nearby, you can also make it home. This recipe uses egg yolks, MSG, rice vinegar, salt, mustard powder, and canola oil. We followed the blending ratio of ingredients that Kewpie states on their website of 70% canola oil to 30% for the rest of the ingredients used.
Kewpie Recipe (Japanese Mayonnaise)
Learn how to make your own rich and eggy flavored Japanese mayonnaise at home.
Ingredients
⅔

c

canola oil

2

large

egg yolks

1

tbsp

rice vinegar

1

tsp

kosher salt

½

tsp

MSG

½

tsp

Japanese mustard powder

½

tsp

dashi powder
Instructions
Turn on the food processor and blend until all the egg yolks and vinegar mixture is incorporated.

While the food processor is on, slowly drizzle the canola oil into the food processor. Do not dump the entire container of oil into the food processor or it will not emulsify. Continue to add the oil until it's gone.
Nutrition Facts (per serving)
Calories:
1917.39
kcal
|
Carbohydrates:
2.04
g
|
Protein:
7.61
g
|
Fat:
211.64
g
|
Saturated Fat:
19.03
g
|
Polyunsaturated Fat:
58.09
g
|
Monounsaturated Fat:
131.61
g
|
Trans Fat:
0.79
g
|
Cholesterol:
491.87
mg
|
Sodium:
3146.63
mg
|
Potassium:
63.35
mg
|
Fiber:
0.16
g
|
Sugar:
0.37
g
|
Vitamin A:
654.25
IU
|
Vitamin C:
0.09
mg
|
Calcium:
66.41
mg
|
Iron:
1.4
mg
Nutrition Facts
Kewpie Recipe (Japanese Mayonnaise)
Amount per Serving
% Daily Value*
* Percent Daily Values are based on a 2000 calorie diet.
Like this recipe? Subscribe to my newsletter!