If ultra-crispy pieces of tempura shrimp and veggies are on your radar, then this recipe is for you. This easy Japanese tempura batter recipe is super simple to follow and you'll have fresh and crunchy tempura fried vegetables, shrimp, and other proteins in no time.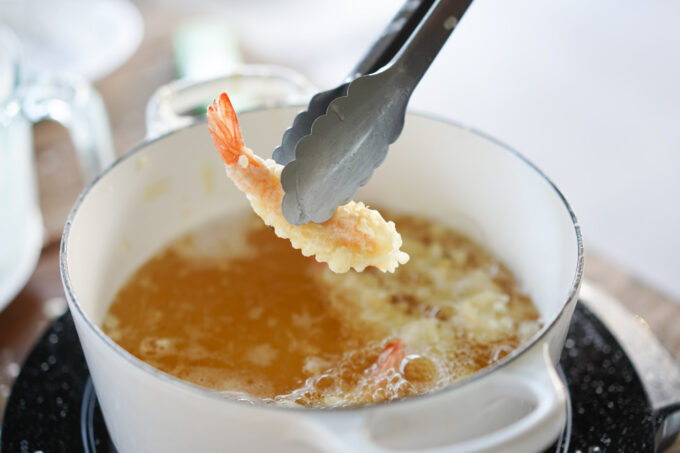 What is tempura batter?
Historically, tempura originated from Portugeuse missionaries in Japan around the 16th century. These missionaries introduced a dish called peixinhos da horta that they would eat during meatless "Ember days." This dish eventually evolved into tempura, which comes from the Latin word "tempora" and refers to a time of fasting.
Tempura is now a popular street food and restaurant dish in Japan and all over the world. Some of my favorite places to eat tempura are Honda Ya, Marugame Udon, and Mitsuwa when I'm on the go and need a snack.
Homemade tempura batter ingredients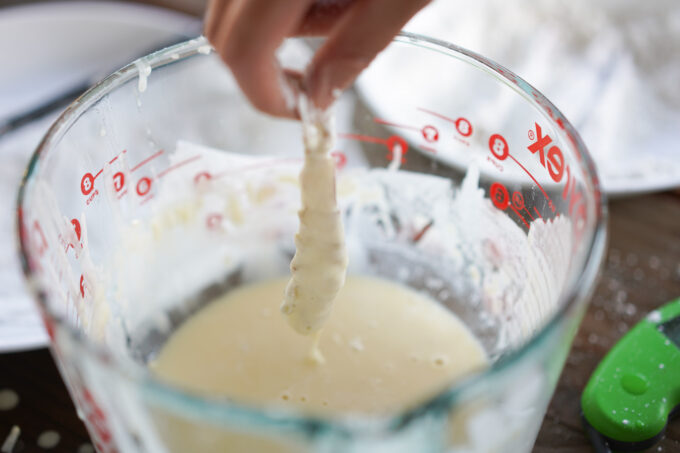 A basic and authentic tempura batter is fairly simple in ingredients. It typically includes three main ingredients: eggs, all-purpose flour, and water. However, these days you can add different types of ingredients to add flavor (such as beer) or improve the texture. In addition to the traditional ingredients, I also add other items to amp up this tempura batter.
The secret to crispy tempura is my addition of potato starch, carbonated water, and vodka. The potato starch helps lighten up the texture of the batter. If you only used flour, you would get thicker crusts that would get soggy fairly quicker because of the amount of gluten present. To learn more about how starches and gluten affect batters, read more here.
While the carbonated water helps to give the tempura a lighter and bubblier texture, the vodka helps to take out excess moisture in the batter while it's frying. You end up with the crispiest tempura skin.
What about premade tempura batter mixes?
Alternatively, there are also premade tempura mixes you can find at your local grocery store and online. One of the most popular tempura batter mixes that I've seen in American grocery stores is Kikkoman tempura batter. Some other brands you can find are Dragonfly tempura batter or Mr. Hung tempura batter.
What can you fry using tempura batter?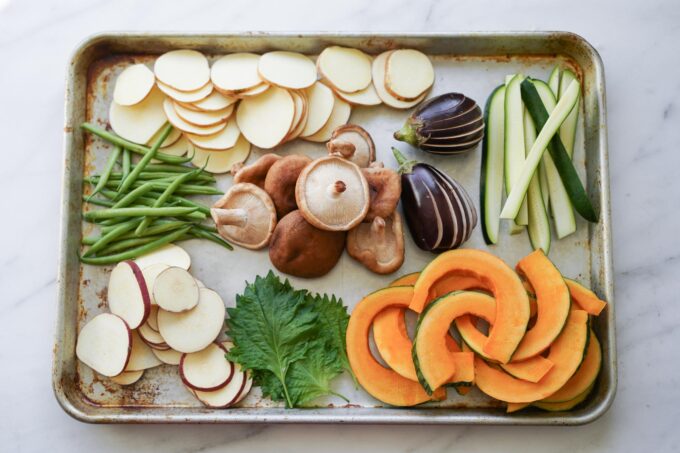 The great thing about tempura is that you can use this batter to fry a lot of different ingredients or really what's ever in your fridge. Here is a list of ingredients you can use for this tempura batter:
Fish
Chicken
Eggs
Vegetables — lotus seeds, kabocha, onions, zucchini, eggplants, mushrooms
How to make tempura batter from scratch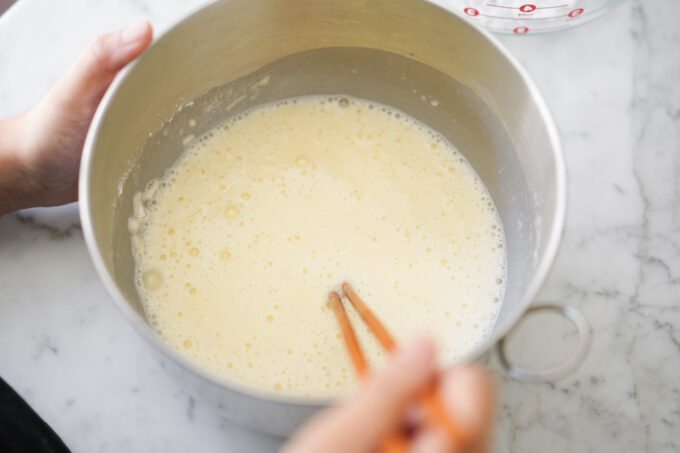 Making the batter itself is super easy, you actually want to make sure that you don't work too hard and overwork the batter. Here are some tips to get the crispiest batter:
Keep all the ingredients as cold as possible, this will help prevent the overdevelopment of gluten and get crispier tempura.
Only combine and mix the batter ingredients right before frying.
Use chopsticks and don't overmix the batter because this develops the gluten, which can affect the tempura texture.
Dip the ingredients into a bowl of potato starch to lightly coat the ingredient and then dip into the batter. This helps the batter stick to the ingredient.
Deep-fry the tempura over neutral cooking oil with 350 °F heat for about one to two minutes or until the color becomes lightly golden. (Use an instant-read thermometer to know the exact measurement!) Since there is potato starch in the batter, it will not become golden brown so pull it when the color changes to light gold. The texture should be very crunchy.
Japanese Tempura Batter Recipe (Easy & Authentic)
This tempura batter recipe will give you ultra-crispy pieces of tempura just like your favorite Japanese restaurant in under 30 minutes.
Ingredients
Shrimp and vegetables
½

lb

shrimp

peeled and deveined

2

c

vegetables

sliced evenly and prepared
Tempura batter
¾

c

all-purpose flour

½

c

potato starch

1

large

egg

¼

c

vodka

chilled in the freezer

¾

c

carbonated water

chilled in the fridge
Equipment Used
2 mixing bowls

plate

chopsticks

Heavy-bottomed pot

tongs

cooling rack & paper towels
Instructions
Shrimp and vegetables
Shrimp: Clean the shrimp under running water and remove the heads. Devein the shrimp. To straighten your shrimp, score very shallow (⅛ inch) cuts on the belly of the shrimp. (You can also use skewers to straighten the shrimp if you don't want to score them). Straighten the shrimp on a plate over paper towels to dry the shrimp off.

Prep vegetables by washing and drying them before dunking them in the batter.

Kabocha: slice the squash in half and remove the seeds. Slice the kabocha into ⅛ inch pieces.Root vegetables: cut into ⅛ even slices to make sure they cook properly.Eggplants: keep the top intact and make slices starting from the middle to the bottom of the vegetable. The eggplant should look like a fan.Zucchini: cut the tops off and cut into lengthwise strips with a ¼ inch width.
Tempura batter
In a heavy-bottomed pot, add about 2 inches of oil from the bottom of the pot. Heat the oil to 350 °F degrees.

In a mixing bowl, add the flour and half of potato starch and mix thoroughly. Set aside the other half of potato starch to coat your ingredients right before dipping into the batter.

In another bowl, add the egg and mix in the cold vodka. Then add the carbonated water.

Carefully, add the wet batter into the mixing bowl and use the chopsticks to mix the batter in swift movements. Try to lift the bowl and move the bowl in round movements while stirring with the chopsticks. Make sure to not overmix the batter or your tempura will end up chewy. You should have some lumps in your batter. The mixing process should take no longer than one minute.

In a separate bowl, add ¼ cup of potato starch in a shallow bowl. Cover the shrimp & vegetables in a light layer of potato starch.

Frying shrimp: Holding the shrimp tail, dunk the shrimp into the batter and cover thoroughly. Carefully lower the battered shrimp into the oil. To add extra crispy tendrils of tempura, dip your hand back into the batter and drip small drops of batter onto the frying shrimp.

Turn the shrimp after about one to two minutes. Remove the cooked shrimp from the oil and place them over paper towels on a cooling rack.

Frying vegetables: Carefully lower the battered vegetables into the oil. The vegetables cook fairly quickly so make sure to watch these carefully. Root vegetables take about three minutes and other vegetables take about one to two minutes depending on their thickness. Turn the vegetables every so often so they cook properly. Remove the cooked vegetables (it should have a pale blonde color) from the oil and place them over paper towels on a cooling rack.
Tetsuya dipping sauce
In a small saucepot, add the water over medium-low heat.

Add the dashi mix, soy sauce, and mirin.

Heat until it boils for one minute and then remove from heat.

Serve in a small sauce dish.
Nutrition Facts (per serving)
Calories:
354.64
kcal
|
Carbohydrates:
53.73
g
|
Protein:
21.51
g
|
Fat:
2.75
g
|
Saturated Fat:
0.65
g
|
Trans Fat:
0.01
g
|
Cholesterol:
189.38
mg
|
Sodium:
1449.36
mg
|
Potassium:
513.01
mg
|
Fiber:
5.57
g
|
Sugar:
4.53
g
|
Vitamin A:
4688.5
IU
|
Vitamin C:
12.55
mg
|
Calcium:
135.52
mg
|
Iron:
4.01
mg
Nutrition Facts
Japanese Tempura Batter Recipe (Easy & Authentic)
Amount per Serving
% Daily Value*
* Percent Daily Values are based on a 2000 calorie diet.
Like this recipe? Subscribe to my newsletter!