Learn how to quickly and easily wrap or roll spring rolls with tips from my mom who has decades of experience wrapping these!
Whether you call it wrapping, or rolling, there are sooo many ways to roll a successful spring roll. The goal is always a uniform looking roll with uniform density or tightness of ingredients all the way through, without any tearing of the wrapper or rice paper.
If you want to learn a little background you can read about spring rolls vs egg rolls, or even learn how to make your own homemade spring roll wrappers you can, otherwise read on to learn how to wrap!
Different ways to wrap spring rolls
Rolling technique can vary a bit depending on factors like:
the size of the wrapper or rice paper
the desired amount of filling in the wrapper
if you prefer open or closed ends on the wrapper
if the wrapper will be fried, or cooked, or just eaten fresh
Here are examples of my recipes that call for wrapping some type of rolls:
How to wrap Vietnamese spring rolls (gỏi cuốn)
1. Cut reinforcements for the wrapper: take a sheet of rice paper and cut it into four even pieces (notice the 2nd layer of rice paper on the left photo. Doubling up rice paper where the meat goes will help prevent tearing at these bumpier spots on the roll.
2. Quickly dip one sheet of rice paper in lukewarm water, add a dipped piece of rice paper reinforcement, then add cooked rice noodles to the bottom of the wrapper. The width of the noodles will dictate the length of your roll. Notice the 1.5-2″ space left available on the left and right of the noodles.
3. Add lettuce on top of the roll, cutting or breaking off parts as necessary so it matches or is shorter than the noodle width. After eating a few rolls you'll learn a ratio of veggies to noodles that you like, you can always adjust later.
4. Add any herbs you like, again keeping it narrower than the lettuce or noodle width.
5. Add one row of pork right up against where the noodles end, keeping roughly the same width or narrower than the noodles. Add shrimp in the same way, touching, and the same width as the rest of the ingredients.
6. Fold the sides of the rice paper along the entire height of the wrapper. Add a few sprigs of chives too for flavor and decoration, making sure it sticks out a bit.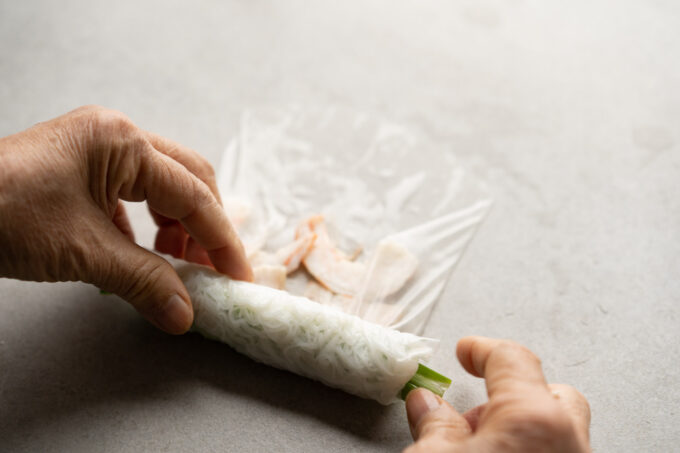 7. Begin to wrap. Make this part relatively tight, so the roll is tight all the way through. This is the most difficult part as you will have to continually push in veggies across the entire roll to maintain an even tightness throughout the roll. Trust me, it's worth it!
8. Once you reach the part where the meat starts being rolled up, loosen the pressure a bit since the meat is more rigid. We have a reinforcement layer of rice paper, but if it's too tight here the spring roll can break.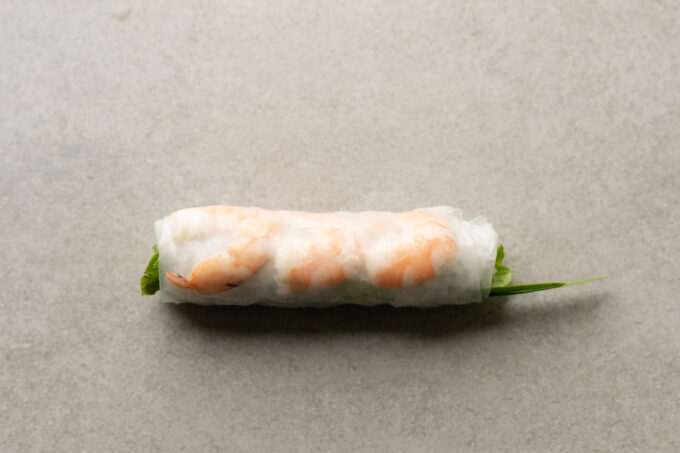 9. Continue rolling all the way up until you run out of wrapper, then you're done!
Bonus tip #1: use a vertical water bowl to dip wrappers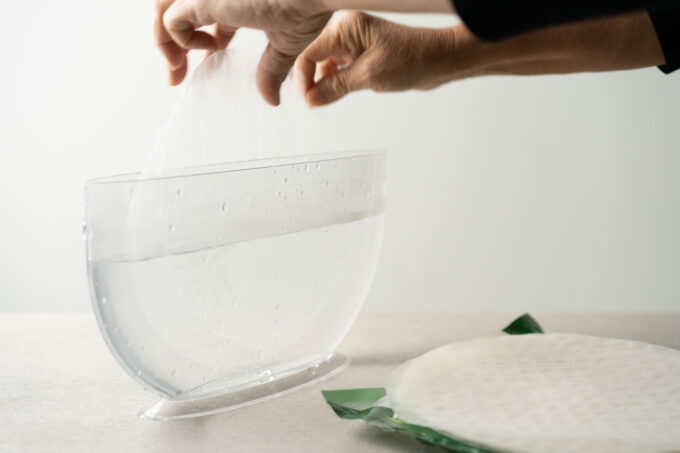 Prior to using a vertical rice paper water bowl, I would just use a pan or a plate with tall sides to dip the rice paper/ wrappers in. Don't get me wrong using a simple plate is effective and easy too.
But when you have a table full of people wrapping their own rolls, with a ton of ingredient plates on the table too, space runs out quickly and this bowl is a HUGE space saver.
Many designs are available and they all pretty much do the same thing.
Bonus tip #2: wrap spring rolls faster with noodle sheets (bánh hỏi)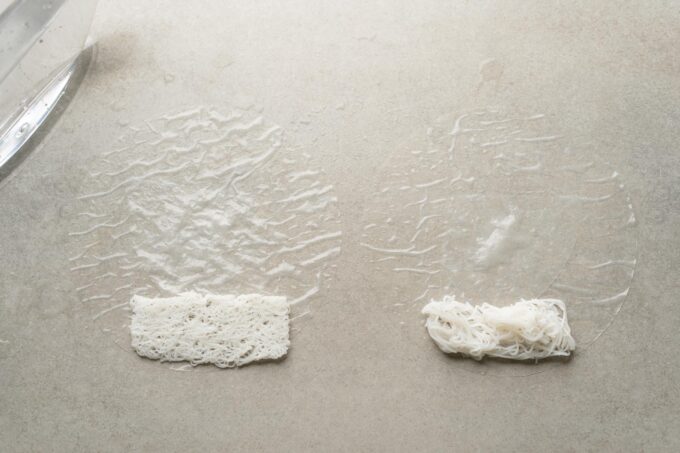 Pictured on the left is bánh hỏi, and I LOVE using these for Vietnamese spring rolls. They cook a lot faster, and they're way easier to manage, cut, and arrange on your spring roll wrapper. They'll make your rolls more uniform too!
Regular rice noodles work just fine butbánh hỏi will speed up your process a lot if you're able to buy it. Learn more about these noodles on my recipe for Vietnamese spring rolls (Gỏi Cuốn).
Bonus tip #3: pre-assemble your veggies, herbs and noodles
Like working an assembly line, it can speed a bunch of stuff up if you prepare items in bulk, in stages rather than one at a time.
It works with spring rolls because instead of putting back scraps for veggies, noodles, or herbs you simply place it on the next stack ready to be rolled up. There's less time picking up and putting down ingredients.
If you have another person to help with rolling, you can each stay more focused on your task.
How to Wrap Fresh Spring Rolls
Learn how to easily wrap fresh Vietnamese spring rolls that are tight, even, and appetizing to eat!
Like this recipe? Subscribe to my newsletter!