Making perfectly cooked white rice is easier than ever with this Instant Pot rice recipe!
Instant Pots are all the rage these days and it could be a good decision for you if you want to consolidate appliances like a rice cooker, slow cooker, a yogurt machine, and a pressure cooker all in one.
While it may seem like a miracle machine, I've found that some Instant Pot recipes online aren't as user-friendly as they appear–especially when you're an Instant Pot newbie.
After testing out many many recipes online (even the rice recipe directly from the manufacturer) that gave me unevenly cooked rice grains or watery rice at the end, I decided to venture out and come up with my own ratio of rice and water, timing, and pressure settings.
Note that this recipe is strictly for short-grain white rice. If you prefer to eat brown rice, I have an easier brown rice recipe to follow using a microwave and brown rice in an Instant Pot.
Figuring out the recipe
The machine: I used the Ultra version of the Instant Pot, but it's likely the same in their most popular Duo model, and even other brands of electric pressure cookers.
The rice: I used a short-grain white rice
Measuring tools: I used only the scoop that came with the Instant Pot. When I say scoop anywhere in this post, this is what it refers to. This scoop is actually the same size as the one that came with my dedicated rice cooker.
How many tests did this take? I honestly don't even remember how many, so that will tell you I've had many failures adjustments. After cooking rice in many different ways (using a rice cooker and even making rice in the microwave), I thought figuring out how to make rice in an Instant Pot was going to be a breeze.
I'd like to think that eating rice for my entire life had made me somewhat of a rice connoisseur (or just super picky). Either way, I discovered there's a very fine line between mushy rice and properly cooked rice.
One aspect of the Instant Pot that I didn't take into account was the addition of pressure. Similar to using rice cookers or even cooking rice on the stovetop, you can't really just open it to check progress. This meant I had to wait out the entire cooking process to see the results–this meant any adjustments had to be on future batches if the recipe was going to be something easy to replicate by others (and myself).
Results & rice texture
So what makes Instant Pot rice good? Well, it will definitely give you a different type of texture. The results of Instant Pot rice have more distinct rice grains than a rice cooker–this was made even more significant because I used short-grain rice, which is known for its stickier consistency.
It's different and not necessarily better or worse, depending on what you like or expect. You can perhaps keep tinkering with the time and water to rice ratios to dial it in, but this is one that I prefer. But I found that even adding ¼ cup more water takes the grains from distinct to something mushier.
How to cook it
To make the rice, first measure out the rice using the scoop that comes with the Instant Pot. Using the scoop is important because it's the basis of the ratio that I found works for this recipe: 2 scoops of uncooked short-grain rice for every 1.75 scoops of water.
I have not tested it with anything other than 2 cups of rice, so your results may vary drastically if you try to scale this up or down. With a normal rice cooker at least, you can't just scale the ingredients equally.
Rinse your rice over running water and place it in the Instant Pot metal container.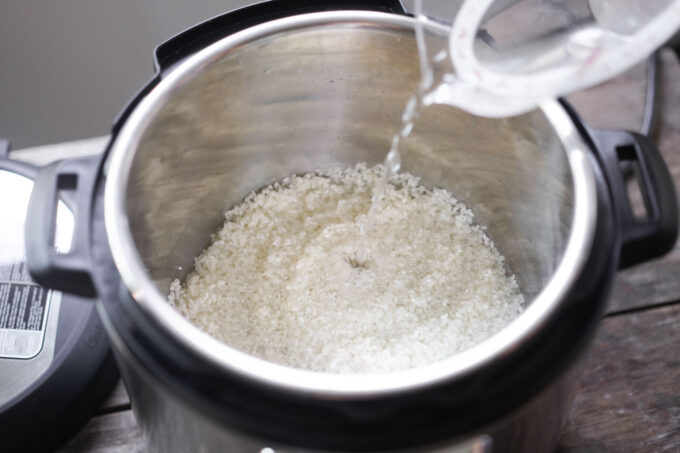 Pour the appropriate water ratio over the rice, and even out the rice with a paddle or clean hands. Close and lock the lid, and close the steam valve so the machine can build pressure.
Use the low-pressure setting and cook for 10 minutes with the natural pressure release on. Make sure to turn off the keep warm setting.
Once it's finished letting out all the pressure and steam, carefully remove the lid, and use a paddle to fluff the rice. Eat the rice fresh and serve immediately. To learn how to properly eat rice with chopsticks, you can read my chopstick tutorial.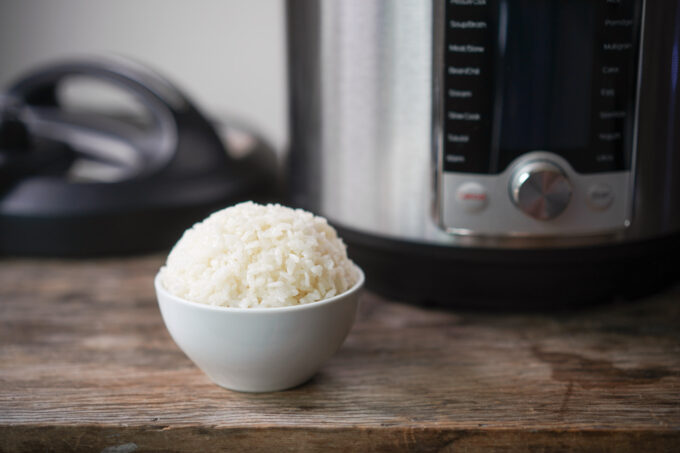 How to adjust the recipe
I had to do many variations on this recipe to get it exactly how I like it. If you are using different types of rice, like medium or long-grain, or even brown rice, you may need to adjust the recipe to get perfect results. Start with the one I have posted here, then adjust to your liking. Here are some tips.
Low pressure seems to be the way to go.
If your rice is too mushy or watery, reduce the water by 1/4 a cup (the scoop included with the Instant Pot) or reduce the cooking time by 1 minute and retest it.
If the rice is too hard or dry, increase the water by 1/4 a scoop, or increase cooking time by 1 or 2 minutes.
What else can you do with the Instant Pot?
Instant Pot rice cooking is only the beginning too! One cool thing about the Instant Pot is that it has a sear function that allows you to do stuff like toast the rice, garlic, onion, or other aromatics before cooking to infuse the rice with other flavors. Some recipes that call for this would be garlic fried rice or tomato rice you can pair with bò lúc lắc.
How long does rice take in the instant pot?
My recipe for short-grain white rice takes about 13 minutes to cook rice in an Instant Pot with an additional 8-10 minutes of natural pressure release time. To cook jasmine rice in an Instant Pot, it's an active cooking time of 4 minutes with an additional 15 minutes of pressure release.
Is an Instant Pot good for rice?
Instant Pot rice will give you a different texture of rice–primarily, it will give you distinct rice grains even though the rice is still sticky. I would recommend an Instant Pot if you want to consolidate different appliances into one, especially if you have a small kitchen. You can also use the Instant Pot to make plump and fragrant basmati rice fairly quickly too.
How much rice do you cook per person?
Half a cup of uncooked rice is a good serving portion per person if rice is being served as a side dish. Some of my favorite pairings with rice are Vietnamese pork chop, miso-marinated black cod, spicy lemongrass chicken, and thịt kho. If you do cook too much, you can also save the rice for your next meal, but make sure to read how long does cooked rice last.
Perfect Instant Pot White Rice
For easy and fast perfectly cooked, use this Instant Pot recipe!
Instructions
Measure out your rice using the scoop that comes with the Instant Pot and place it into the Instant Pot metal container. Under running water, rinse the rice thoroughly with your hands and then drain the water.

Measure out the water using the same scoop and pour it into the Instant Pot metal container.

Place the container inside the Instant Pot, close the lid and lock.

Pressure cook on low pressure for 10 minutes with a natural release, with 'keep warm' turned off.

When the rice is done and the Instant Pot has released all the pressure, open the lid and fluff the rice. Serve immediately.
Nutrition Facts (per serving)
Calories:
1.8
kcal
|
Carbohydrates:
0.4
g
|
Protein:
0.1
g
|
Fat:
0.1
g
|
Sodium:
0.1
mg
Nutrition Facts
Perfect Instant Pot White Rice
Amount per Serving
% Daily Value*
* Percent Daily Values are based on a 2000 calorie diet.
Like this recipe? Subscribe to my newsletter!