These ultra crunchy and crisp Korean daikon radish pickles have a nice balance between slightly sweet and tangy flavors that is the perfect dish to go with crispy fried chicken.
This quick recipe for Asian pickled radishes is super easy to whip up and eat by the end of the day. You don't even need to boil anything!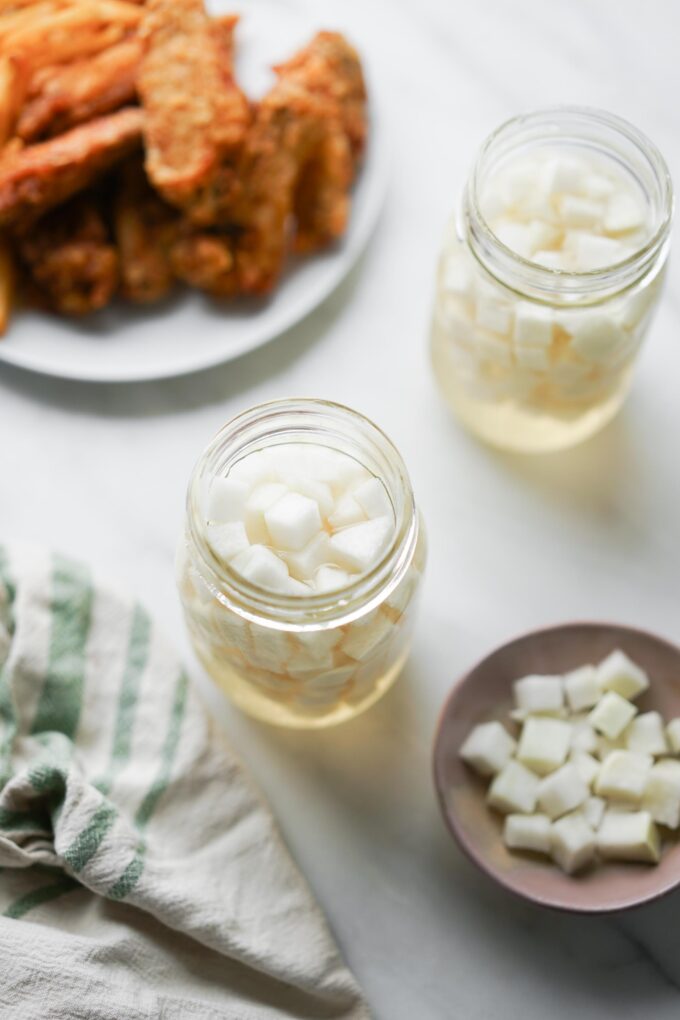 What is chicken-mu?
Radishes have been in Korea since the Three Kingdoms Era (57 BCE–668 CE), and come from East Asia. Mu means "radish" in Korean but generally refers to the specific type of Korean daikon radish. It's known for its half-white and half-light green coloring along with its rounder and stockier shape. They have a very juicy and crunchy texture and taste slightly sweet with a light peppery flavor.
If you've ever had to Korean BBQ at home or restaurant, then you must know about the various types of banchan (or side dishes) available that are free and typically refilled at no cost. Some of the most popular pickled radishes are thin pickled radishes (ssammu) meant for ssam dishes or kkakdugi, a type of kimchi radish dish. One of my favorite banchan is Korean pickled radishes.
Now there are plenty of different varieties, each flavorful and fresh on its own, but one of my favorite types is chicken-mu. And it's typically served with crispy Korean fried chicken–this is most likely where the name "chicken-mu" comes from.
This recipe is a quick pickle dish, but if you don't have time to make chicken-mu, you can always buy some at your local Korean grocery store like H-Mart or at a restaurant. My favorite places to eat chicken-mu, along with Korean fried chicken, are Pelicana and Bonchon.
Ingredients in this quick pickle
These Asian pickled radishes have similar ingredients to other types of pickles like Vietnamese đồ chua and Filipino atchara, where the main ingredients other than the vegetables are vinegar, water, sugar, and salt. It's a very simple combo of ingredients, but it's anything but boring.
You can also experiment with substituting the vinegar for apple cider vinegar or rice wine vinegar based on your preference or current ingredient situation at home–although this will give you less of an acidic flavor.
For the actual daikon itself, you want to make sure you pick the right variety of daikon radish since there are so many varieties. This recipe specifically calls for Korean daikon radish.
You can tell at the store because they are round and stockier than the long and skinny Japanese daikon radish. Korean daikon radish is also half green and half white in coloring, while Japanese daikon radish is all white.
How to make Korean quick radish pickles
Traditionally, these pickles have an easy to remember 1:1:1 ratio for sugar, water, and vinegar. You don't have to follow this ratio, but it's a great place to start then adjust based on your personal preference.
I like this simple ratio because it's got a good balance between the tangy vinegar and sweet sugary flavors in the ingredients. What's important to remember is that these are quick pickles and that they shouldn't come out tasting like more pungent dill pickles–these are fresh and light on the pickle flavor.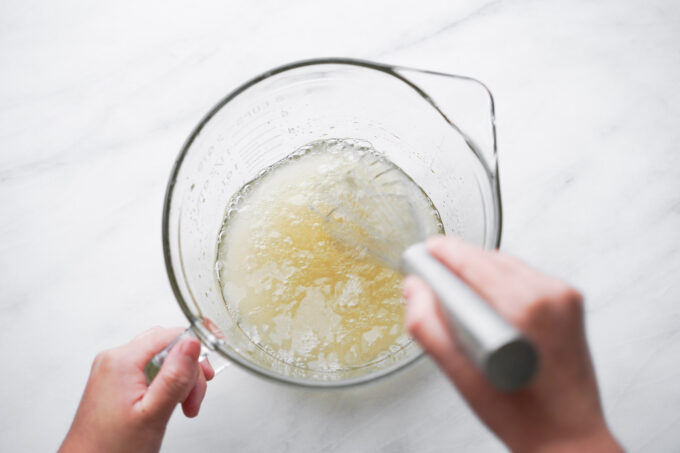 Quick pickles, in general, are faster to make than their fermented cousin, like the dill pickle that has deeper flavors of tang and sourness. Traditionally quick pickles are refrigerated pickles that allow a slower pickling process, but still gives you a nice balance between the sugar and acidity of the vinegar.
To make these pickles, all you have to do is whisk together equal amounts of sugar, vinegar, and water, and some salt–this brine is so easy you don't even need to cook anything! Then you clean, peel, and cube your daikon radish into even ¼ to ½ inch bites and place them into jars that have airtight lids. Add in your brine and make sure it covers the top of the radishes, seal the lids and refrigerate overnight.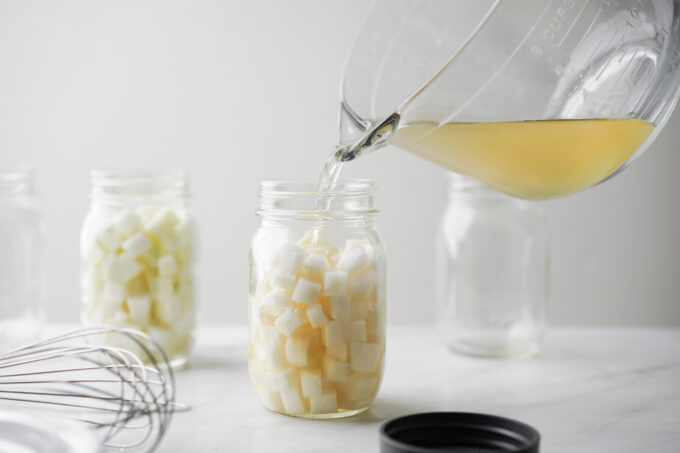 You can choose to speed up this process by placing your jar on a nearby warm windowsill, but if you want a hands-off method, just pop it in the fridge and wait overnight before tasting.
How to serve and store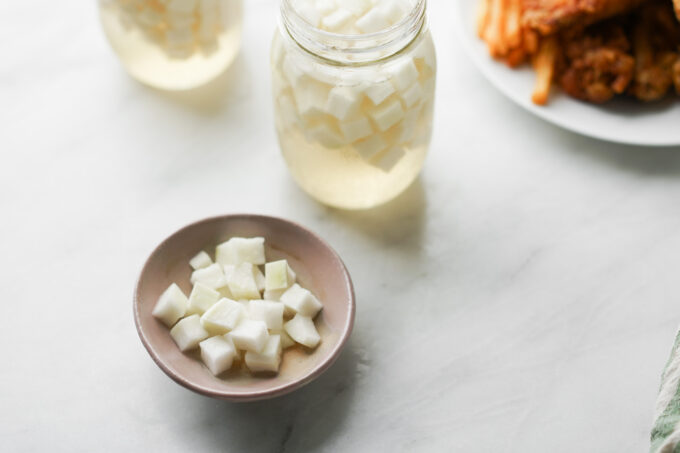 After you've reached a level of pickle flavor, you can leave it in the fridge and eat it with your meals. Once it's in the fridge, the pickling process is slowed down so it won't pickle too much while you eat the rest of the pickles. I eat a jar of chicken-mu within the span of about 2 weeks.
One of my favorite ways to serve chicken-mu is with tteokbokki and Korean fried chicken–it's the perfect fresh bite of crunchy radish with every crispy, deep-fried piece of chicken.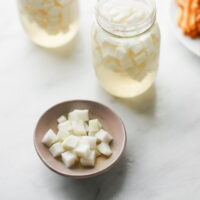 Korean Pickled Radish (Chicken-Mu)
Fresh, crisp and lightly pickled daikon radish cubes are super easy to make and pair great with crunchy Korean fried chicken.
Ingredients
460

g

(

1

lb

)

daikon radish

150

g

(

⅔

c

)

white granulated sugar

165

g

(

⅔

c

)

white vinegar

165

g

(

⅔

c

)

filtered water

2.6

g

(

¾

tsp

)

salt
Equipment Used
knife

2 (16 fl oz) mason jars or airtight containers with lids

mixing bowl
Notes
Note: the nutrition values for this recipe is based on 2 (16 fl oz) mason jars full of chikin-mu. 
Nutrition Facts (per serving)
Calories:
346.5
kcal
|
Carbohydrates:
84.45
g
|
Protein:
1.38
g
|
Fat:
0.23
g
|
Saturated Fat:
0.07
g
|
Sodium:
558.68
mg
|
Potassium:
525.36
mg
|
Fiber:
3.68
g
|
Sugar:
80.63
g
|
Vitamin C:
50.6
mg
|
Calcium:
70.58
mg
|
Iron:
0.99
mg
Nutrition Facts
Korean Pickled Radish (Chicken-Mu)
Amount per Serving
% Daily Value*
* Percent Daily Values are based on a 2000 calorie diet.
Like this recipe? Subscribe to my newsletter!