This easy yaki udon recipe will give you thick and chewy udon noodles wrapped around crisp al dente vegetables, juicy pork belly strips, and glazed in a sweet and savory soy sauce base. If you enjoy lo mein, you're going to want to try one of Japan's most popular dishes–yaki udon.
A little background…
If you've never had udon noodles, I would say these are most similar to Vietnamese bánh canh in that they are thick and slightly chewy. Whereas bánh canh is made of tapioca starch and rice flour, udon noodles are primarily made of wheat flour, salt, water, and sometimes tapioca starch. It's thick and chewy consistency makes it a nice addition to a stir fried dish like yaki udon.
First appearing in the Fukuoka Prefecture in Japan around World War II, yaki udon was created due to the shortage of ramen noodles in the popular yakisoba. Yaki udon therefore has a similar preparation style to yakisoba, except it uses udon noodles.
Yaki udon is filled with so many textural experiences: crisp bok choy stalks, al dente carrots, soft and meaty mushrooms, juicy pork belly, and tender and chewy udon noodles. These days, you can find yaki udon in many Japanese restaurants (I like Honda Ya and Taiko nearby). However, it's really easy to make at home.
Udon noodles
Udon noodles make up the bulk of this recipe. As a kid (and adult), I've bought premade frozen and fridged udon noodles from the grocery store at my local Japanese market. The instructions are easy to follow and you can have udon at any time. Most people like to use these premade noodles for yaki udon because it's quick and fast.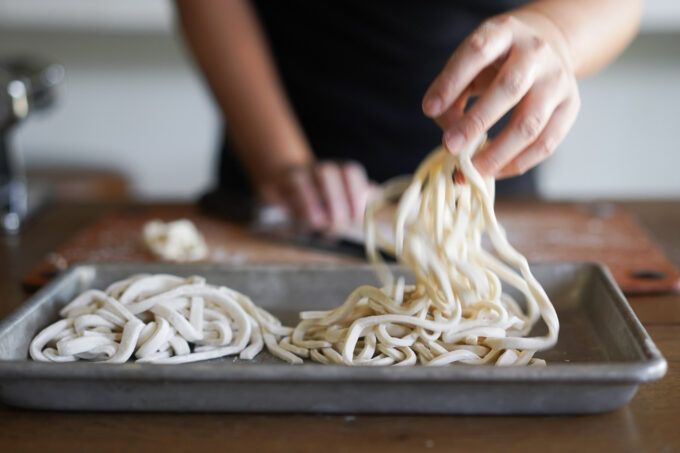 But if you want to go the distance, you can use my recipe to make your own udon noodles from scratch. With fresh, handmade noodles, you can adjust the chewy texture by adding tapioca starch in the dough and also change the thickness of your udon. You can even make more than two servings of udon noodles and freeze the rest for a future meal.
For this recipe, I only needed to use 2 servings of udon for a full yaki udon serving for 6 people because you end up adding so many other ingredients. That means that udon noodles are only one part of the meal.
To cook the handmade udon noodles, fill a large pot with eight cups of water and bring to a boil. Add in about two teaspoons of salt and stir to dissolve. Carefully lower one serving of udon noodles, swirling them around to prevent them from sticking, and then cook for about 12 to 15 minutes.
The finished noodles should be soft and evenly cooked throughout the noodle, but still a bit chewy in texture. Immediately move the noodles into an ice bath for a minute to stop the cooking process and transfer them onto a clean bowl until you're ready to stir fry.
The sauce
Yaki udon has a soy sauce base that is glazed over the noodles, vegetables, and meat. There's a lot of variation with this sauce as much as there is with the different add-ins, but soy sauce is the main ingredient. I've seen instances of people using kombu, Worcestershire sauce, and more.
In this recipe, I use a combination of soy sauce, mirin, oyster sauce, and dark brown sugar to get a nice sweet and savory sauce that adds a nice balance to all the ingredients. What's great about this recipe is that you can customize this sauce based on your preference–some variants might include sesame oil or rice vinegar to give the sauce a different twist.
Add-ins
What makes yaki udon a great dish is because it's so versatile and it also helps that you can add different types of vegetables as add-ins–aka this is a good recipe for cleaning out your fridge of all the little bits of veggies or meat you need to use up. If you want a Filipino version of yaki udon, it's very similar to pancit canton too.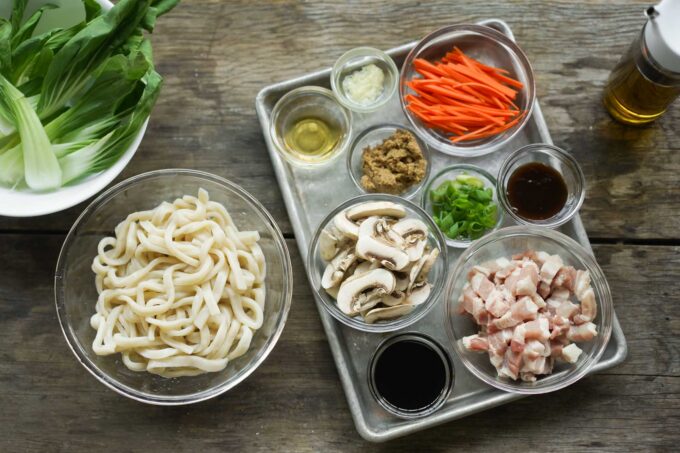 For this recipe, I had extra bok choy, carrots, green onions, garlic, and button mushrooms on hand. Traditionally, you will see variations of cabbage, onions, shiitake mushrooms, broccoli, and other vegetables in yaki udon recipes.
Keep in mind that certain vegetables will cook differently, for example, carrots are sliced super thin while mushrooms are cut into thicker slices so they can cook evenly in the pan. For instance, I cut my carrots into super thin slices since they tend to take longer to cook, and I cut my mushrooms a little thicker than usual. I also separated my bok choy leaves and cut them in half for easier cooking and eating. No one wants to take a huge bite out of one half of a bok choy piece.
Since this is also a "drunk food" dish, meat is also a key ingredient. Traditionally in Japan, many restaurants add thinly sliced pork belly, but you can also add any meat or seafood you have on hand, like ground meat or chicken. I love pork belly, so I cut it into strips and pan fried them to get an extra crisp texture.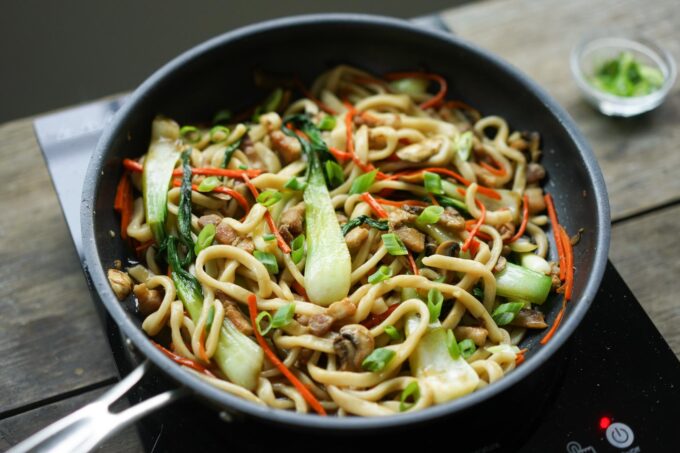 See the recipe below on the full steps to cook yaki udon with pork belly!
What is the difference between udon and Yaki Udon?
Udon is a Japanese noodle made of wheat and yaki udon is a stir fried dish that includes udon noodles along with a variety of meat and vegetables mixed in a soy sauce base.
Is Yaki Udon healthy?
Depending on what fillings and sauce you use to make yaki udon, it can be healthy. I use a lot of bok choy, carrots, and mushrooms that have health benefits like vitamin E and A and antioxidants.
Is Yaki Udon like lo mein?
Yaki udon noodles are made of wheat flour, salt, and water (sometimes tapioca starch), and lo mein is made with egg noodles. They are both stirred with a soy sauce base.
Is Yaki Udon vegan?
Traditionally, yaki udon can include meat, but you can also substitute this with tofu if you want a vegan version. Please follow the instructions on the tofu package for cooking instructions.
Yaki Udon (One-Pan Stir Fried Udon Noodles)
Crispy greens, tender meat, and al dente udon noodles–this yaki udon recipe is great for those busy weeknight dinners where you need a delicious and easy meal!
Ingredients
Udon noodles
300

g

udon noodles (or 2 servings)

my handmade udon recipe makes this amount

8

c

water

2

tsp

salt
Fillings
1

tsp

garlic

minced

1

tbsp

vegetable oil

½

lb

pork belly

or meat of your choice

1

medium carrot

julienned

6

white mushrooms

sliced

¾

lb

Shanghai bok choy (about 3 heads)

peeled, seperated & cut in half lengthwise

1

green onions

sliced
Instructions
Udon noodles
If you purchased premade frozen or fresh udon from the store, follow the cooking instructions on the bag to prepare your udon noodles.

You can also follow my recipe for udon noodles from scratch. To cook noodles from scratch, fill a large pot with at least eight cups of water and bring to a boil. Add the salt and stir until it dissolves. Add one serving of udon noodles in the pot and swirl to prevent sticking. Cook for 12 to 15 minutes or until the noodles are evenly cooked throughout and still chewy.
Yaki udon
Prep all your ingredients by washing and cutting your vegetables: mince the garlic, cut the pork belly into ½ inch by 2 inch slices, julienne the carrot, cut mushrooms in ⅛ inch thick slices, separate the bok choy stalks/leaves and cut them in half, and cut the green onions on a thin bias cut.

In a large saute pan over medium heat, add the vegetable oil and the minced garlic. Cook for about 30 seconds until it is fragrant, but before it begins to brown.

Add the pork belly strips and cook for about three minutes or until it starts to crisp and brown. Stir occasionally. When the pork belly is cooked, remove excess oil carefully from the pan with a spoon.

In a small bowl, combine the soy sauce, oyster sauce, mirin, and dark brown sugar. Drizzle this sauce in the large pan and stir until all the vegetables and meat are fully covered in the sauce. Lower to medium-low heat, cover the pan with a lid, and cook for two to three minutes. Remove the lid and check to see if the vegetables have softened.

Stir in the cooked udon noodles and cook for another minute so that the noodles can warm up. Sprinkle the green onion over the yaki udon.
Nutrition Facts (per serving)
Calories:
425.7
kcal
|
Carbohydrates:
41.6
g
|
Protein:
13.3
g
|
Fat:
23.9
g
|
Saturated Fat:
9.2
g
|
Cholesterol:
27.2
mg
|
Sodium:
1888
mg
|
Potassium:
321.7
mg
|
Fiber:
3.9
g
|
Sugar:
9.8
g
|
Vitamin A:
4251.7
IU
|
Vitamin C:
27.1
mg
|
Calcium:
76.7
mg
|
Iron:
0.9
mg
Nutrition Facts
Yaki Udon (One-Pan Stir Fried Udon Noodles)
Amount per Serving
% Daily Value*
* Percent Daily Values are based on a 2000 calorie diet.
Like this recipe? Subscribe to my newsletter!