Fresh and crunchy green papaya pickles in a garlicky, sweet brine—this atchara recipe is a fast and easy pickling process that anyone can make at home. I wouldn't eat any Filipino bbq (or any boodle fight for that matter) without this atchara as a side.
Over the years, my tita Grace always had a handful of jars available at any given time in her second fridge just in case there was a party or for Sunday bbq at home. And she was always so generous in offering me and my parents jars of this stuff when we visit!
This recipe is similar to Tita's easy to follow recipe, which focuses on a simple and sweet brine.
About atchara (green papaya pickles)
Atchara, also known as atsara or achara, is a well-known pickled condiment in the Philippines made from unripe, green papaya. It was originally influenced by Indian pickles, achar, that came by way of Malay influence, acar (another type of pickled condiment from Malaysia, Indonesia, and Brunei).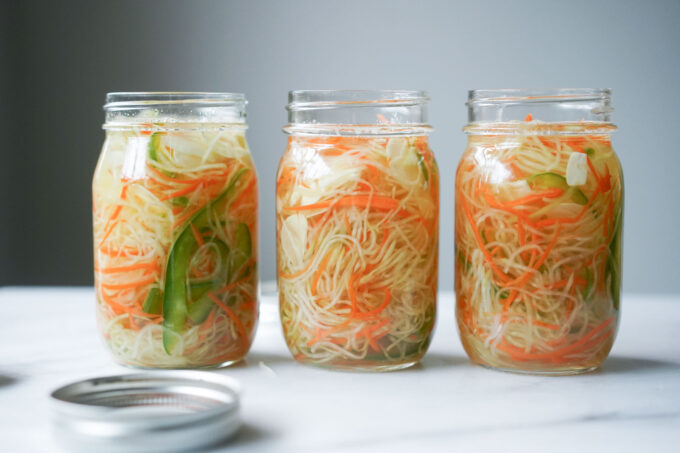 Unlike these other types of pickles, atchara has a main ingredient of green unripe papaya and has a sweetened brine from sugar. Atchara is often eaten with various Filipino foods like chicken inasal, lechon belly, pork bbq skewers, and some breakfast foods like sinangag and tocino. But really it goes great with any fatty, salty meats whether its roasted or fried.
You can find many Filipino restaurants, like Grill City that will give you a side of atchara with your bbq orders too. But I like making this at home since it's super easy to make!
Green papaya & other fillings
While it may look very similar to Vietnamese pickles (đồ chua) which uses daikon and carrots, the bulk of atchara is green, unripened papaya and carrots. You can also add other ingredients to mix it up!
My favorites that I included in this recipe are carrots, green bell peppers, and garlic. You can add some chile peppers to give it spice too. Tita Grace loves to add jicama and onions. Note that if you want to add red onions, there's a high chance that your brine will turn red!
Kitchen tools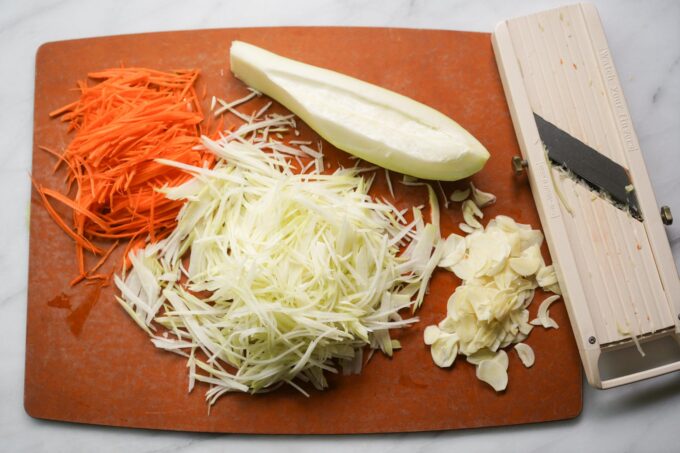 I don't know about you, but I prefer super thin atchara slices. To get this size for the papaya, carrots, and garlic, I used a mandolin with a shredding attachment and safety gloves to prevent me from getting hurt.
You can also use a food processor with a shredding attachment, a boxed grater, or a knife if you want to do this manually, but you save soo much time using a mandolin. I used a knife for the green bell peppers because they had a tendency to lose their shape with the shredder attachment.  
Quick salting (vegetable degorging)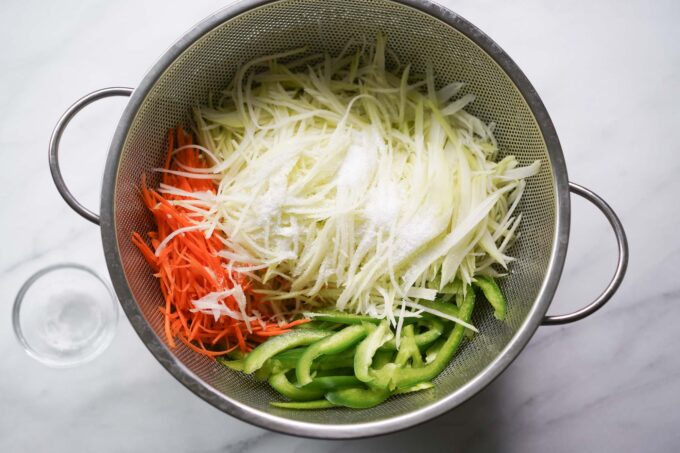 Before adding the liquid brine to the jars of green papaya, carrots, and bell peppers, I mix them with some salt and let them sit for about 30 minutes on the counter to remove excess liquid in each ingredient.
This process is called degorging, and it uses salt to remove excess water from the vegetables. It's also the same process for making Chinese cucumber salad, sunomono, and đồ chua.
I give them a quick rinse over the sink and them wring them out with a cheese cloth. Each ingredient is then ready to soak up all the brine and all that tangy and sweet flavor.
Cane vinegar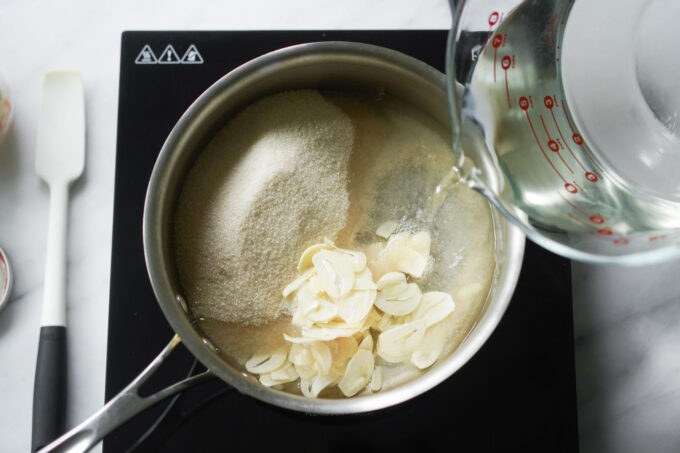 If you've ever made pickles, you might find the same process for making atchara with some changes. For example, some brines call for distilled white vinegar and water to dilute. I tested different variants of atchara with distilled white vinegar, cane vinegar, water, sugar, and salt.
I found the best flavor by only using cane vinegar, which is less acidic (however, don't be fooled by the name because it is not sweet by itself). This recipe only uses cane vinegar, sugar, salt, and garlic slices because atchara has a less tangy and sweeter flavor.
I chose to cook the garlic with the brine because I wanted to flavor the liquid slightly. It also ferments for a far less time than most pickles and you place it immediately into the fridge after cooling.
After pouring the brine into the vegetable jars, I like to use a chopstick to move the liquid brine around the jars. This makes sure all the liquid is covered throughout the sliced vegetables in the jar.
How long does atchara last?
Atchara can last at least one to two months in the fridge.
Is atchara fermented?
Atchara is a type of pickles made from green papaya and other ingredients and is fermented quickly for at least 24-48 hours. These quick pickles are also similar to Korean pickled daikon radishes that take overnight to brine.
Where did atsara came from?
Atsara, or atchara, is a type of pickles from the Philippines that is primarily made with green papaya.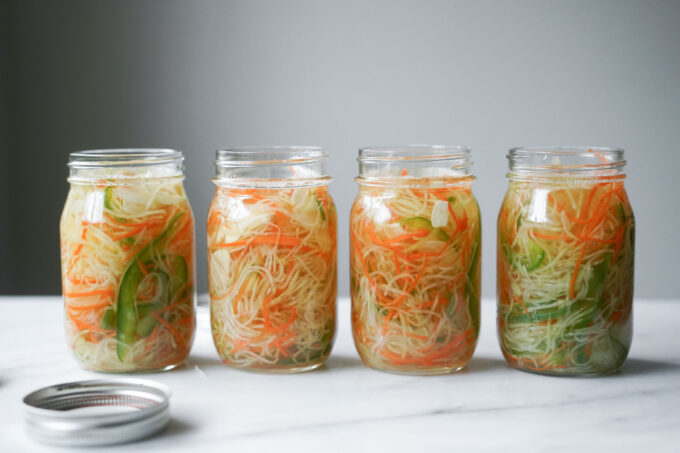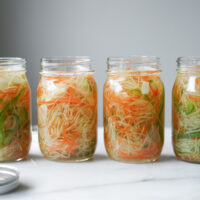 Atchara (Filipino Pickles w/ Papaya, Carrot, Bell Pepper)
These crisp and tangy, but sweet green papaya pickles are a Filipino favorite. With this recipe, you can even customize the different ingredients to add to the papaya too.
Ingredients
½

lb

unripe green papaya

julienned

2

small carrots

julienned

½

green bell pepper

julienned

1

tbsp

salt

for brining

water

12

cloves garlic

thinly sliced

4

c

cane vinegar

2

c

white granulated sugar

2

tsp

salt
Nutrition Facts (per serving)
Calories:
485.68
kcal
|
Carbohydrates:
113.35
g
|
Protein:
1.34
g
|
Fat:
0.29
g
|
Saturated Fat:
0.07
g
|
Sodium:
2954.53
mg
|
Potassium:
356.12
mg
|
Fiber:
2.26
g
|
Sugar:
106.13
g
|
Vitamin A:
5689.01
IU
|
Vitamin C:
52.29
mg
|
Calcium:
52.03
mg
|
Iron:
1.56
mg
Nutrition Facts
Atchara (Filipino Pickles w/ Papaya, Carrot, Bell Pepper)
Amount per Serving
% Daily Value*
* Percent Daily Values are based on a 2000 calorie diet.
Like this recipe? Subscribe to my newsletter!