Soft and chewy rice cakes simmering in a sweet and spicy glaze, this tteokbokki recipe is easy to make at home and doesn't need too many ingredients to make. You can even learn how to make your own anchovy stock from scratch and get the ultimate spicy and savory snack for your next refreshingly cold beer.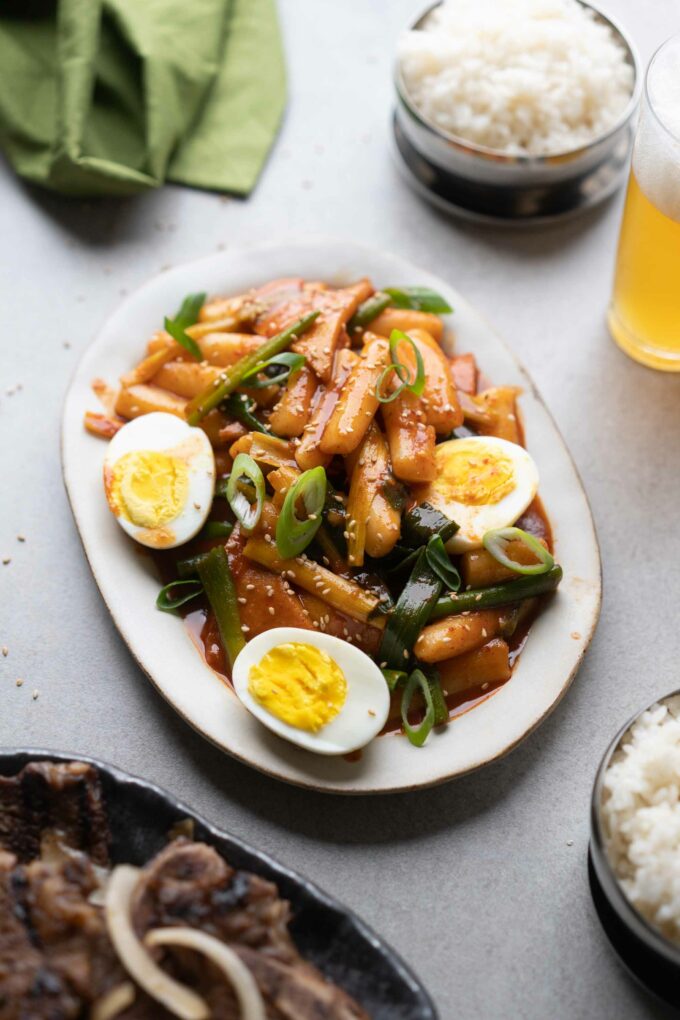 What is tteokbokki and what does it taste like?
Tteokbokki (떡볶이) is a popular Korean snack food and comes with many different names and spellings like ddeokbokki, ddukbokki, topokki, ttekboki, ttepoki, ttokbokki, tteok bokki, tteoboki, and teokbokki.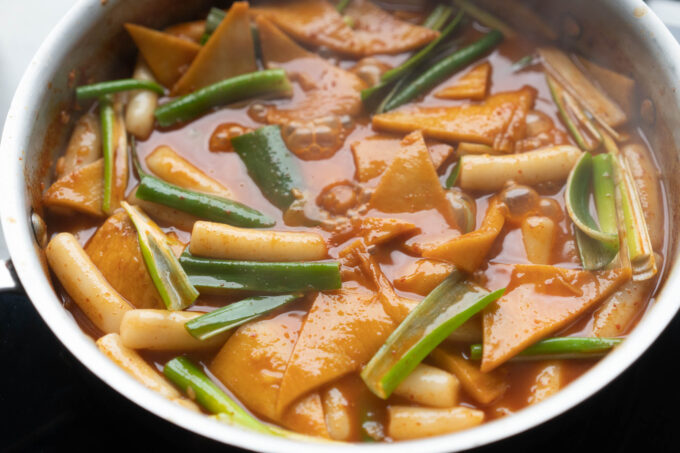 It's a dish that was served in Korean royal court and originated during the Chosŏn dynasty (1392–1910) in its original form called gungjung tteokbokki and is made with a soy-sauce base. However, it wasn't until the 1950s that people started to make a spicier version of tteokbokki made with gochujang (red chili paste) and gochugaru (red pepper powder).
The tteokbokki sauce is a mixture of sweet, spicy, and savory flavors, and you also get a nice texture between the chewy Asian rice cakes, soft fish cakes, and nutty sesame seeds on top.
These days it's a type of comfort food in Korea and the US. You can find it sold as a snack or side dish in fast food restaurants like Pelicana, Korean street-food stalls, or prepackaged frozen dishes. It's become so popular that Trader Joe's also sells a frozen version.
Fresh vs. dry vs homemade rice cakes
For this recipe, I tested both fresh-made Korean rice cakes and pre-made, refrigerated rice cakes from my local H-Mart grocery store. I like using fresh rice cakes because they're soft and don't need to soak before cooking like refrigerated rice cakes. There are also rice cakes that come in long pieces that look like thick rice cake noodles–you can use those too if you just cut them down to two to three-inch pieces.
Recently, jasmineandtea's viral TikTok had a shortcut to making rice cakes by rolling up wet rice paper into logs and cutting it into shorter pieces. While this is a fun way to make rice cakes with rice paper, the texture is not the same. We prefer to save our rice paper for making fresh Vietnamese spring rolls.
What is tteokbokki sauce made of?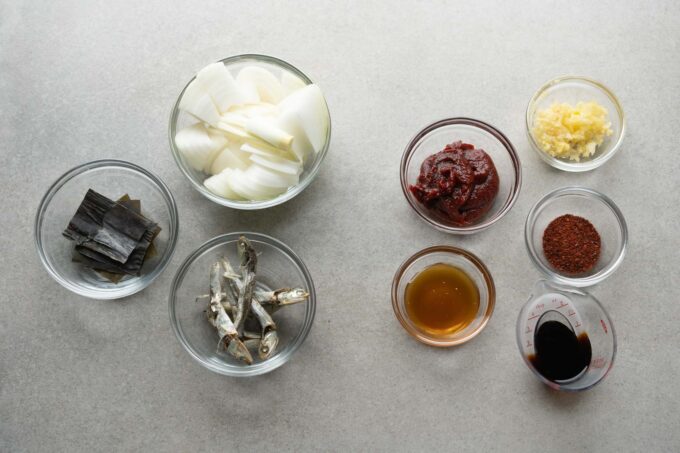 There are also many variations of tteokbokki in general, like royal tteokbokki (or gungjung tteokbokki) made with a soy sauce base and is less spicy, and curry tteokbokki that has a curry base. While there are different types of tteokbokki, the version we'll make in this post is the spicy version that calls for gochujang (spicy pepper paste) and gochugaru (dried chili powder). It's also made from a broth base made of dried anchovies and kombu (or dried kelp).
Tteokbokki variations
I buy all my tteokbokki ingredients at my local H-Mart or Arirang Market. Common tteokbokki ingredients for this recipe can include any combination of:
fish cake
big green onion (these are larger than the typical scallion and have a milder and sweeter flavor, but you can also use regular scallions too)
sesame seeds
boiled eggs
napa cabbage
mandu (or dumplings)
Why do you need to soak tteokbokki?
Rice cakes, or tteok, come in many different shapes and sizes. This recipe calls for rice cakes in short logs, about two to three inches in length. Korean grocery stores like H-Mart and Airirang Market sell rice cakes in freshly made and refrigerated premade styles.
If you buy the refrigerated rice cakes, you need to soak them in warm water for about 10-20 minutes or until they're softer; otherwise, they won't cook properly in the tteokbokki sauce. On the other hand, if you buy freshly made rice cakes, they're ready to drop into the sauce without soaking.
Can you make tteokbokki ahead of time or refrigerate it?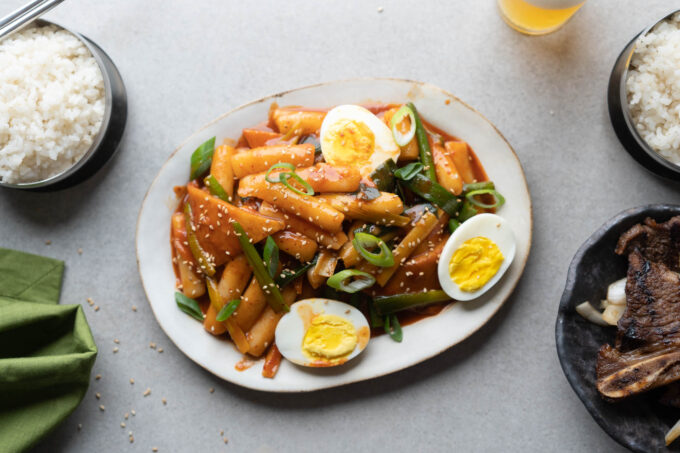 I recommend only making tteokbokki right before you want to serve and eat them because the rice cakes will harden once you put them in the fridge. If you do have leftovers, you can keep them in an airtight container in the fridge for up to three days.
To reheat tteokbokki, I advise you to use a saucepot instead of the microwave to properly heat up the sauce and soften the rice cakes. Make sure to add about two tablespoons of stock or water to the pot and bring it to a light simmer until the rice cakes are softened.
Tteokbokki (Korean Spicy Rice Cakes)
Learn how to make this sweet and spicy Korean tteokbokki snack at home from scratch. Great as a side with other foods, and of course it pairs great with a cold beer.
Ingredients
Stock
6

medium

dried anchovies

6

1×1"

kombu pieces

1

small

yellow onion

cut into quarters

4

c

filtered water
Seasoning
3

tbsp

gochujang

1

tbsp

rice syrup

1

tbsp

soy sauce

1

tbsp

minced garlic

2

tsp

gochugaru
Fillings
1

lb

rice cakes

preferably fresh and soft

¼

lb

fish cakes

sliced into triangles

1

big green onion (or 3 regular scallions)

cut into 2-inch pieces

2

large

boiled eggs

optional

sesame seeds
Equipment Used
large saucepan

tongs

knife and cutting board

Strainer
Instructions
If your rice cakes are premade and refrigerated, submerge them in a large, warm water bath for at least 20 minutes or until they're slightly softened. Set this aside and start the next step. If your rice cakes are made fresh and are soft to the touch, you do not need this extra step.

Make the stock. In a large saucepan, add all stock ingredients and bring to a boil on medium-high heat, then lower to a simmer (or medium-low) for 10 minutes. After simmering, strain and discard the ingredients, leaving only a clear stock. Pour the stock back into the saucepan.

In a small bowl, combine all the seasoning ingredients and stir until incorporated. Add the seasoning into the saucepan and stir to combine.

For refrigerated rice cakes: After the rice cakes have finished soaking, completely drain the water.

Add the rice cakes and fish cakes to the saucepot. Use tongs to stir the rice and fish cakes, so they're covered with the seasoning.

Bring the heat to medium. Stir occasionally, so the rice cakes don't stick to the bottom of the pan. Continue to cook for 15 minutes or until the liquid has thickened to a maple syrup consistency. The rice and fish cakes should be softened, and the sauce should be shiny.

Turn off the heat and add the sliced big green onion and hard-boiled eggs. Let sit for two minutes to allow the green onions and eggs to warm.
Nutrition Facts (per serving)
Calories:
562.44
kcal
|
Carbohydrates:
107.93
g
|
Protein:
16.88
g
|
Fat:
6.75
g
|
Saturated Fat:
1.56
g
|
Polyunsaturated Fat:
1.58
g
|
Monounsaturated Fat:
2.23
g
|
Cholesterol:
96.25
mg
|
Sodium:
493.72
mg
|
Potassium:
476.98
mg
|
Fiber:
5.64
g
|
Sugar:
6.97
g
|
Vitamin A:
482.56
IU
|
Vitamin C:
4.46
mg
|
Calcium:
54.5
mg
|
Iron:
2.52
mg
Nutrition Facts
Tteokbokki (Korean Spicy Rice Cakes)
Amount per Serving
% Daily Value*
* Percent Daily Values are based on a 2000 calorie diet.
Like this recipe? Subscribe to my newsletter!