Crispy pan-fried edges and chewy multi-layered dough of fat and fresh scallions–these scallion pancakes, or "cong you bing" as they're known in China.
These are pancakes we always have to order at our local Taiwanese spots to complete our meal (which taste great dipped in the pool of spicy wonton sauce.) But now you can make them at home!–They're so packed with crispy oniony flavor that you'll want to double the batch.
Where are they from?
Scallion pancakes are freshly pan-fried and typically sold from food carts throughout Asia, like this street vendor. They're a nice on-the-go snack and also full of flavor–in Asia, many vendors and restaurants slather them in lard and other spices.
While it's popularity in China, Korea, and even Vietnam has risen through the years, there's actually some confusion about its origin. There's even some myth that Marco Polo missed scallion pancakes so much when he came home to Italy that he changed the way pizza (PIZZA) was made. I don't know if there's any truth to that myth, but I can understand the obsession.
My favorite scallion pancakes are from a local restaurant called A & J and after years of gobbling them up in different Taiwanese and Chinese restaurants, I figured I should learn how to make them.
I've seen different variants of scallion pancakes from super thin and crispy to thick and chewy pancakes. This recipe will give you a thick, but flaky scallion pancake with a slight al dente texture.
Finding the best dough recipe
In general, scallion pancakes are unleavened wheat pancakes that are flattened and pan-fried to a crisp. I've had my fair share of scallion pancakes throughout the years and I've had just as many bad versions as good and one of the main reasons is the lack of flaky texture in the dough.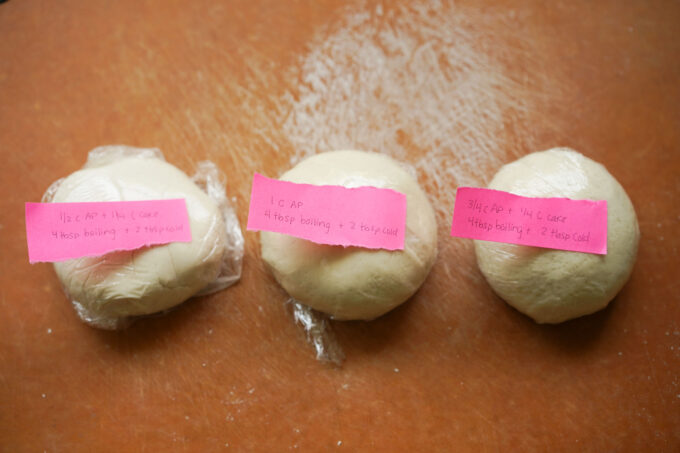 Many recipes I've found use only all purpose flour to make their dough, but I added in some cake flour (for its lower protein) and mixed them together with boiling water (like my char siu bao and spring roll wrapper dough). This gives us a soft and pliable dough due to the cake flour and boiling water, but we also still have the elasticity from the all purpose flour.
The dough ratio I ended up with gives a soft and elastic texture. Don't be alarmed if you find it sticking too much to your hands. When kneading out my dough I lightly floured my surface and the dough, but also had a bench scraper if needed.
The less gluten proteins in the dough, the softer it is to work with and the thinner you can roll out the dough as well. In this video of a street vendor, you can see that the dough is super pliable that he doesn't even need to roll it out (goals)!
I was originally worried it would be too sticky or soft, but I actually got the best flakiness and consistency cooking this dough than other iterations. This dough also gives us a flaky, but al dente texture in the scallion pancake.
Sesame oil or lard?
Traditionally in China and Taiwan, scallion pancakes are brushed with lard to give it a much fattier flavor and flakier layers. For vegan versions of this recipe, many people like to use sesame oil as a fat replacement, but I found that only using oil (or even an uncooked mix of oil and lard) saturated the dough too much.
I went through about four or five iterations of different fatty fillings until I found the right combination. After watching the street vendor video where he used a large amount of lard paste for layering, I made a roux of lard, sesame oil, and all purpose flour that I cook down before brushing onto the dough. Using the roux worked better to separate the layers when cooking and I ended up with super flaky layers.
Scallions
In addition to sesame oil or lard, scallions are one of the important ingredients! Try to find scallions (or green onions) that have bright green stems, firm stalks, and are smaller in general. Some grocery stores will sell super large scallions, but I found that these huge scallions would sometimes break the dough when rolling out.
I chop the scallions super thin to make sure I can evenly distribute them throughout the pancake and get a mouthful with every bite without breaking the dough. I would recommend not including any harder white parts of the stems because they might puncture the dough while rolling out.
For another fun project (and unlimited green onions in the future), you can keep the white bulbs with the roots intact and regrow green onions in water. To learn more about chives vs. green onions vs. scallions, read about it here.
Tips for success
After experimenting with so many different variations of scallion pancakes, here are some things that I learned along the way:
Use boiling water and cake flour – These two ingredients really help in creating a soft, but very elastic dough. FYI: this dough is very sticky and soft, but it rolls out very well and pan-fries with super flaky layers.
Use lard – While you can use sesame oil to substitute for lard, I found that adding lard amps up the flakiness in between the layers.
Make a roux and don't over-saturate your dough – I make a roux with sesame oil, lard, and flour to improve separation between the layers of the pancake. Before, I found it was too easy to over-saturate the dough using an uncooked mix of just lard and sesame oil. This would cause it to break or become "dense" after pan frying. The roux makes a thicker paste and gives me flakier and separated layers. It also gives a slight roasted flavor to the sesame oil. When basting the dough, make sure to mix the roux with a fork to get the paste that settles at the bottom.
Use the greenest parts of the scallion and slice then super thin – You can add more scallions throughout the pancake and you won't break the dough in the process of rolling and flattening it out.
Laminate twice – To get ample amounts of layers, laminate the dough first with just the roux before laminating with the roux and scallions. I learned this really cool idea from Serious Eats where they tested how to get the max amount of layers. The only thing I would suggest is to be careful with how much roux you are adding the first and second time to prevent over-saturating the dough.
Fry with a LOT of oil – Use enough oil so that it slightly covers the pancake while you are pan-frying. This helped with getting an even golden color throughout the pancake, and allowed for better flakiness throughout without giving you a super dense pancake.
Use a smaller, heavy pot (or a cast iron press if you have one) – Sometimes when pan-frying, I found that the centers would puff up and therefore not cook evenly. I used a smaller sized pot that was heavy (with a clean bottom!) and placed it on top while cooking. This worked as a press to evenly cook and pan-fry my pancake. Make sure there is oil on top of the pancake before placing the pot on top or it may get stuck.
Where did scallion pancakes originate?
The exact region of China where scallion pancakes originated is unknown, however, there have been many different variants from other regions such as Taiwan, Korea, and Vietnam.
What is a Chinese pancake called?
Chinese scallion pancakes are called "cong you bing."
What do you eat with scallion pancakes?
Scallion pancakes are a traditional breakfast side or afternoon snack, but you can also eat it with eggs, soup, or by itself with a dipping sauce.
Scallion Pancakes (Cong You Bing)
Crunchy and flakey scallion pancakes are one step closer with this detailed recipe. Follow my tips to cook up your own crisp and flavorful cong you bing at home.
Ingredients
Dough
120

g

(

1

c

)

all purpose flour

plus more for kneading and rolling out if necessary

60

g

(

1/2

c

)

cake flour

½

c

boiling water

1

tsp

salt
Assembly
1 ½

tbsp

lard

2 ¼

tsp

sesame oil

24.5

g

or 3 tbsp all purpose flour

¾

c

scallions (green parts only)

thinly sliced
Instructions
Dough
Sift the all purpose flour and cake flour in a mixing bowl.

In a kettle or over a stove, bring your water to a boil, then stir in the salt until it dissolves.

Carefully pour the boiling water into the flour and stir simultaneously with chopsticks. Continue to stir until it turns into a shaggy dough.

Use cleans hands to form the dough into a ball. Transfer the dough onto a clean surface and knead the dough for about five minutes or until it has a smooth surface.

Cover the dough with plastic wrap to prevent it from drying out and let it rest on the counter for 30 minutes.
Roux
Heat a small saucepan over medium-low heat and add the lard and sesame oil (be warned there may be some splattering). After heating the oil and lard for about 30 seconds, add the flour and stir until combined. Cook for an additional two minutes, stirring occasionally, until it turns a medium brown color. Remove from the heat and transfer to a heat safe bowl to chill for about 15 minutes.
Assembly & cooking
This recipe is originally for four pancakes, so split into four pieces of dough. Take one serving and cover the rest of dough with the plastic wrap so it doesn't dry out.

Lightly flour your surface and hands with all purpose flour. This will help the dough from sticking when you roll it out. Take the dough, sprinkle a little flour on top, and use a rolling pin to roll it out into a very thin circle. The thickness should be about two to three millimeters.

First rolling: Use a brush or your fingers to stir the roux and evenly spread a light coating of the roux on top of the dough (about ½ tsp). Try not using too much roux because it will over saturate the dough and break during rolling.

Starting from the bottom edge, begin to roll the dough away from you towards the top of your work surface. This should resemble a jelly roll and you should end up with a long tube.

Seal the tube by pinching the dough into itself. Take the right side of the tube and curl the tube so that it turns into a spiral.

Use your rolling pin to again roll out your dough to a very thin circle, about two to three millimeters thick with 25 centimeter diameter (or about 10 inches).

Second rolling: This is the same as the first rolling except we'll add the green onion with the roux. Use a brush or your fingers to again stir the roux and lightly spread the it over the dough.

Sprinkle minced scallions evenly over the surface. Take the bottom edge and begin to roll the dough away from you, carefully keeping the scallions flat.

Just like the first rolling, pinch the edges to the roll to make sure it doesn't unravel and take the right side of the tube and curl the tube to make a spiral. Place spiral under plastic wrap until you are ready to pan-fry.

When you are ready to fry, use the rolling pin to flatten out the spiral carefully. I only roll out the spirals right before I fry them because they might shrink if you pre-roll all the pancakes. You don't want to break the thin dough skin holding in the scallions. I flatten it out to about five to eight millimeters (or about 3/16 inches) in thickness with a 13 centimeter diameter (or 5 inches).

Preheat your pan over medium heat and add vegetable oil. Lower the scallion pancake into the hot pan and cook for about one to two minutes or until the edge of the pancake begins to brown, then flip over and cook for another one to two minutes until the other end is brown.

TIP: I like to put a smaller, heavy pot on top of the pancake to press and flatten it into the pan (you can also use your spatula to press down, but this gets tiring).

The entire cooking process takes anywhere from four to six minutes and I turn it over every two minutes. Remove the pancake when it's golden brown and firm.
Nutrition Facts (per serving)
Calories:
215.8
kcal
|
Carbohydrates:
40.1
g
|
Protein:
6
g
|
Fat:
3.2
g
|
Saturated Fat:
0.5
g
|
Sodium:
587.8
mg
|
Potassium:
110.7
mg
|
Fiber:
2
g
|
Sugar:
0.6
g
|
Vitamin A:
465.2
IU
|
Vitamin C:
5.5
mg
|
Calcium:
30.9
mg
|
Iron:
2.1
mg
Nutrition Facts
Scallion Pancakes (Cong You Bing)
Amount per Serving
% Daily Value*
* Percent Daily Values are based on a 2000 calorie diet.
Like this recipe? Subscribe to my newsletter!