This bok choy recipe will give you tender, but crisp bites of fresh greens in a savory sauce that is as fast to make as it is to eat. If you're like me and love incorporating different types of greens into your meals and want to change things up from spinach or everyday greens, this is definitely worth adding to your menu!
Bok choy is a type of Chinese cabbage that has been used in China since the 5th century, but now you can find it in many places in the world like Britain, the Philippines, and North America.
While it comes from the brassica family of greens, it does somewhat look like mustard greens, but without the bitter flavor. Instead, bok choy has a milder, slightly peppery flavor.
I've eaten bok choy at many Chinese restaurants, specifically dim sum based Capital Seafood, but these days you can also find it in many American based restaurants.
Buying bok choy
One thing I never quite realized until I started cooking bok choy is that it comes in two forms: true bok choy and Shanghai bok choy. True bok choy has a white bulb and dark, crinkled green leaves at the top and is typically used in many Chinese restaurants for stir fry and other traditional Cantonese recipes.
Shanghai bok choy has a light green bulb and slightly darker green leaves, you can find this type of bok choy more easily in American markets. This is the type of bok choy I will be using for this recipe.
When picking bok choy at the grocery store, try to pick the larger sized ones with firm stalks and bright green leaves; These traits will mean the bok choy is fresh and they will keep their shape and crispiness better when cooking.
If you can't find bok choy, you can also use swiss chard or napa cabbage, but you may need to adjust the cooking time to account for the size and thickness of the substitutes. For example, napa cabbage will cook faster than bok choy so you should reduce the cooking time and hover over your pan while cooking.
How to cut and wash bok choy
Cutting bok choy in half may look nice when plating but it is a pain to rinse and cook. When doing this at my grandma's house, I had to soak and drain the whole bok choy at least five times to fully remove the dirt stuck in between the stalks.
Cooking halved bok choy is also more troublesome to cook (you need to make sure you have a large enough pan to cook it in) and eat (it isn't really a "one bite" vegetable, sometimes I have to use a knife). Peeling the individual leaves allows for even cooking time and it's easier to eat!
Do it the easy way. Carefully remove any leaves that are brown or wilted. Under cold running water, take one bok choy and carefully separate and break off each individual stalk/leaf. Use your fingers to remove the dirt from the stalks (lots of dirt near the root) under the water, strain and place them on a clean plate. Repeat cleaning all the bok choy until you've finished.
How to cook bok choy
When the bok choy are all cleaned and prepped, place a large pan over medium-high heat on the stove and pre-heat before adding your oil. Add the minced garlic and saute for about 30 seconds or until the garlic is fragrant.
Add the onions to the pan and mix with the garlic oil, you don't want to overcook the onions in this recipe so they can keep a crispness to them. I like to premake a jar of garlic oil to add to these types of recipes (like sinangag (Filipino garlic fried rice), sauteed green beans with garlic and butter, or smashed potatoes).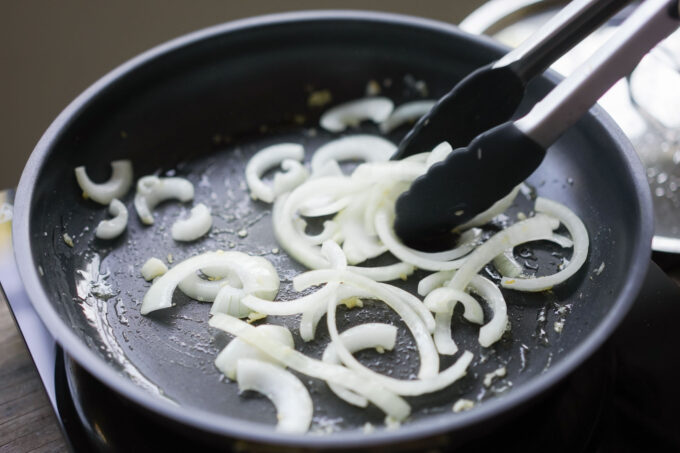 Then add your bok choy into the pan and stir them into the garlic and onion oil. Cover the pan with a lid and cook for two minutes. Remove the lid and stir the leaves around. The bok choy should begin to soften at this point.
Add the oyster sauce and soy sauce to the pan and mix thoroughly so all the bok choy is covered. Now cover with a lid once more and cook for an additional three minutes. Once this is done, remove the lid and stir the leaves again.
At this point, the bok choy should still have a bit of a firmness to them and there should be excess liquid in the post from the sauce. I like to cook uncovered for another two minutes to thicken the sauce and soften the stalks a little more.
During cooking, it's important to check on your bok choy for doneness. Cooked bok choy should have tender stalks that are easy to pierce with a fork, but not too soft that it disintegrates when you bite into it.
If you want to mod the seasoning on future rounds to change its level of sweet and saltiness, feel free to scale up or down the oyster sauce and soy sauce slightly too. To get an extra crunchy texture, you can top this dish with some fried garlic.
Serve your sauteed bok choy immediately, I like to pair this bok choy recipe with miso-marinated black cod and a side of rice.
If you want more options for easy Asian recipes, learn more here.
What do you eat with bok choy?
Bok choy is best served cooked in a stir fry by itself or with other vegetables and meat like yaki udon. It pairs really well with a nice soy sauce base to give the greens a little more flavor.
What can I do with a large bok choy?
Large bok choy has firmer and sturdier stalks and does well in steamed or cooked in a stir fry. They can keep their shape and crispness during cooking.
Is bok choy healthy?
Like other cruciferous greens, bok choy is full of health benefits like vitamin C, E, and beta-carotene.
What does bok choy taste like?
Bok choy has a mild and slightly peppery flavor that is similar to mustard greens but does not have the same bitterness.
Sauteed Onion & Garlic Bok Choy
If you're searching for a different type of green to include in your weeknight dinners, this easy bok choy recipe will give you tender and crisp greens sauteed in a savory soy sauce base with fragrant onions and garlic.
Ingredients
½

lb

(

226.8

g

)

Shanghai bok choy

1

tbsp

olive oil

⅔

c

onion

sliced

1

tsp

garlic

minced

1

tbsp

oyster sauce

1 ½

tbsp

soy sauce
Instructions
Under running water, peel the bok choy leaves and separate them, while rubbing off any dirt. Place them in a bowl until you are ready to cook.

In a large pan over medium-high heat, preheat your pan. Then, add the oil and garlic and cook for about 30 seconds or until fragrant and slightly brown. Add the sliced onion and stir.

Add your bok choy leaves immediately and stir until you've coated the leaves in the garlic oil thoroughly. Cover with the lid and cook for about two minutes.

Remove the lid and stir the bok choy around, it should have started to soften.

Add the oyster sauce and soy sauce into the pan and quickly stir until all the bok choy leaves are coated. Cover with the lid and cook for about another 3 minutes.

Remove the lid and continue to cook uncovered for another 2 minutes to reduce the sauce. Stir occasionally at this time to make sure the leaves don't burn.

Test one of the leaves for doneness. I like when the white stem stills has some crunch and the leaves to have only slightly wilted. The goal is to have it not raw, but to not completely overcook these things. Eventually you'll be able to tell doneness just by looking. Serve immediately.
Nutrition Facts
Calories:
56.4
kcal
|
Carbohydrates:
4.8
g
|
Protein:
2
g
|
Fat:
3.7
g
|
Saturated Fat:
0.5
g
|
Sodium:
538.2
mg
|
Potassium:
196.1
mg
|
Fiber:
1
g
|
Sugar:
1.9
g
|
Vitamin A:
2533.3
IU
|
Vitamin C:
27.7
mg
|
Calcium:
65.7
mg
|
Iron:
0.7
mg
Like this recipe? Subscribe to my newsletter!