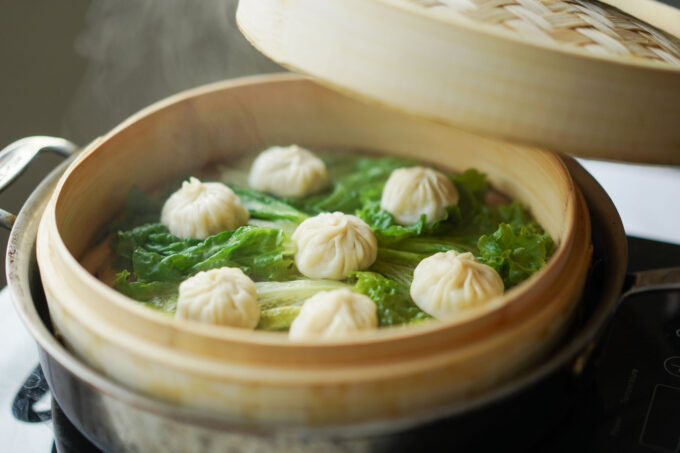 I will never turn down a dumpling. Xiao long bao–these plump pouches of meaty dumplings encased in a delicate wrapper have extra appeal with its seemingly magical soupy filling.
Also known as Chinese soup dumplings, xiao long bao pack a punch of flavor in every bite and are world famous thanks to restaurants like Din Tai Fung. This recipe gives you a faster shortcut to getting those juicy bite-sized dumplings.
Soup gelatin
One of the first steps to making xiao long bao, is the very ingredient that makes this dumpling swim with flavor: the soup gelatin. Now most traditional recipes call for a homemade broth, but I like to use a shortcut version with chicken bouillon and agar agar powder because I don't always have time to make broth or have access to meat bones.
Haters will say it's cheating, but your taste buds AND your extra free time will thank me later. If you have the time to make it from scratch, then by all means do it.
In this recipe, I use bouillon powder simmered with smoked ham, ginger, and onion for about ten minutes. After straining this mixture, I let it sit for about fifteen minutes to allow the flavors to concentrate before placing it back in a pot and adding the agar agar powder. Boil the liquid and then remove it from the heat and place it in a glass container to cool on the counter and then move it to the fridge to set. Setting should take about 30 minutes.
Dumpling wrappers
While you are waiting for your gelatin to set, you can start your wrappers. I like to make wrappers from scratch because it's easier to fold when they're fresh. If you don't have time to make your own, you can buy dumpling wrappers at the store like New Hong Kong Noodle Company wrappers that are sold in many Asian grocery stores.
For this recipe, I used the same recipe as my spring roll wrapper (without cooking it) and pork and shrimp shumai dough. It's a basic dumpling dough of all purpose flour, hot water, and salt.
Measure out your dough and place it in a mixing bowl. Heat up your water and then mix the salt in to dissolve. Slowly pour the hot water and salt liquid into the flour bowl and stir with chopsticks. You should end up with a shaggy dough. Remove the dough from the bowl and place it onto a floured surface.
Knead your dough using the heel of your hand and press the dough upwards, turn your dough 45 degrees and repeat. Continue to knead for about ten minutes until it's smooth. It is really important to knead until your dough is smooth, otherwise your dough will set lumpy. When it's smooth, shape it into a bowl, cover it with a towel or plastic wrap, and rest for at least 30 minutes.
Dumpling filling
While your dough is resting you can make the filling. Take your gelatinized stock out of the fridge and cut it into bite sized pieces. Save about ¼ of these pieces and place it in a bowl–you will use this later on when forming the xiao long bao
Pork usually comes ground a bit too coarse for how I like my filling texture. We'll pulse in a food processor a bit to combine everything and get the pork a bit finer.
In a food processor, add the ground pork, minced green onion, minced ginger, seasonings, and leftover gelatinized broth and pulse until it's all combined.
The reason I like to use a food processor is to make sure all the pieces blended together and give a smoother texture to the meat filling. However, you DON'T want to make it so fine that it becomes a paste, so make sure to stop processing before this.The first time I made the dumplings, I didn't put the meat in the food processor, which resulted in a filling with a chewy and lumpy texture after steaming.
How to roll out the dough
After your dumpling dough has rested, weigh your dough and divide this by 50 (if you don't want this many, you can cut down the recipe). With this recipe, each wrapper is about seven grams in weight.
I like to weigh out each wrapper to make sure it's consistent. It makes sure you can use the same amount of filling and be able to properly wrap. It also ensures that your dumpling look more uniform. When you are rolling out each wrapper, keep the cut pieces of dough under a damp towel to prevent them from drying out.
After you've cut your dough, roll the piece in flour and use a rolling pin to flatten it into about a 2 ½ inch circle. The thin out the edges of the circle with the rolling pin. The thin edges will make it easier to pleat the dumpling when you wrap it. The end result should be a circle that is around three inches in diameter. Place the wrapper under the towel and continue to roll the other pieces of dough.
How to wrap
Step 1. Wrapping the xiao long bao definitely takes practice, but it's worth it! By Din Tai Fung standards, each bao takes 18 folds to make the perfect bao, so this is the standard I follow. Start with one wrapper in your left palm (or non-dominant palm). Add 10 grams of filling (or a little under one tablespoon)–I used a #100 disher for easy scooping.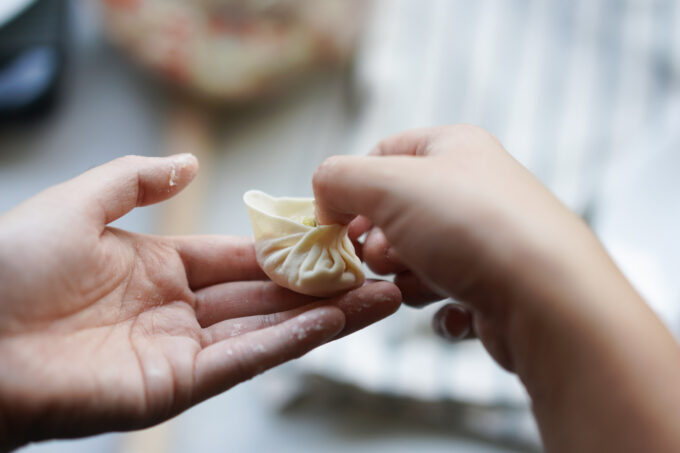 Step 2. Use your right hand (or dominant hand) thumb and pointer finger to create folds around the edge of the dumpling. I like to use my left hand's index and pointer finger to guide the dough into the folds. This should look like pleating.
Step 3. Continue to pleat the dough and then pinch the last fold into your first fold. Continue pinching the wrapper closed in a swirling motion. You should keep going in the same direction at all times. Your bao should have a swirl at the top and there shouldn't be any holes or openings. Repeat with the rest of the wrappers.
How to steam xiao long bao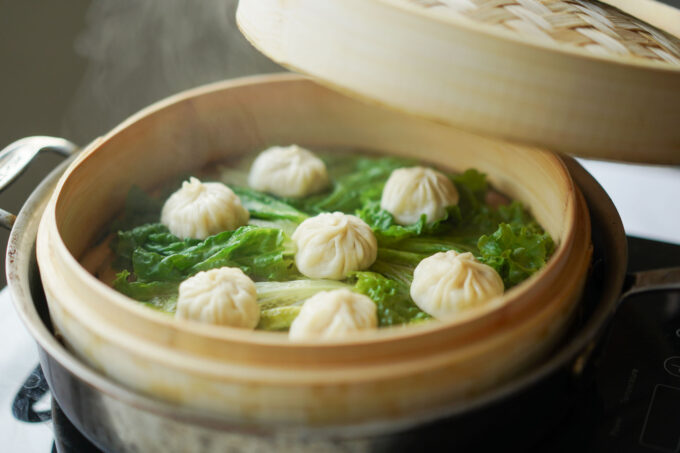 Line your bamboo steamer with lettuce or parchment paper and preheat your steamer before placing your xiao long bao inside; This will help with cooking the dumplings properly.
Place your xiao long bao into the steamer, leaving space between them, and steam for ten minutes. Do not try to open up the lid before they're done because you will lose some steam. I've made the mistake of opening the lid too soon to check on my dumplings and found I had no soup because the gelatin hadn't melted yet.
At ten minutes, test one of the dumplings to see if the meat is thoroughly cooked and the gelatin has dissolved.
How to eat xiao long bao
While there isn't a right or wrong way to eat dumplings, there is a way that allows you to properly savor the soup in xiao long bao. All you need are some chopsticks, a soup spoon, and some dipping sauce.
Take a xiao long bao and dip it into the dipping sauce (if you want), and place it into a soup spoon.
Take your chopsticks and pierce the side of the dumpling and allow the soup to ooze out so it cools a bit.
Sip the soup and be content with life.
Then continue the utopia party in your mouth by eating the rest of the dumpling. Mmmm delicious.
If you want to enjoy a full dim sum meal, you can also make chicken feet, cheung fun, char siu bao, egg tarts, Chinese broccoli and oyster sauce, airfryer dumplings, and pork and shrimp shumai. 
Is xiao long bao a dumpling?
Xiao long bao is a dumpling that has a meat filling and soup inside.
What does xiao long bao mean?
Xiao long bao translates to "little basket bun."
How do you pronounce xiao long bao?
Xiao long bao is pronounced as "zh-ow long bow."
Can you boil xiao long bao?
You should not boil xiao long bao because the wrapper is very delicate and would easily pop. The appropriate way to cook xiao long bao is using a steamer.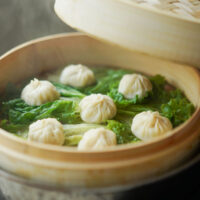 Xiao Long Bao – Pork Soup Dumplings
These plump satchels of meaty soup filled dumplings are a piece of heaven in each bite. This recipe will teach you how to make xiao long bao in the comfort of your own home!
Ingredients
Gelatin stock
3

tbsp

smoked ham

diced

2

tsp

chicken bouillon powder

2

c

water

2

inches

ginger

sliced

½

yellow onion

cut into quarters

1

tsp

agar agar powder

you can also use gelatin and follow the ratio on the packet
Dough
240

g

or 1 ½ cups all purpose flour

115

g

or 9 tbsp hot water

7 ½

g

or 1 ½ tsp salt
Filling
½

lb

ground pork

super fatty

⅛

tsp

sugar

1

tbsp

green onions

minced

1

tsp

ginger

minced

¼

tsp

sesame oil

½

tbsp

Shaoxing wine

½

tsp

light soy sauce

1/16

tsp

white pepper

¼

tsp

salt
Dipping sauce (optional)
black vinegar

ginger

julienned
Instructions
Gelatin
In a pot, add water, bouillon powder, ginger, ham, and onion over medium high heat. When it reaches a boil, lower to medium heat and allow to simmer for eight to ten minutes or until the liquid reduces to half the amount.

Strain the stock into a bowl and rest for 15 minutes to allow the flavors to concentrate.

Place the strained stock into the post again and mix in the agar agar powder thoroughly. Wait for the liquid to boil and then remove it from the heat. Place the liquid in a glass container and allow it to rest to cool before moving it into the fridge to set for 45 minutes.
Dough
Measure flour and add into a mixing bowl.

Boil your water and mix in the salt until it dissolves. Add the hot water carefully into the flour and mix with chopsticks or a spoon. Mix until it becomes a shaggy dough.

Move the dough onto a floured surface and knead with the heel of your hand. To knead, use the heel of your hand and move the dough upwards, turn in a 45 degree angle and repeat. Continue for eight to ten minutes or until the dough becomes smooth. Cover with a towel or cling wrap and rest for 30 minutes.
Filling
Take the set gelatin stock from the fridge and cut it into bite sized pieces. Reserve about ¼ of the gelatin and put it aside for later.

In a food processor, add the ground pork, minced green onion, minced ginger, seasonings, and ¾ leftover gelatin. Pulse until the filling is combined, but before it becomes a paste. In between pulses, you can use a spatula to scrape the bottom and sides to make sure all parts of the filling is mixed. If you don't have a food processor, you can also use your knife to chop up and mince the filling together. We're trying to adjust the texture of the filling so it is smoother after it cooks.
Rolling wrappers
After resting, weigh your dough and divide by 50 to know how much to portion out for each wrapper. This should be around seven grams per wrapper for this recipe. Cut each piece of dough according to this measurement. Put cut pieces under a damp towel while you roll out wrappers to prevent them from drying out.

Take one piece of dough and roll it out into a 2 ½ inch circle. Use the rolling pin to thin out the edges. This should make a three inch circle. Repeat this with the rest of the wrappers. Keep the rolled out wrappers under the damp towel.
Assembly
In your left hand (or non-dominant hand), place a wrapper on your palm and add about ten grams of filling in the middle of the wrapper. With the reserved gelatin cubes, add about one or two cubes on top. This will make sure you have extra soup in each bite.

Using your right hand (or dominant hand), take your pointer finger and thumb and make a fold starting at the top edge of the dumpling and continue to make folds towards your left hand (or non-dominant hand).

Use your left hand's (or non-dominant hand's) index and pointer finger to guide folds into your other hand. These folds should start to resemble pleating when you pinch the folds together.

Continue with these folds around the dumpling until you reach the first fold where you can finish pinching the top of the dumpling together in a swirling motion. Always go the same direction you've been folding. The end result should be a swirl or twist on top. There shouldn't be any holes on top.

To make the dipping sauce, combine equal parts black vinegar and soy sauce (or whatever your preference is). Julienne some ginger and add it to your dipping sauce.
Steaming
Line your steamer with lettuce or parchment paper and preheat the steamer on the stove before adding your dumplings.

Place dumplings in the steamer and cook for about ten minutes per batch. Do not open the steamer before then. After, test one dumpling to see if it's cooked and the gelatin has melted.

Serve with dipping sauce and eat immediately.
Nutrition Facts
Calories:
30.5
kcal
|
Carbohydrates:
3.7
g
|
Protein:
1.4
g
|
Fat:
1
g
|
Saturated Fat:
0.4
g
|
Cholesterol:
3.6
mg
|
Sodium:
102.2
mg
|
Potassium:
22.4
mg
|
Fiber:
0.1
g
|
Sugar:
0.1
g
|
Vitamin A:
1.2
IU
|
Vitamin C:
0.1
mg
|
Calcium:
1.8
mg
|
Iron:
0.3
mg
Like this recipe? Subscribe to my newsletter!