Chewy and sweet boba is such a treat whenever I drink jasmine milk tea or any other bubble tea. After years of buying premade boba, I finally have a recipe to make boba at home anytime I feel a craving coming on. With just three ingredients, dark brown sugar, water, and tapioca starch, you can learn how to make boba too!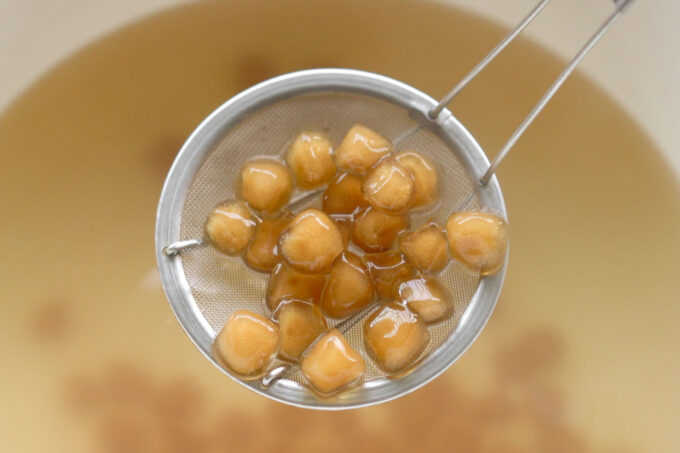 Why make homemade boba?
While I've been to plenty of boba cafes in the past 20 years, I've found it's pretty rare to find homemade boba from scratch at these cafes. Recently, OneZo (shops in California, New York and Massachusetts) made headlines making their boba in-store and I started to research making boba at home because I wanted to know exactly what I was consuming.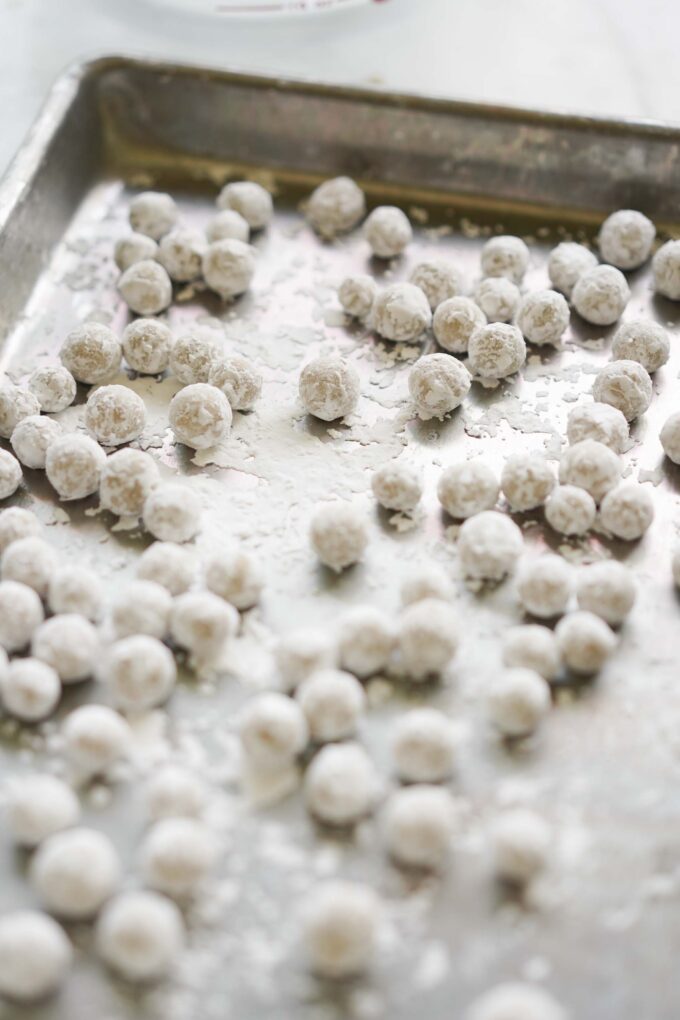 After buying about 13 varieties of premade boba from different stores and online boba shops online, I saw that many of these boba pearls were made with many types of ingredients that I didn't recognize. While I was researching how to make boba from scratch, I've found that most boba is made by a few ingredients: tapioca starch, dark brown sugar, and water.
The best tapioca pearl / boba brands
Making boba from home can be quite a challenge so I wanted to offer you another option–buying premade pearls. If you want to make boba milk tea using premade boba, you can buy various brands online and in stores.
But please be warned, many people seem to have difficulty cooking premade boba even when they come with instructions. I bought 13 different varieties to help people troubleshoot these cooking issues, and the methods to cooking can vary greatly from brand, and type within a brand, but in the end if you're willing to experiment and retry, it's much easier than trying to make your own boba.
These brands below are four of 13 I tested and these stood out from the pack as the best because of the quick cooking time and better final results. Here is a list of brands I recommend:
To cook these different types of boba, you can refer to our previous How to Cook White Tapioca Pearls and How to Cook Tapioca Pearls posts. I also list our why I prefer these specific brands and types on these posts for the boba above.
Why making your own boba can be difficult
When I first attempted this, I honestly thought this would be an easy process; This mindset quickly went out the window after my second time trying to make my pearls. It's worth mentioning that this can be a tricky process because working with tapioca starch is a sticky situation.
While working with this recipe, I dealt with timing and texture issues with my dough. With my dough going from being too sticky and wet to being too dry. After several rounds of testing, I finally found a recipe that works. I've also listed some tips below to help you get chewy and sweet boba.
How to make tapioca pearls (step by step)
Step 1. In a saucepan over medium heat, combine the dark brown sugar and water. Stir until the liquid warms up and the sugar dissolves. This takes about 45 seconds.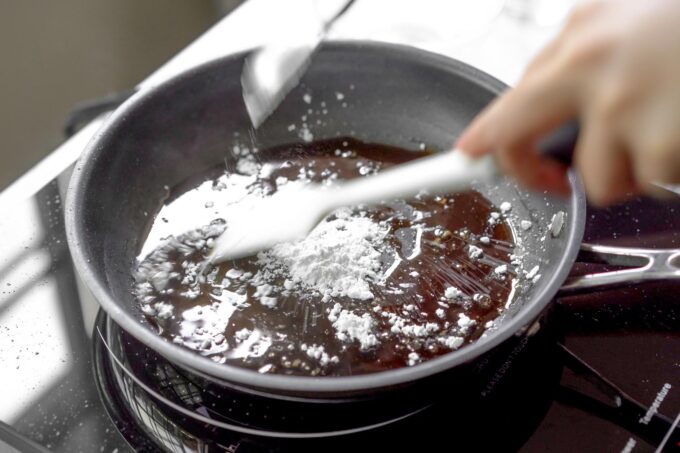 Step 2. Remove the pan from the heat and add two tablespoons as you constantly mix to make sure its even. This should happen in under five seconds.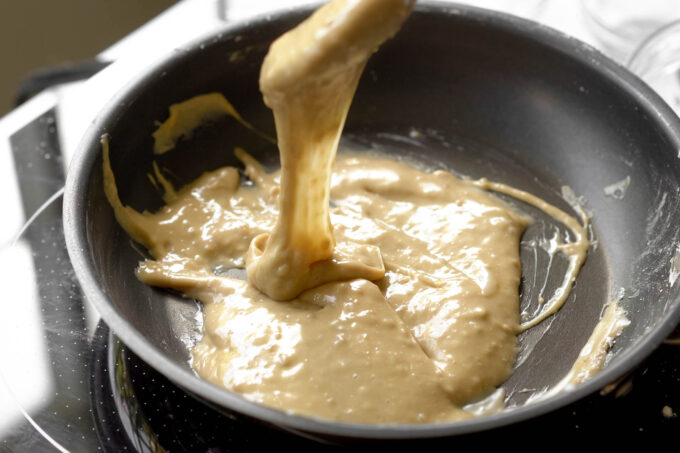 Step 3. Add the rest of the tapioca starch in your pan and mix thoroughly. You want to make sure you get all the tapioca starch incorporated into the thick mixture. It may get a little tiring stirring so much, but it's worth it! This should give you a thick and sticky consistency of dough. It should take about one minute total.
Step 4. Sprinkle tapioca starch over your cutting board or pastry board. Transfer the dough onto the surface, adding a little more tapioca starch on top of the dough.
Step 5. Carefully begin to knead your dough and sprinkle in more tapioca starch if it's still too sticky. I like to knead for about two minutes. Test your dough by pulling it apart and if it snaps or breaks in the middle then it's ready. It should also be smooth.
Step 6. Cut your dough in quarters and place three sections in cling wrap to prevent it from drying out. With one quarter, roll it into a log with about a ¼ of a quarter diameter.
Step 7. Then cut the log into about ¼ of a quarter pieces. Take one piece and roll in between your palms to make a small ball. (Note, the boba will expand in the boiling water as it cooks)
Step 8. Sprinkle some tapioca starch into a tray or bowl and place your boba balls in there to prevent them from sticking. Repeat with the rest of the dough.
Step 7. After you've finished rolling all your balls, place them in a strainer and remove the excess starch.
Step 8. Boil about 10 cups of water in a large pot and then add about ½ cup of boba into the pot. Wait for the boba to float, then cook on medium heat for about 20 minutes, uncovered. Note: after putting my boba in the boiling water, I noticed they changed their shape similar to raisins. But after boiling for 20 minutes, they rounded out again.
Step 9. Remove the pot from the stove, and then cover with a lid and rest for another 20 minutes.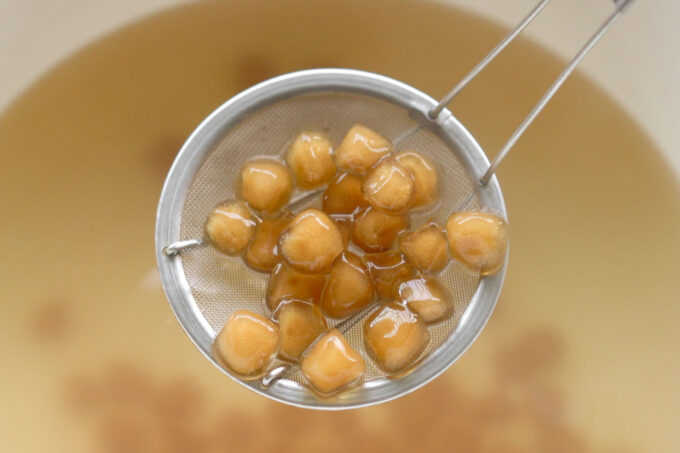 Step 10. Strain the boba from the water and run them under cold water to remove the excess starchy layer and stop the cooking process and use these pearls as soon as possible.
Step 11 (optional). If you want to further sweeten the boba, you can add the boba and two tablespoons of dark brown sugar (or honey) in a bowl and leave it to marinate for ten minutes. Serve your boba with jasmine milk tea or thai tea. Again try to serve and eat these pearls as soon as you can.
Tips to ensure better results
You need to use tapioca starch/flour. These are the same thing, but you definitely cannot substitute cornstarch for tapioca starch. The boba will not form properly.
Heat it up: when heating up your water and dark brown sugar, make sure the liquid gets heated enough so that the tapioca starch can dissolve.
When you move the sugar water and starch mixture back onto the stove, you need to move fast! Constantly stir the liquid and the instant that you start to see thickening at the bottom of the pan, remove it before it gets too sticky.
Knead your dough! I witnessed some videos where people posted their boba fails because they thought their dough was too dry, but it was only because they didn't knead their dough enough to incorporate the ingredients.
Don't over knead though! While kneading, the dough should be warm to the touch. Stop kneading before it gets too cold and dry. Too dry dough will begin to crack. If you pull your dough apart quickly, it should snap in the middle. This is when you should stop kneading and start making your round balls.
Keep all the dough under cling wrap to prevent it from drying out before you roll it out into balls.
Use more tapioca starch to cover the finished balls to prevent them from sticking together.
Drying boba will give you a better round shape. While you can cook your boba immediately, I found that drying them out for about two hours will help them keep their super round shape. If you cook them immediately, they do resemble raisins once you put them in the boiling water, but they round out a bit while cooking. Note: the shapes aren't perfectly round, but the shape doesn't change the flavor.
Can I make tapioca pearls with cornstarch?
It is really important to use tapioca starch when making boba or tapioca pearls because you need the sticky and chewy nature of tapioca starch in your dough. Cornstarch does not have the same properties to give you this same texture.
You can find tapioca starch in various Asian grocery stores or even in grocery stores. I have seen Bob's Red Mill Tapioca Starch available online and in-stores. Please note, in America, tapioca starch and tapioca flour are one in the same.
How do you keep Boba chewy?
You should consume boba as soon as you make it to get the perfect texture, or at least four hours within cooking them for the best texture. To keep boba chewy, you can submerge them in a sweet, room temperature liquid until you add them in your drink. Once you put them in the fridge, they begin to harden.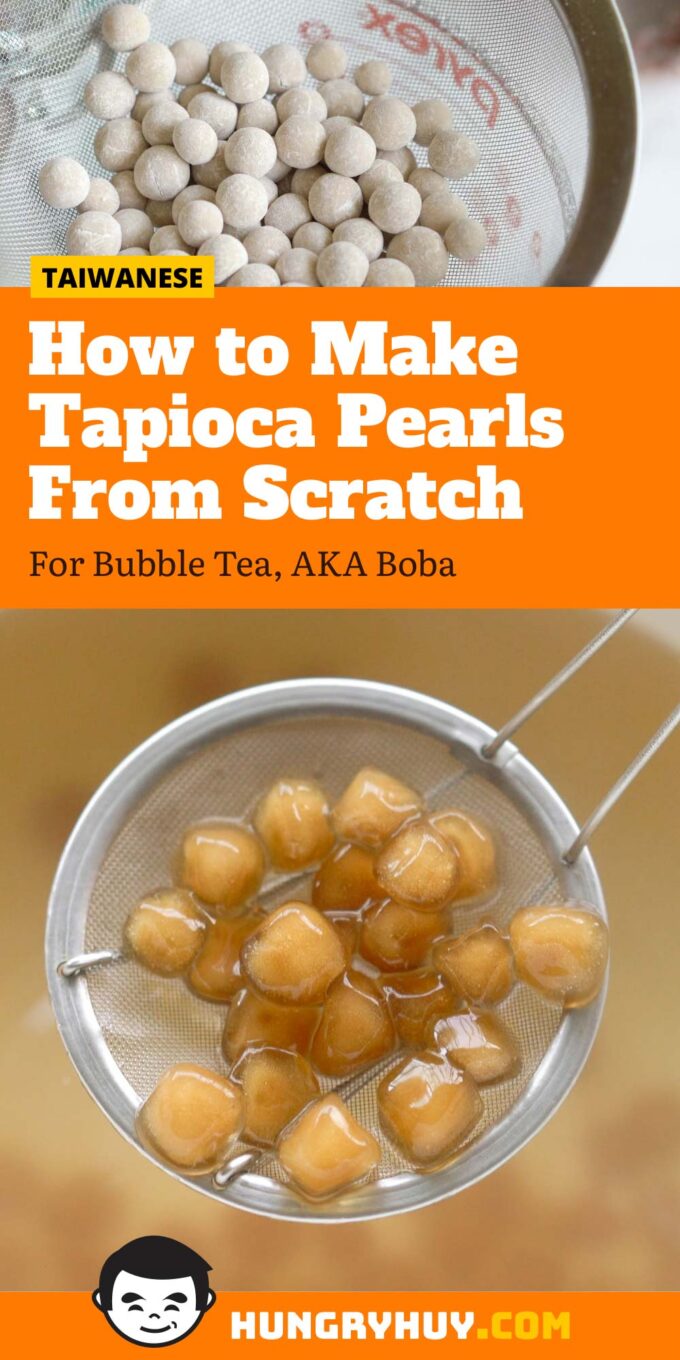 How to Make Boba from Scratch (aka Tapioca Pearls) for Bubble Tea
This tapioca pearl recipe will help teach you how to make tapioca pearls (boba) from scratch! Soon, you'll have extra chewy and fresh boba at home.
Ingredients
40

g

or 3 tbsp dark brown sugar

60

ml

or ¼ c water

95

g

or ¾ c tapioca starch or flour
Sweetener
13

g

or 2 tbsp dark brown sugar or honey

optional
Instructions
Making dough
In a saucepan over medium-high heat, add 40 grams of dark brown sugar and 60 milliliters of water and stir until the sugar is fully dissolved. Remove the pan from heat and make sure there are no bubbles any longer.

Add about 1 tablespoon of tapioca starch and mix in quickly before it gets too lumpy. Add the pan back onto the stove on medium-low heat and stir constantly until it begins to thicken. Once you start seeing the mixture thicken on the bottom of the pan, remove it from the stove and begin to stir until the entire mixture thickens.

Add the rest of the tapioca starch into the pan and continue to stir constantly until you incorporate all the starch into the mixture. It should become slightly sticky and thicker to stir.

Sprinkle tapioca starch onto a clean surface and transfer your dough. Sprinkle more tapioca starch on top of the dough and carefully knead until it's smooth and you get a less sticky texture. I knead for about two minutes and add more tapioca starch if the dough still feels too sticky. Pull the dough apart and if it snaps in the middle, then your dough is done kneading.

Cut the dough into quarters and place three of the quarters under cling wrap to prevent them from drying out.

Take one quarter and roll it into a long rope with ¼ of an inch diameter. Cut small pieces of about ¼ of an inch sections along the rope. Take one piece and roll it between the palm of your hands to form small balls. Add some tapioca starch into a bowl or sheet pan to prevent the balls from sticking. You want to move pretty quickly because you don't want to dry out the dough. Repeat until you have formed all the boba balls.

Once you have enough balls you can start to cook them.
Cooking boba
Boil 10 cups of water in a large pot. Once it hits a boil, add ½ cup of boba. Wait for the boba to float and then lower to medium heat. Continue to cook on a simmer for 20 minutes.

Then move the pot off the stove, cover with a lid, and rest on the counter for an additional 20 minutes.

Strain the pearls and run them under cold water to stop the cooking process and remove the starchy outer layer.

If you want to sweeten your boba, put them in a bowl and mix in two tablespoons of dark brown sugar. Marinate for 10 minutes and serve with your favorite milk tea!
Nutrition Facts (per serving)
Calories:
258.9
kcal
|
Carbohydrates:
67.3
g
|
Protein:
0.1
g
|
Sodium:
8.9
mg
|
Potassium:
26.6
mg
|
Sugar:
25.7
g
|
Calcium:
22
mg
|
Iron:
0.7
mg
Nutrition Facts
How to Make Boba from Scratch (aka Tapioca Pearls) for Bubble Tea
Amount per Serving
% Daily Value*
* Percent Daily Values are based on a 2000 calorie diet.
Like this recipe? Subscribe to my newsletter!