Fresh brewed Vietnamese coffee topped with icy hills of sweet and frothy coconut slush. Is your mouth watering because mine is? Ice-blended Vietnamese coconut coffee is much more than just a caffeine rush, it's a nice pick me up best eaten for any time of the day.
I first found out about Vietnamese coconut coffee during my most recent trip to Vietnam in the middle of a pearl factory. Yes, you read that right. It wasn't in some well-known cafe or even in a restaurant, but at a lone coffee kiosk in the back of a pearl factory. The menu item "coconut ice cream coffee" struck me immediately.
When I received my coffee, I realized it was not actually topped with ice cream, but more of a coconut slushy that made it similar to a frappuccino–safe to say I was not disappointed. I later found cafes in Ho Chi Minh City that featured this same drink and realized it was because they blended ice and coconut cream together to make the slushy.
The coffee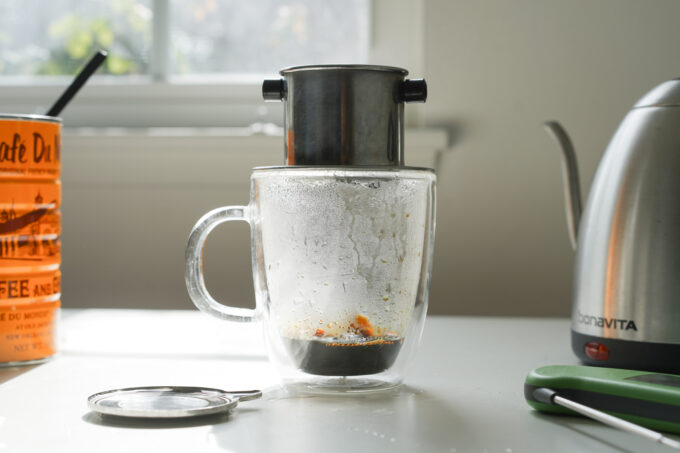 Brew it with a Vietnamese filter. This drink uses the same steps to brew traditional Vietnamese coffee (sans condensed milk at the end), but includes the addition of the frothy slush made of coconut cream, condensed milk, and ice. It's really that simple! After coming back to the States, I researched and tested out similar recipes and I've finally made a tasty variation with this recipe.
You can easily premake the two components of the coffee ahead of time and combine them when you are ready to drink or serve. I prefer brewing the coffee using a phin (Vietnamese coffee filter) about 15-30 minutes before serving so the coffee can cool down in the fridge.
Or brew it with a French press. You can also make this with a French press if you don't have a phin. I prefer this method when tripling this batch for larger parties.
Just boil the water to 205 F (or let it hit a boil and wait about 3 minutes with the kettle uncovered). Pour the coffee grinds into the french press, pour in the slightly cooled water, and put the lid on. Steep for 3 minutes or up to 6 if you want it dark.
Then slowly press the filter down, and pour out your coffee into a large glass. Chill the coffee in the fridge for about 30 minutes so it won't melt your slushy too quickly.
The blender
Using the right blender makes a world of difference. My cousin hooked it up with a Vita-Mix which creates an AMAZINGLY thick slushy. My cheaper Oster at home gets 80% of the way there, but with the Vita-Mix, it is like thick snow and is a game changer.
Not all powerful or high wattage blenders make the best slush, so look into reviews before you choose one.
The coconut slushy
Fridge your coconut cream and condensed milk so it stays colder throughout the process. The blender, the scooping spoon, the cup–everything will suck the cold out of your slush so we want to give it a boost.
Instructions: Combine the coconut cream, condensed milk, and ice into a blender and blend until smooth. The Vitamix comes with a plunger guy that you can mix the contents with as it's blending. It sounds wrong.
Unbeknownst to me, my cousin, whose Vitamix is shown, was a professional boba tea artist. You heard me. Some odd months or years spent at a boba shop. It was a hilarious and frightening show when I first saw how she mixed the ice as it blended "the right way."
Maybe she was used to doing this with the pressure of sugar-hungry teens in line staring her down. The enthusiasm she had sure sped things up :).
The consistency should be thick, frothy, and free of ice chunks. If I'm making this ahead of time, I like to put the blended slushy into the freezer for 30 minutes to 1 hour to solidify more because I prefer a super thick consistency.
The assembly
To assemble, simply pour the chilled coffee into two glasses and top off with the coconut slushy. This recipe should make about two cup servings with a little extra slushy on top.
If it's super smooth you can serve it with a straw, but a spoon is super satisfying to get scoops of that thick coconut slush!
If you own those $20 double walled glass–highly recommended to serve in those otherwise serve and consume ASAP because this melts fast. Enjoy!
Some FAQ about Vietnamese coffee:
Is Vietnamese coffee fattening?
Since this recipe uses condensed milk AND coconut cream, I would definitely drink this in moderation, even though we all know we want to drink this all the time!

Is Vietnamese coconut coffee vegan?
If you want to make this recipe vegan, just replace the condensed milk with coconut condensed milk. This has a similar taste and since we're already using coconut cream, you get an extra coconutty goodness in your drink. 

Can you use coconut milk in coffee?
You can substitute coconut milk for coconut cream, however, I recommend using cream to get a thicker consistency.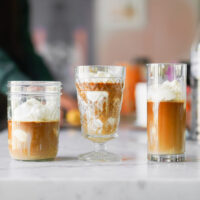 Ice-Blended Vietnamese Coconut Coffee Recipe
This fast and delicious ice-blended Vietnamese coconut coffee recipe is great for anytime of day.
Instructions
Brewing coffee
Use a French press. I like using this for tripling the recipe above for larger parties. Boil water to 205 F, add the coffee grounds to the press, pour in the water and put the French press lid on. Wait 3-6 minutes (longer = darker), slowly press, and pour out the coffee so it stops steeping.

Chill the coffee in the refrigerator for 15-30 minutes before assembling to slow the melting of the slushy.
Coconut Slushy
Add the coconut cream, ice, and condensed milk into a blender and blend until thick and frothy. Consistency should be thick. Taste and adjust sweetness and thickness. Add more ice or cream if it needs more thickener, add more condensed milk for sweetness, or coconut milk if you want to thin it out.

Place the slushy back into the freezer for 30 minutes to one hour to get an extra thick consistency.

To assemble, pour chilled Vietnamese coffee into two glasses and top with the coconut slushy.
Notes
You definitely have the option of making the coffee and slushy ahead of time and combining them both when you are ready to serve. I prefer doing this because you get an iced cold drink!
Nutrition Facts (per serving)
Calories:
222
kcal
|
Carbohydrates:
23
g
|
Protein:
4
g
|
Fat:
14
g
|
Saturated Fat:
11
g
|
Cholesterol:
13
mg
|
Sodium:
64
mg
|
Potassium:
239
mg
|
Fiber:
1
g
|
Sugar:
21
g
|
Vitamin A:
102
IU
|
Vitamin C:
2
mg
|
Calcium:
116
mg
|
Iron:
1
mg
Nutrition Facts
Ice-Blended Vietnamese Coconut Coffee Recipe
Amount per Serving
% Daily Value*
* Percent Daily Values are based on a 2000 calorie diet.
Like this recipe? Subscribe to my newsletter!