Fresh brewed Vietnamese coffee topped with icy hills of sweet and frothy coconut slush. Is your mouth watering because mine is? Ice-blended Vietnamese coconut coffee is much more than just a caffeine rush, it's a nice pick me up best eaten for any time of the day.
I first found out about Vietnamese coconut coffee during my most recent trip to Vietnam in the middle of a pearl factory. Yes, you read that right. It wasn't in some well-known cafe or even in a restaurant, but at a lone coffee kiosk in the back of a pearl factory. The menu item "coconut ice cream coffee" struck me immediately.
When I received my coffee, I realized it was not actually topped with ice cream, but more of a coconut slushy that made it similar to a frappuccino–safe to say I was not disappointed. I later found cafes in Ho Chi Minh City that featured this same drink and realized it was because they blended ice and coconut cream together to make the slushy.
This drink uses the same steps to brew traditional Vietnamese coffee (sans condensed milk at the end), but includes the addition of the frothy slush made of coconut cream, condensed milk, and ice. It's really that simple! After coming back to the States, I researched and tested out similar recipes and I've finally made a tasty variation with this recipe.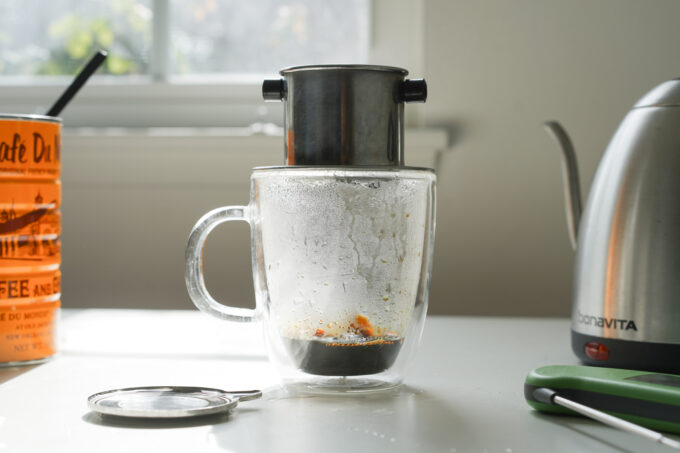 You can easily premake the two components of the coffee ahead of time and combine them when you are ready to drink or serve. I prefer brewing the coffee using a phin (Vietnamese coffee filter) about 15-30 minutes before serving so the coffee can cool down in the fridge. You can also make this with a French press if you don't have a phin.
For the coconut slushy, blend the coconut cream, condensed milk, and ice into a (strong) blender. The consistency should be thick and frothy. If I'm making this ahead of time, I like to put the slushy into the freezer for 30 minutes to 1 hour to solidify more because I prefer a super thick consistency.
To assemble, simply pour the chilled coffee into two glasses and top off with the coconut slushy. This recipe should make about two cup servings with a little extra slushy on top.
Ice-Blended Vietnamese Coconut Coffee Recipe
This fast and delicious ice-blended Vietnamese coconut coffee recipe is great for anytime of day.
Print
Pin
Servings:
2
small glasses
Instructions
Brewing coffee
Using a phin, brew one serving of Vietnamese coffee. Use my previous recipe to learn about brewing Vietnamese coffee with a phin. If you don't have a phin, you can also use a french press and brew the coffee and water for about three minutes.

Chill the coffee in the refrigerator for about 15-30 minutes before assembling to prevent melting the slushy.
Coconut Slushy
Add the coconut cream, ice, and condensed milk into a blender and blend until thick and frothy. Consistency should be thick. Taste and adjust sweetness and thickness. Add more ice or cream if it needs more thickener, add more condensed milk for sweetness, or coconut milk if you want to thin it out.

(Optional, but recommended) Place the slushy back into the freezer for 30 minutes to one hour to get an extra thick consistency.

To assemble, pour chilled Vietnamese coffee into two glasses and top with the coconut slushy.
Notes
You definitely have the option of making the coffee and slushy ahead of time and combining them both when you are ready to serve. I prefer doing this because you get an iced cold drink!