Chè ba màu is a refreshing Vietnamese dessert of ice slush, contrast of soft beans and bouncy jelly bites, topped with layers of rich coconut sauce. You can make all the layers ahead of time and combine them when you're craving a refreshing and sweet dessert.
Chè ba màu in Vietnamese translates to "three color dessert," and is similar to chè Thái, and shares a lot with Filipino halo-halo. While this recipe is fairly easy to make, there are a few steps that require some waiting like the mung bean and pandan jelly layers.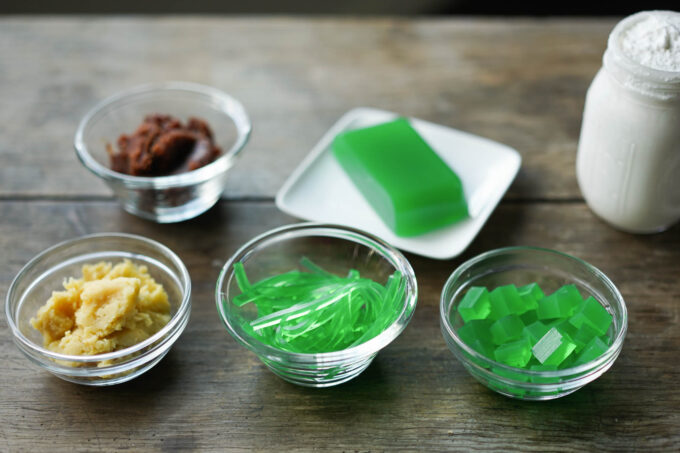 Mung beans – the yellow layer
To make the mung bean layer, add the beans into the rice cooker, add water, and set it for a normal rice cooking time (or about 35 minutes). When the cooker is done, use a rice paddle to mash the softened beans and add sugar. Leave in a container to cool before using in the chè.
Mung beans (and beans in general) are a very popular ingredient to use in Asian desserts, like bánh cam. To cook the mung bean, you need to soak the beans in water for at least 4 hours or overnight (recommended).
While most recipes call for steaming the beans or cooking them in a pot after soaking, I prefer using a rice cooker! Using a rice cooker is a hands off method with predictable results, which I prefer. If you don't have a rice cooker, steaming would be my second option, since it's more predictable than a stove-top and you don't have to worry about water ratios and heat as much.
Pandan jelly – the green layer
To make the green pandan jelly, you need agar agar powder, water, sugar, and pandan extract. Bring the water to a boil in a saucepan, then mix in the agar agar powder and sugar until dissolved. After about a minute of boiling, remove it from the heat and add the pandan extract.
I like to use a glass Tupperware container so it's easy to move to jelly into the fridge to harden after it's cooled to the touch. The jelly should take about two to four hours to form and then you can cut it into the shape of your choice. I like to cut them into cubes.
Agar agar powder is used in many Asian recipes in place of gelatin. It's made of seaweed so it's vegan and dairy free–great for those with dietary restrictions.
When you choose agar agar powder make sure to choose a product that is pure agar agar powder. I've had good results with Telephone brand. This lets you independently control jelly firmness and sweetness. Some brands add sugar as a filler in the agar agar powder, and this can affect your jelly forming.
I've tested agar agar powder that didn't form properly due to not having a high enough agar agar percentage–you have to add more powder to compensate which in turn can make it sweeter than desired.
Red bean layer
For the red bean layer, we used a store bought can of sweetened and boiled red bean paste from our local Korean market. The sweetness level in this red bean paste was perfect for this recipe, but you can also make your own red bean layer by buying canned red kidney beans and soaking them in sugar water, or you can make it from scratch with dried red beans.
The coconut sauce
I used the coconut sauce in my previous for chè bap, which uses coconut cream, sugar, salt, and tapioca starch. This is a great addition to the chè because it gives it an extra creamy coconut sauce on top of the shaved ice and tasty three layers.
To make the sauce, add the coconut cream, sugar, and salt into a small saucepan and mix over medium heat. Add the tapioca starch and use a whisk to mix in the starch thoroughly. Continue to cook for one to two minutes until it slightly thickens to the consistency of pudding. Remove off the heat and cool.
You could simply mix coconut milk with sugar and use this as your coconut layer, but slightly cooking the milk smooths out the graininess which you get straight from the can.
The ice & assembly
Fridge all the ingredients before assembling the chè to make sure all my ingredients stay cold while you eat it. To get crushed ice, you can use a blender like a Vitamix known for its amazing snow-making ability, like we did for the coconut coffee recipe.
You can also use an ice shaver. I actually use an ice shaver from a snow cone machine (lol) and it worked well. If i was going higher volume, I might try out something like this.
I like to layer my chè ba màu in the following ways starting from the bottom: ice, coconut sauce, red bean, mung bean, pandan jelly, ice, and more coconut cream.
Enjoy the deliciousness, and make sure to eat that asap before your ice starts to melt!
Ingredient links
Also I think it's kinda cool that you can get everything you need for this recipe online. Some items may be deemed 'non-essential' and have a shipping delay for the time being though:
Chè Ba Màu – Vietnamese Three Color Dessert
Chè Ba Màu is a delicious and easy to make colorful, three layer Vietnamese dessert that is topped with shaved ice and flavorful coconut sauce.
Ingredients
Mung bean layer
½

c

dried split mung beans

4 ¾

c

water

3

tsbp

sugar
Pandan jelly layer
1

tbsp

100% agar agar powder

Telephone brand

2

c

water

¼

tsp

pandan extract

3

tbsp

sugar
Red bean layer
1

can

boiled red bean paste

16.75 oz
Coconut sauce
7

oz

coconut cream

2

tbsp

sugar

⅓

tsp

salt

½

tsp

tapioca or cornstarch
Instructions
Mung bean layer
Rinse ½ cup of mung bean under running water.

In a container, add ½ cup dried mung bean and four cups of water. Soak the beans for at least four hours or overnight.

After soaking, drain the mung beans and add to your rice cooker. Add ¾ cup of water and close the lid. Use the regular rice option or put a 40 minute timer to cook the beans.

After the rice cooker is done, use your paddle to mash the beans (this should be very easy since the beans have softened immensely). Add three tablespoons of sugar and continue to mash and mix. Move to a container to rest, and cool in the fridge until assembly.
Pandan jelly layer
In a saucepan, bring the water to a boil and mix in the agar agar and sugar until it thoroughly dissolves. Lower the heat and add the pandan extract. Mix this until the liquid turns green and move to a glass container to cool.

When it's at room temperature, move to the fridge to chill for two hours. The pandan jelly should be firm to the touch and easily remove from the glass container.

Cut the jelly into your preferred shape to eat. I prefer small bite-sized squares or thin strips.
Coconut sauce
In a saucepan, mix together the coconut cream, sugar, and salt over medium heat.

Add the tapioca starch carefully with a whisk. Cook for about one to two minutes until it thickens to the consistency of diluted pudding.

Remove from the heat and move to a glass container to cool. Chill in the fridge until time of assembly.
Assembly
I like to fridge all the layers at least 30 minutes before assembly to keep everything cold, this is optional.

For the shaved ice, I used about four cups of ice and an ice shaving machine, but you can also use a strong blender.

I prefer to layer the ingredients in this way: shaved ice, red bean paste, mung beans, pandan jelly, shaved ice, and coconut sauce. You can add mini layers of ice in between to make it extra cold and break up the dense beans too.
Nutrition Facts (per serving)
Calories:
316
kcal
|
Carbohydrates:
35
g
|
Protein:
8
g
|
Fat:
17
g
|
Saturated Fat:
15
g
|
Sodium:
236
mg
|
Potassium:
161
mg
|
Fiber:
4
g
|
Sugar:
16
g
|
Vitamin A:
50
IU
|
Vitamin C:
1
mg
|
Calcium:
35
mg
|
Iron:
2
mg
Nutrition Facts
Chè Ba Màu – Vietnamese Three Color Dessert
Amount per Serving
% Daily Value*
* Percent Daily Values are based on a 2000 calorie diet.
Like this recipe? Subscribe to my newsletter!