A strong tea flavor, the right amount of boba, freshly cooked boba pearls to the right doneness (surprisingly important), and sweetness tailored to your taste means the perfect cup of boba milk tea. TBH, I've had many poorly prepared boba drinks, so making it yourself means total control, and it's fun to make!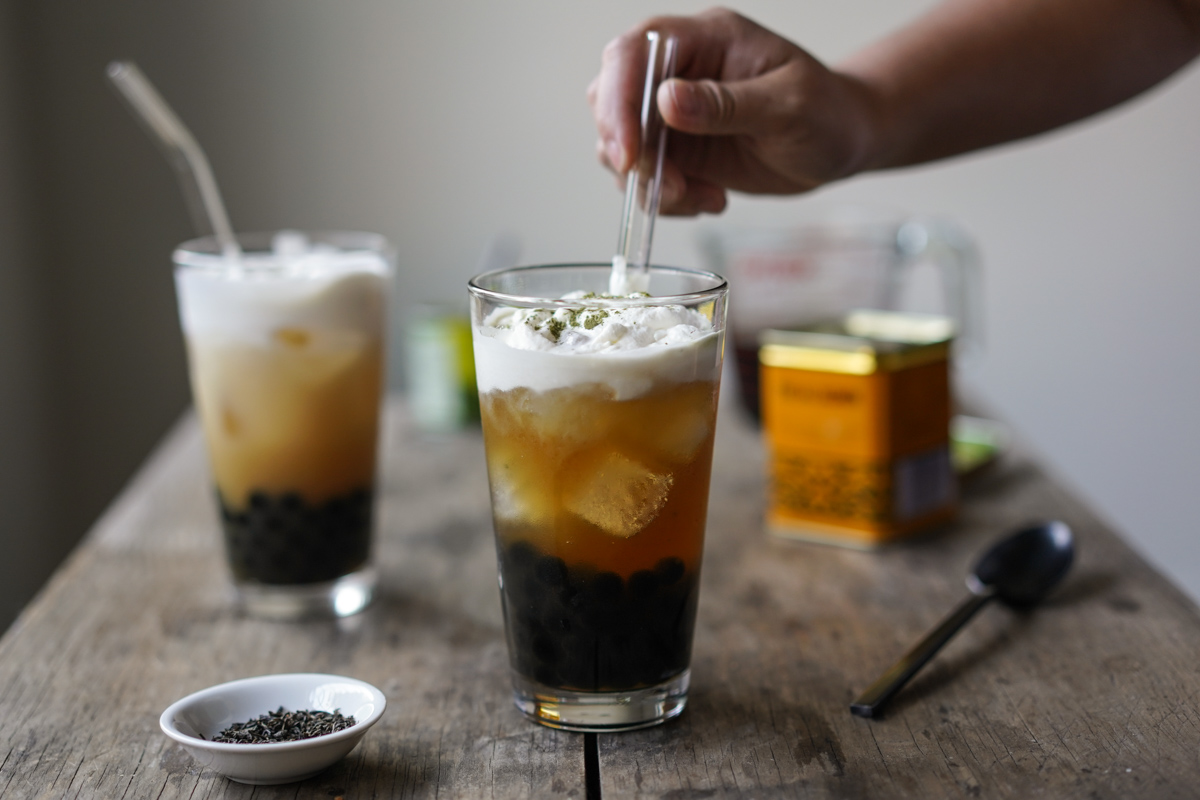 Let's keep it real though. It may be a lot of steps to get from start to finish, but it's not difficult. To make it worth your time, you should be making two glasses at the very minimum and at four glasses, you'll stop debating whether or not it was worth it :). Oh and if you're looking for another flavor variety be sure to check out my taro milk tea or hot almond milk tea recipe!
Boba vs. bubble tea
It seems like boba milk tea had the same fad surge in popularity like many other foods to hit Southern California. However I think I've been drinking this for over 15 years here. Boba tea has survived many other food fads to hit since, and the tea itself has seen some fun innovations–some of my favorites are the salted whipped cream topping and mini 'popping' boba.
I'm pretty sure all the Asian boba shops around here call it "boba" so I'm thrown off when I'm in cities or states that call it bubble tea. Supposedly it's not even called boba or bubble tea in Taiwan where these originated. So it's fair to say that both boba and bubble tea are equally right (or wrong :)).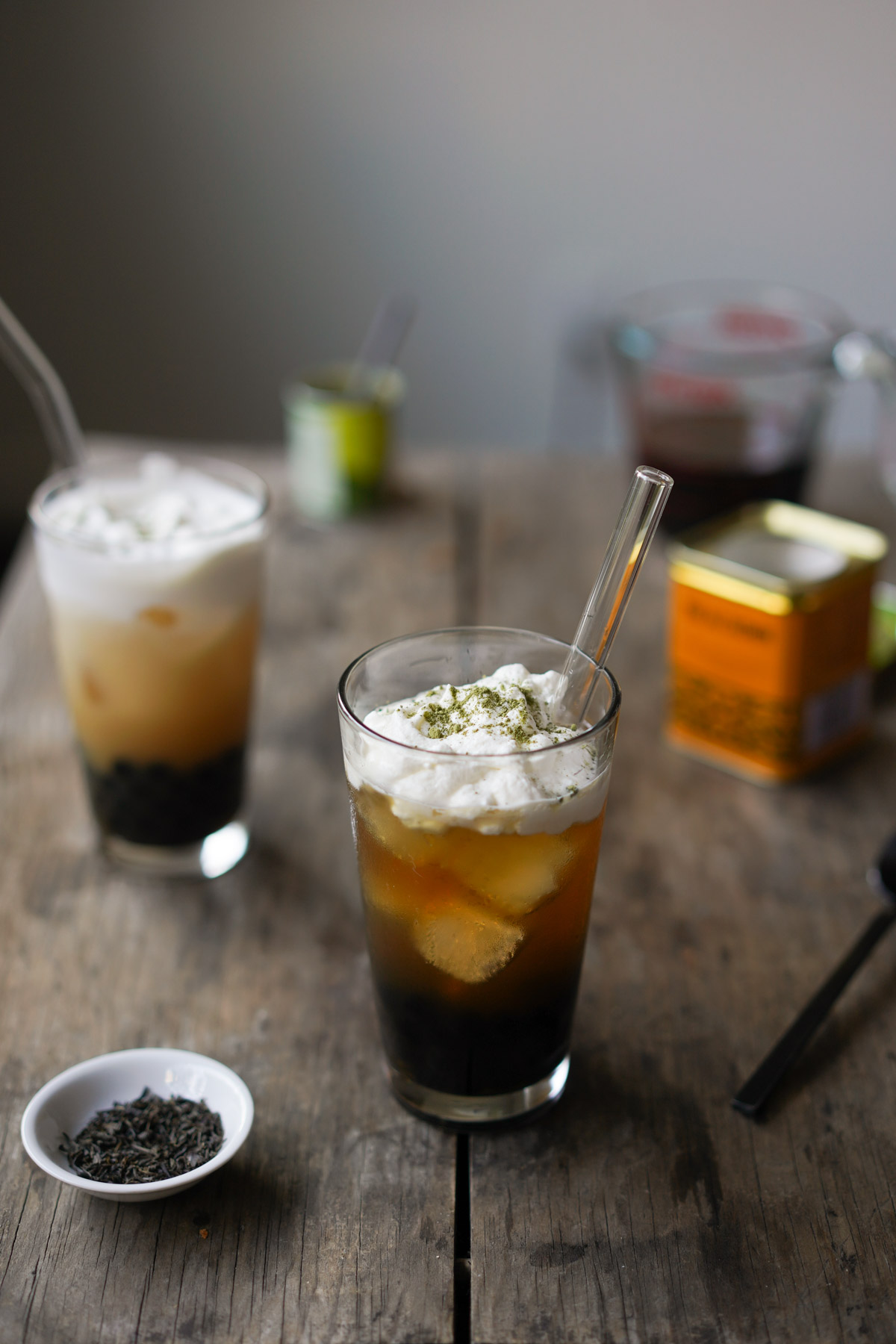 Maybe I'm just a purist but I think most of the shops popping up are doing too much to their drinks. They focus on adding too many flavors and mix-ins which force them to stock a ton of syrups and powders which I'm not the biggest fan of.
The biggest chains around here that have been open for many years, that I love, include 7 Leaves Cafe and 85°C Bakery Cafe. There are also some newer shops opening that focus on quality, the tea, and these will probably the only new types of shops I'll be trying out.
Making the tea
I usually like jasmine tea for mine, but black tea is nice from time to time too. During our blind taste testing for this recipe though, I kept going back for the jasmine.
Make sure you follow the instructions on tea brewing for whichever one you may be experimenting with. Just like making Aeropress coffee, pour over coffee, espresso, Vietnamese coffee, or any kind of coffee, the temperature at which you brew matters. It can matter a lot!
For this recipe we do 180 °F for 10 minutes and it comes out tasting strong without being too bitter. I'm pretty certain temperature is a variable that affects how long you steep tea or brew coffee, since these hot brew methods don't take more than a few minutes. This is the same reason you can do a cold brew but it takes 12-24 hours to properly extract.
We use about 1 tbsp jasmine tea for each cup you want to brew. Might seem like a lot, but it's what it takes to taste right!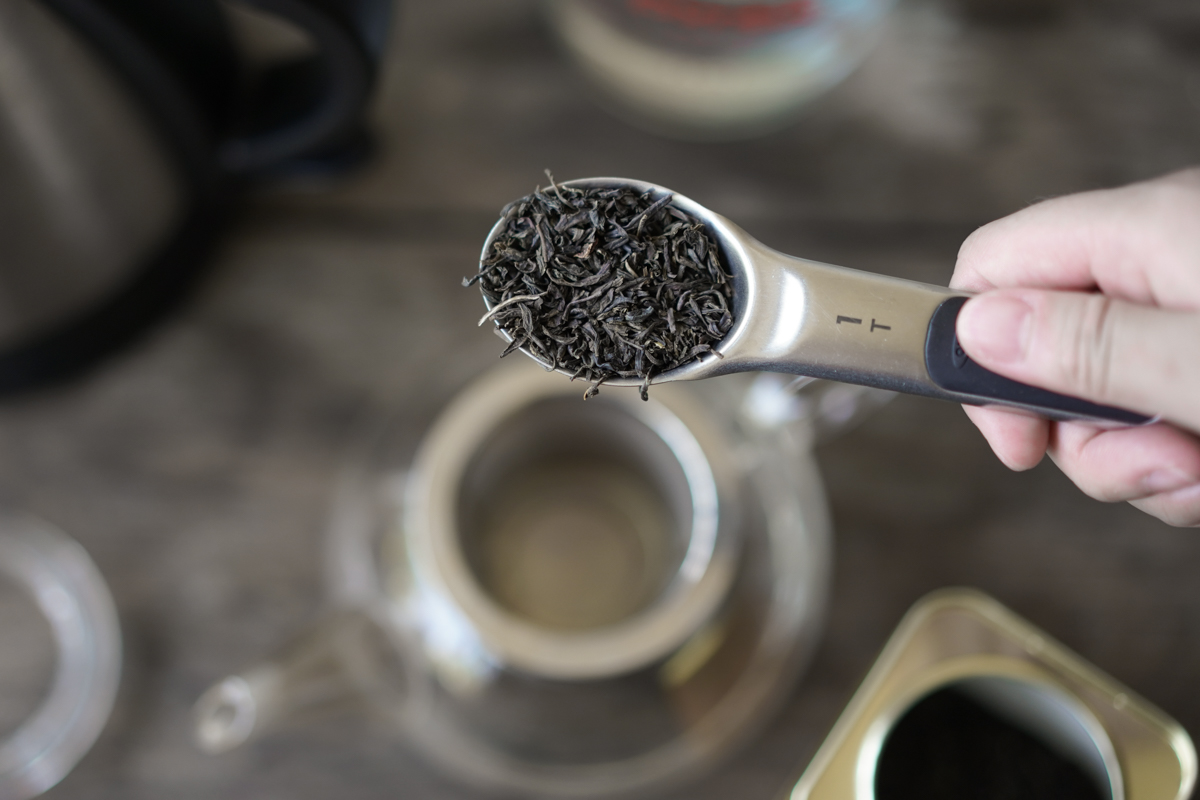 Obviously you can use a larger tea pot than this if brewing for more than two people to speed it up, but we usually brew for just one or two at a time and this pot is perfect for that.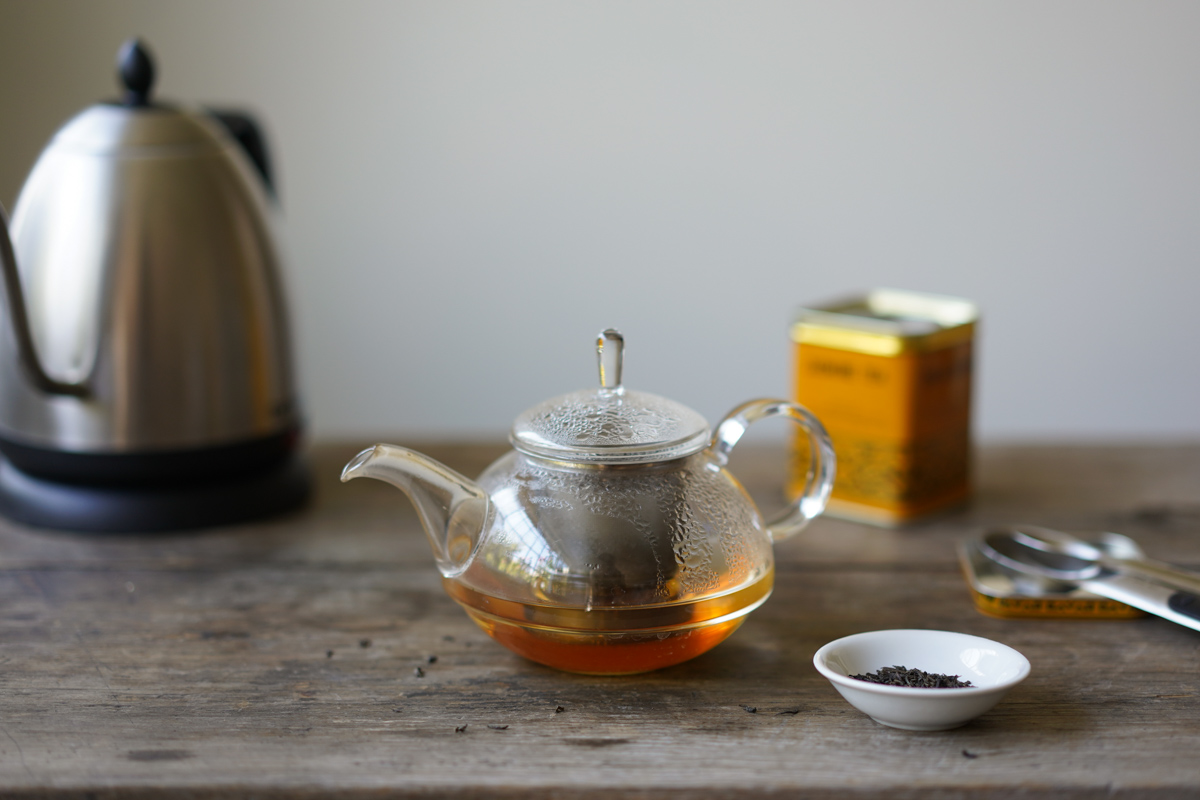 Making the boba pearls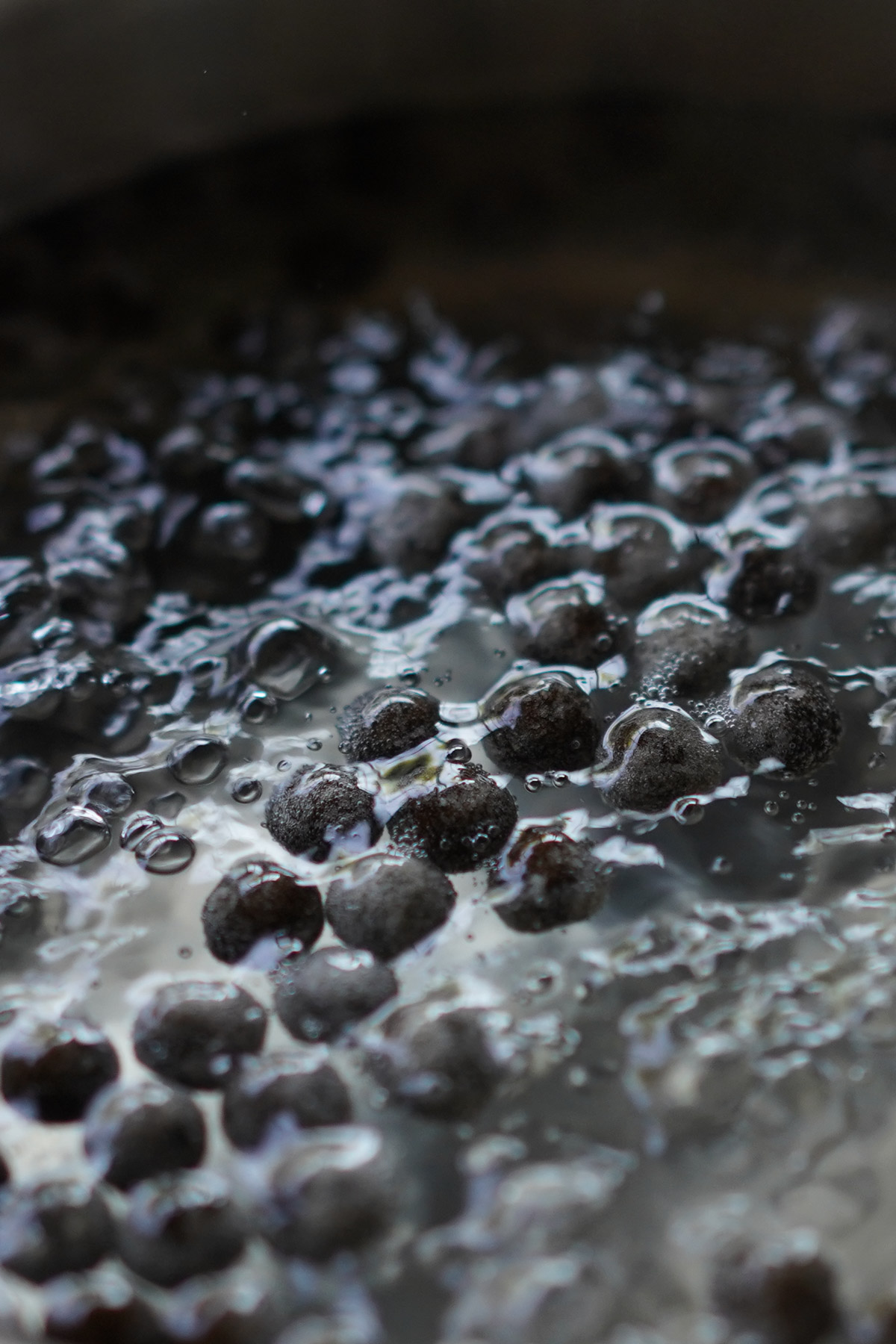 These quick cooking tapioca boba pearls kinda have a built in timer–they float to the top when cooked. Once floating know it will only be about 2-3 more minutes until they're done!
There are a ton of brands, and types of boba to try. We tried the ones from 99 Ranch and liked this WuFuYuan brand best.
Sweetening your drink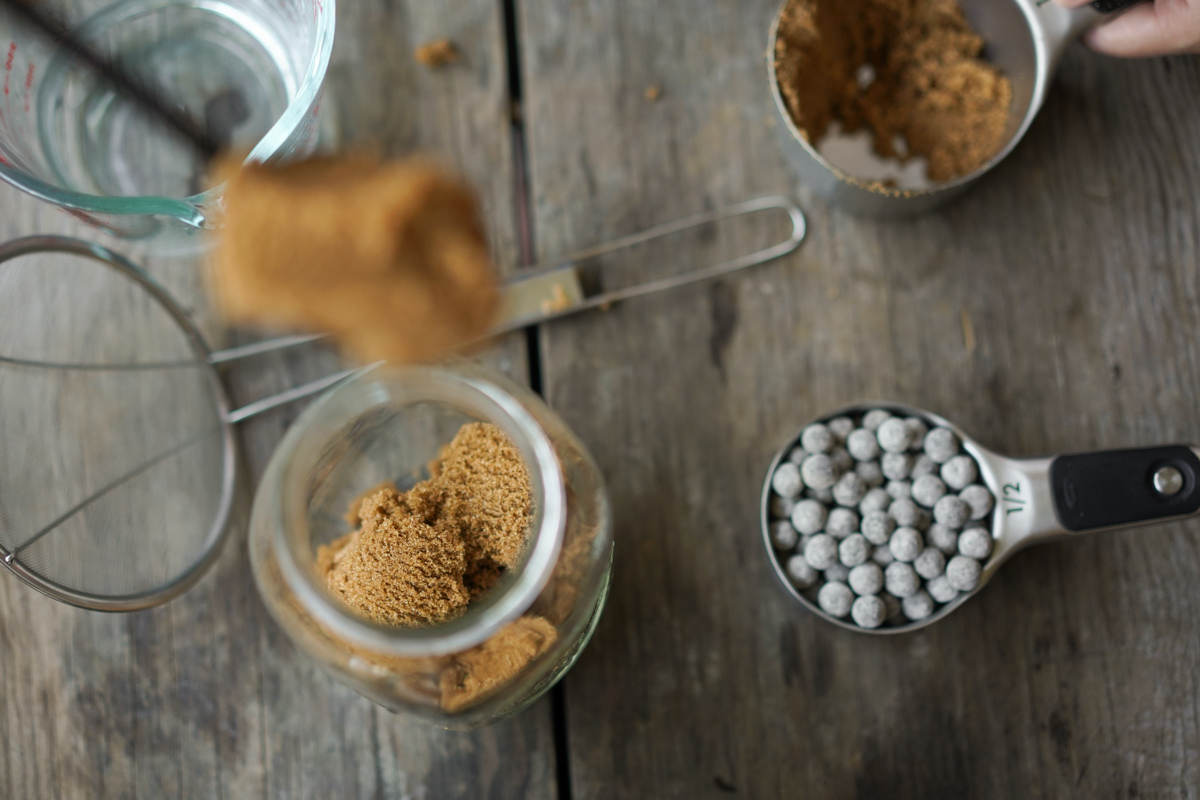 It wasn't until making this recipe that I realized what that incredibly potent smell at boba shops were. It is the smell of pallets-full of sugar. To properly sweeten the boba for two cups of tea, you need a whole cup of brown sugar.
When you pour hot water onto the sugar to dissolve it the smell really becomes apparent, in a nice way. Even if you don't end up using all of this simple syrup to sweeten your tea, having this amount of sugar helps sweeten the boba properly, faster. Otherwise they kinda just taste like chewy ballz of nothingness.
Salted, whipped cream topping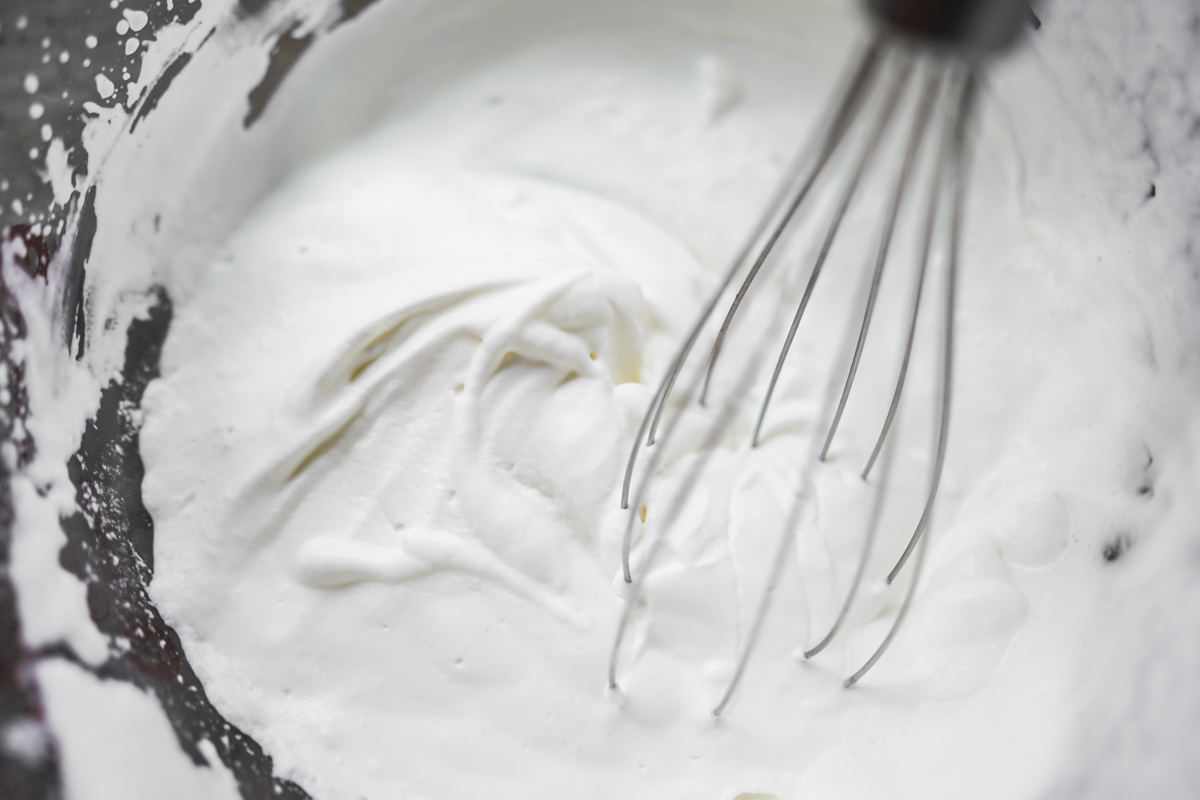 I'm pretty sure 7 Leaves started this "sea cream" trend of adding salted cream to the drinks. Is it a lot different than just pouring cream and salt into your drink, especially if you're meant to just shake it up anyway? I like to think so! Much like cappuccinos' more aerated foam texture vs. a latte.
This whipped cream is super easy to make if you have a hand mixer. Just mix whipping cream with salt, and keep whipping til it hits the right consistency–which you want to be a little runny.
Final additions
Topped with matcha powder for that extra visual boost. Matcha can be powerful tasting but is mostly hidden in this drink when you mix it up. So yeah it looks great but don't go driving across town just to get matcha if you have everything else to make the drink already.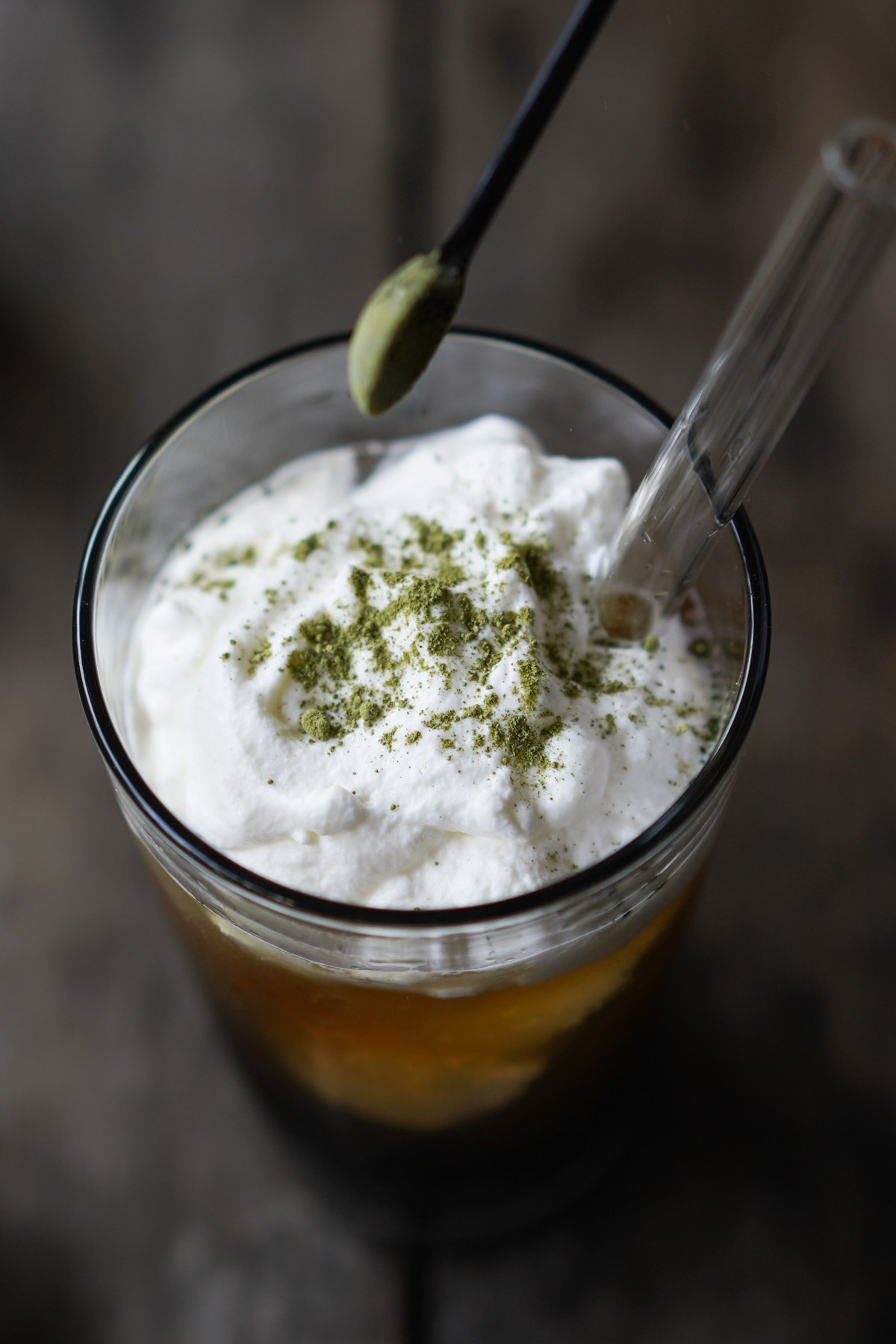 Some people like mixing the cream with the tea until fully homogenous, but I kinda like leaving it separated and taking sips from each. And don't let this sit for too long! The boba gets tough and very chewy if you let it sit too long in cold water or tea. It also can get too soft if you soak it in the syrup for too long. It's best to enjoy this ASAP, made in big batches, shared with your friends.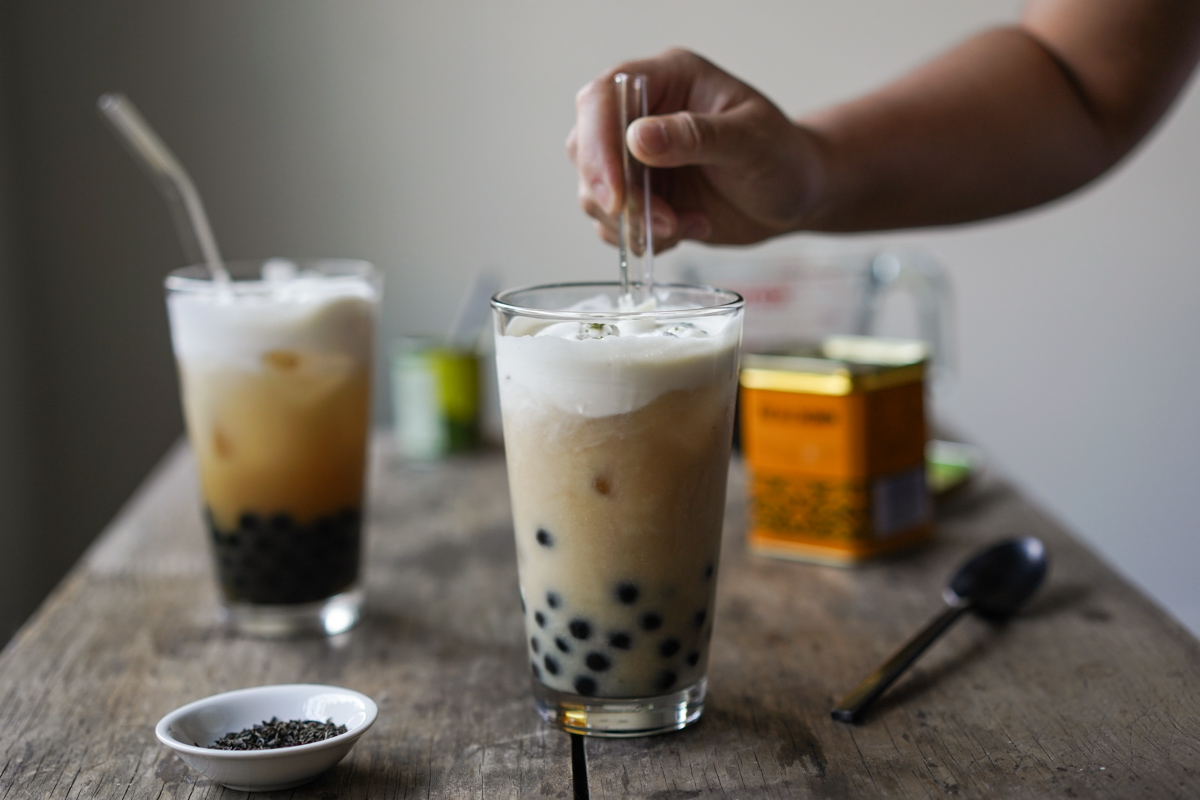 What is milk tea?
Milk tea comes in a lot of variants, but it's basically just a combination of milk, tea, and sugar. To learn more about tea, visit my post on green tea vs. black tea.
What is Boba made of?
Boba are chewy, round balls made of tapioca flour and water.
Why is it called boba?
Boba is a nickname for tapioca pearls added into milk tea. This nickname originated from its first introduction in Hong Kong, when people started to call the tapioca pearls "boba" because they resembled big pearls.
What's the difference between Boba and bubble tea?
Boba and bubble tea are different terms for the same thing. While boba can refer to the actual tapioca pearls, it can also refer to the milk tea drink and bubble tea is just a nickname of the milk tea, too.
Boba Milk Tea Recipe (Bubble Tea w/ Sea Salt Cream)
High quality, homemade boba milk tea with sea salt cream topping made to your spec right at home! This recipe makes two glasses, which is the bare minimum you should do effort-wise.
Ingredients
ice

matcha powder

optional
Boba / Bubbles / Tapioca Pearls
5.5

c

boiling water

reserve 1/2 c for melting sugar

1/2

c

dry boba (tapioca pearls)

WuFuYuan brand from 99 Ranch

1

c

brown sugar
Jasmine Tea
2

c

water

2

tbsp

loose leaf jasmine tea

Sunflower brand from 99 Ranch

2

tbsp

half and half

only if omitting Sea Cream

6

tbsp

sugar syrup

that the boba was soaking in
Sea Cream
1/2

c

heavy whipping cream

1/4

tsp

fine salt
Instructions
Quick Guide (proper order for efficiency!)
Brew tea and chill in the fridge

Cook boba / tapioca pearls

Divide boba into your glasses and add ice

Add tea to the glass, half and half if not using Sea Cream, and sugar syrup to taste (from the boba soak)

Optional steps: Add Sea Cream topping, and dust with matcha powder
Boba / Bubbles / Tapioca Pearls
In a medium sized pot, boil water on high heat. This boba package calls for adding the boba slowly to boiling water as you stir to prevent sticking.


Once the boba floats to the top, reduce heat to medium and cover the pot. Cook for 2-3 minutes.

After 2 minutes, try a pearl to check for doneness. Keep cooking if needed until the texture just about reaches desired doneness–it will keep cooking a tiny bit more in the next steps.

In a separate medium sized bowl, mix brown sugar and 1/2 c boiling water (taken from the pot of boba) together to make a sugar syrup.

Drain the rest of the water and transfer boba pearls directly to the sugar syrup container. Cover for 10 minutes. The end result should be chewy and sweet boba. Keep the boba in the simple syrup until assembly. You will also be using the simple syrup from this to sweeten your tea.
Jasmine Tea
Boil water to 180 °F in a kettle, then pour into a tea pot with jasmine tea. Steep for 10 minutes (you want to be careful not to go over 180 to prevent bitterness–I use an instant read thermometer to check temps).

If serving hot, add half and half now. Half and half is only necessary if you are not adding Sea Cream.

If you are serving this cold, chill the tea in the fridge for ~30 minutes before adding ice and boba. (Not adding simple syrup until assembly.)
Sea Cream
Mix cold heavy whipping cream and salt to combine.

Whip until frothy but still runny.
Notes
Please note the sweetness level is made to match boba shops (i.e. very sweet) so I insist you adjust to your taste.
Lastly, make sure to drink shortly after making this–the pearls (from anywhere) have a short life once cooked.
Nutrition Facts (per serving)
Calories:
940
kcal
|
Carbohydrates:
188
g
|
Protein:
2
g
|
Fat:
24
g
|
Saturated Fat:
15
g
|
Cholesterol:
87
mg
|
Sodium:
430
mg
|
Potassium:
248
mg
|
Fiber:
1
g
|
Sugar:
152
g
|
Vitamin A:
928
IU
|
Calcium:
188
mg
|
Iron:
4
mg
Nutrition Facts
Boba Milk Tea Recipe (Bubble Tea w/ Sea Salt Cream)
Amount Per Serving
Calories 940
Calories from Fat 216
% Daily Value*
Fat 24g37%
Cholesterol 87mg29%
Sodium 430mg19%
Potassium 248mg7%
Carbohydrates 188g63%
Protein 2g4%
Vitamin A 928IU19%
Calcium 188mg19%
Iron 4mg22%
* Percent Daily Values based on a 2000 calorie diet.
Like this recipe? Subscribe to my newsletter!