I almost always NEED to order Thai iced tea when we eat Thai food. If you've ever had the chance to try Thai iced tea, you know this orange-colored, sweet concoction is best served cold with lots and lots of ice.
Ordering this refreshing drink goes hand in hand with all the spicy and delicious entrees we order at Thai restaurants. Think about it, what better combination for your scorching Thai basil fried rice, Panang curry, pad see ew, or papaya salad than a cooling sip of milky sweet tea?
Thai tea origins
Originally a popular street food drink in Thailand, you can now find it at many Thai restaurants or even bubble tea/boba cafes in the US. After questioning many of my Thai friends about their best Thai tea recipes, I was amazed to find out that they actually use tea mix instead of making it from scratch! To learn more about tea, visit my post on green tea vs. black tea.
What's in Thai iced tea?
In general, Thai iced tea is made up of a tea mix that's steeped in hot water, then mixed traditionally with sweetened condensed milk and topped with crushed ice. However, you can also use regular white sugar or make your own simple syrup and add a milk of your choosing.
The Thai iced tea mix packets themselves have very limited labels from my experience. All of my test packets list some sort of tea (black, green, or even "tea powder"), maybe sugar, and always some sort of food coloring.
Why is Thai iced tea orange?
Almost all of the tea mixes include yellow food coloring #6–this is where Thai tea gets its famous orange coloring. So if you are hesitant about consuming food coloring in your diet, please note that many (if not all) of these Thai tea mixes include food coloring.
The best Thai tea brands
After consulting with some of my friends, I found a few types of Thai tea mixed packages online. I tried three popular Thai tea mixes for this recipe:
Pantai Thai Tea Mix was hands down my favorite among the three because of its bold flavor. Since you will be adding ice to this Thai milk tea, you want to make sure your tea is strong enough that it won't be diluted by the crushed ice.
How to make Thai tea at home
Brewing the tea mix is as easy as making any other tea at home. In a pot over the stove, add 4 cups of water on medium-high heat. Once the water begins to boil, add the tea mix and stir the tea mix thoroughly.
Allow the tea to boil for 3 minutes. Carefully watch the boiling tea to prevent the water from over boiling and potentially ruining your stove with yellow food dye. After 3 minutes, remove the pot off the heat and let the mixture cool for 20 minutes.
After 20 minutes, strain the tea over a mesh strainer and a bowl, or a fancy tea sock. Make sure the tea is nice and clean of any tea leaves. Since Thai tea is best served cold, I like to make this recipe ahead of time and leave it to chill in the refrigerator for 2 hours.
To assemble, fill a glass with lots of ice and add half of the cooled Thai tea into a glass. Mix in your preferred sweetener (we prefer adding three tablespoons of condensed milk to get the right amount of sweetness and authentic flavor, but you are free to use any type of sugar). Now sit and watch the amazing-ness of the orange ombre about to take effect. This is my favorite part!
The ice will help dilute some of the sweetness so we want a strong and sweet base. Top it off with more ice if you prefer. Enjoy!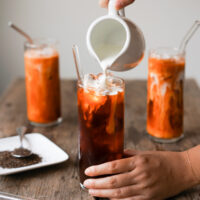 Thai Iced Tea
A super easy and convenient way to make Thai iced tea with the best brand mix. If you've ever had the chance to try Thai iced tea, you know this bright orange, sweet concoction is best served cold with lots and lots of ice.
Ingredients
4

c

filtered water

ice

crushed if available

condensed milk
Instructions
Thai Tea Instructions
In a pot over the stove, add 4 cups of water and bring to a boil.

Carefully add 1 cup of Pantai Thai Tea mix to the pot and stir thoroughly. Let the tea boil for 3 minutes, watching over the pot religiously in case it over boils (this happens quickly).

Remove the pot off the stove and let the mixture steep for 20 minutes.

Using a mesh strainer (or tea sock), strain the tea leaves (this should leave with you a little over 2 cups of liquid left).

Let the tea chill for at least 2 hours before assembly. I like to make this a day ahead of time and allow the tea to chill in the refrigerator.
Assembly Instructions
In two 8 oz glasses, add crushed (much preferred!) ice to each cup and divide the Thai tea liquid into each glass.

Add desired amount of condensed milk. I like to start with 2 tbsp of condensed milk and adjust by adding 1 tbsp. (I found that 3 tbsp was the perfect sweetness level to get the authentic Thai tea flavor). Remember, the ice will also help dilute this flavor so we want a strong and sweet base.

Top off with more crushed ice and enjoy!
Nutrition Facts (per serving)
Calories:
40
kcal
|
Sodium:
23.66
mg
|
Calcium:
14.2
mg
Nutrition Facts
Thai Iced Tea
Amount per Serving
% Daily Value*
* Percent Daily Values are based on a 2000 calorie diet.
Like this recipe? Subscribe to my newsletter!