Vietnamese bò kho (beef stew) is packed with tender, fall-apart braised chunks of beef loaded with herbs, aromatics and a delicious broth that will have you coming back with more Vietnamese baguette!
Similar to thịt kho, this slow braise / stew is easy to make, and the longer you cook it the softer the meat gets. It's an incredibly satisfying meal very accessible to both Vietnamese and American folks. This recipe is pretty hard to mess up in the kitchen.
This was one of the popular dishes at my mom's old restaurant because of its familiarity and accessibility, and something I had often there, in between bottomless icy coconut drinks and fountain sodas.
Vietnamese vs. American beef stew?
Sure, I've eaten and cooked American and French style beef stews and its a similar concept: beef, root veggies (like carrots or potatoes), onion and aromatics.
If you are counting the ingredients, differences in the Vietnamese beef stew stand out, such as: lemongrass, ginger, powdered anise and cloves (in the powdered seasoning packet).
It's also a little different in that you dip pieces of meat in a salt / pepper and lemon juice mixture just for some variation.
Cooking it down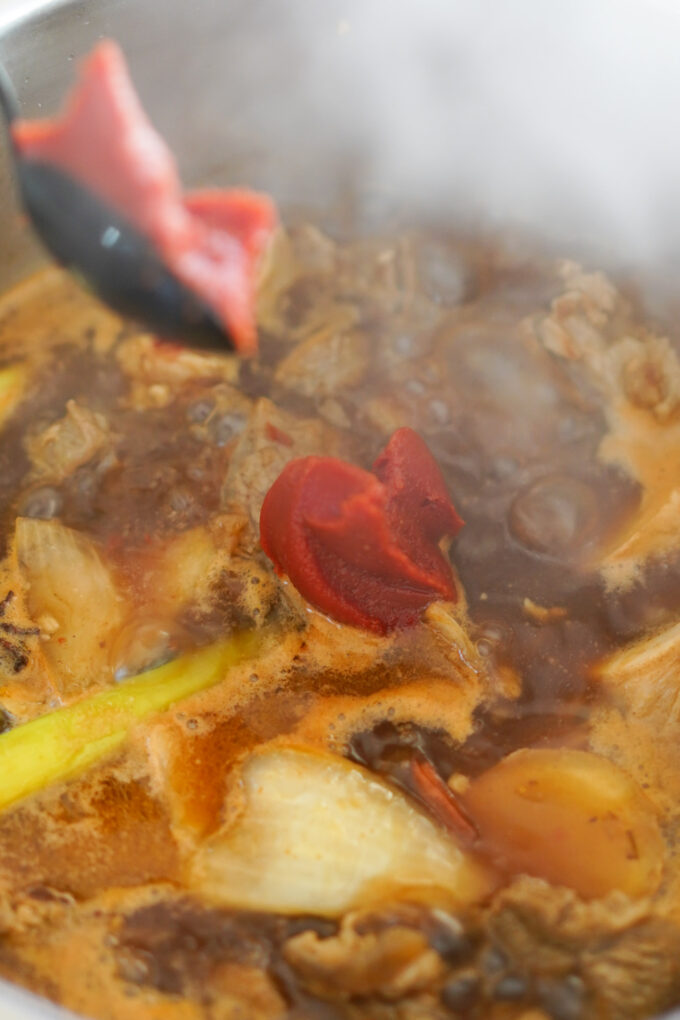 Paprika powder adds redness to this broth, but a decent amount of tomato paste also adds a rich red and sweetness too.
At this stage we're trying to extract flavor from all the aromatics, and essentially just cook it long enough so the connective tissue in the beef softens. I love the fattier cuts, with more connective tissue and tendon which gets mouth-meltingly soft if you cook it long enough.
Final additions & herbs
For herbs we have both cilantro and Thai basil (on the side), which I loveee. Feel free to leave either of them out if it's not your thing, but I like to go extra basil with this!
Cilantro can be placed in the bowl and wilt, but for basil I like to add it just before serving so it stays green and has a fresher hit.
Thinly sliced raw red onion goes well with this too.
How to serve this stew
On the side, we serve it with Vietnamese baguette (which is light and airy compared to regular French baguettes). I love this dish with bread or even just rice sometimes, but it's very commonly eaten with flat rice noodles instead.
Since it can take a while to boil and soften the meat, this is a great dish to make in large batches to share, and to eat over the course of a week!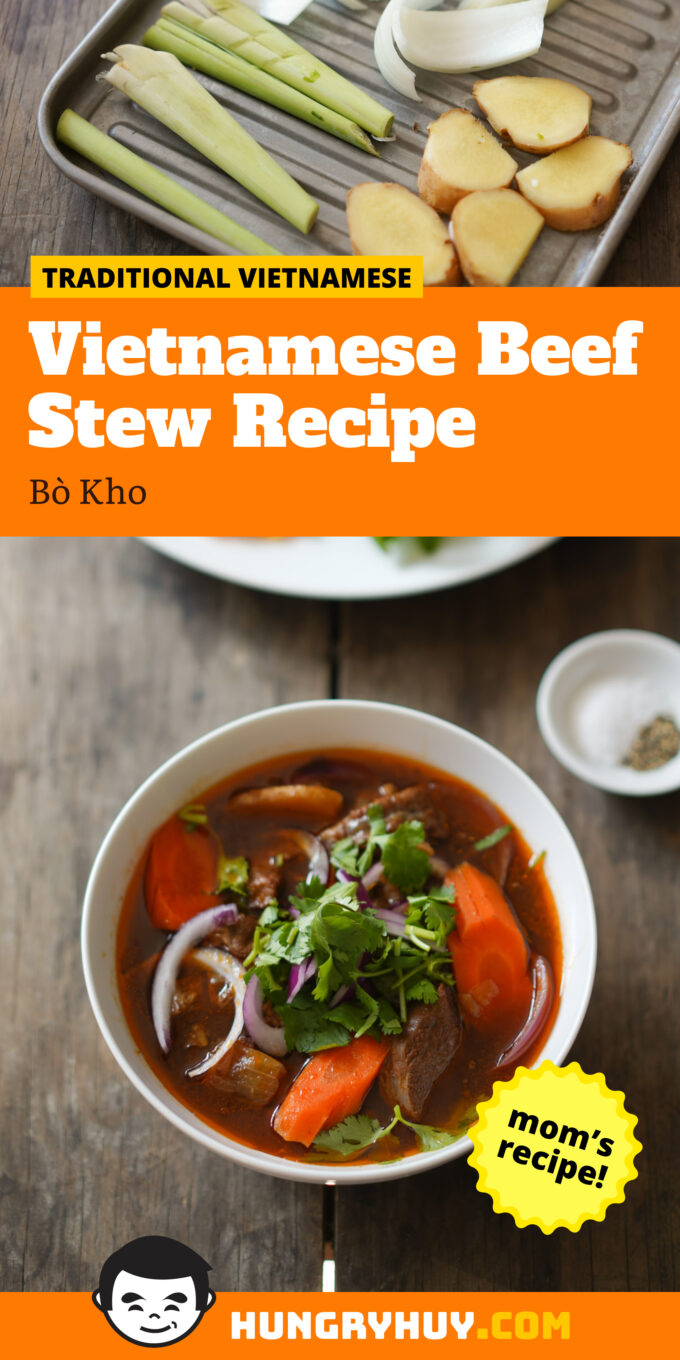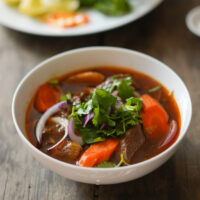 Bò Kho (Vietnamese Beef Stew)
An easy to make, mouth-meltingly tender braise loaded with herbs and aromatics, in a broth that will have you going back with more Vietnamese baguette!
Ingredients
2

lb

beef shank

cut into 3/4 – 1" pieces

tap water

1

tbsp

salt
Marinade
2

tbsp

soy sauce

2

tbsp

hoisin sauce

2

tsp

salt
Aromatics
2

tbsp

neutral cooking oil

4

cloves

garlic

roughly chopped

1

tsp

paprika

optional, for extra color boost
Broth
1

medium onion

quartered

1.5

tbs

fresh ginger

sliced or pounded

1-2

stalks

lemon grass

use ~7" of the aromatic root area, pounded

2

tbsp

tomato paste

2

tbsp

dark soy sauce

3-4

pods

star anise

4-5

bay leaves

1

can

chicken broth

about 2 cups

5

cups

filtered water

or enough to barely cover the ingredients

2-3

carrots

cut into 1" chunks
Accoutrement
6

12"

Vietnamese bread loaves

2

sliced jalapenos

1

sliced lemon

salt and pepper

1

bunch

Thai basil
Instructions
Clean the meat. Add beef to a large pot and add 1 tbsp salt and enough tap water to barely cover the meat. Bring to a boil on high heat, and once it hits a boil for 30 seconds, kill the heat, drain, and rinse under running water to clean. If you haven't cut the meat into 3/4 – 1" pieces yet, do it now.

Marinate the meat. Add all marinade ingredients to the meat in a covered bowl or a bag for at least two hours, but overnight would be better.

Aromatics. Preheat a large pot on medium high. When hot, add the oil, let it warm a bit, then add all the garlic and stir to slowly saute until it turns light brown. Then add the paprika an stir until it releases its aroma, about 30 seconds.

Broth. Add all broth ingredients to the pot except the carrots. Turn the heat to high until it hits a boil, then reduce heat so it maintains a low boil. Cook until the meat is as tender as you'd like it, about 60-90 minutes. Add carrots towards the final 10 minutes so it softens. Discard the cooked onions and star anise pods.

Serve with accoutrement as shown: tearing fresh Thai basil onto your plate, taking occasional bites of jalapeno, and dipping a few pieces of meat into the salt / pepper / lemon juice side for variety.
Notes
2/16/2021: Added approximate meat cooking time.
Nutrition Facts (per serving)
Calories:
168
kcal
|
Carbohydrates:
10
g
|
Protein:
17
g
|
Fat:
7
g
|
Saturated Fat:
1
g
|
Cholesterol:
27
mg
|
Sodium:
2159
mg
|
Potassium:
462
mg
|
Fiber:
1
g
|
Sugar:
5
g
|
Vitamin A:
2822
IU
|
Vitamin C:
11
mg
|
Calcium:
38
mg
|
Iron:
2
mg
Nutrition Facts
Bò Kho (Vietnamese Beef Stew)
Amount per Serving
% Daily Value*
* Percent Daily Values are based on a 2000 calorie diet.
Like this recipe? Subscribe to my newsletter!