Gà kho is an aromatic, sweet, spicy, and pungent yet balanced combination of flavors that pair amazingly well with chicken. It's quite easy to make too!
I've had the chance to try different recipes of ga kho back at home. When I think about thịt kho (dishes with caramelized meats) from my family's meals, it covers a lot of dishes.
Whether it be fish steaks, poultry, beef, hunks of pork, or sausage; everything has a version of the caramelized cooking method. And why not? Caramelization creates a delicious sauce that is savory, sweet, spicy, salty, and thick enough to nicely coat whichever meat you decide to cook.
My cousin came over while I was preparing this dish and asked, "what stinks?!" It was fish sauce and vinegar. A lot of folks shy away from fish sauce because of the smell, but they should give it a shot! I don't sit around whiffing fish sauce, but it's a vital flavor component of the dish.
If you are really afraid of the odor in your house you can always cook it outside or as a last resort substitute soy sauce instead, but the flavor will not be the same.
And if you're strapped for time and cash, this ga kho recipe is the perfect solution.
The marinade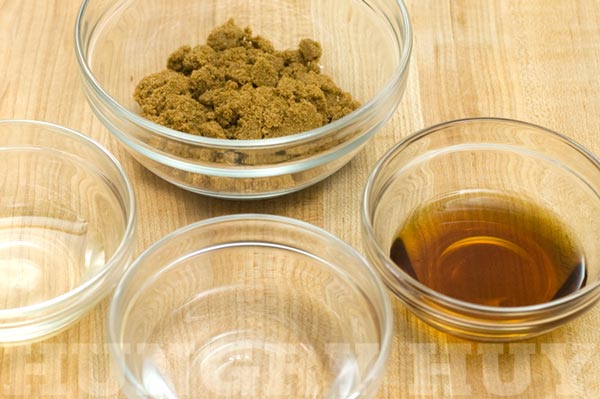 All you need to do for the marinade is to combine fish sauce with brown sugar and mix thoroughly to combine, then let it marinade for at least an hour in the fridge.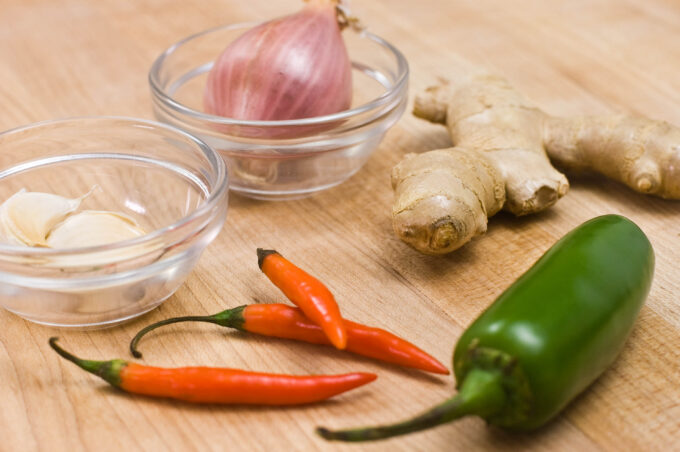 Aromatics and spices
This recipe is LOADED with aromatics. Everything here is potent and provides a hefty portion of aromatics. I love the punch of garlic, and shallots which you see a lot in Vietnamese recipes.
Ginger goes great with the chicken. The chiles and the jalapeno crank this up a notch but you can scale this up or down as you like. They hold their own the way it's proportioned in this recipe, to stand up with the rest of the strong flavors.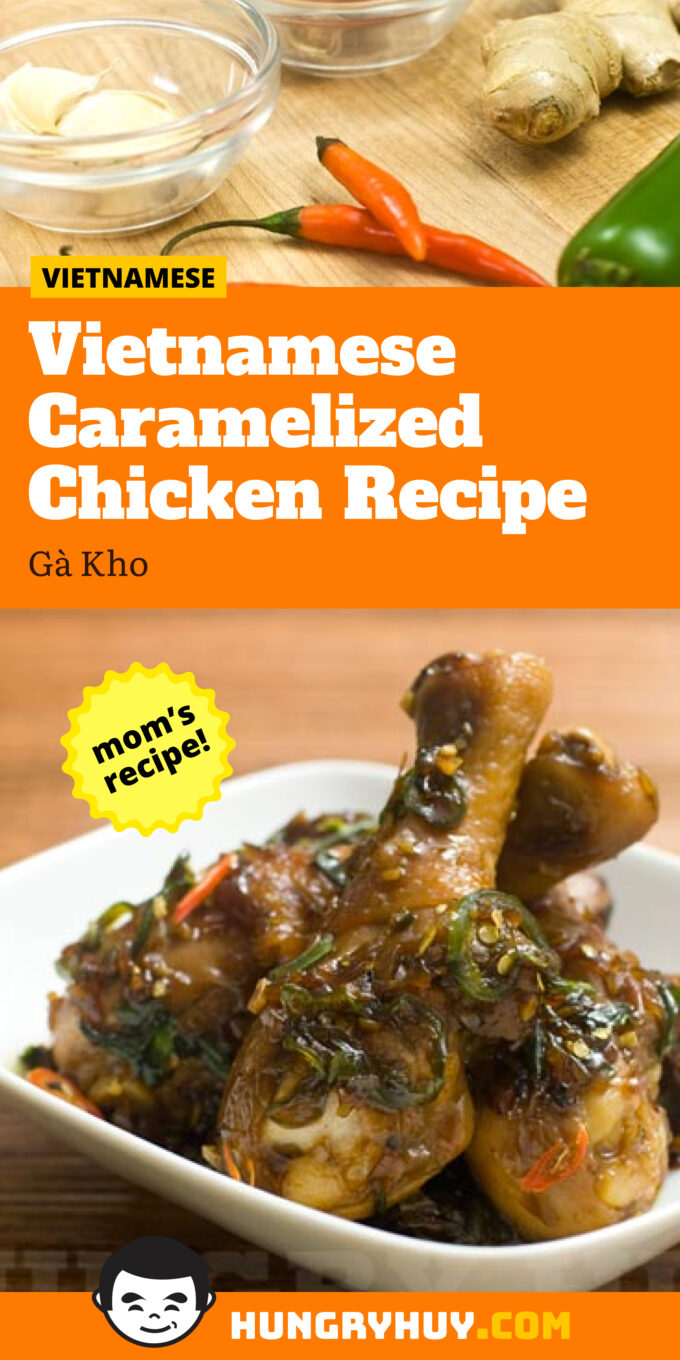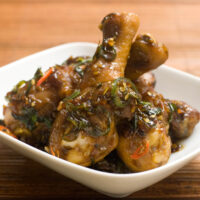 Gà Kho (Vietnamese Caramelized Chicken)
Packed with aromatics and spice, balanced with fish sauce to season and create the delicious Vietnamese caramelized chicken, which is pretty easy to make!
Ingredients
Meat
1.5

lbs

chicken drumsticks

you can use any cut desired
Sauce
1/2

cup

brown sugar

1/4

cup

fish sauce

1/4

cup

rice vinegar

1/4

cup

water

1

tablespoon

ginger

minced

1

shallot

minced

3

cloves

garlic

minced

vegetable oil for frying
Final Additions / garnish
2

sprigs of scallion

roughly chopped 1/2″-3/4″ long

1

jalapeno

thinly sliced

1

Thai chili

thinly sliced
Instructions
Marinade in about 2 tablespoons fish sauce and 1 tablespoons brown sugar for a least 1 hour. Rotate and redistribute marinade after the first 30 minutes.

Combine for the sauce: 1/2 cup brown sugar, 1/4 cup fish sauce, 1/4 cup rice vinegar, 1/4 cup water

Then add to the sauce 1 tablespoon minced ginger, 1 minced shallot, and 3 cloves minced garlic.

Heat a pan on high heat, then add some vegetable oil. Add the chicken and rotate as it browns. This should only take a 1-2 minutes.

Turn down the heat to about medium so the chicken can cook through.

Add some of the sauce, just enough to color and kind of baste the meat as it cooks.

You could add the rest of the sauce now too, but I find it makes more sense to cook them separately so you can control the doneness of the chicken and thickness of the sauce independently.

Remove the chicken. Add the rest of the sauce and cook on medium high heat until it just reaches desired consistency.

Add the sliced jalapeno and scallion to cook just slightly as the sauce finishes. If you want more bite to the jalapeno, slice it thicker and don't let it cook too much (same with the scallion).
Nutrition Facts
Serving:
0
g
|
Calories:
641
kcal
|
Carbohydrates:
67
g
|
Protein:
44
g
|
Fat:
21
g
|
Saturated Fat:
6
g
|
Cholesterol:
210
mg
|
Sodium:
3951
mg
|
Potassium:
810
mg
|
Fiber:
1
g
|
Sugar:
63
g
|
Vitamin A:
300
IU
|
Vitamin C:
17
mg
|
Calcium:
105
mg
|
Iron:
3
mg
Like this recipe? Subscribe to my newsletter!