Whether it's paired with steaming sticky rice or tossed in a heap of fried rice, Chinese sausages add such a richly cured flavor to any meal. This Asian sausage recipe will give you different options for cooking these sweet and salty Chinese style sausages for your quick next dinner.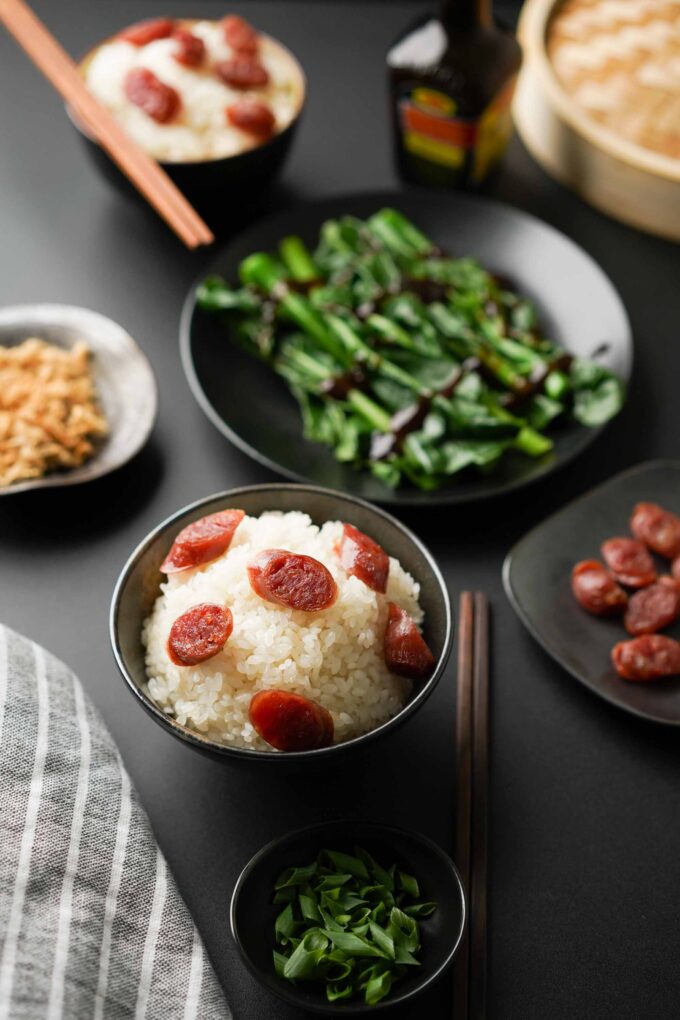 What is Chinese sausage (lạp xưởng)?
Chinese sausage, or "lap cheong," is an all-around name for dried, cured sausages that originated from China. It's important to note that there are various types of Chinese sausage, but the most popular one is lap cheong, which translates to "wax sausages" because of its slick outer layer.
Lap cheong, known for its sweet and savory combination, is typically made from pork and pork fat and seasoned with soy sauce and rice wine. This sweet sausage is so popular, it's spread to various regions of Asia, like Vietnam and the Philippines. In Vietnam, lap cheong is called lạp xưởng and usually eaten with sticky rice.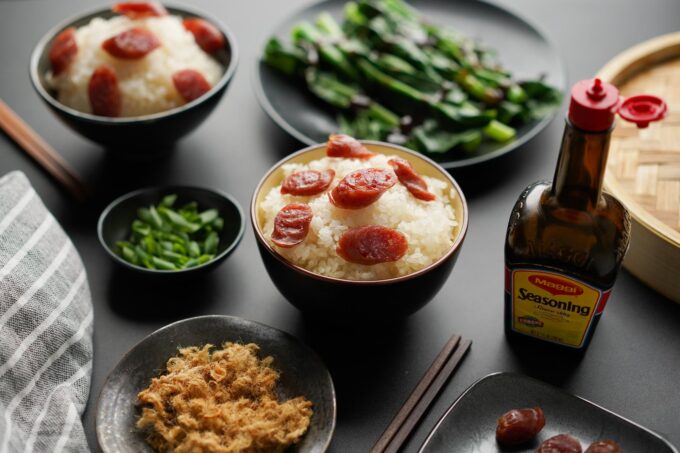 While I grew up eating Kam Yen Jan at home with my parents and at my cousin's house, I've also had Chinese sausage at some of my favorite Asian restaurants like TK Noodle.
Where to buy Chinese sausage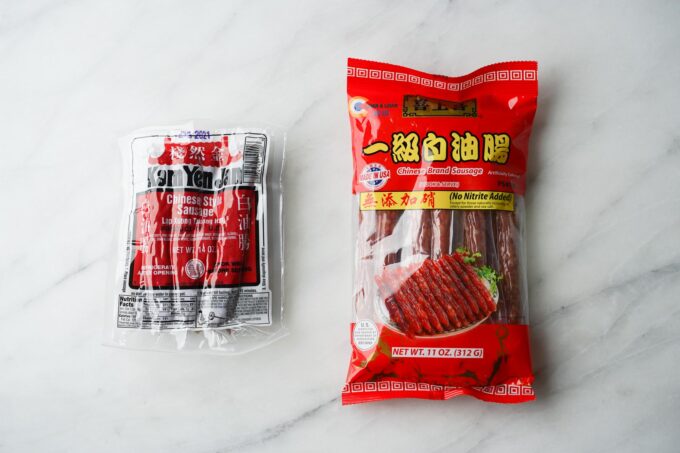 Red Chinese pork sausages are typically in a vacuum-sealed package, and I can find them in the fridge section of my local 99 Ranch or another Asian store. Some of my favorite brands are Kam Yen Jan and Xishangxi Chinese Brand Sausage.
There are also new Asian online grocery stores like Weee! where you can source local stores and have them delivered to your doorstep. I've also purchased lạp xưởng at my local Vietnamese shops in Little Saigon, but you can also buy Vietnamese branded "Harbor Sausage" online.
How to cook Chinese sausage
Since lap cheong is packed with a lot of sweet and savory flavor in each sausage, I like to eat it with simple sides, like steamed sticky rice or mixing it in a simple garlic fried rice dish (like sinangag), or simply steamed white rice. You can also add it to your next noodle dish or pair it up with a simple omelet in the morning.
And if you have a rice cooker, you can also use a rice cooker to steam your sausage and sticky rice too!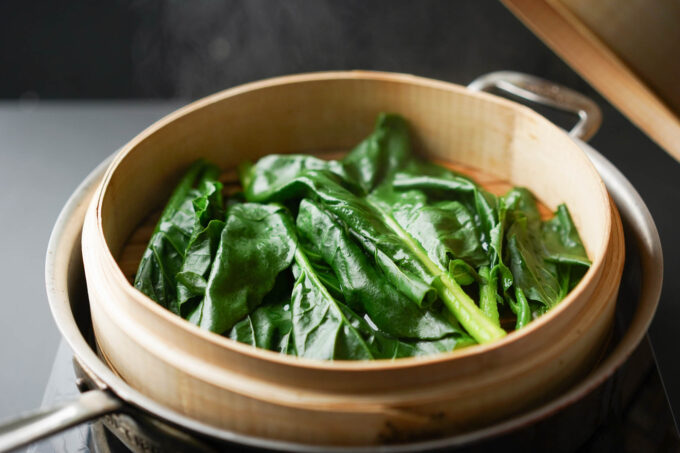 Cooking the Chinese sausage in steamed sticky rice is super easy because you literally just plop a few full sausages in the rice and bamboo steamer. It cooks at the same time and infuses a savory flavor onto the rice. Although the meat is cured, you still want to make sure it's fully cooked because it's technically raw. By cooking it in the steamer you get a nice and plump sausage texture that holds its shape when it's done.
My family loved visiting TK Noodle and ordering their fried rice because they added lap cheong–these are some of my fondest moments with my family. Since then, I've tried to recreate this fried rice at home and this recipe will teach you how to make authentic fried rice with lap cheong.
Storage
To store extra cooked Chinese sausage, place them in an airtight container with a lid and in the fridge for up to 4-5 days. I like to reheat them by sprinkling a few drops of water and putting them in the microwave for 20-second intervals until they're nice and hot.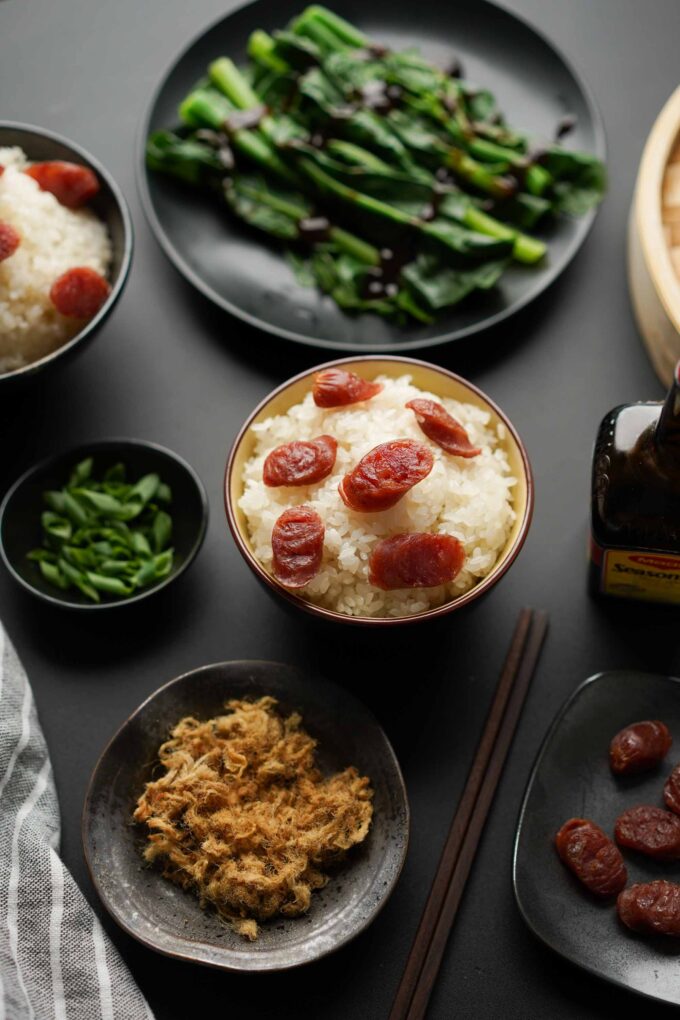 Chinese Sausage with Sticky Rice (Xôi Lạp Xưởng)
Al dente and sticky rice with plump and juicy pieces of flavorful lap cheong, this recipe will teach you a very simple and easy recipe to enjoy Chinese sausage on a weeknight.
Ingredients
208

g

(

1

c

)

glutinous sticky rice

48

fl oz

(

6

c

)

water

plus more for steamer

93

g

(

2

g

)

Chinese sausages
Equipment Used
mixing bowl

cheese cloth or hand towel

pot/pan
Instructions
In a mixing bowl, combine the glutinous rice and water. Cover with a lid or towel and let rest for at least 8 hours.

In a pot of water over medium-high heat, add the steamer and line with the cheesecloth. Preheat the steamer for about 2 minutes or until you start to see steam rising above the steamer.

Drain the water from the soaked rice.

Add rice to the preheated steamer lined with cheesecloth and spread evenly. Add the Chinese sausages on top of the rice at least 1 inch apart.

Cover with the lid and steam for 20 minutes. Make sure to add water to the pot throughout the steaming process so the pot doesn't run out of water.

Open the lid and check the texture of the rice, it should be plump, soft, and chewy. The rice should not be mushy or too hard. If the texture is too al dente for your preference, you can close the lid and continue to cook for an additional 2 minutes before checking the texture again. Cook until it reaches the final desired texture because it will not continue to cook once you remove it from the heat.
Nutrition Facts (per serving)
Calories:
479.8
kcal
|
Carbohydrates:
87.44
g
|
Protein:
12.58
g
|
Fat:
7.57
g
|
Saturated Fat:
1.61
g
|
Cholesterol:
17.5
mg
|
Sodium:
342.76
mg
|
Potassium:
80.08
mg
|
Fiber:
2.91
g
|
Calcium:
32.73
mg
|
Iron:
1.67
mg
Nutrition Facts
Chinese Sausage with Sticky Rice (Xôi Lạp Xưởng)
Amount per Serving
% Daily Value*
* Percent Daily Values are based on a 2000 calorie diet.
Chinese Sausage Fried Rice
This fried rice recipe will fulfill any Chinese food craving because it's filled with juicy lap cheong, sweet and fresh carrots and peas, garlicky rice, and fatty eggs. Learn how to make this Chinese comfort food that's equally as filling as it is delicious.
Ingredients
2

c

cooked white rice

day old rice preferably

58

g

(

½

c

)

carrot

diced and cooked

71

g

(

½

c

)

peas

cooked

25

g

(

2

tbsp

)

garlic

minced

5

g

(

2

tbsp

)

green onions

sliced

2

links

(

93

g

)

Chinese sausage

cut in half horizontally & sliced into ¼ inch thick pieces

3

large

eggs

22

g

(

2

tbsp

)

vegetable oil

34

g

(

2

tbsp

) soy sauce

14

g

(

1

tbsp

) oyster sauce

.75

g

(

½

tsp

)

kosher salt

Diamond Crystal brand

.25

g

(

⅛

tsp

)

black pepper

1

g

(

¼

tsp

) MSG
Equipment Used
Large skillet or wok (at least 5 quarts)

Spatula or wooden spoon

mixing bowl

Knife & cutting board
Instructions
Prep your rice by using a fork or your hands to break apart some of the rice grains.

Wash carrots, peel the skin and dice them into ¼ inch pieces. Place them in a bowl of water and microwave on high for 2 minutes, or until the carrots are al dente.

Place your peas in a bowl and microwave them on high for 1 minute, or until they are fully cooked, but not mushy.

Mince the garlic. Clean and slice the green onions and set them aside.

Slice the Chinese sausage in half horizontally. Cut them into bite-sized pieces, about ¼ inch thick pieces.

Crack two eggs in a large mixing bowl and whisk until combined. Add the day-old rice into this bowl and mix them together.

Mix the soy sauce and oyster sauce in a bowl and set aside.

In a large saucepan over medium-low heat, add the vegetable oil and garlic. Stir around the garlic in the pan for about 30 seconds or until it's fragrant but not too browned.

Add the Chinese sausage and cook for about 3-4 minutes or until the sausages begin to sear at the edges.

Add the egg and rice mixture in the pan and continue to stir and cook for about 5-7 minutes or until the rice turns a nice golden yellow–this means the eggs are cooked.

Add the peas and carrots to the pan and stir until it's incorporated.

Add the soy sauce and oyster sauce and mix until it's incorporated.

Use your spatula to make an empty circle in the middle of the pan and crack the third egg in the middle. Use your spatula to beat the egg while it cooks. After it becomes a scrambled egg, mix with the rest of the fried rice.

Season with salt, black pepper, and msg and mix to fully incorporate all the seasonings. Taste test the rice and adjust seasoning if needed.
Nutrition Facts (per serving)
Calories:
288.32
kcal
|
Carbohydrates:
30.79
g
|
Protein:
12.05
g
|
Fat:
12.95
g
|
Saturated Fat:
6.49
g
|
Trans Fat:
0.01
g
|
Cholesterol:
148.25
mg
|
Sodium:
860.35
mg
|
Potassium:
218.39
mg
|
Fiber:
1.88
g
|
Sugar:
2.11
g
|
Vitamin A:
2774.03
IU
|
Vitamin C:
10.14
mg
|
Calcium:
53.49
mg
|
Iron:
1.46
mg
Nutrition Facts
Chinese Sausage Fried Rice
Amount per Serving
% Daily Value*
* Percent Daily Values are based on a 2000 calorie diet.
Like this recipe? Subscribe to my newsletter!