Miso-marinated black cod is an ultra buttery and flakey dish with sweet hints of miso, mirin, and sake. Yes, it's a three day marinade, but it's incredibly easy, and this recipe is worth trying to get a taste of this melt-in-your-mouth experience.
Where'd miso black cod originate?
Black cod miso is most popularly known because of Nobu and his namesake restaurants featuring this dish, but it's actually a traditional Japanese dish called "Saikyoyaki."
I have tried black cod miso in various Japanese restaurants. I remember the first time ordering this dish at a local Japanese restaurant and being amazed at how flavorful it was that I had to learn how to make it at home.
Black cod fish or alternatives
Black cod also has many different names like sablefish, butterfish, and gindara. I was able to find this fish at my local Korean and Japanese grocery stores, but you can also find it at stores like Whole Foods. Black cod is on the recommended list for the Seafood Watch organization meaning it's sustainable!
If you have trouble finding black cod, there are also other alternatives that have similar flaky and fatty textures like salmon or rainbow trout. I would strongly suggest not buying Chilean sea bass because it's highly over-fished.
Types of miso paste
Miso is a very common Japanese ingredient that is made by fermenting soybeans with salt and kōji (a type of fungus). There are very many types including: white miso, red miso, dark miso, and many more. The lighter colored miso often has a sweeter taste, whereas the darker colored miso has a stronger salty and earthy flavor. Miso can be used in so many dishes from soup to marinades (like this recipe!). To learn more about miso, read my blog post here.
For black cod miso, I like to use Saikyo miso; This type of miso originated from Kyoto and is known for its very light color, very sweet flavor and mild saltiness. Saikyo miso is where the name Saikyoyaki comes from because you are using saikyo miso to marinate the fish. If you cannot find Saikyo miso at your local Japanese grocery store, you can also use white miso.
Marinading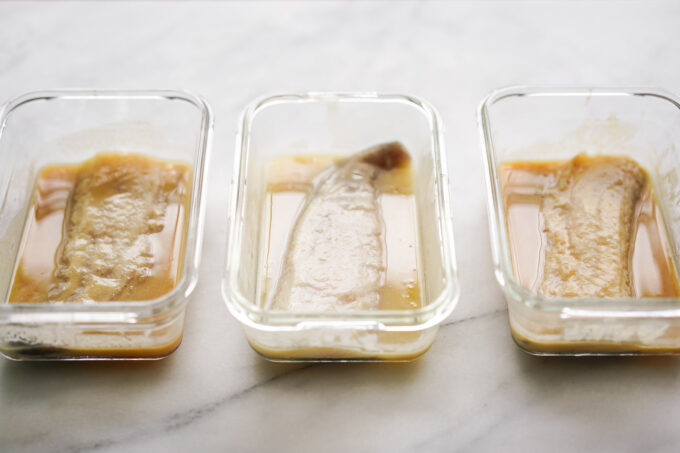 To make the marinade, combine the sake and mirin in a pot over medium high heat and cook to a boil for about 30 seconds. You can then add the Saikyo miso and use a whisk to thoroughly mix. Lower the heat to a simmer and add the sugar. Once the marinade is mixed, remove from heat and let cool.
Add the cooled miso marinade and the filets into the container and make sure all the fish is evenly covered. I prefer marinating my fish in glass Tupperware containers since they will be in the fridge for about three days (this prevents your fridge from smelling like miso fish).
Baking
After three days, remove the fish from the marinade and scrape most of the miso marinade off the filet before baking. If you leave too much of the miso on the filet, it could burn easily in the oven. Put the filets skin side up on a parchment paper lined baking sheet and bake for ten to 15 minutes or until browned at 400 °F.
Note, my filets were fairly thin, about ¾ inches so this is why it only took me ten to 15 minutes to bake. You can use an instant-read thermometer to check for doneness, fish is about 145 °F. However, since this is a fairly flakey and fatty fish, I've noticed that you can go over a bit and it's still fairly moist inside.
Here's yet another batch I made of this miso cod, with more miso on top, and lightly broiled for a few minutes right before it finishes. The miso sauce typically burns on the paper or silicone sheet but should brown just enough if you watch the broil.
For more Japanese dishes, you can try eating this with takoyaki (Japanese octopus balls), chicken karaage, vegetable tempura, or shrimp tempura.
If you're craving for more fish, you can also try to make a whole grilled fish–it's easier than ever!
What goes well with miso black cod?
I love serving this with a side of rice and some greens like sauteed spinach or bok choy.
What is the difference between cod and black cod?
Black cod is actually not a species of cod, but part of the sablefish family. It's much more fattier than other cod types like Alaskan cod, which has a firmer and leaner texture.
What does miso taste like?
Miso taste depends on the type of miso you are using. For instance, white miso has a sweeter taste than dark or red miso because they have varied sodium levels and fermentation processes.
Is black cod high in mercury?
Black cod has very low mercury levels. It's sustainable and has high omega-3 levels too.
Can you eat the skin of black cod?
Yes, you can definitely eat the skin of black cod and I prefer cooking with the skin on because it helps keep a more moist fish filet.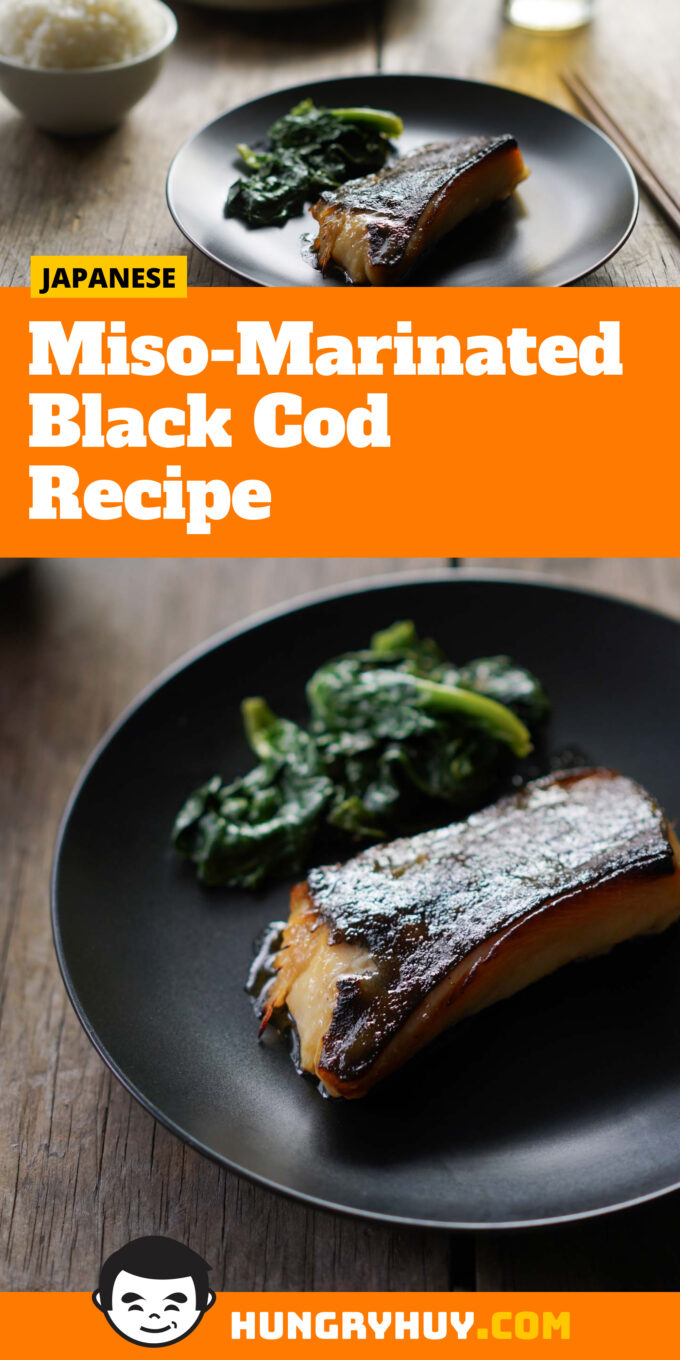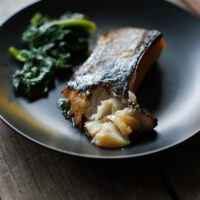 Miso-Marinated Black Cod
This tender and flakey miso black cod recipe is full of flavor after marinating for three days and baked into buttery goodness.
Ingredients
12

oz

black cod

split into two 6 oz filets

4

tbsp

mirin

4

tbsp

sake

4

tbsp

Saikyo miso paste

or white miso

2

tbsp

sugar
Instructions
Marinade
In a saucepan over medium high heat, add the mirin and sake and boil for about 30 seconds.

Add the Saikyo miso thoroughly with a whisk and cook for about 30 seconds.

Lower to a simmer and add the sugar and thoroughly mix. Simmer for one minute.

Remove from heat and let the marinade cool.
Black cod miso
In a glass container that fits your filets, add a small amount of the marinade to cover the bottom, place the filet on top, and cover with the rest of the marinade. Make sure your fish is covered with the marinade. Add a cover for the container and place in the fridge for up to three days.

On the third day, remove the container and let it rest on the counter for one hour (you don't want to bake cold fish).

Preheat your oven to 400 °F and line a baking sheet with parchment paper.

Take your filets and scrape the marinade off entirely. Try to not have excess marinade on the fish to prevent burning.

Place the filets skin side up on the baking sheet and place in the middle rack of the oven. Bake for 10-15 minutes or until the thermometer reads 145 °F (until it browns on the sides and top).

Optional: brush on some of the leftover miso marinade, put the sheet near the top of the oven and broil for a few minutes until lightly browned. Don't take your eyes off the fish during broiling!

Remove the fish carefully and place on a serving dish. Serve with a side of rice and some sauteed greens.
Nutrition Facts (per serving)
Calories:
322
kcal
|
Carbohydrates:
37
g
|
Protein:
30
g
|
Fat:
3
g
|
Saturated Fat:
1
g
|
Cholesterol:
80
mg
|
Sodium:
2044
mg
|
Potassium:
471
mg
|
Fiber:
2
g
|
Sugar:
22
g
|
Vitamin A:
30
IU
|
Calcium:
33
mg
|
Iron:
1
mg
Nutrition Facts
Miso-Marinated Black Cod
Amount Per Serving
Calories 322
Calories from Fat 27
% Daily Value*
Fat 3g5%
Cholesterol 80mg27%
Sodium 2044mg89%
Potassium 471mg13%
Carbohydrates 37g12%
Protein 30g60%
Vitamin A 30IU1%
Calcium 33mg3%
Iron 1mg6%
* Percent Daily Values based on a 2000 calorie diet.
Like this recipe? Subscribe to my newsletter!