If you're on the hunt for something quick, easy, and delicious, then learn how to make your own crispy air fryer potstickers straight from the freezer. This recipe will teach you how to make air fryer frozen dumplings, gyoza, and potstickers at home in under 15 minutes.
Can you air fry frozen potstickers?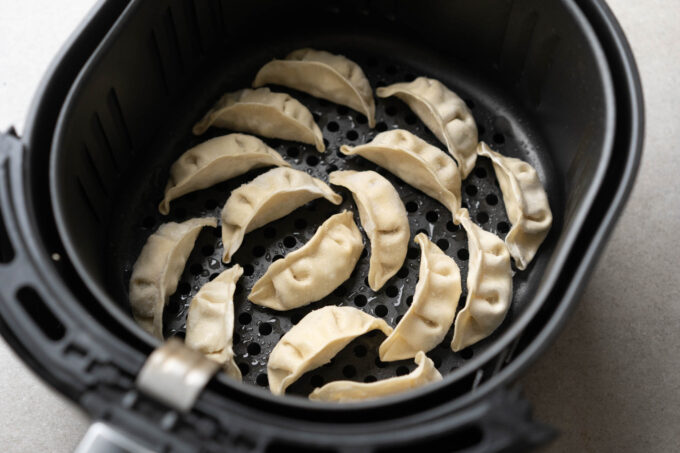 You can definitely air fry frozen potstickers, and I recommend it if you like your dumplings or gyoza extra crispy on the outside. Of course, you can scale back a bit for just slightly crispy edges which I enjoy too.
Air frying is designed to stimulate deep frying in a "healthier" way by using circulating hot air at high speeds to cook the food inside the chamber of the air fryer with just a small amount of oil sprinkled at the top of the food.
When you cook dumplings in a pan, it will sear the bottoms of the potstickers, and using a lid will steam the top sides of the dumplings–giving you crispy bottoms and soft tops. On the other hand, air frying potstickers will give you dumplings that have a super crispy outer layer–almost like you deep-fried them.
Potstickers vs. dumplings vs. gyoza vs wontons
Dumplings are a catch-all term that varies depending on the cultural cuisine you're eating. They have origins in China from 225 AD during the Three Kingdoms era and have a connection to Chinese steamed buns, mantou. There are many different types of dumplings you can buy and they all have different names. To make it easier for you, here's a quick guide:
Dumplings: Basically anything that has dough wrapped around a filling. The filling can include different types of savory and sweet ingredients like meat, tofu, vegetables, fruit, and more.
Potstickers: Potstickers are dumplings with a thin skin dough that has different types of fillings like meat or vegetables. Like their name, they stick to the bottom of a pan when you steam fry them, and this produces a crispy bottom layer.
Gyoza: This is a Japanese variety of dumplings and is smaller in size than potstickers, although they were influenced by potstickers from Northern China. It also has a delicate wrapper and can be prepared by steam frying the dumplings.
Wontons: Similar to potstickers, wontons also have a very thin and almost translucent wrapper. They typically are cooked and served in a broth and have meat or vegetable fillings, shrimp is especially popular.
Why should you air fryer frozen potstickers?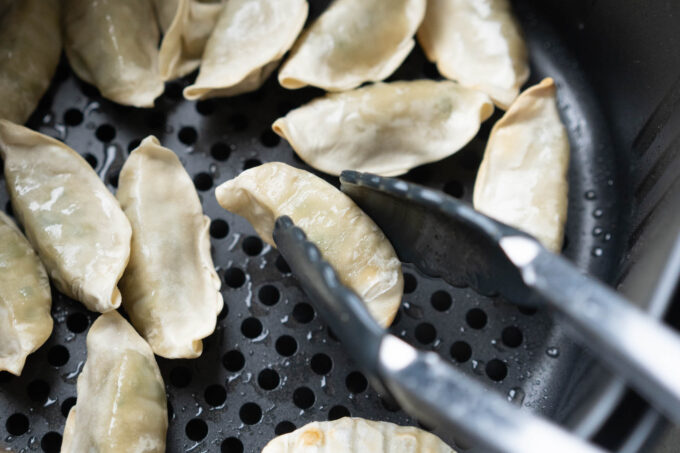 Using an air fryer to cook frozen dumplings changes the game. You can take rock solid, frozen gyoza and put them in an air fryer for under 10 minutes and they're fully cooked and crispy. If you want fast dumplings and prefer a crunchy texture for your next dinner, then using your air fryer is the way to go.
What types of dumplings can you use?
When you want to air fry dumplings make sure to only use frozen dumplings–you don't need to worry about defrosting your dumplings for this recipe. Using freshly made dumplings in the air fryer with this recipe might overcook them. It's also important to make sure to read the labels of your frozen dumplings. You can air fry frozen dumplings like gyoza and potstickers.
Adjusting the recipe for other potsticker brands
For this recipe, I tested different brands like Trader Joe's frozen gyoza, Day Lee frozen dumplings, and Shirakiku frozen gyoza. I used different temperatures to air fry the frozen dumplings and found that 350 °F was the best temperature when cooking because it wasn't too hot to burn the dumplings and it didn't take a long amount of time to cook them thoroughly.
When you are testing out different brands at home, I suggest air frying at 350 °F and air frying in 5-minute increments. Check-in between each 5-minute increment and adjust your cooking time if you want to cook them more. I also like to toss the dumplings in between to make sure they cook evenly.
You know when they're done when you can measure their internal temperature with an instant-read thermometer and it passes 145 °F for pork and 165 °F for chicken dumplings. I found that they cook really quickly after 5 minutes, so make sure to check temperatures often to be sure.
Tips for cooking frozen dumplings in an air fryer
Here are some tips to give you perfectly cooked dumplings in the air fryer:
Use frozen dumplings straight from the freezer to the air fryer basket. You don't need to defrost them for this recipe to work.
Spray oil on the bottom of the chamber and then on top of the dumplings before cooking. The spray will prevent the dumplings from sticking and also help them crisp and brown on the top. Cook the frozen dumplings in batches in a single layer to get evenly cooked dumplings.
Use 5-minute increments. Since I don't have an air fryer with a window, I have to guestimate how my food looks while it's cooking. If you're trying out a new brand, I like to cook the dumplings in 5-minute increments and add more time to prevent them from overcooking.
Mix it up halfway. Turn them over after 5 minutes so that each side gets cooked properly. I've noticed that my air fryer can cook at different temperatures depending on where the food is located in the chamber. By turning and moving them around halfway, each dumpling is cooked evenly.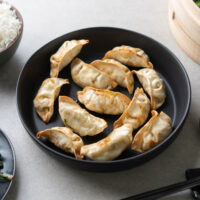 Air Fryer Frozen Pot Stickers
Learn how to take rock-hard frozen dumplings to extra crispy and tender dumplings for the perfect snack in a matter of 10-15 minutes!
Ingredients
cooking oil spray

any neutral oil

8

frozen dumplings

or more if your air fryer has adequate spacing
Instructions
Place the frozen dumplings on the air fryer and make sure they have about ½ an inch of space in between each dumpling. This space prevents them from sticking together.

Put the temperature at 360 °F and cook for eight minutes.

Check the dumpling's internal temperature to see if they're fully cooked at about 145 °F for pork and beef and 165 °F for chicken.
Nutrition Facts (per serving)
Calories:
192.85
kcal
|
Carbohydrates:
32.13
g
|
Protein:
5
g
|
Fat:
5.71
g
|
Saturated Fat:
1.06
g
|
Cholesterol:
3.57
mg
|
Sodium:
371.43
mg
|
Fiber:
2.13
g
|
Sugar:
3.57
g
|
Vitamin C:
8.57
mg
|
Calcium:
28.56
mg
|
Iron:
1.29
mg
Nutrition Facts
Air Fryer Frozen Pot Stickers
Amount per Serving
% Daily Value*
* Percent Daily Values are based on a 2000 calorie diet.
Like this recipe? Subscribe to my newsletter!