Have you ever turned down fried vegetables? Me neither. This vegetable tempura recipe will satiate any fried food cravings with its light, airy, and crispy texture and flavorful tetsuya dipping sauce.
This recipe reminds me a lot of my crispy fried tofu, but with vegetables; You get the extra crunchiness and a nice surprise on the inside.
History of tempura
Tempura originated from Portuguese travelers in Japan during the 16th century when they introduced a dish called peixinhos da horta, a traditional Portuguese dish made during meatless "Ember days." The term tempura comes from the Latin word "tempora," which refers to a time of fasting.
Green beans were one of the first vegetables covered in the tempura-like batter made by Portuguese travelers, and since then, many vegetables are fried in tempura batter. What's better than eating your vegetables AND getting your deep fry on?!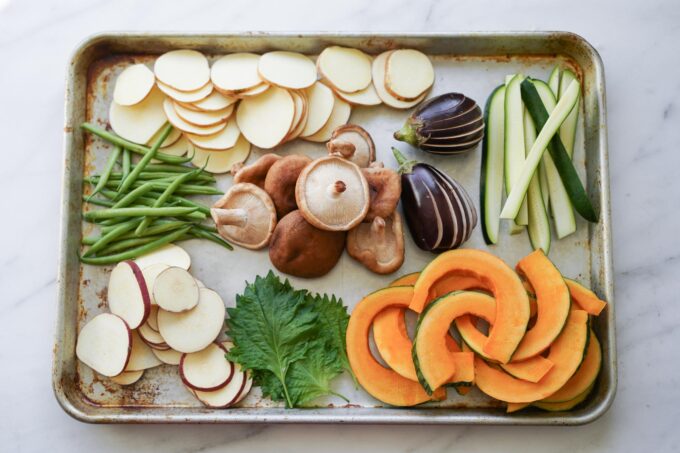 Tempura batter
This tempura batter follows the same recipe as my shrimp tempura batter. Some tips that you should follow is:
Use extra, ice cold wet ingredients (keep the eggs and fizzy water in the fridge and freeze your vodka) because the cold temperature helps to slow down the formation of gluten in the batter
Use potato starch in addition to flour to help create a crisp and light layer.
Using chopsticks to quickly stir the wet and dry ingredients helps cut the rate of formation of gluten, too. You should only be mixing for about one minute and have some lumps leftover in the batter. If you over-mix your batter, you could end up with chewy and soggy tempura.
Vegetables
What vegetables can you make with tempura batter? I prefer using an assortment of vegetables with my tempura batter because I like the variety.
My favorite types of vegetable tempura are: green beans (thank you for those Portuguese travelers, they know what they were doing!); kabocha (this sweet squash is a favorite); shiso leaves; sweet potatoes; zucchini; mushrooms; and eggplants.
While some vegetables don't take too much prep, like green beans, mushrooms, and shiso leaves, the other vegetables need to be cut into thin slices so you can cover them in batter evenly and cook properly.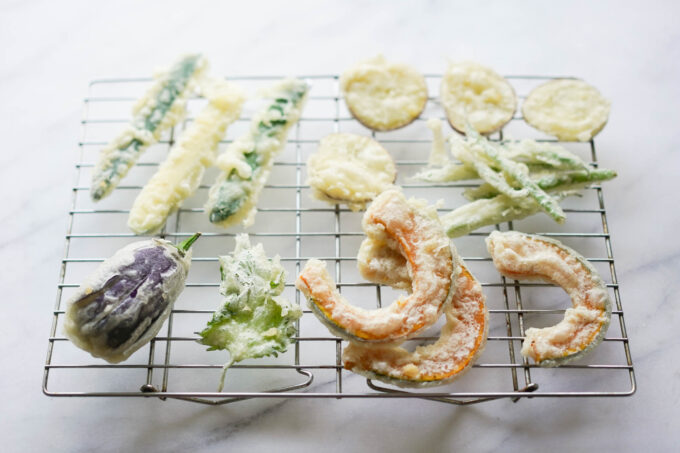 I like to cut kabocha and root vegetables into ⅛ inch slices so they cook all the way through when the batter is done cooking. I like to keep the top of the eggplant intact and slice the bottom of the vegetable into slices so that it looks like a fan. I cut zucchini into long strips with about a ¼ to ½ inch thickness.
My mom actually used to make this a lot for me, with broccoli as one of the veggies. If you decide to use this, you'll have to strategically trim them. If the branches are very close together, you'll end up trapping a lot of batter–but then again maybe you'd like that.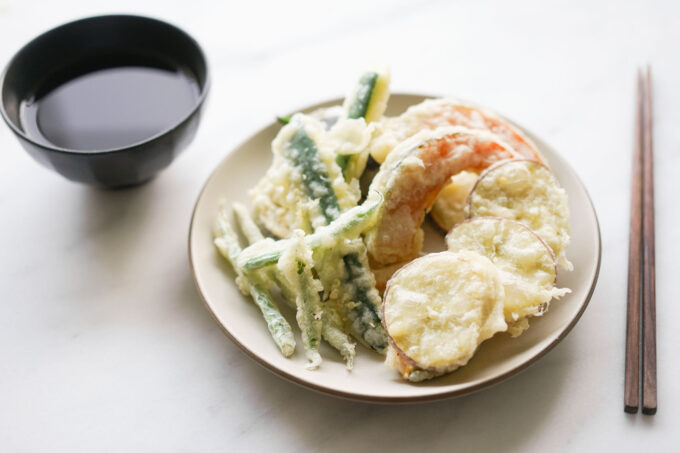 Oil and frying
Like all deep frying recipes, you need to use a deep, heavy-bottomed pot like a cast-iron pot and enough neutral cooking oil to cover what you are deep frying. I like to use vegetable oil because it has a high smoke point, neutral in flavor, and is pretty affordable. While some recipes call for different temperatures depending on the vegetable, I found that heating up your oil to 350 °F degrees worked well.
Dipping sauce
Traditionally, tempura is served with a basic tetsuya dipping sauce made from dashi, soy sauce, and mirin. If you have any on hand, you can also squeeze some fresh lemon juice over it, too.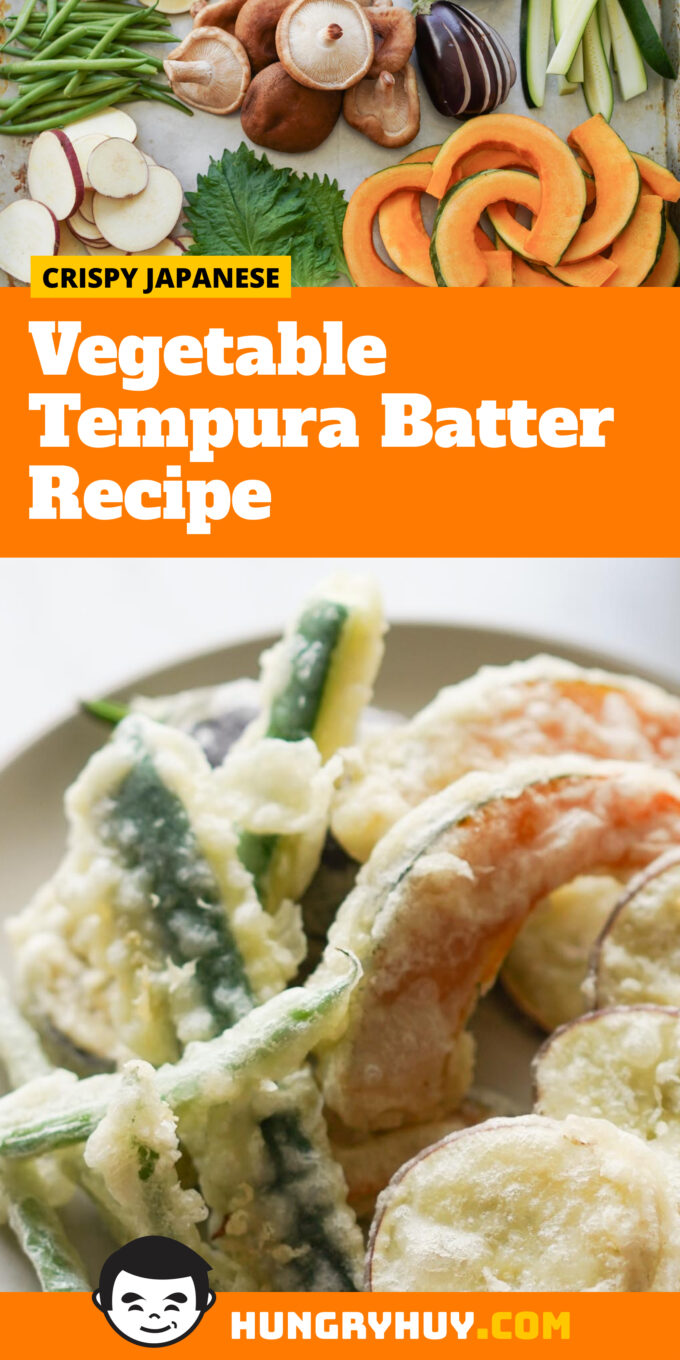 Vegetable Tempura Batter Recipe
Make your own vegetable tempura at home with this quick recipe!
Ingredients
Vegetable tempura
4

c

sliced and prepared vegetables

neutral cooking oil

vegetable oil preferred

¾

c

all-purpose wheat flour

½

c

potato starch

1

large egg

straight from the fridge

¼

c

vodka

chilled in the freezer

¾

c

carbonated water

chilled in the fridge
Instructions
Vegetable tempura
Prep vegetables by washing and drying them before dunking them in the batter.

For kabocha, slice the squash in half and remove the seeds. Slice the kabocha into ⅛ inch pieces.

For root vegetables, cut into ⅛ even slices to make sure they cook properly.

For eggplants, keep the top intact and make slices starting from the middle to the bottom of the vegetable. The eggplant should look like a fan.

For zucchini, cut the tops off and cut into lengthwise strips with a ¼ inch width.

In a heavy bottomed pot, add about 2 inches of oil from the bottom of the pot. Heat the oil to 350 °F degrees.

In a mixing bowl, add the flour and ½ cup of potato starch and mix thoroughly.

In another bowl, add the egg and mix in the cold vodka. Then add the carbonated water.

Carefully, add the wet batter into the mixing bowl and use the chopsticks to mix the batter in swift movements. Try to lift the bowl and move the bowl in round movements while stirring with the chopsticks. Make sure to not over-mix the batter or your tempura will end up chewy. You should have some lumps in your batter. The mixing process should take no longer than one minute.

Carefully lower the battered vegetables into the oil. The vegetables cook fairly quickly so make sure to watch these carefully. Root vegetables take about three minutes and other vegetables take about one to two minutes depending on their thickness.

Turn the vegetables every so often so they cook properly.

Remove the cooked vegetables (it should have a pale blonde color) from the oil and place over paper towels on a cooling rack.

Serve immediately with the tetsuya dipping sauce.
Tetsuya dipping sauce
In a small sauce pot, add the water over a medium-low heat.

Add the dashi mix, soy sauce, and mirin.

Heat until it boils for one minute and then remove from heat.

Serve in a small sauce dish.
Nutrition Facts (per serving)
Calories:
708.1
kcal
|
Carbohydrates:
131.9
g
|
Protein:
25.6
g
|
Fat:
4.6
g
|
Saturated Fat:
1.2
g
|
Cholesterol:
81.8
mg
|
Sodium:
2098.9
mg
|
Potassium:
1314.1
mg
|
Fiber:
18.4
g
|
Sugar:
9.1
g
|
Vitamin A:
18602.7
IU
|
Vitamin C:
39.4
mg
|
Calcium:
142.2
mg
|
Iron:
7.3
mg
Nutrition Facts
Vegetable Tempura Batter Recipe
Amount per Serving
% Daily Value*
* Percent Daily Values are based on a 2000 calorie diet.
Like this recipe? Subscribe to my newsletter!