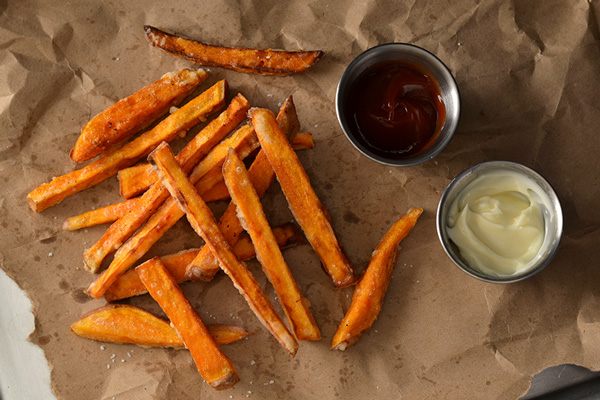 Sweet potato fries, when done right, are INCREDIBLE. Two favorites that come to mind are the ones at Veggie Grill and Native Foods. When done right, these fries are well-seasoned with a light and crisp outer layer, with a fluffy and almost creamy center.
I'm so excited (after failing so many times) to have a method that results in delicious homemade sweet potato fries. At first, I wanted to try the healthy way and bake them, but couldn't get them crispy for the life of me–they just end up burning and getting leathery before ever crisping.
Not sure if or how other people are getting this to work, but frying is the only way I've gotten it to work, and the results are excellent!
Let's get started on excellent sweet potato fry-dom:
1. Clean & cut into matchsticks
You can peel the skins if you want, but it won't affect the crispness in this recipe. I like to leave them on since they're healthy for you!
If you want sweet potato fries with more 'creamy' center, go for 1/2″ fries. If you want more fried-to-potato ratio, then go with 1/4″ fries.
Keep the cut as uniform as you can so each piece finishes cooking at the same time. Using a mandolin for this is near impossible unless you're the Hulk. I just used a regular chef's knife and went at it by hand.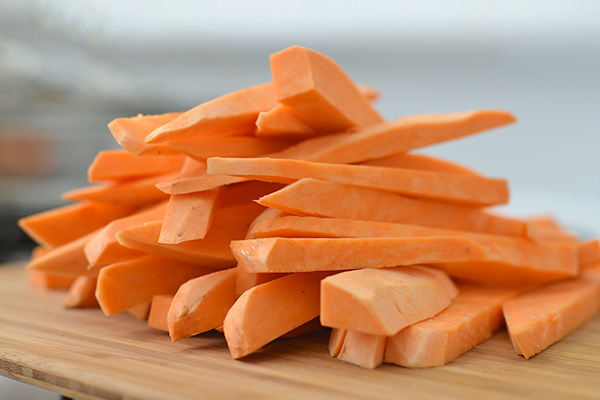 3. Rinse to remove excess starch
You do not need to soak them.
Run them under water and swish it around. Dump the water, and repeat one more time. Soaking even for an hour after the 2nd rinse does not release any extra starch.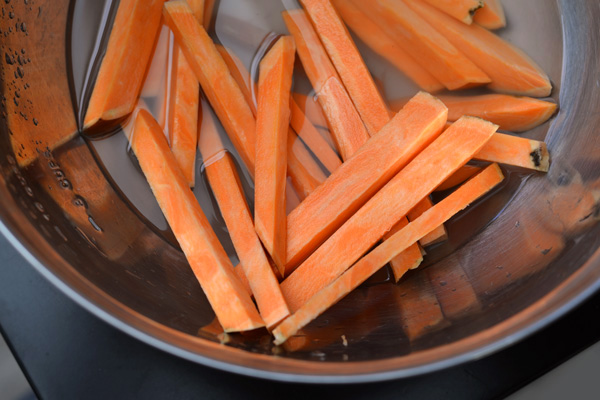 4. Boil to Par-cook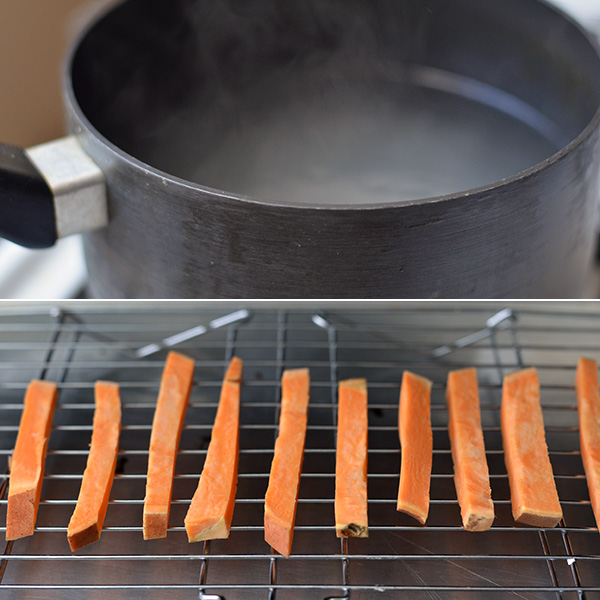 I do this for 1/2″ fries only. 1/4″ fries don't need par-cooking. Without par-cooking, the outside of the fry burns before the center is fully cooked. I like to boil them because it's faster than baking, and more importantly, the sweet potatoes retain their rich color.
1. Add water and potatoes to a pot and bring to a boil.
2. When it hits a boil, reduce to 50% heat and check for doneness every few minutes. It's done when pliable and slightly fork tender, but not mushy.
5. Batter & Fry
Cornstarch batter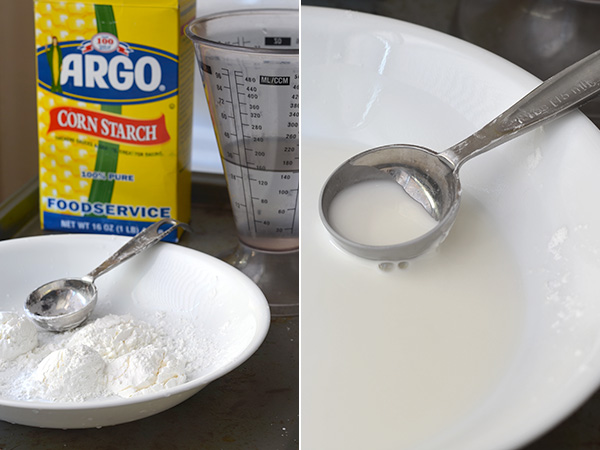 For a small-medium sweet potato, use a light cornstarch batter of 1 tbsp starch to 1 tbsp water and increase in even amounts as needed. This sludges up quickly between dipping, so mix it up each time before dipping. Do this in small handfuls at a time and drop them right into the fryer.
Managing oil temperature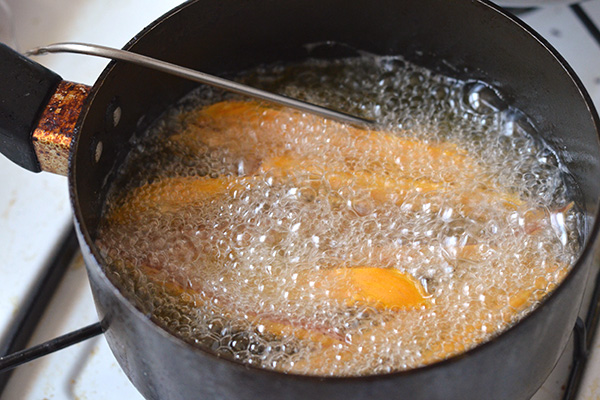 Fry at 325°F-350°F or on medium heat for 1-2 minutes until crisp. A deep fry thermometer would be perfect for this if you have one. I use a more versatile probe thermometer, which is one of my favorite kitchen tools.
Season with salt while it's hot, then serve with some chipotle or garlic aioli!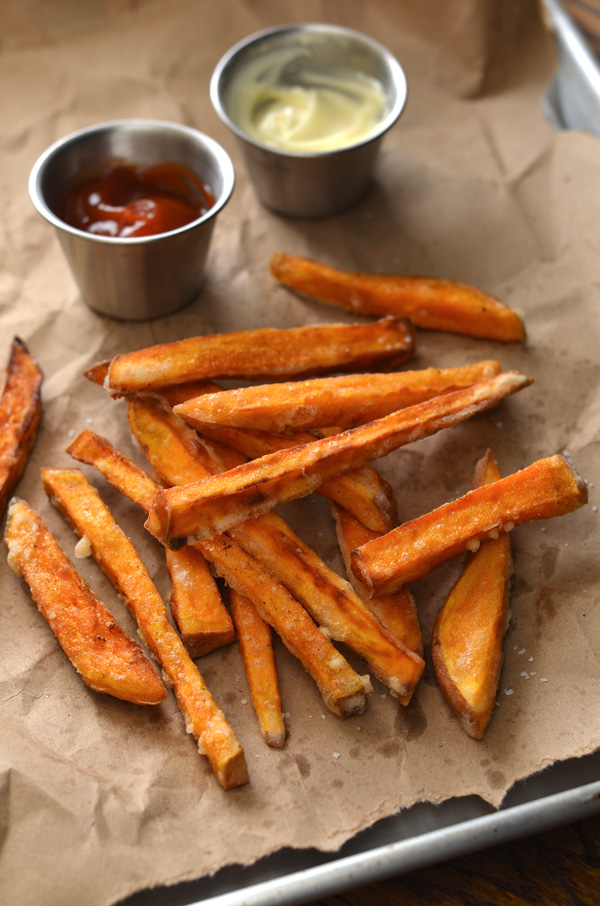 Why are my sweet potato fries soggy?
I like to make extra steps to get the crispiest sweet potato fries. After cleaning the sweet potatoes under running water, I make sure they dry properly before covering them in a cornstarch batter. The drier they are, the more the batter will stick to the sweet potatoes. The batter itself will give you an extra crunchy outer layer. I also double fry the potatoes to make the crunch better and last longer.
How do you make sweet potato fries from scratch?
All you need to make sweet potato fries from scratch is sweet potatoes, cornstarch, water, and oil for frying. It's as simple as that, but if you want to get extra crispy potatoes, follow my techniques below.
Are sweet potato french fries healthy? Are sweet potato fries healthier than regular potato fries?
Yes and no, sweet potatoes are seen healthier than regular potatoes because they have beta-carotene and fiber in them. But keep in mind you are still deep frying these bad boys.
I'm all for indulging in fries, but I would also keep in mind moderation is the best method to follow if you have dietary restrictions.
Can you eat sweet potato skin?
You can definitely leave the sweet potato skins on because they are edible.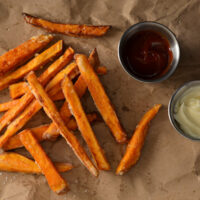 Fried Crispy Sweet Potato Fries Recipe
Print
Pin
Ingredients
2

medium sized sweet potatoes

cornstarch for batter

oil for frying

peanut, vegetable, or canola

seasonings

paprika, pepper, salt
Instructions
Prep & Par-cooking
Wash, peel (optional), and cut into 1/2" or 1/4" matchstick shape fries. 1/2" (preferred) will require par-cooking.

Rinse under running water, drain and repeat once more. Dry in salad spinner or with towels.

To par-cook: boil in water until tender, and just cooked all the way through, not mushy and breaking in our hands. About 8-15 minutes.
Cooking
Make some batter. About 4 parts cornstarch to 3 or 4 parts water until milky, but not too watery.

Dip fries (I do about 5 so they don't sit there as the cornstarch gunks up). Shake off excess.

Quickly drop into the fryer 1 at a time so they don't stick. About 1-2 minutes at 325°F-350°F. We don't want it to brown too much yet.

Remove from oil, rest on paper towels to remove oil and cool off.

Repeat to finish all the fries, making sure you mix up the batter before each small batch (For me, each set of 5 fries). You might have to add some water if the batter is sludgy.

So after the first batch, they're pretty good now, but you have to eat them quickly or they lose the crunch. I have discovered that a 2nd dip & fry makes the crunch better and last much longer.

Dip + fry a 2nd time, following the same steps. Except this time you can leave them in the oil until the fries brown enough to your liking. It still should be around 1-2 minutes. Season each batch while hot. I like salt, paprika, and finely (freshly) ground pepper.