Crispy garlic bits sprinkled over lightly fried shrimp marinated in olive oil, garlic butter sauce — this Hawaiian garlic shrimp recipe is as delicious and mouthwatering as it is easy to make at home. You don't need more than 30 minutes (or even a plane ticket) to get easy access to these plump and juicy shrimp!
What is Hawaiian garlic shrimp?
If you've ever had the opportunity to visit Hawaii, then you might have had the chance to eat at one of the many flavorful garlic shrimp trucks and stands in Oahu, Maui, and more. Butter garlic shrimp is a local Hawaiian dish that came about from the North Shore in Oahu.
Giovanni's Original White Shrimp Truck started serving shrimp from their mobile stand in 1993 and since then it's become a phenomenon that's created more shrimp trucks with similar dishes and even reached mainland restaurants. To learn more of our top The Tamura's we visited it located at 500 Ala Moana Blvd Suite 2C, Honolulu, HI 96813, however there are many locations throughout the island. You can also learn our other top 15 best restaurants in Oahu here.
Popular garlic shrimp variations
These days you can have an array of choices to choose what you would consider the best garlic shrimp, whether that's somewhere along Kamehameha highway, on another island, or even on the mainland. Here are some notable ones:
Giovanni's Shrimp Truck – Giovanni's is known for its garlic butter-infused shrimp and topped with lots of garlic bits on top of the shrimp along with your rice. They're the OG for garlic butter shrimp and it's no wonder. The original Giovanni's Shrimp Truck is located on the North Shore in Haleiwa off of the Kamehameha highway. On our latest trip here we were lucky there were only about six people in line so not much of a wait. The interesting thing is the locals were all suggesting we get Romy's and Famous Kuhaku Shrimp Truck nearby instead. Address: 56-505 Kamehameha Hwy, Kahuku, HI 96731
Romy's Kahuku Prawns & Shrimp – There seems to be a battle between the top two contenders for garlic shrimp and it's between Giovanni's and Romy's. It's known for adding a mountain of fried and charred garlic bits on top of its shrimp. Romy's is located in Kahuku off of Kamehameha highway. Romy's is a permanent stand in a bright red building and not a truck.
Fumi's Kahuku Shrimp – Fumi's is also located on the North Shore and we were recommended to eat here to avoid large touristy crowds and long lines. Compared to Giovanni's and Romy's, this garlic shrimp dish was less buttery and less garlicky. The shrimp was nice and plump, but I didn't get too much flavor from the sauce. Similar to Romy's, Fumi's is also a permanent ocean blue stand and located in Kuhaku down the street from Giovanni's. Address: 56-777 Kamehameha Hwy, Honolulu HI 96744.
Geste Shrimp Truck – Geste is one of my favorites and is located on Maui in the Kahului area. It's definitely got more of a shrimp boil flavor because it was bursting with garlic, cayenne, and paprika flavors. It was more prominently more red than the previous three trucks and included green onion slices, but it definitely did not lack in flavor.
Selecting and preparing shrimp
For this recipe, I liked picking jumbo (15-20 size) shrimp because they were a good size and stayed plump while cooking. While you can pick fresh shrimp from your local grocery store, you can also buy frozen raw shrimp that's already deveined, but WITH the peel still on.
Do you eat the shell on Hawaiian garlic shrimp?
This Hawaiian-style garlic shrimp keeps the peel on because it adds a crispy texture while eating. You may need to use your fingers while eating to remove the shell in the end, but it's all part of the experience.
Is shrimp popular in Hawaii?
Hawaiian garlic shrimp is one of the most popular local foods and this popularity started in the early 90s due to Giovanni's Shrimp Truck.
What to serve with sauteed shrimp
Since this shrimp dish is bursting with so much garlicky flavor, you want to pair it with some light sides. The best sides to serve with this simple recipe are white rice (drizzled with some leftover garlic butter sauce), lemon wedges, and some Hawaiian-style mac salad.
Hawaiian style mac salad side dish
One of my favorite dishes for Hawaiian plate lunches is Hawaiian mac salad (along with chicken katsu), and for this garlic shrimp dish, it's no different. Its chilled and eggy flavors are just right for the warm and steamy rice and shrimp. I love buying the mac salad from my local L&L Barbecue when I don't have time to make my own Hawaiian mac salad at home.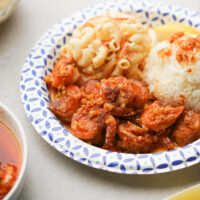 Hawaiian Garlic Shrimp
Crispy and plump shrimp marinated in a garlic butter infused sauce and topped with bits of fried garlic–this simple Hawaiian style garlic shrimp is done in under 30 minutes.
Ingredients
24

pieces

(

pieces

)

jumbo shrimp

15-20 size

15

g

(

2

tbsp

)

all-purpose flour

17

g

(

2

tbsp

)

cornstarch

2

g

(

1

tsp

)

cayenne pepper

14

g

(

2

tbsp

)

paprika

6

g

(

3

tsp

)

salt

170

g

(

40

cloves

)

garlic

chopped

228

g

(

8

tbsp

)

unsalted butter

2

fl oz

(

4

tbsp

)

olive oil

add more if necessary

½

fl oz

(

1

tbsp

)

lemon juice

add more if necessary
Equipment Used
cutting board & knife

pan

mixing bowl
Instructions
Prep your shrimp by cleaning them under running water and removing the heads. De-vein them by slicing ⅛ of an inch on the outside of the shrimp from the tail to the top of the head. Remove the poop vein. Keep the shells on and dry the shrimp with paper towels.

Mix the flour, cornstarch, cayenne, paprika, and salt together. Coat each shrimp thoroughly including the slit that you just cut.

Place on a wire rack and set it aside until it's time to cook.

In a pan over medium heat, add the butter until it melts then add the garlic.

Cook until the garlic is crispy and golden, about 3 minutes. Here's what the garlic should look like when it's done. Transfer the garlic butter to a new bowl.

In the same pan, add the olive oil and cook the shrimp until crispy on both sides, about 1 minute per side or until the meat is opaque.

Add the garlic butter back into the pan with the shrimp and cook for an additional 1-2 minutes to allow the flavors to meld. Drizzle the lemon juice on top and taste.

Serve with a side of white rice, additional lemon wedges, and Hawaiian mac salad.
Nutrition Facts
Calories:
1298.18
kcal
|
Carbohydrates:
46.62
g
|
Protein:
9.94
g
|
Fat:
123.76
g
|
Saturated Fat:
62.94
g
|
Polyunsaturated Fat:
7.46
g
|
Monounsaturated Fat:
45.72
g
|
Trans Fat:
3.73
g
|
Cholesterol:
260.22
mg
|
Sodium:
1264.29
mg
|
Potassium:
577.94
mg
|
Fiber:
4.8
g
|
Sugar:
1.96
g
|
Vitamin A:
6742.44
IU
|
Vitamin C:
30.21
mg
|
Calcium:
207.95
mg
|
Iron:
3.63
mg
Like this recipe? Subscribe to my newsletter!