Seared, fatty ribeye with aromatic onions paired with the sweet and citric flavors of tomato rice. Can you feel your mouth watering? Bò lúc lắc is a very accessible dish because it has the familiar taste of steak and onions with a twist. It's most popularly called "shaking beef," but makes more sense as "shaken beef" to me (because it's obviously not quivering on the plate).
While "bò" means "beef," "lúc lắc" is likely onomatopoeia for the shaking sounds you hear in the wok as you cook the beef. You can find it in many Vietnamese restaurant these days, but I enjoy cooking this dish at home because it's so easy to make.
Historically, dishes with beef were uncommon in Vietnam until French colonization in the 19th century. Beef was still a luxury, so dishes like bò lúc lắc were reserved for the upper class and special occasions. These days, meat is much more affordable and bò lúc lắc has turned into an everyday dish.
Since this is a quick sear in the pan, we want to go with something more tender and something that cooks fast. Tenderloin is always a good but expensive choice. For this recipe we used ribeye, which has a good amount of fat and good flavor.
For the marinade, you want to cut the meat into 1 inch cubes and combine oyster sauce, soy sauce, minced garlic, garlic oil, and sugar in a bowl and marinate the meat for at least 1 hour. This serves as a great base for flavorful meat bites.
Before cooking the steak bites, you want to quickly saute the veggies in a pan over medium heat. You don't want to soften the vegetables too much, just enough to get a good texture to eat with the tender steak.
As with all steak, it's best to let it come to room temp before cooking so you can get a proper gradient of done-ness without a super raw center. You'll need to adjust your heat accordingly to get a proper sear without cooking the center too much though.
Since steak is cooked to proper done-ness on the first go, it must get cooked more if you reheat it so this is best eaten immediately. Of course if you must make more to eat throughout the week, it reheats ok too.
Bò lúc lắc is often served on a bed of greens (particularly watercress) and mixed with fresh slices of tomatoes, cucumbers, and pickled onions. Veggies are optional, so if you're scared at least include the onion. This dish also has a lime based dipping sauce that is easy to make, it's just a mix of lime, salt, and pepper.
My favorite restaurant for this dish serves it with tomato rice, which takes this dish to a whole other level. To make the rice, all you need to do is mix cooked rice with sauteed garlic, tomato paste, and some fish sauce.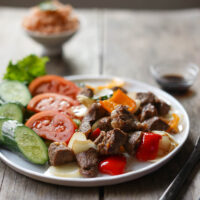 Bò Lúc Lắc (Vietnamese Shaking Beef) with Tomato Rice
This homemade shaking beef recipe is full of tender bites of beef, vegetables, and tomato rice that will make you want to eat more.
Ingredients
Beef Marinade
1

lb

beef ribeye

cut into 1-1½" cubes

1

tbsp

oyster sauce

1

tbsp

soy sauce

1

tsp

garlic

minced

2

tbsp

garlic oil

½

tsp

sugar

1

tsp

cornstarch or tapioca starch

for coating beef

vegetable oil

Maggi

for salt
Tomato Rice
1

tbsp

vegetable oil

1

tsp

garlic

minced

1

c

cooked long grain rice

1

tbsp

tomato paste

Fish sauce to taste

or salt or Maggi
Sauted Vegetables
1

tbsp

vegetable oil

½

white or yellow onion

cut into large 1½" chunks

1

bell pepper

cut into large 1½" chunks

½

stalk green onion

cut into 2" pieces
Instructions
Shaking Beef
Combine all the ingredients and beef except for the cornstarch in a bowl and marinate for at least 1 hour.

While this marinates, wash and prep all the veggies.

Before cooking, transfer the beef to another plate to remove excess liquid and to come to room temp for about an hour.

Coat each piece of beef in cornstarch. Heat a pan on medium high or high, then brown the meat on all sides in about 2-4 batches depending on the size of your pan.

Once you have cooked all your beef, add them into a pan with the vegetables over medium-low heat, and stir for about 2 minutes.

Plate the veggies and beef. Add some Maggi to salt to taste.
Tomato Rice
Prepare and cook 1 c of rice as you would normally. I like to use a rice cooker and follow the instructions.

In a large pan over medium heat, add oil and garlic until fragrant and brown. Stir the garlic so it doesn't burn.

Add the rice and stir thoroughly to coat with the garlic.

Add the tomato paste and continue to stir to incorporate the red coloring evenly throughout the rice.

Add a few splashes of fish sauce and taste the rice. I would start with two dashes and build from there, you don't want to add too much saltiness since this will be eaten with the beef.
Vegetables
Wash and prep all vegetables.

Put 1 tbsp of oil in a pan over medium heat.

Add the onions and bell peppers. Saute for about 2 minutes until the onions turn slightly translucent, but not too soft.

Add green onions last to prevent them from wilting, stir to mix.

Remove the vegetables and place aside in a bowl. You will be mixing these again with the beef.
Nutrition Facts
Calories:
874
kcal
|
Carbohydrates:
35
g
|
Protein:
50
g
|
Fat:
60
g
|
Saturated Fat:
27
g
|
Cholesterol:
138
mg
|
Sodium:
1175
mg
|
Potassium:
901
mg
|
Fiber:
2
g
|
Sugar:
6
g
|
Vitamin A:
2049
IU
|
Vitamin C:
81
mg
|
Calcium:
30
mg
|
Iron:
5
mg
Like this recipe? Subscribe to my newsletter!