These extra crispy chicken cutlets have the ultimate crunchy layer of panko with a tender and flavorful meat in the center. If you love buying the chicken katsu plate lunch at your local Hawaiian bbq joint, then this super simple recipe is for you.
What is chicken katsu?
Chicken katsu, also known as panko chicken or tori katsu, is panko-breaded chicken that is deep-fried to a crispy golden brown and is delicious. The term "katsu" translates to panko-breaded and fried meat or seafood. There is also a variety of "katsu" too. While tori katsu is breaded chicken, tonkatsu is breaded pork.
Is chicken katsu Japanese?
Katsu originated from Japan during the 19th century but is now very popular in places like Hawaii and Australia and other parts of the world. Its popularity in Hawaii stems from the waves of Japanese immigrants coming to the islands and influencing the local dishes, like spam musubi, ahi poke, and salmon poke.
Selecting and preparing the chicken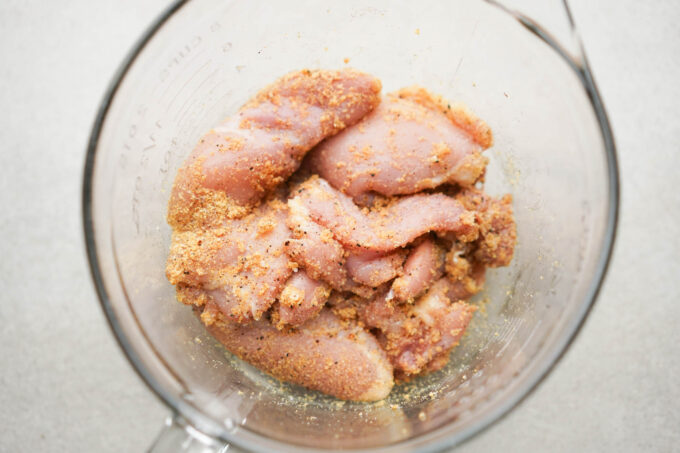 Chicken katsu is best made using skinless and boneless chicken thighs because they're super juicy and flavorful. I like to buy them already skinned and deboned to make things easier. When you bring them home, check to make sure it has an even thickness throughout so that it cooks at the same time.
If you have one side that's a little thicker you can make a butterflied filet to even out the thickness. Place the chicken thigh skin side down. Make a shallow cut towards the center of the thicker area and open up the meat like you're opening up a book.
How to make katsu sauce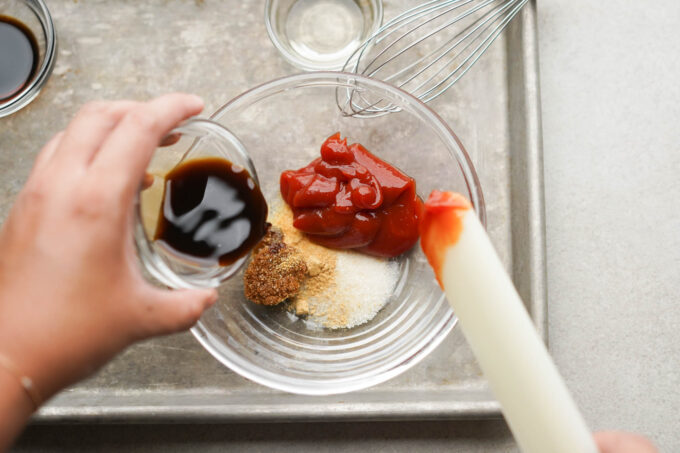 Katsu sauce is an essential part of chicken katsu as the panko. While you can buy pre-made katsu sauce at the store or at your local Hawaiian grill, like L&L Hawaiian BBQ or Ono Hawaiian Barbecue, you can also make it at home quite easily.
For this recipe, I made the katsu sauce with ketchup, Worcestershire sauce, soy sauce, sugar, mirin, garlic powder, dark brown sugar, and ginger powder. All you have to do is add the ingredients to a bowl and whisk until it's completely combined.
What is chicken katsu made of?
Japanese breaded chicken has a handful of ingredients that many people may already have in their homes. The seasoning for the chicken is a combination of garlic powder, salt, and pepper. I like to marinate the chicken in the seasoning for about 15 minutes to get the extra flavor, but this also gives me time to make the katsu sauce and prepare for deep frying.
To create an extra crispy and thick outer layer, you do a basic dredging process of all-purpose flour, then beaten egg, and a quick dip in panko. After coating the chicken thighs, I place them on a wire rack while I wait for the oil to heat up to 350 °F.
What is katsu flavor?
Chicken katsu has a savory and fried flavor due to its seasoning and breaded exterior, whereas the katsu sauce gives a tangy and slightly sweet flavor due to the ketchup and Worcestershire sauce.
My favorite dishes to serve with chicken katsu are a steaming scoop of white rice, juicy garlic shrimp, and a side of Hawaiian mac salad. To learn more about our favorite foods from Hawaii, you can read about our thoughts on the 15 best restaurants in Oahu post.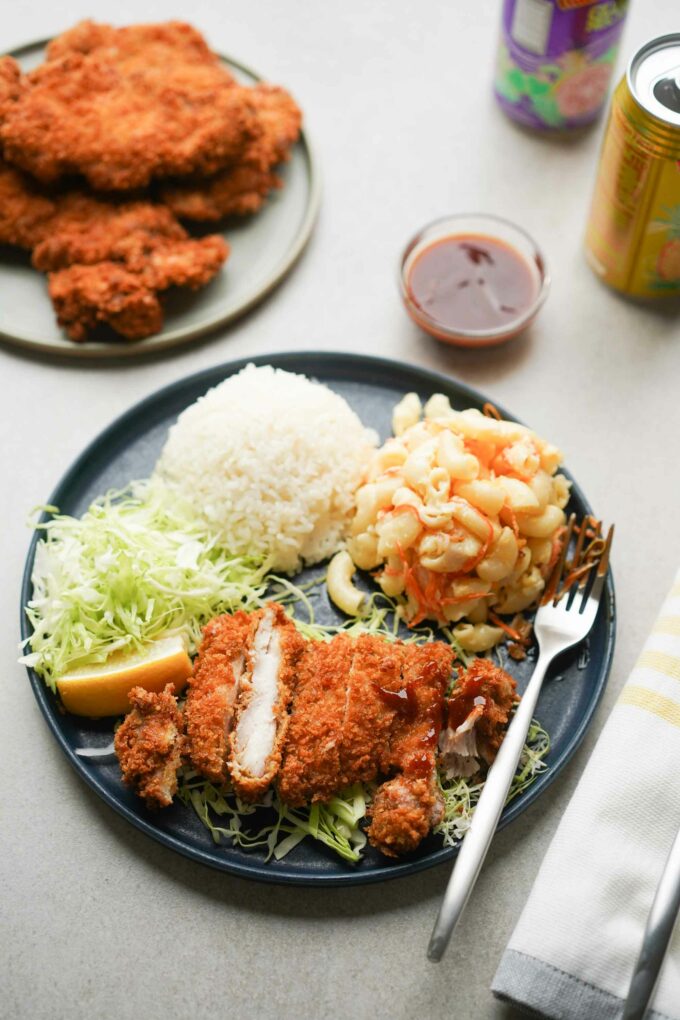 Chicken Katsu & Homemade Katsu Sauce
Extra crispy panko-breaded chicken that's been marinated in a garlic seasoning–this chicken katsu is full of juicy and tender flavor and is your next week day dinner.
Ingredients
Chicken katsu
8

oz

(

1

lb

)

chicken thighs

boneless and skinless

6.3

g

(

1

tsp

)

garlic powder

3.5

g

(

1

tsp

)

kosher salt

.8

g

(

¼

tsp

)

black pepper

cracked

1

large

egg

beaten

44

g

(

⅓

c

)

all-purpose flour

33

g

(

½

c

)

panko

vegetable oil
Sauce
2

fl oz

(

¼

c

)

ketchup

½

fl oz

(

1

tbsp

)

Worcestershire sauce

¼

fl oz

(

½

tbsp

) soy sauce

¼

fl oz

(

½

tbsp

)

mirin

7

g

(

½

tbsp

)

white granulated sugar

6

g

(

1

tsp

)

dark brown sugar

1.5

g

(

½

tsp

)

garlic powder

.5

g

(

¼

tsp

)

ginger powder
Equipment Used
knife and cutting board

mixing bowls

shallow bowls for dredging

Heavy-bottomed pot

tongs

wire rack
Instructions
Clean the chicken thighs and remove any skin and bones. Make sure it has the same thickness through and if there are thicker areas, fileting these thicker areas with a shallow cut so they lay flat.

Combine the garlic powder, salt, and pepper in a bowl.

Thoroughly coat the chicken pieces with this seasoning. Marinate for 15 minutes while you prepare the katsu sauce and prepare for dredging.

Add all the ingredients for the katsu sauce in a bowl and whisk until it's fully incorporated. Set aside.

Put the flour, beaten egg, and panko into 3 separate shallow containers.

Dip the chicken thigh pieces into the flour and thoroughly coat.

Then dip into the egg, letting any excess drip off.

Lastly, coat completely with the panko. Place the coated chicken thigh on a wire rack. Repeat with all the chicken.

Preheat the oil to 350 °F over medium heat in a heavy bottom pan. Carefully lower each chicken piece into the oil and for about 1 minute per side or until golden brown. Don't crowd the pot. Use a thermometer to make sure it's done (145 °F internally).

Serve chicken with rice and katsu sauce.
Nutrition Facts
Calories:
515.59
kcal
|
Carbohydrates:
49.77
g
|
Protein:
27.5
g
|
Fat:
22.42
g
|
Saturated Fat:
6.13
g
|
Polyunsaturated Fat:
4.88
g
|
Monounsaturated Fat:
8.95
g
|
Trans Fat:
0.1
g
|
Cholesterol:
204.13
mg
|
Sodium:
1501.08
mg
|
Potassium:
542.31
mg
|
Fiber:
1.95
g
|
Sugar:
15.79
g
|
Vitamin A:
383.25
IU
|
Vitamin C:
2.22
mg
|
Calcium:
78.03
mg
|
Iron:
3.95
mg
Like this recipe? Subscribe to my newsletter!