99% sure I get it from my mom, but I'm a control freak. A huge benefit I like with home cooking is control. You can control everything: the process, timing, ingredient proportions, quality of ingredients, cleanliness. Everything. I love eating out at restaurants, but control over all the little details pulls me back into cooking at home, just like with this dessert recipe.
Chè bắp is a Vietnamese dessert, and (almost) a one pot wonder, so it is incredibly simple to make on the stove. This one features lots of flavors I like in a single dessert: corn, pandan, and rich coconut cream.
This recipe makes enough to split into eight small bowls, but it easily scales up too. You can prepare this ahead of time, and reheat quickly for a tasty after dinner snack too!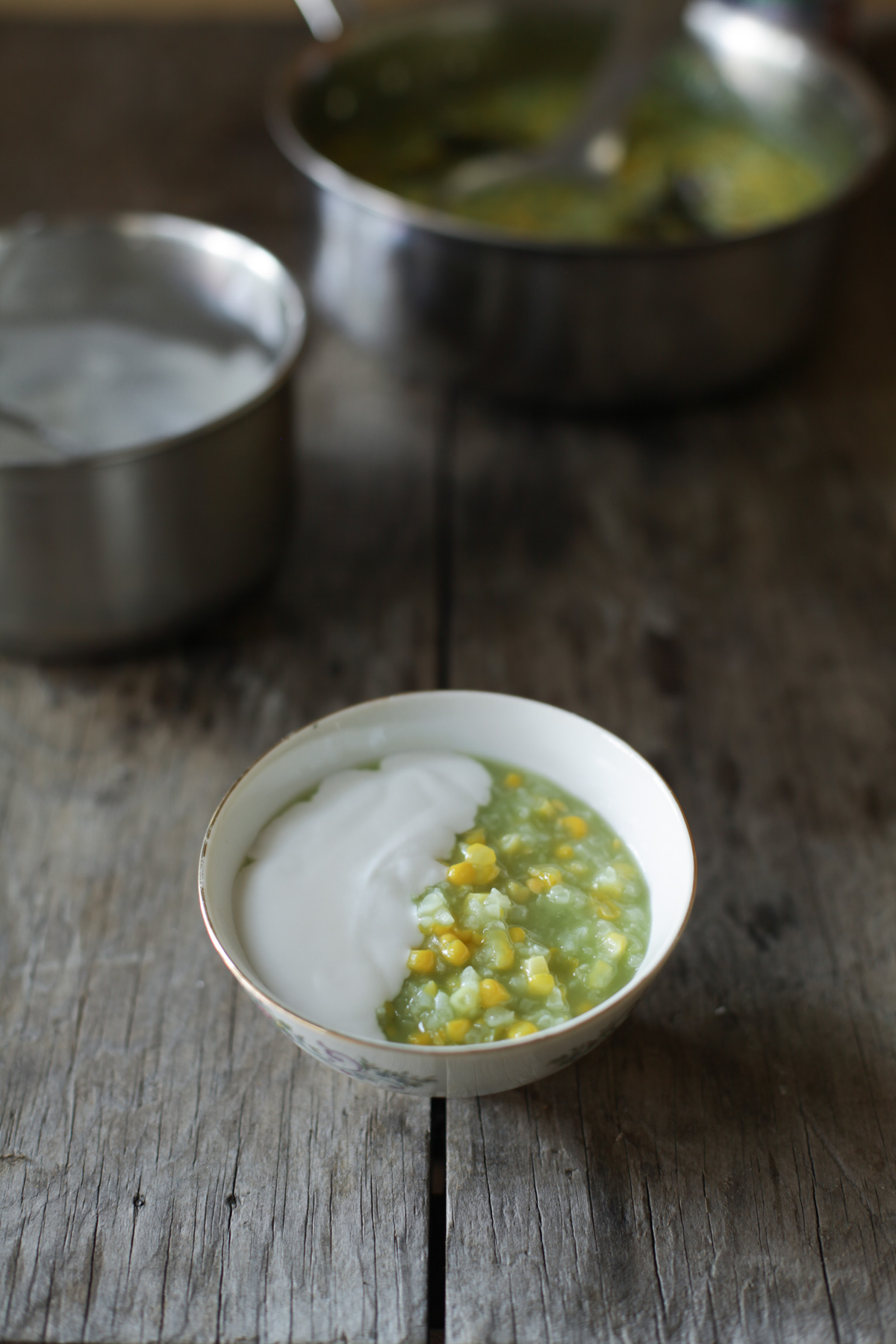 The glutinous rice
The glutinous rice, which is sometimes called sweet rice provides the backbone, the bulk, the texture for this sweet dessert. Do not use regular long grain or even short grain rice which is sometimes known to be stickier–it is not the right type and the results won't turn out right.
Cooking the rice just right is key for this recipe too since it makes up the bulk of this dessert. Cook it too much and you'll have soup, too little and you'll have starchy, crunchy grains. No good.
Sticky rice is used in lots of other desserts and savory recipes too. If you want to just learn how to cook this rice by itself, see my guide on how to easily, and flawlessly cook sticky rice.
The corn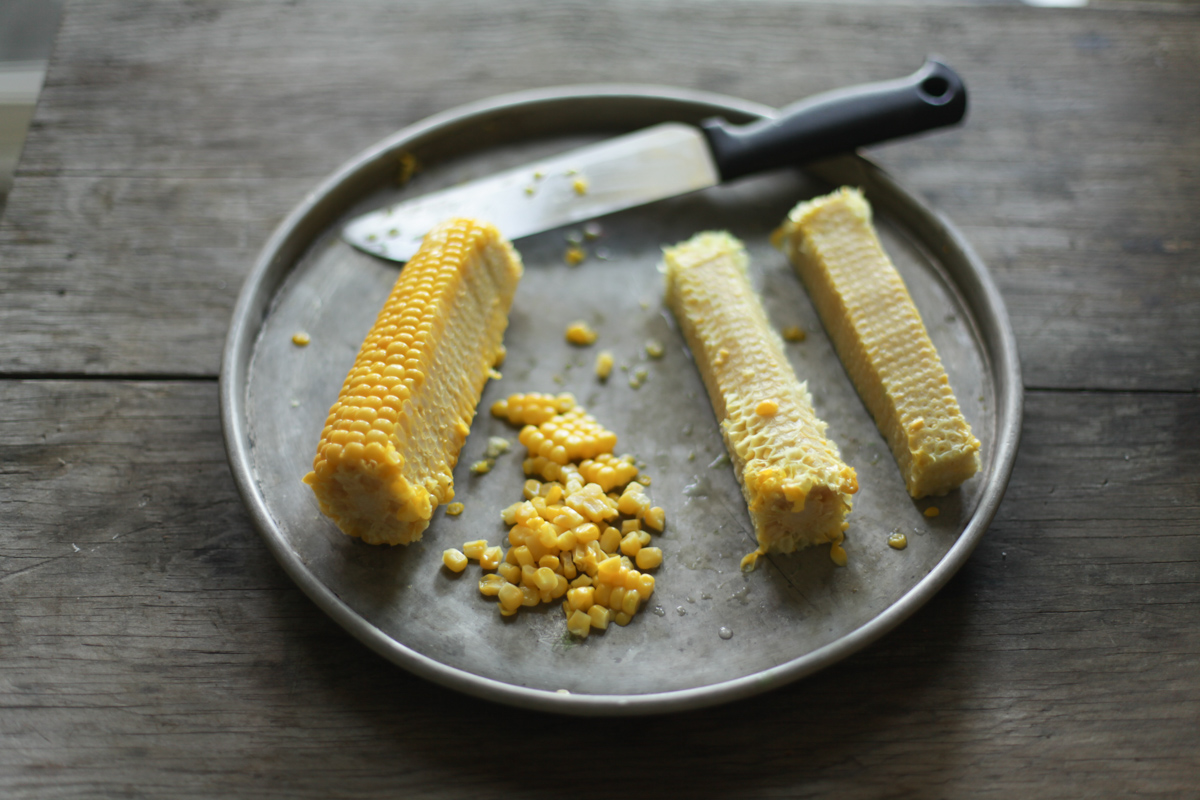 Ratio-wise, good ol' corn on the cob comes in second but is what the dessert is named after. Get some in-season corn that's naturally sweet and you'll add a much better flavor to this dish, instead of trying to compensate with sugar.
You can add raw corn kernels straight into the pot for this recipe instead of pre-cooking it. Check out my other post if you just want a quick corn snack by itself: how to microwave corn on the cob!
The pandan leaves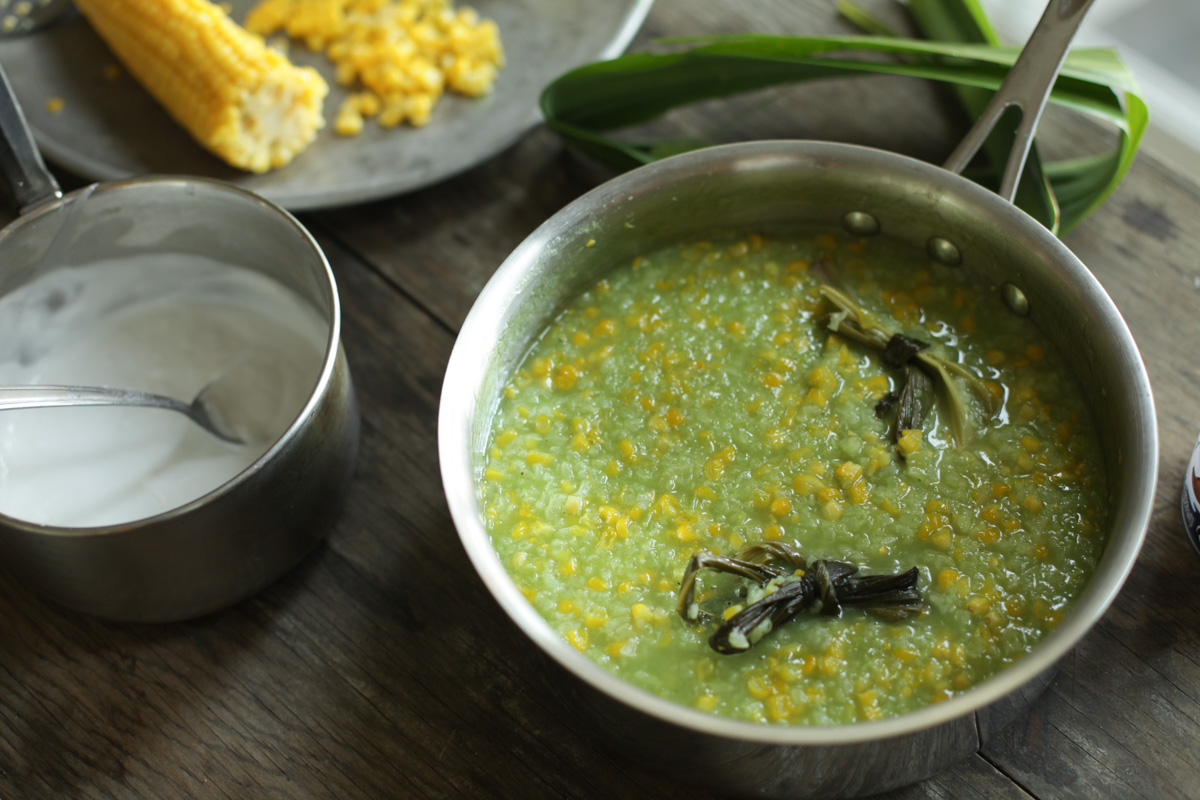 I've harped on the wonderful aroma and flavor of using real pandan leaves before in my recipes for banh kep (pandan pizzells), pandan sticky rice, and che choui (banana, coconut & tapioca dessert). This recipe also highlights the leaves wonderfully.
Get fresh leaves when you can, but more often you'll be able to find good quality ones in the freezer section of your southeast Asian supermarket. It takes way too many leaves to get a green color dark enough so we do cheat a little with a drop or two of artificial pandan leaf extract.
If you've been to Vietnamese desserts shops you may have seen this dessert too, but it is typically clear and not green, with yellow corn, but rest assured it is the same dessert and it will be much better made fresh!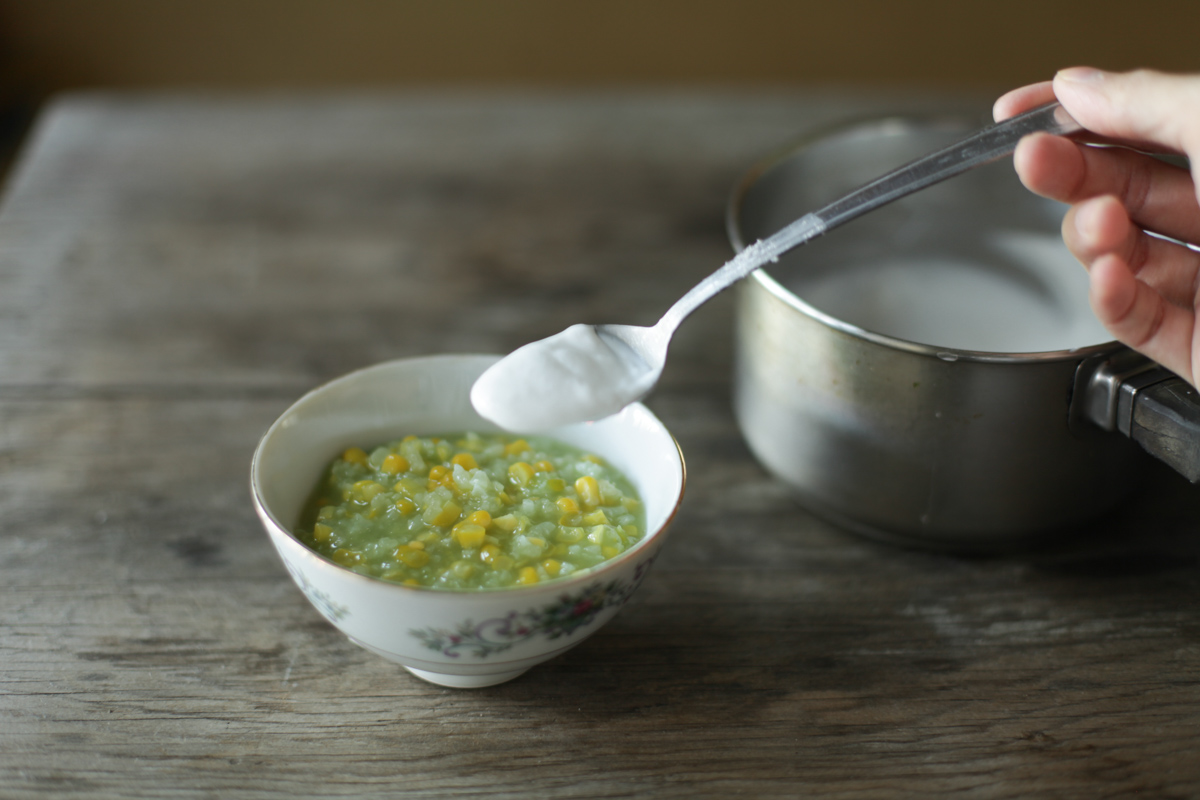 This recipe makes about 7-8 small bowls for you to share, or keep in the fridge and enjoy for about five days max. Make sure not to add the coconut cream topping until you're ready to serve! I like keeping it a bit on the side so you can vary the proportions per bite, and the flavors remain a bit distinct vs. just mixing it all.
Chè Bắp Recipe (Vietnamese Corn Pudding Dessert)
Some of my favorite southeast Asian flavors coming together into a wonderul rice-based Vietnamese 'pudding'. We have glutinous rice paired with sweet corn, balanced with pandan aroma and a rich coconut cream topping.
Ingredients
Rice
2/3

cup

glutinous rice

rinsed and drained

3

cups

water

1/2

tsp

salt
Supporting Cast
500

grams

yellow corn kernels

raw (~2-3 cups)

100

grams

sugar

200

ml

coconut cream

~1/2 can

1

tsp

vanilla extract or powder

2

pandan leaves

tied into ~3" large knots so it fits in the pot without cutting
Thickener
1

tbsp

tapioca or corn starch

2

tbsp

water
Coconut Cream Topping
200

ml

coconut cream

remaining ~1/2 can

2

tbsp

sugar

1/3

tsp

salt

1/2

tbsp

tapioca or corn starch

1/2

tsp

vanilla extract or powder
Equipment Used
blender

medium size pot, thicker is better

small mixing bowl

small sauce pan
Instructions
Thoroughly wash and scrub pandan leaves, then blend with water until very finely blended. Strain and add pandan water into a thick, medium sized pot.

Add remaining Rice ingredients, bring to a boil on high, then lower heat to medium low and cover with a lid to maintain a low boil. Cook for 15-20 minutes until glutinous rice is cooked all the way through, and no longer powdery or tough (test by eating a grain, or smashing a grain between your fingers). We want to aim for fully cooked past 'al dente' but not as soft as rice porridge. Stir the pot only once at the ~9 minute mark since stirring too often will release too much starch.

Add all Supporting Cast ingredients, turn heat to high and bring to a boil. Once it hits a boil, lower to medium to maintain a low boil for ~10 minutes until the corn is fully cooked.

In a small bowl mix Thickener ingredients until fully combined, then add to the pot. Turn heat to high and continuously stir. When it hits a boil shut the heat off. This step is optional based on your thickness preference (or how much starch from the rice was released)–you can scale up or down as needed, but note that thickening properties of the starch don't take effect until after this hits a boil.

Using a small sauce pan, combine Coconut Cream Topping ingredients and heat on high continuously stirring. When it hits a boil, shut the heat off. Keep a lid on this afterwards until ready to serve to prevent the top layer from thickening.
Notes
Use a pot with a thicker bottom to prevent burning. Only stir once while the rice is cooking or else you release too much starch and will be forced to continuously stir during the cooking to prevent sticking.
You can use coconut milk if you can't find coconut cream, but cream is preferred.
This lasts for about ~5 days in the fridge maximum.
Don't add the coconut sauce until you serve, since it will make the dessert spoil faster.
Nutrition Facts (per serving)
Calories:
339
kcal
|
Carbohydrates:
44
g
|
Protein:
4
g
|
Fat:
18
g
|
Saturated Fat:
15
g
|
Sodium:
368
mg
|
Potassium:
261
mg
|
Fiber:
3
g
|
Sugar:
17
g
|
Vitamin A:
28
IU
|
Vitamin C:
2
mg
|
Calcium:
12
mg
|
Iron:
2
mg
Nutrition Facts
Chè Bắp Recipe (Vietnamese Corn Pudding Dessert)
Amount per Serving
% Daily Value*
* Percent Daily Values are based on a 2000 calorie diet.
Like this recipe? Subscribe to my newsletter!