Rich coconut sauce drizzled over a bed of warm sticky rice and chilled, perfectly ripened mangoes is an amazing way to end a meal.
Mango sticky rice originated from Thailand and is understandably one of its most famous desserts that you can find at many Thai restaurants in America. Now, this easy to follow recipe allows you to make it at home!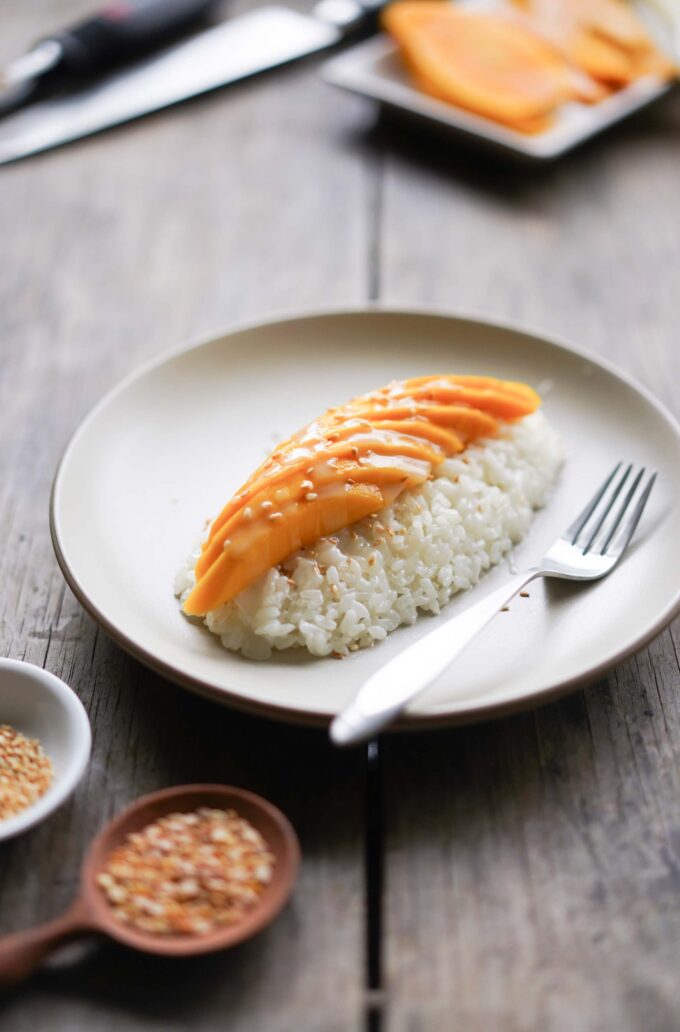 Type of rice to use
Buy glutinous rice.
Traditionally, mango sticky rice is made using Thai sticky rice that is similar to traditional sticky or glutinous rice, but it has longer grains of rice. In this recipe, we used short-grain sticky rice that I had in the cupboard and it worked well, too!
Glutinous rice, also known as sweet rice or sticky rice, does not contain any gluten. It differs from non-glutinous rice, such as jasmine rice, because it has a much more sticky texture when cooked.
When you're at the store, make sure the label on the rice specifically states glutinous or sweet rice, even though the cooked result is often called sticky rice. Regular short-grain rice will not work with this recipe.
How to cook sticky rice
To cook sticky rice, it's really helpful (and cuts down active cooking time) to soak the rice in water at least four hours and up to overnight before steaming. Soaking helps to hydrate the rice and allows it to cook evenly.
After soaking, place your rice in a steamer and cook for about 20 minutes or until the rice is plump and sticky. If there are pieces that are not fully cooked, continue to cook for an additional five minutes and re-test your rice, repeat until the texture is how you like it.
To see a full post with more info about this see my post on how to cook sticky rice. If you have a rice cooker at home, you can also make the sticky rice in a rice cooker.
Making coconut sauce
While your rice is steaming, make the coconut sauce to sweeten your rice and top your mangoes. In a saucepan, combine your coconut cream, sugar, and salt over medium heat. Cook this sauce for about three minutes and it should begin to thicken.
At this point, reserve about ¼ of this sauce and place it in a mixing bowl. After the rice is steamed, mix in this lightly thickened sauce and the rice. Cover the bowl with a cloth and allow it to soak up the sweetened sauce for about ten to 15 minutes.
With the rest of the sauce, continue to cook over medium-low heat for an additional five to eight minutes and allow it to thicken. Take your spoon and draw a line down the sauce, if the sauce doesn't immediately ooze back to fill that line, then your sauce is done.
How to select the type of mango
Mangoes are vital to this recipe, I mean it's called mango sticky rice! You need to pick nice and ripe mangoes, but which ones you ask? Traditionally, this dish calls for nam dok mai mangoes, which can be difficult to find in the US, so I use Ataulfo (or Champagne) mangoes that also have a sweeter taste to them. You can find golden colored Ataulfo mangoes at your local Asian or Hispanic grocery store.
How to know when mangoes are ripe
Sometimes it may be hard to find Ataulfo mangoes at American grocery stores, so I would recommend just finding very RIPE mangoes at your local grocery store. Ripe mangoes have a very sweet aroma coming from their stems and are typically softer than their unripe counterparts.
Choosing ripe mangoes is similar to choosing other ripened stone fruit, like avocados or peaches. For ripe mangoes, avocados, or peaches, you want fruits that are slightly soft when you touch them, not rock hard.
Oftentimes, it's hard to tell by the color so don't judge the ripeness of a mango by its color at the store. For example, some mangoes change color from green to red, but that doesn't necessarily mean they are ripe. Try gently squeezing the mango; Ripened mangoes should not be rock hard, but soft to the touch.
To learn how to peel and cut mangoes, follow my how to cut a mango post.
Assembly & Serving
Now that you have all your ingredients prepped, you can assemble your mango sticky rice and eat! Assembly is super easy, unless you're practicing for Top Chef. Put your sweetened sticky rice on a plate and add your sliced mangoes on the side (or on top).
Drizzle some thickened coconut sauce over the rice and mangoes. If you want extra texture and nutty flavor, you can toast sesame seeds or split mung beans in a pan or in the oven and sprinkle some on top of your dessert. I like to eat mango sticky rice with Thai tea or a nice frothy cup of Vietnamese coconut coffee.
If you're interested in other Thai (or other Asian) dishes, you can also learn how to make pad Thai, Panang curry, coconut rice, and pad see ew.
What kind of rice is used for mango sticky rice?
Mango sticky rice uses Thai sticky rice (long grain sticky rice), but you can also use short-grain sticky rice for this recipe too. Some recipes also call for black sticky rice, but short-grain sticky rice is more accessible in most American grocery stores.
This rice is different from jasmine rice, which is also frequently used in Thai cuisine for recipes like Thai basil fried rice. However, you need to make sure you get "sticky" or "glutinous" rice for this recipe.
Is Mango sticky rice served hot or cold?
Mango sticky rice is served with warm sticky rice, cold mangoes, and a warm sweetened coconut sauce. If you wait too long to eat this, the sticky rice will get cold and harden over time. Rice hardens in the fridge so serving the rice cold is not typical.
How do you reheat mango sticky rice?
Ideally, you should eat mango sticky rice as soon as possible to prevent the rice from getting too hard. If you must reheat mango sticky rice, cover the rice (just the rice) with a damp cloth and put it in the microwave for 30 seconds.
Mango Sticky Rice
Mango sticky rice has perfectly complemented elements of warm sticky rice, chilled sweetened mangoes, and rich coconut sauce on top. You'll want to make this recipe every night!
Ingredients
Sticky rice
1

c

glutinous rice

4

c

water

plus more for steaming
Topping (optional)
white sesame

toasted

split mung beans

toasted
Instructions
Glutinous rice
Soak the glutinous rice in water for at least four hours or overnight. This greatly cuts down steaming time.

After soaking, place enough water in a pot to boil on a steamer. Place all your rice in the steamer and cook for 20 minutes.

Fluff the rice with a fork and check for doneness. The rice should be very sticky (almost like a glue-like texture) and have a bite when you chew. It should be evenly cooked with no dry grains.
Coconut sauce
While your rice is steaming, combine the coconut cream, sugar, and salt in a saucepan over medium heat. Continuously stir so that all the sugar and salt granules melt in the coconut cream. Cook for about two to three minutes until it slightly thickens.

Reserve about ¼ of this mixture in a mixing bowl. When your rice is done steaming, add the rice into this mixing bowl to sweeten the rice. Cover the mixing bowl with a cloth and let rest for ten to 15 minutes to allow the rice to soak.

Continue to cook the rest of the sauce for five to eight minutes on medium-low heat until it thickens. The consistency should be similar to maple syrup. If you use your spoon to draw a line in your saucepan, the coconut sauce shouldn't move much. Once it's done, move your sauce to a container.
Toasted toppings (optional)
Toasted sesame or mung beans: on a pan over medium heat, heat the sesame for about one to four minutes or the mung beans for about two minutes. Continuously stir or toss them in the pan so they toast evenly and depending on your stove's medium setting they might be done very quickly. Once they begin to turn golden and you smell their nutty aroma, remove them from heat and transfer to a container or small bowl.
Assembly
Add your soaked and sweetened sticky rice on the plate and drizzle the coconut sauce on top.

If you want additional texture, sprinkle toasted sesame seeds or toasted mung beans on top and enjoy!
Nutrition Facts
Calories:
689.7
kcal
|
Carbohydrates:
93.2
g
|
Protein:
7.6
g
|
Fat:
35.1
g
|
Saturated Fat:
30.7
g
|
Sodium:
165.7
mg
|
Potassium:
532
mg
|
Fiber:
5.1
g
|
Sugar:
47.4
g
|
Vitamin A:
1119.9
IU
|
Vitamin C:
40.5
mg
|
Calcium:
34.5
mg
|
Iron:
3.2
mg
Like this recipe? Subscribe to my newsletter!