From the amazing pandan and coconut aroma, the super crispy exterior and chewy interior, to the sound each bite you take makes, these vegan waffles will hit you from all the right angles, and leave you reaching for another.
I love making these Vietnamese pandan waffles, and they are amazing, but also wanted a version to share with my vegan family members, and you vegans out there too!
The texture of these vegan waffles
This recipe was formulated to have an extra crispy exterior and a soft and chewy mochi-like interior. This is a vegan take on my original pandan waffle recipe.
Just to clarify, these are NOT dense and bready like the boxed premade mixes you can buy at American supermarkets. It includes tapioca starch and rice flour, and still has some normal all purpose flour, but this balance yields a chewier interior.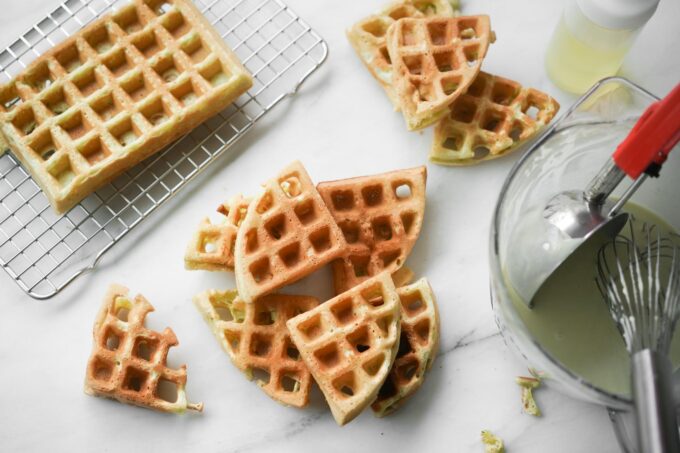 The exterior crisp rating is HIGH, like ultra satisfyingly high, but not bursting through the charts. If you are looking for some glass-shattery type of waffle, check out my crispy Belgian waffle recipe. Those waffles are so light with a crazy crispy exterior crust that they seem like they were deep fried.
How these waffles are made vegan
The only thing in my original recipe that made the recipe not vegan was eggs. Eggs are found across all types of baked goods like cookies, cakes, pancakes, and waffles because they are excellent at creating and holding structure in the food.
During testing, I tested various different ingredients to substitute for eggs.
Apple sauce
Apple sauce is a big egg replacement for many vegan recipes. I used Santa Cruz brand apple sauce for a one to one ratio with the original egg amount. I didn't like this substitution because the apple sauce smell and flavor overpowered the coconut and pandan flavors.
Flax seed
Flax seed was my next trial and it gave me a super thick batter and I had to dilute with more coconut cream. Like the apple sauce, the flax seed completely overpowered the coconut and pandan flavors–something I did not appreciate.
Aquafaba
I used aquafaba from a can of chickpeas and added the liquid straight to the batter (I did not need to whip it up or reduce it over the stove). The aquafaba surprisingly gave me a comparable flavor and texture to the traditional pandan waffles. This was a good substitution.
Just Egg
I replaced the egg in this recipe with a product I happened to find at the grocery store called "JUST Egg." A ridiculous and confusing name to have to use in normal sentences–I'm not sure what their branding team was going for, but all I can say is it works. Just Egg is made of plant-based proteins, with mung bean being the main ingredient, with carrot and turmeric included to give it the yellow color.
Note: Just Egg says that this product is technically not supposed to be for egg substitutions for baking (based on their company marketing), but it works well for this recipe because it gives the waffles structure and doesn't change the way the waffle tastes.
Pandan leaves: the best aroma
These leaves are EVERYTHING. I'm very sensitive to smells, and tend to be really averse to chemically ones like artificial sprays, perfumes, etc.
However, I absolutely love certain ones like the smell of rice cooking, yeasty breads or doughs, beer (yeasty!), coffee, and of course the pandan leaves that dominate this waffle recipe.
The flavor of pandan (and coconut) is found throughout all sorts of southeast Asian cuisine and desserts, including Vietnamese, Thai, and Filipino foods. Check out more of my recipes that use pandan leaves!:
Cooking tips & troubleshooting
Waffles sticking to the iron: for some reason, this vegan version is stickier and requires brushing more oil on the iron so the waffles release smoothly. I use a silicone basting brush to get the job one.
Wait until the waffles are done cooking: use the indicator light on your iron before opening it. Opening the iron too early can split the waffle since it's still stuck on both sides of the iron.
Remove the waffle quickly to prevent it from deforming too much: again since this waffle is gooey even when it's finished cooking, if you pull the waffle away too slowly it will stretch and not bounce back. Use chopsticks or waffle tongs to pull them away. If you care about reshaping it you have a few seconds to do so before they set.
Serving and storage
After cooking, each waffle only needs to cool for about half a minute before serving, which is sufficient to let it crisp up a bit too.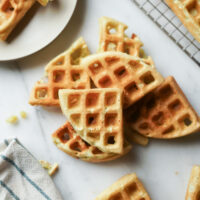 Vegan Pandan Waffle Recipe (Bánh Kẹp Lá Dứa)
Amazingly aromatic vegan pandan waffles, that are crispy on the outside and chewy, mochi-like on the inside. This is the veganized verison of my original pandan waffles.
Ingredients
Pandan Option 1 – Natural Extract (preferred)
35

g

(

8

full leaves

) pandan leaves

fresh or frozen, cut into 3" sections

1/2

c

water
Pandan Option 2 – Artificial Extract (easier)
Waffle
285

g

(

2

c

) tapioca starch

73

g

(

1/2

c

) rice flour

75

g

(

1/2

c

)

all-purpose flour

200

g

(

1

c

)

granulated white sugar

10

g

(

2

tsp

)

baking powder

1

g

(

1/4

tsp

)

salt

150

g

egg replacement

I used JUST Egg brand or aquafaba

388

g

(

13.5

fl oz

) coconut cream

5

g

(

1

tbsp

) neutral cooking oil

plus more for the waffle iron
Instructions
Pandan Option 1 – Natural Extract (preferred)
Defrost pandan leaves and scrub leaves under running water to clean.

Cut leaves into three inch sections, add to your blender.

Add the water, blend until you no longer see large chunks. About 20s in my blender.

Strain the pulp, and squeeze out as much liquid as you can from the pulp.
Pandan Option 2 – Artificial Extract (easier)
Add 1 drop of extract to your batter and fully mix to see if you lke the color, and keep adding 1 at a time and mixing until its your preferred color. Try not to add to much so it remains natural looking.
Waffle
In a medium sized mixing bowl, add the tapioca starch, rice flour, all purpose flour, sugar, baking powder, and salt.

In a separate, larger mixing bowl, add the egg replacement, coconut cream, pandan extract, and oil, then mix.

Sift the dry ingredients into the wet ingredient bowl and mix for a bit to incorporate the ingredients, being careful not to mix it too much. The batter should be a bit thick and have some lumps still.

Rest the batter on the counter for one hour, so the flour can hydrate. If you will not make the waffles at the one hour mark, you can put the batter straight into the fridge in an air tight container and rest for up to one week.

Pre-heat your waffle iron, remove the batter from the fridge, and mix the batter. Mix the batter just before scooping any onto the waffle iron.

The amazing waffle and coconut smell will become pretty strong just before it finishes cooking. Don't open the iron to check until your iron's indicator light says it's ready, but mine took an extra ~20 seconds after the ready light went off.

Remove the waffle and cool a bit before serving, as it crisps up after a short resting period. Make sure to mix the batter again before making every waffle! You can store the leftover batter in the fridge for up to one week.
Nutrition Facts (per serving)
Calories:
532.25
kcal
|
Carbohydrates:
78.11
g
|
Protein:
13.68
g
|
Fat:
20.11
g
|
Saturated Fat:
16.18
g
|
Cholesterol:
107.25
mg
|
Sodium:
334.8
mg
|
Potassium:
321.22
mg
|
Fiber:
1.54
g
|
Sugar:
29.07
g
|
Vitamin A:
230.63
IU
|
Vitamin C:
1.51
mg
|
Calcium:
141.32
mg
|
Iron:
2.73
mg
Nutrition Facts
Vegan Pandan Waffle Recipe (Bánh Kẹp Lá Dứa)
Amount per Serving
% Daily Value*
* Percent Daily Values are based on a 2000 calorie diet.
Like this recipe? Subscribe to my newsletter!