A flakey and buttery crust filled with a sweetened, tomato-based beef center–these Filipino empanadas are super flavorful hand pies. Growing up, my mom always made empanadas frequently and they were a great on the go snack to take along whenever we had errands to run (and tiny mouths to feed).
I'm afraid to confess that I did NOT appreciate the raisins and therefore would scrape a portion of the filling out while eating the entire crust in one sitting–sorry mom! Now that I'm an adult, I made my own beef empanada recipe sans raisins that still brings to mind memories of my mom.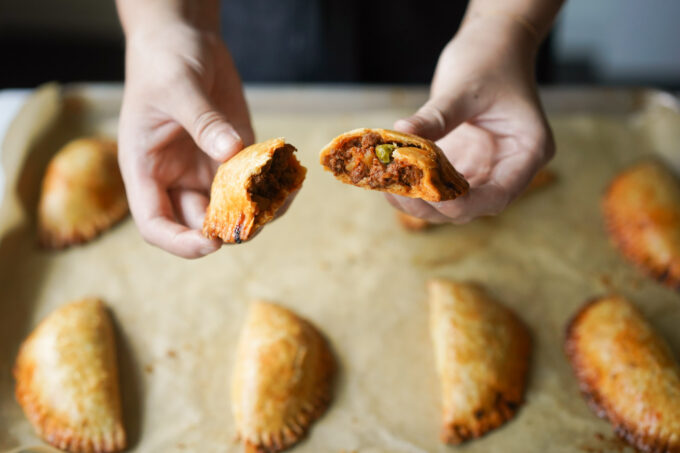 Background
The name empanadas comes from the word "empanar" meaning to wrap or coat in bread. Empanadas came to the Philippines by way of Spanish colonization and now have a lot of different variations. Interestingly, many Filipino empanadas are most similar to the Cuban picadillo because of its slight sweetness (Filipinos like their sweet, look at our pork bbq skewers!). In general, they are a hand pie like pâté chaud.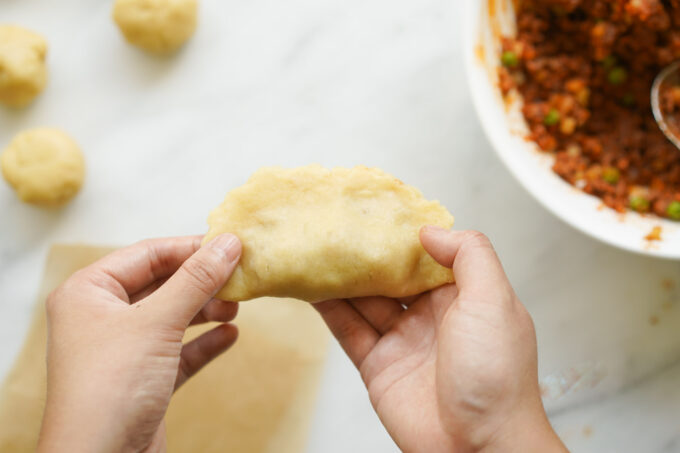 You can find empanadas baked or fried to a golden brown crisp. Some traditional ingredients include beef, chicken, seafood, and many different vegetables ranging from carrots to eggplants to potatoes which extends the filling. Philippine empanadas don't stop at savory, but also include many sweet dessert empanadas like the Cebuano sinudlan empanada, which has a sweet coconut center.
You can regularly find them at your local Filipino bakery or grocery store, but since I am super picky about my empanada filling, I kept this recipe simple and used ground beef, carrots, tomato sauce, peas, and potatoes. I added a small amount of sugar into both the filling and crust to bring a sweetness to the empanada–you won't think twice about missing those raisins. This simple recipe is a good place to start for customizing your own filling ingredients.
Cooking tips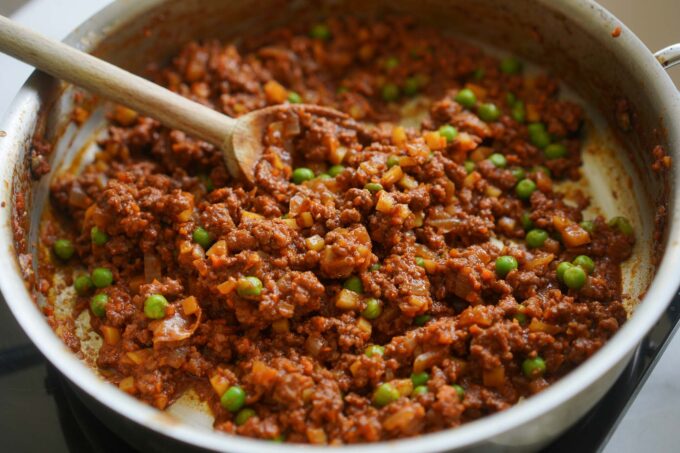 You can prep one day ahead. You can premake the filling and dough and leave it in the fridge until you are ready to assemble the empanadas.
If you are making this recipe on the same day, make the filling first to allow it to cool and thicken on the counter while you work on your dough.
Weigh and divide the dough into separate balls. While you can roll out the entire amount of dough and use a cookie cutter, I use a kitchen scale to make sure each empanada has an equal amount of dough. The smaller balls of dough are also easier to manage when rolling out.
Don't overwork your dough. You want to be gentle with the empanada dough and not overwork it, which can cause your empanada crust to be dense and brittle. If you find your dough feeling like it's melting or too sticky, stick it back in the fridge for 10 minute intervals.
Roll the dough with parchment paper. Using parchment paper cut to a specific size will let you know how large to roll out each ball and placing a sheet above and under your dough will greatly reduce its stickiness.
Serve & storing
Serve these warm off the cooling rack to prevent mouths from getting burned. (Take it from someone with this unfortunate experience). After cooling, you can store them in an airtight container in the fridge for up to one week. To reheat, just put them in your toaster oven until they're heated all the way through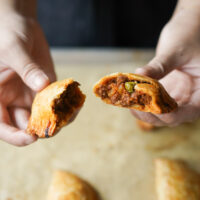 Filipino Beef Empanadas
This flakey, sweet, and savory meat pie is a Filipino classic that has plenty of vegetables.
Ingredients
Filling
⅓

c

frozen peas

8

fl oz

(

1

c

)

filtered water

½

fl oz

(

1

tbsp

)

vegetable oil

½

c

onions (½ small onion)

chopped

1

tbsp

garlic (5 cloves)

minced

½

lb

(

226.8

g

)

ground beef

8

fl oz

(

1

c

)

tomato sauce (½ can)

21.5

g

(

5

tsp

)

brown sugar

2.6

g

(

¾

tsp

)

salt

.4

g

(

¼

tsp

)

black pepper

⅓

c

carrots (1 medium carrot)

minced

½

c

gold potato (1 medium potato)

chopped into fine pieces
Dough
250

g

(

2

c

)

all purpose flour

25

g

(

2

tbsp

)

white granulated sugar

2

g

(

½

tsp

)

salt

2

g

(

½

tsp

)

baking powder

114

g

(

8

tbsp

)

very cold butter

cubed into ¼ inch cubes

1

egg

1

fl oz

(

2

tbsp

)

ice water
Assembly
1

egg

beaten for egg wash
Instructions
Filling
In a microwave safe bowl, add the filtered water and frozen peas and microwave for 1-2 minutes or until the peas are soft and fully cooked. It's best to follow the instructions on your package too.

In a large pan over medium heat, add the vegetable oil and onions. Saute for one minute or until the onions are slightly translucent. Add the garlic and saute for 30 seconds or until fragrant.

Add the ground beef and cook until the meat is brown, this is about 2-5 minutes. The meat will continue to cook in the sauce, but if you are hesitant about food safety, the meat temperature should be around 160 °F.

Add tomato sauce, sugar, salt, and pepper into the pan and stir until combined.

Add carrots and potatoes and cook for about 10-12 minutes or until potatoes are soft enough to pierce with a fork without resistance, but not disintegrating.

Add the peas and cook for an additional 1 minute to warm up the peas.

Sauce should be thick and chunky. Move the pan from the heat and leave it to cool until you are ready to assemble. You want this to be cool to the touch so you don't end up melting your dough while you are filling it with meat and trying to assemble your empanadas. If you are cooking this ahead of time, transfer the filling into an airtight container once it's cooled and move it into the fridge.
Dough
Whisk all the dry ingredients into a mixing bowl and then add the cold butter. Use a pastry cutter to mix the butter into dry ingredients. Stop when the butter is about the size of a pea. Alternatively, do this in your food processor.

In a small bowl, beat the egg and whisk in the water.

Add the wet ingredients into the large mixing bowl with the dry ingredients and butter. Use a wooden spoon or spatula to combine. Use your hands to form the dough into a ball and wrap with cling wrap.

Put the ball in the fridge for 15 minutes to chill.
Assembly
Preheat the oven for 350 °F.

Remove the dough from the fridge. Divide the ball of dough into 12 balls of dough (about 38 grams per ball). Cut two parchment papers in a 5 x 5 inch square.

Place: one ball of dough in between the parchment papers.

Roll: one small ball of dough into a 4 ½ inch diameter circle with a thickness of 3 mm. Do not roll past the parchment paper.

Remove: the circle of dough from the parchment paper and place it at the palm of your hand.

Fill: 1 ½ tablespoons of meat filling in the center in the form of a log.

Seal: Take one end of the dough and fold it over so that the log is nestled in between. Use your hands to press the edges together.

Crimp: Use a fork to crimp and finish the edges. Place the finished empanada on a parchment paper lined sheet pan.

Repeat with all balls of dough.

Beat an egg and brush each empanada on top. Place empanadas in the middle rack of your oven and bake for 25-30 minutes per batch.

Remove them from the oven when they are golden brown. Place them on a cooling rack for about five minutes and serve.
Notes
IMPORTANT: I included ingredients by weight because this is more accurate for baking. If you don't have a scale and must use volumetric measurements, I've included those in the recipe above too, but please note the volumetric measurement numbers will not change if you scale up or down the servings made in this recipe and you will need to do your own math to figure it out.
Nutrition Facts
Calories:
246
kcal
|
Carbohydrates:
23.9
g
|
Protein:
7.2
g
|
Fat:
13.6
g
|
Saturated Fat:
7.5
g
|
Cholesterol:
61.1
mg
|
Sodium:
423.1
mg
|
Potassium:
218.4
mg
|
Fiber:
1.5
g
|
Sugar:
5
g
|
Vitamin A:
983.6
IU
|
Vitamin C:
5.8
mg
|
Calcium:
32.4
mg
|
Iron:
1.8
mg
Like this recipe? Subscribe to my newsletter!