Whether you call it bánh bò, cow cake, or honeycomb cake–bánh bò nướng (baked bánh bò) is a delightful Vietnamese dessert full of coconut and pandan flavor. It's light and fluffy from eggs, but it has a slightly chewy texture we know and love from tapioca flour. I learned how to make this baked Vietnamese treat from my mom and will show you how to makebánh bò and avoid all the pitfalls along the way.
I'm not going to mislead you and tell you this recipe is easy–there are a lot of nuances to nail down to get this just right. And there are a lot of things to get right. It's not difficult if you follow the instructions but if you're the type of person to wing it with substitutions you will have unexpected results :). But makingbánh bò is fun and it tastes delicious so let's get baking!
Why trust this bánh bò recipe?
My mom has been cooking and baking for many decades. I learned this from my mom who has baked this recipe many, many times over the years. And over the last year she's refined this recipe with dozens more baking trials. Relentless. She tried many different baking powders, mixing methods, baking methods, sugar ratios, sugar types, baking temperatures, cake molds, and the list continues.
Then she finally got it narrowed down enough to a recipe she's very happy with. Check out all the testing she's done along the way!:
There are many ways to bake a deliciousbánh bò, but many of my personal preferences are reflected in this recipe. And there are many specific ingredients and technical aspects to get right. Let me help you with that!
What is bánh bò?
There are two types of bánh bò, steamed (hap) and baked (nướng). They have many overlapping ingredients and characteristics. In this recipe, we're making bánh bò nướng–the baked kind. It's a soft, spongey, but slightly chewy cake filled with coconut and pandan aromas.
The baked version has a browned crust covering the entire surface of the baked cake as opposed to the steamed version which doesn't develop the thicker, chewier browned crust. They're usually cut into slices as you would any round pie, and served with coffee or Vietnamese coffee.
Why is it namedbánh bò?
Thanks to Vietnamese-Americans and interest from non-Vietnamese people this cake goes by many names:
bánh bò
honeycomb cake
Vietnamese cow cake
Vietnamese baked/steamed rice cake
Vietnamese green coconut cake
Bánh bò is the original, but understandably, every variation of the name for this cake including the original name is a sort of description of how the cake looks.
In Vietnamese,bánh bò means "cow cake." I believe it's called this because the texture inside resembles that of a cow's stomach lining. A cow's stomach lining is also somewhat honeycomb looking, which is why many also callbánh bò "honeycomb cake."
However, if you use any name other thanbánh bò when speaking with someone born in Vietnam, they're probably going to be left clueless as to what dessert you're talking about.
What doesbánh bònướng taste like?
Coconut and pandan flavors take prominence inbánh bò. But it also has a lot of eggs in it, so this flavor is very noticeable.
Bánh bònướng (bakedbánh bò) also develops a slightly chewier and sometimes crispy browned crust, which adds another element of texture and flavor to this cake.
When it's fresh, it's light, airy, aromatic, and a delightful treat to have with some coffee!
Other variations ofbánh bò
Largely influenced by available local ingredients and local trade, there are many extremely similar desserts among Southeast Asian countries, andbánh bò is no exception. These countries that produce rice, coconuts, palm sugar, and pandan, are going to have many variations of desserts with these items. Check out all the cousins tobánh bò (that I can think of!):
Vietnamesebánh bò hấp (Vietnamese steamed honeycomb cake). Found typically in tiny cupcake sizes, and ~8″ round mini cakes.
Chinese steamed rice cake (bai tang gao), the kind you can find at dim sum.
Other variations of bakedbánh bò
To be clear, I started this journey learning how to makebánh bò from both my mom and my beloved auntie. They were both visiting from out of town. Both great cooks, both avid bakers, and both big kitchen presences. It was amazing to see both her and my mom working in the kitchen bouncing ideas and sharing experiences.
Anyway, my aunt had her own recipe she nailed down too. Her recipe similarly had a very strict list of ingredients, tools, and preparation methods too. This recipe is so finicky, so to yield consistently successful results in bakingbánh bò (like my auntie does!) you really do need to have these.
Some notable differences in her process include the use of palm sugar instead of white granulated sugar. This requires "carving" this sugar from a very dense block, melting it down with coconut milk, and letting it cool to room temp. She has a very specific process in hand beating the eggs and mixing in flour too. And another addition to her process includes using a basket with large holes to re-sift and aerate the batter.
But to recap, there are many different ways to make deliciousbánh bò, so hopefully, this post gets you to a result you like!
Important ingredients inbánh bò
Each ingredient in this recipe affects the final outcome of the cake. Here are the most important ingredients to note and how they affect the results, with some substitution suggestions too.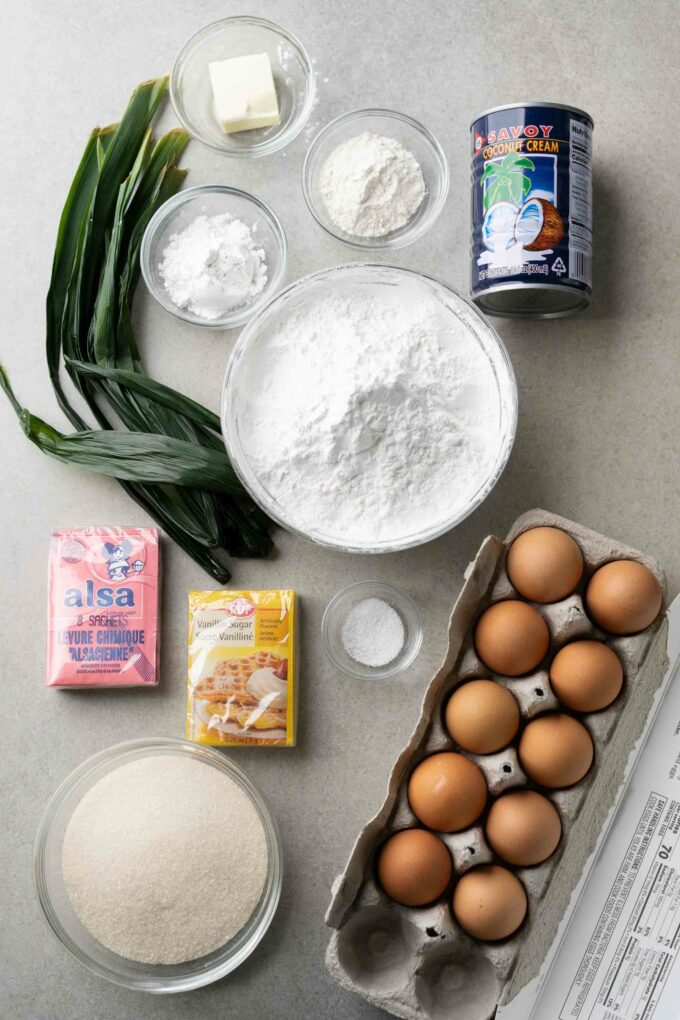 Granulated white sugar – This is the common type you probably have in your pantry. We tested using palm sugar too and yes it works. But it requires you to cook it down with the coconut milk to fully melt, dissolve, and incorporate it with the other ingredients. Which is fine, but palm sugar actually imparts a strong flavor that I don't like in this recipe. I want the coconut and pandan to shine through. Pictured above, we used organic cane sugar for health benefits, however, using white sugar can brighten the color of your cake.
Single-acting baking powder – The most common type in American pantries is double-acting baking powder, but this recipe was formulated with single-acting baking powder. I used the Alsa brand. We tested with Rumford double-acting baking powder because it can yield great results without too much of a strong aftertaste, but for whatever reason the results are not consistent and as predictable as single-acting powder.
Oil – Butter is pictured above, but coconut oil would be the ideal choice for better flavor. Butter is fine, but you need to make sure it's fully melted before adding to the batter so it fully incorporates. If you have neither you can use neutral cooking oil.
Coconut milk / coconut cream – Both options will work, but coconut cream will make the cake slightly richer tasting.
Powdered vanilla – Liquid vanilla extract is fine if you can't source this. Interestingly enough, vanilla is added to slightly mask the smell of eggs, but if you're using fresh pandan like we do here, the egg smell is not too big of a problem. Worst case you can use a dash of rum or other alcohol too.
Types of cake molds to use forbánh bò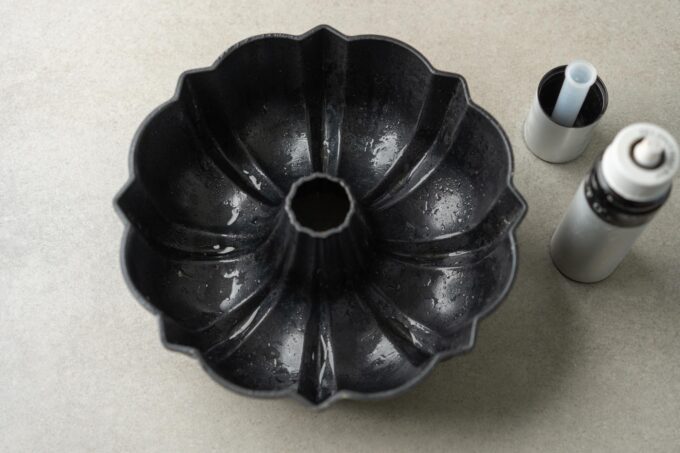 These cakes are typically baked in cake pans 8-14″ in diameter. At stores you'll typically see them sold in round, smaller ~8″ cakes where you can buy the entire cake. Some places will sell 4-5 slices cut from a much larger cake mold probably so they can bake more at a time for efficiency.
My mom has extensively tested these recipes and taught me to use a bundt cake mold, one of a heavier weight preferably. The center hole/cutout of this mold helps the heat distribute into the batter more evenly in the oven, theoretically making thebánh bò cook and rise more uniformly.
How to storebánh bò
This is one of those food items that doesn't store too well. You can keep it on the counter for a few days but you don't want it to spoil (which coconut doesn't do too well at room temperature). You can fridge it but it stales the cake. If you decide to fridge it, you can revive slices ofbánh bò somewhat by slightly microwaving the pieces before serving.
But the best way to enjoybánh bò is immediately after baking and cooling it. Store it if you must, but it's best to enjoy and share it with friends and family as soon as you can.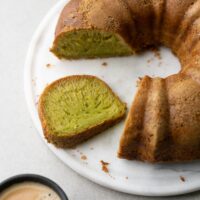 Bánh Bò Nướng – Vietnamese Baked Honeycomb Cake
A lighty, fluffy, and slightly chewy Vietnamese cake filled with the great aromas of pandan and coconut. Baked for extra crust, a bit of extra chew, and visual appeal!
Ingredients
240

g

(

14

fl oz

) coconut milk

50

g

defrosted pandan leaves

530

g

large whole eggs

1

bag

vanilla powder

360

g

granulated white sugar

1/2

tsp

granulated salt

250

g

tapioca starch

20

g

rice flour

1

tbsp

coconut oil

Ensure it's melted. Neutral cooking oil is ok too.
Equipment Used
1 heavy cast bundt cake pan

12 cup capacity

3 large mixing bowls

1 electric hand mixer

on low speed only
Instructions
Preheat your oven to 350 °F.
Pandan Extract
Thoroughly wash, defrost and dry the pandan leaves. Add pandan leaves and coconut milk to a high speed blender (like a Vitamix) and blend until the leaves are about the size of rice grains. If you blend it too finely, it imparts a bitter and grassier taste. Here's a photo of how small you should blend the leaves.

In your first mixing bowl, pour this pandan coconut milk blend through a fine mesh strainer to extract as much of the coconut milk as you can, while leaving behind the pandan leaf pulp.
Banh Bo Batter
In the second mixing bowl, combine all the tapioca starch, rice flour, baking powder. Whisk together to thoroughly combine and sift with mesh strainer to remove lumps.

In the third mixing bowl combine eggs, vanilla powder, salt. Using the electric hand mixer on LOW speed only, add half the flour in and mix for 30 seconds.

Add all the coconut milk and mix for 30 seconds.

Add the remaining half of flour in and mix for 40-50 seconds to thoroughly combine.

Add the cooking oil and mix for 10 seconds.

Pour all the batter through a fine mesh strainer to remove lumps. Then repeat one more time.

Spray your cake mold with cooking spray.

Pour the batter into the mold, slowly and evenly throughout the mold. Make sure the batter sits somewhere between 1/2 and 2/3 full in the mold. If it's too full it will overflow after rising.
Baking
Bake at 350 °F in preheated oven for 45 minutes or until a cake tester comes out clean. Reduce the cooking time a bit if you're using a smaller mold.

After it's done, you can broil for 1 minute if needed, to brown the top. Leave the cake in the oven for 10 minutes with the door cracked open slightly before removing.

Place the cake mold on a cooling rack upside down and raised with cans or ramekens. Cool it completely to room temperature before removing the cake from the mold. I like putting a fan on it to speed this process up.

You'll need to run a knife around the edges to dislodge the bánh bò, and additionally gently pry the cake away from the mold with your fingers to fully release the cake from the mold.
Like this recipe? Subscribe to my newsletter!