Ube crinkle cookies are so addictive: super soft, slightly chewy, and packed with the sweet and nutty flavor of ube. I dare you to only eat one. If you love ube and love fresh baked cookies rolled around in powdered sugar, these will be dangerous around you.
I've baked dozens and dozens of ube crinkle cookies for my family and I've finally found the recipe with the right balance of chewy and soft consistency. What's great about this Filipino version of crinkle cookies is that you can make extra batches and freeze for later, that is if you can help yourself!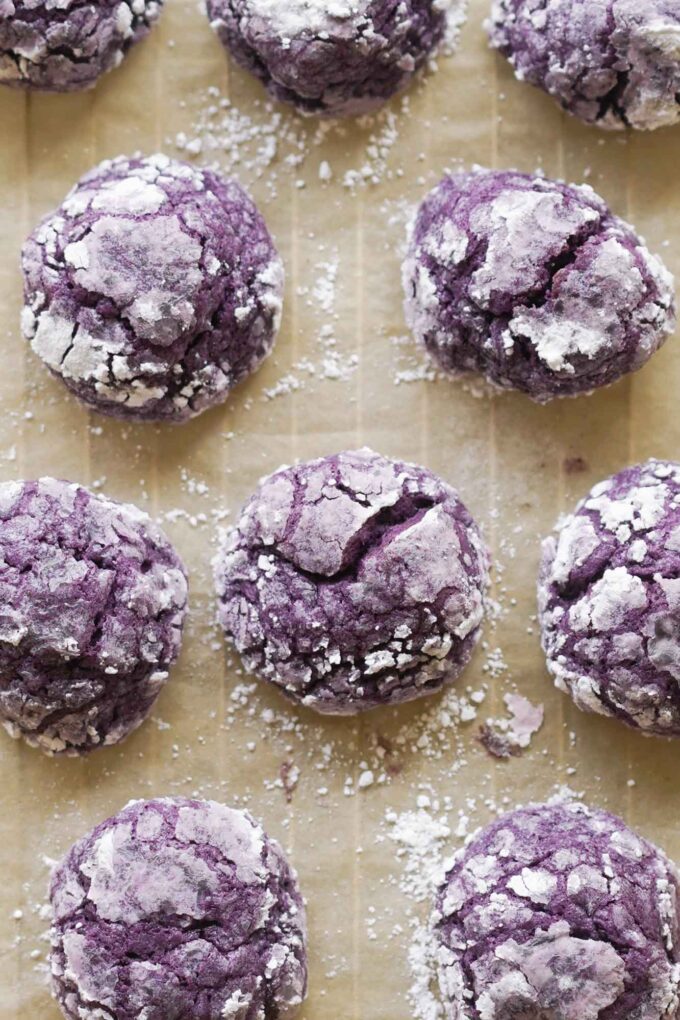 Background
Betty Crocker once stated that she was served a molasses crinkle cookie from Ms. Helen Fredell from Minnesota in the 20th century and since then, they've become a Christmas classic. Interestingly, it's become especially popular in the Philippines in the form of chocolate crinkle cookies, but this ube version is a modern take and super easy to make at home.
What is ube?
If you haven't heard of ube by now, I'm afraid you may be living under a rock. But I'm here to tell you that it's simply a purple yam that is indigenous to the Philippines. You can find ube flavored anything these days, from ube ice cream on top of halo halo to ube waffles and ube cake. 
Ube tastes similar to other yams–a nutty and sweet vanilla flavor–and it also ranges from light to a very vibrant purple center. If you can't find fresh ube from your local Asian or Filipino grocery store, you can use frozen ube puree or ube halaya jam. For this recipe, I used frozen ube puree because it keeps in the freezer well, and is much faster than using fresh ube.
Baking tips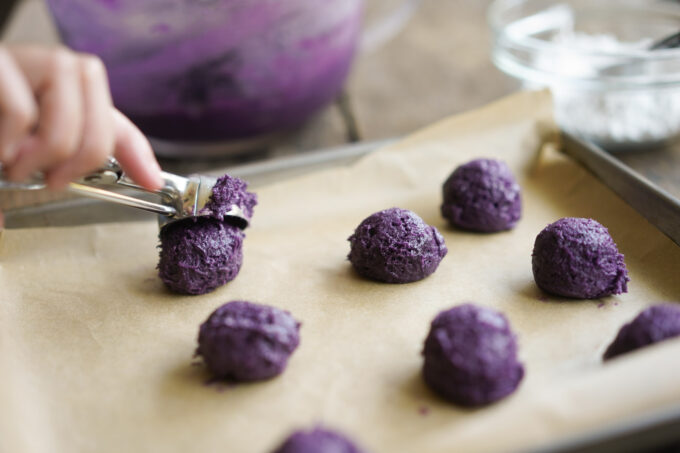 Add glutinous rice flour for a chewy texture. It's important to note that you cannot substitute regular rice flour for glutinous rice flour. Glutinous rice flour will give you the chewy texture because it's the same flour as mochiko or mochi flour, but using rice flour will emphasize a crispy texture. You can find mochiko at your local grocery store in the Asian or international aisle.
Sift all the dry ingredients. Glutinous rice flour has a tendency to clump and stick together, so sifting will make it easier to mix all the ingredients together.
Freeze the dough before scooping with a disher! Freezing the dough will give your cookies more height and prevent them from melting in the oven. I like to put the entire bowl of dough in the freezer for about 20 minutes and scooping them with a disher to make it easier.
Use more powdered sugar than you think. I know it might sound insane to use more sugar, but what makes these crinkle cookies is the crisp and white crinkle crust. Roll the balls of dough in a bowl of powdered sugar and place them at least one inch apart. If you don't use enough powdered sugar, the white crust may melt too much and turn transparent.
If you want a soft, light, and airy cookie texture, replace the glutinous rice flour with AP flour. To get a completely opposite texture and make light and fluffy crinkle cookies, you can replace all of the glutinous rice flour and replace it with all-purpose flour.
Freezing the dough for future use
What's great about this recipe is that you can make a generous amount of cookies ahead of time and freeze them (before adding powdered sugar) in an airtight container for over a month. To prep cookies for the freezer, use a disher or ice cream scoop to make even balls of cookies and place them on a baking sheet lined with wax or parchment paper.
Freeze the balls for at least 30 minutes, then transfer the balls into a ziplock bag or airtight container. When you're ready to bake them, just remove them from the freezer, roll them into powdered sugar directly and bake. What's great about this recipe is that you don't need to defrost them!
I like to place them on a cooling rack to have the cookies set for about five minutes before serving, but you can also serve fresh from the oven–just make sure you share!
How do you use frozen ube?
While you can find fresh ube at Filipino stores like Seafood City, it still may be hard to get a hold of especially because of it's rising popularity. I was able to find Pamana brand frozen ube puree. I was able to add frozen ube (in addition to a few drops of ube extract) in this ube crinkle cookie recipe. Please note that the Pamana brand frozen ube puree has added sugar, so you can also use it in the same way as ube halaya.
What does ube extract taste like?
Ube extract is often artificially made so it will have a warm, nutty, and vanilla smell and flavor that is concentrated.
Ube Crinkle Cookies
Try your hand at these slightly chewy and soft ube crinkle cookies with this easy to follow recipe. You can even make an extra batch and freeze them for the future!
Ingredients
Dry ingredients
120

g

(

1

c

)

all purpose flour

55

g

(

1/2

c

)

glutinous rice flour

4

g

(

1

tsp

)

baking powder

2

g

(

1/4

tsp

)

salt
Wet ingredients
113.4

g

(

1/2

c

)

unsalted butter

melted

50

g

(

1/4

c

)

white granulated sugar

54

g

(

1/4

c

)

dark brown sugar

1

large whole egg

room temperature

1

large egg yolk

room temperature

160

g

(

8

tbsp

) ube puree or ube halaya jam

1

tsp

ube extract
Instructions
In a small mixing bowl add all dry ingredients (flours, baking powder, salt) and whisk to combine. Set aside.

In a larger mixing bowl for wet ingredients, combine the butter, granulated sugar, and brown sugar until fully incorporated.

Add the eggs into the wet ingredient bowl. Then, add the ube puree and ube extract. Combine until the dough mixture color is homogenous.

Slowly add dry ingredients into the wet ingredients while mixing until incorporated.

Chill the bowl of dough in the freezer for about 20 minutes.

Preheat oven to 350 °F. Line a baking sheet with parchment paper and set aside.

Remove dough from the freezer and scoop about 1 tablespoon (I used a #50 disher to scoop) of dough and roll into a ball.

Roll the ball of dough in a bowl of powdered sugar until it's well coated–I roll it around until it's completely white on the outside. Place dough on a baking sheet and give one-inch space between each cookie.

Bake for 12-15 minutes or until the cookies are firm. Remove from the oven and place the cookies on a cooling rack for five minutes. Serve and enjoy.
Nutrition Facts
Calories:
98.8
kcal
|
Carbohydrates:
14.1
g
|
Protein:
1.2
g
|
Fat:
4.3
g
|
Saturated Fat:
2.6
g
|
Cholesterol:
25.1
mg
|
Sodium:
55.1
mg
|
Potassium:
89.7
mg
|
Fiber:
0.6
g
|
Sugar:
5.6
g
|
Vitamin A:
151.8
IU
|
Vitamin C:
1.6
mg
|
Calcium:
17.1
mg
|
Iron:
0.4
mg
Like this recipe? Subscribe to my newsletter!