Also known as cassava bibingka, this cassava cake has a thick, but tender layer of fresh cassava root, condensed milk, evaporated milk, sugar, and coconut cream with an extra topping of silky custard.
And it's allll most flourless, except for two tbsp for the topping!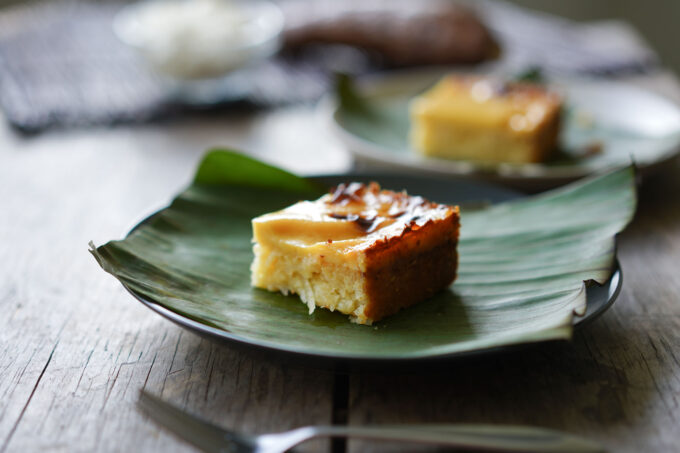 After eating cassava cakes at many Filipino restaurants and family parties throughout the years, I've come up with a recipe that brings my favorite aspects of the cake–a moist, but dense cassava layer and a thick custard topping.
What is cassava?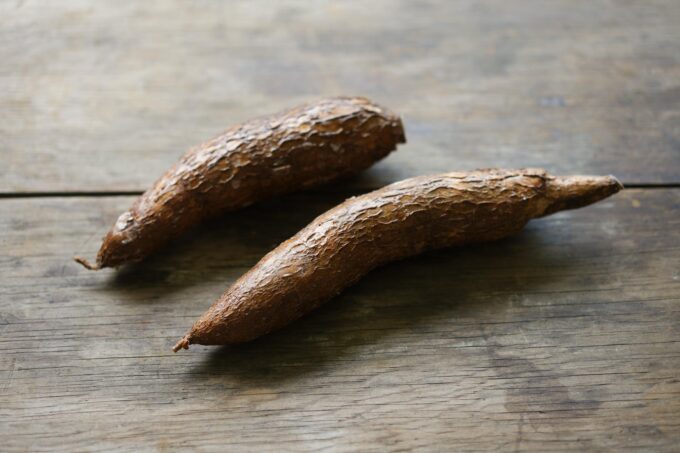 Cassava is a root known by many names, such as yuca, mandioca, or aipim. The cassava plant was initially introduced to the Philippines during Spanish colonization in the 16th century. Cassava cake is now a very popular Filipino dessert, like champorado or puto, and eaten during special occasions and parties.
Bibingka is a traditional baked cake, so cassava bibingka is actually a variant of the traditional bibingka that uses cassava root instead of glutinous rice as a base. Other variants of cassava cake include adding cheese into the cake, but I prefer adding coconut strips for extra flavor.
Where and how to buy cassava
While some recipes call for frozen and packaged cassava root, I like to make it fresh by peeling and shredding cassava roots you can find at various Asian and Mexican grocery stores. When you pick cassava roots, make sure to choose roots that are firm and don't have any blemishes; this means they're fresher.
How to peel, cut, and shred cassava
1. Cut the tips of the cassava root then cut the root into three inch sections.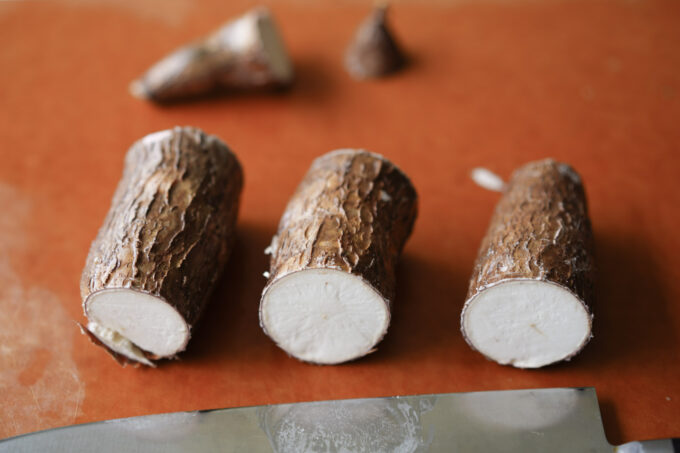 2. Using a knife, carefully peel the thick, brown outer layers of the roots. Do not try to peel with a vegetable peeler because the skin is too thick. Beyond the brown outer layer, there's a faint white layer below that you need to remove too.
3. Cut the sections into quarters. Carefully use your knife to remove the core sections of each quarter. This core is thick and fibrous–something we do not want in our cake. Now rinse them under running water.
4. I like to use a food processor for shredding my cassava because it's fast and easy. If you don't have a food processor, you can also use a hand grater or box grater. After shredding, gently squeeze some liquid out of the shreds. Add your shreds to a mixing bowl and assemble your cake mix.
How to assemble
Mix all the ingredients together in a large container, but remember to set aside a portion of the coconut milk, condensed milk, evaporated milk, and eggs to make the topping. It should look more liquidy than a regular cake mix. Butter your pan before adding the mix to make for easy cutting.
Bake for about 45 minutes at 375 °F and check in the halfway mark to make sure it doesn't overcook. When it's finished, the cake should be a pale golden color and if you test with a toothpick or a fork and it should come out clean. The texture should be thick and dense.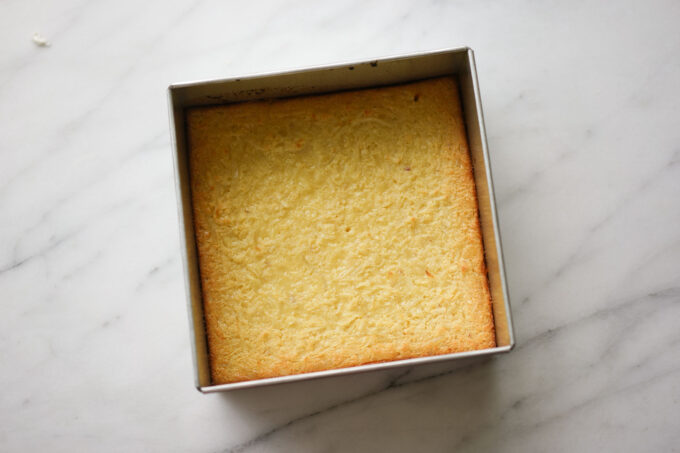 Custard topping
While your cake is baking, make the custard topping. This custard is most similar to leche flan once it's baked and is just as easy to make. Beat the eggs in a mixing bowl and then add the wet ingredients and thoroughly whisk in the flour.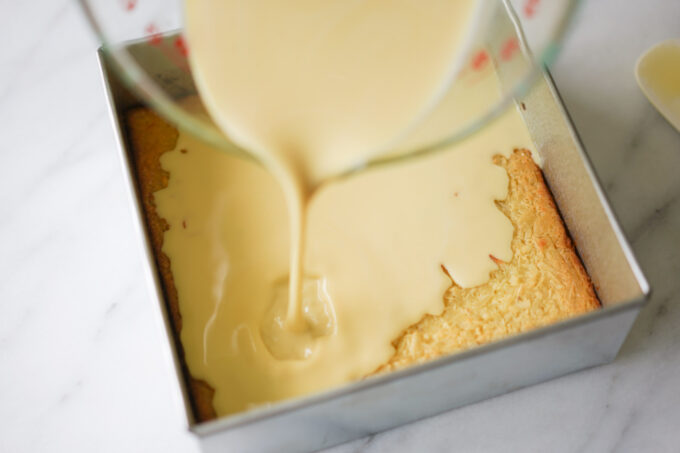 Remove your cassava cake from the oven and add the topping. Bake for an additional 20 to 30 minutes and check frequently to make sure it doesn't burn. If you find that some parts are burning faster than it solidifies, you can add a piece of loose foil on top.
Texture and appearance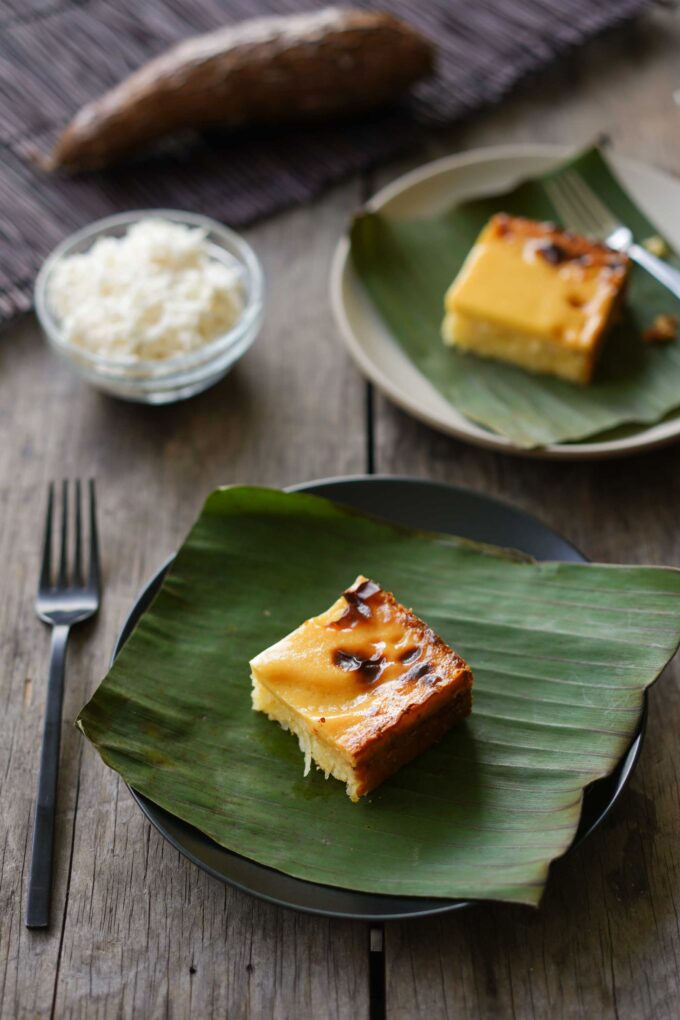 When your cake is nice and pale golden, remove it from the oven and let it sit for about 15 to 20 minutes on the counter to firm and cool off. The custard topping should have a nice firm bounce to its texture on the top. I like to eat this with a steamy pour over coffee, or ice cold coconut vietnamese coffee.
Some frequently asked questions:
Where did cassava cake originate?
Cassava cake is a traditional Filipino dessert, and also known as cassava bibingka. Cassava was originally introduced to the Philippines during Spanish colonization in the 16th century.
Is cassava cake healthy?
Like many cakes and desserts, cassava cake is best eaten in moderation.
Does cassava cake need to be refrigerated?
If you don't plan on finishing the cake within the day, you should place it in a Tupperware container and leave it in the fridge. In the fridge, cassava cake can last up to a week.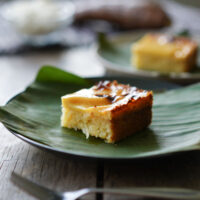 Cassava Cake (Filipino Cassava Bibingka)
This traditional Filipino cake is packed with moist cassava and coconut pieces and topped with a silky custard. You can make this recipe ahead of time and it's just as good the day after!
Ingredients
Topping
2

egg yolks

5

fl oz

condensed milk

5

fl oz

coconut cream

4

fl oz

evaporated milk

15

g

(

2

tbsp

)

flour
Instructions
Cassava Cake
Preheat your oven to 375 °F.

Cut the tips of the cassava root to remove ends. Cut the root into three inch sections. Using a knife carefully peel the rough brown skin and thicker white layer underneath off the root. Once they are peeled, cut the roots in half lengthwise and then again to make quarter sticks. On each stick, locate the thick, fibrous core and cut this part off. Rinse all your sticks under running water.

Using a food processor (or a grater), shred the roots. Place the shredded pieces into a strainer and gently press to remove the extra liquid.

In a mixing bowl, beat the eggs and add the sugar. Carefully mix in the butter so as not to curdle the eggs. Mix in the condensed milk, coconut cream, evaporated milk, and coconut shreds. The cake mix should look liquidy.

Butter your pan with softened butter. Add the cassava cake mix in the pan and place it in the oven for about 40 minutes. Check up on your cake about 25 minutes in to make sure it hasn't burned on top. To check if your cake is finished cooking, dip a toothpick (or fork) in the middle of the cake and pull it out to check if it's clean. If there's still batter on it, leave it for another five to 10 minutes. The finished cake should be golden on top and dense.
Custard topping
While your cassava cake is baking, prepare the custard topping.

In a mixing bowl, beat the egg yolk and whisk in the wet ingredients. Add the flour and mix thoroughly.

When you remove the finished cake (it should have a pale golden color), add the custard on top and place the pan back into the oven for another 20 to 30 minutes at 375 °F.

Check the cake frequently to make sure it doesn't burn. If it starts to brown too much, you can add a loose layer of foil on top to continue to bake without burning. When the topping is golden brown and the custard has a nice firm bounce to its consistency, remove from the oven.

Let it rest for about 15 minutes on the counter. Cut into a slice and serve with coffee!
Nutrition Facts (per serving)
Calories:
433
kcal
|
Carbohydrates:
51
g
|
Protein:
9
g
|
Fat:
23
g
|
Saturated Fat:
17
g
|
Cholesterol:
121
mg
|
Sodium:
121
mg
|
Potassium:
499
mg
|
Fiber:
2
g
|
Sugar:
26
g
|
Vitamin A:
384
IU
|
Vitamin C:
14
mg
|
Calcium:
199
mg
|
Iron:
1
mg
Nutrition Facts
Cassava Cake (Filipino Cassava Bibingka)
Amount per Serving
% Daily Value*
* Percent Daily Values are based on a 2000 calorie diet.
Like this recipe? Subscribe to my newsletter!