If you've tasted Hawaiian mac salad at your local Hawaiian bbq joint, then you know it's one of the best and unique sides to order. This macaroni salad recipe is slightly sweet and tangy with the large macaroni pasta so commonly found at these spots. This local Hawaiian dish is an inexpensive side dish for your next meal and it goes great with bold and savory chicken katsu or Hawaiian garlic shrimp.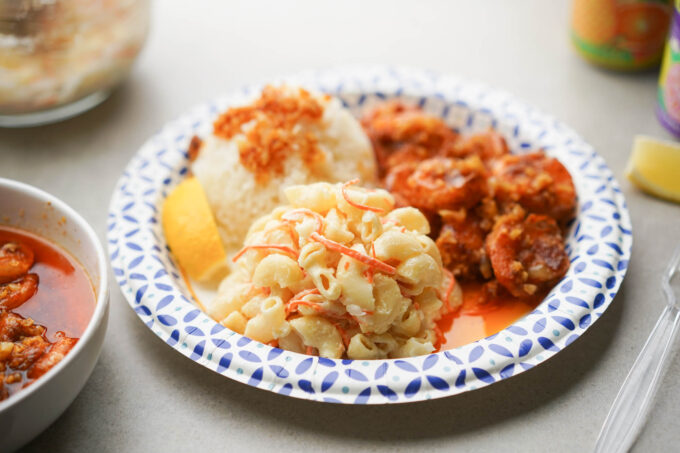 What is Hawaiian style macaroni salad?
What makes it authentic? All I can think about is to make sure it's coated with lots of mayonnaise! Unlike other forms of mac salad, this local Hawaiian food highlights the fatty and flavorful mayonnaise coating the pasta.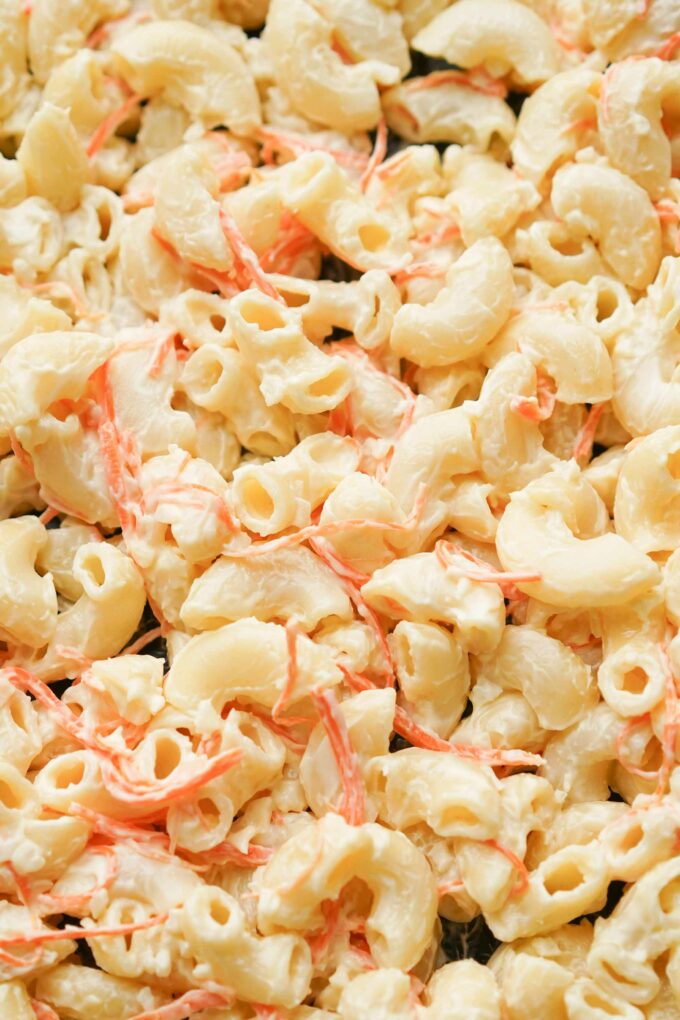 Mac salad is nothing without tons of that sweet and slightly tangy, but flavorful mayo seasoning glistening over plump macaroni pasta. When paired with other foods on a plate lunch, mac salad shines. This local dish is best served fresh, and it's so easy that I love to make it at home. This super simple recipe will give you authentic Hawaiian macaroni salad in under 15 minutes.
What is plate lunch in Hawaii?
Plate lunch is a local Hawaiian meal that originated during the 1880s from different plantations on the islands. Many of these workers immigrated from other parts of the Pacific like Japan and brought bento boxes for lunch.
Often leftover rice supplemented a majority of the lunch because it was cheap and paired with whatever meat or sides they could afford. During the 1920s, street vendors began selling these combination bento boxes to the public and this is where plate lunch comes from. It was later thought that macaroni salad was added to the plate as a good bridge between plain rice and fatty and flavorful meat sides.
Why do Hawaiians eat macaroni salad?
The origins of mac salad in Hawaii have a few longstanding stories, but they do revolve around non-natives from Europe traveling (and potentially owning plantations in Hawaii) and introducing potato salad. Eventually, macaroni replaced the potatoes to make it more inexpensive and the dish turned into mac salad.
Mac salad is referred to as a local Hawaiian dish (and not a native Hawaiian food) because it didn't originate in Hawaii, but was influenced by outsider foods. This is similar to foods like Spam musubi, which is influenced by American and Japanese foods. These days, you can always rely on getting a scoop of macaroni salad with any plate lunch you order, but what's not to like? It's full of fatty mayonnaise, plump macaroni, tangy and sweet seasoning, and last but not least–it's relatively cheap to make.
Another reason for eating this local Hawaiian pasta salad is because it's a good side to pair with the simple white rice and marinated and juicy meat of plate lunches. Mac salad gives you a nice semi-palate cleanser or should I say palate-enhancer when you're eating a plate lunch.
What's in Hawaiian macaroni salad?
All you need to make amazing Hawaiian macaroni salad are macaroni, Best Food's (or Hellman's brand) mayonnaise, apple cider vinegar, sugar, onion, sugar, and salt. One of the picky things I really like about mac salad is the size of the pasta. I prefer large macaroni because it's similar to the type L&L Hawaiian Barbecue uses (however the mac salads on Oahu are typically the regular smaller-sized macaroni). This is a fun size to eat and I really like the soft texture when paired with the mayonnaise seasoning.
In older times, many Hawaiians would make their own mayonnaise at home, but it's not always convenient so I like to use good quality mayonnaise. Many Hawaiian restaurants use Best Foods or Hellman's (and NOT Miracle Whip or your mac salad will not taste the same).
If you're interested in learning about other Hawaiian restaurants and cuisine, check out our top 15 best restaurants in Oahu.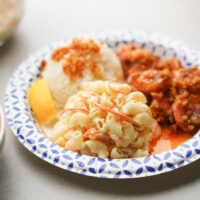 Classic Hawaiian Macaroni Salad
Plump and fatty Hawaiian mac salad is an affordable and fast side dish to go with any bold and savory bbq and rice plate.
Ingredients
Dressing
140

g

(

⅔

c

)

Best Foods mayonnaise

or Hellman's

¼

fl oz

(

½

tbsp

)

apple cider vinegar

7

g

(

1 ½

tsp

)

white granulated sugar

40

g

(

3

tbsp

)

yellow onion (⅛ medium sized)

minced

21

g

(

¼

c

)

carrot (½ medium sized)

cut into thin strips
Macaroni
64

fl oz

(

8

c

)

filtered water

for boiling

6

g

(

2

tsp

)

salt

for seasoning

115

g

(

1 ¼

c

)

dried large macaroni
Equipment Used
Pot

Strainer

knife and cutting board

mixing bowl
Instructions
Make the dressing: In a medium bowl, mix all dressing ingredients using a spoon or spatula to incorporate all the ingredients evenly, then set aside.

In a pot, add the water and salt and bring to a boil on high heat.

When it hits a boil, add the macaroni and lower the heat a bit to maintain a strong boil, but not so its spraying everywhere. Cook for 8-9 minutes. Test the pasta every 30 seconds around the 7 minute mark to make sure it doesn't overcook. When the pasta is soft, but not mushy, drain the water and don't rinse the pasta.
Nutrition Facts (per serving)
Calories:
357.98
kcal
|
Carbohydrates:
24.87
g
|
Protein:
4.25
g
|
Fat:
26.66
g
|
Saturated Fat:
4.18
g
|
Polyunsaturated Fat:
15.81
g
|
Monounsaturated Fat:
5.95
g
|
Trans Fat:
0.07
g
|
Cholesterol:
14.7
mg
|
Sodium:
228.11
mg
|
Potassium:
103.9
mg
|
Fiber:
1.24
g
|
Sugar:
3.84
g
|
Vitamin A:
900.02
IU
|
Vitamin C:
1.05
mg
|
Calcium:
13.02
mg
|
Iron:
0.48
mg
Nutrition Facts
Classic Hawaiian Macaroni Salad
Amount per Serving
% Daily Value*
* Percent Daily Values are based on a 2000 calorie diet.
Like this recipe? Subscribe to my newsletter!