This dish is something I often eat as an appetizer at Japanese restaurants and it always leaves me craving more! So I decided to make it at home, where I can have as much as I want without feeling guilty asking the waiter for more refills.
This is a side dish is called sunomono, which has a nice and light vinegary smell to it, with great crunch from the Persian or Japanese cucumbers. It's a super simple salad with a delicious, light flavor you can just throw together right before a meal.
I keep everything for this recipe stocked in the pantry, so all I have to do is find some cucumbers and I'm good to go!
Types of cucumbers
The regular large cucumbers you'll find at most supermarkets just won't work for this recipe–don't do it! Those cukes are too large, the skin is too thick, they're loaded with seeds, and they're not crunchy.
I can't even bother with those cucumbers anymore after trying these smaller, crunchier varieties.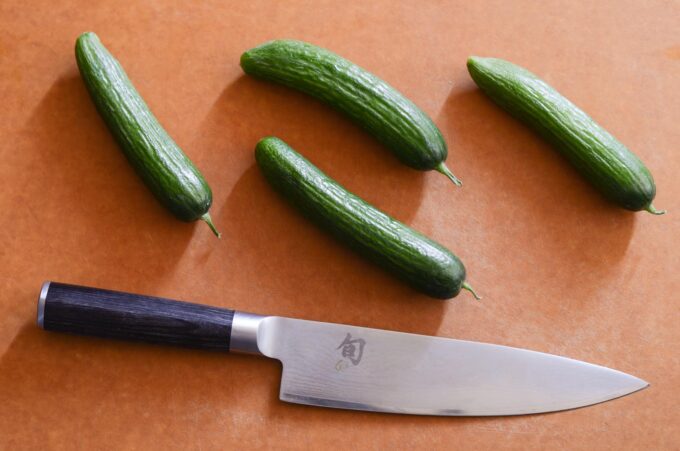 You want to go for Japanese cucumbers to do it right, otherwise Persian cucumbers do the trick too. These varieties are crunchier, and have a thin skin you can just leave on. You won't even need to remove the seeds, since they're pretty much non-existant.
I find Japanese cucumbers at my local Japanese markets, otherwise Trader Joe's works for the Persian variety.
Lots of American supermarkets have started to carry these in the last few years too, sometimes referred to as hot house cucumbers. To be honest I'm not sure if it's a different variety, but they taste very similar and work great too.
I am completely fine using these other varieties because they tend to offer organic cucumbers whereas that can be harder to come by at Asian supermarkets.
How to slice cucumbers quickly
[adthrive-in-post-video-player video-id="LYnVQgBq" upload-date="2020-05-14T00:00:00.000Z" name="Slicing Cucumbers Fast w/ A Mandoline" description="How to slice cucumbers quickly, and safely with a mandoline slicer, for Japanese cucumber salad aka sunomono." player-type="default" override-embed="default"]
Whichever method you decide to use, your ultimate goal is to get thin slices of cucumber without any slices of your finger :).
If you have a mandolin slicer with some cut-proof gloves you can make quick work of slicing these up. This means having a glove and an extra tool to wash, but if you're making a larger batch, it's totally worth it. Also there is a nice aesthetic to the cucumbers using the mandolin slicer since they all come out perfectly uniform.
And don't forget about your food processor! If yours has a thin enough slicer attachment and a feed tube, you can probably slice up 8 cucumbers for this salad in under a minute.
I'm not shy about cutting these by hand with a chefs knife, but if you're going to cut 300 of anything, staying consistency with the thickness takes time to achieve. But of course, cutting it by hand with a knife works. Just make sure you have a sharp knife to keep the slices thin. Or if you have a simple box grater, that works just fine too!
Tips for making cucumber salad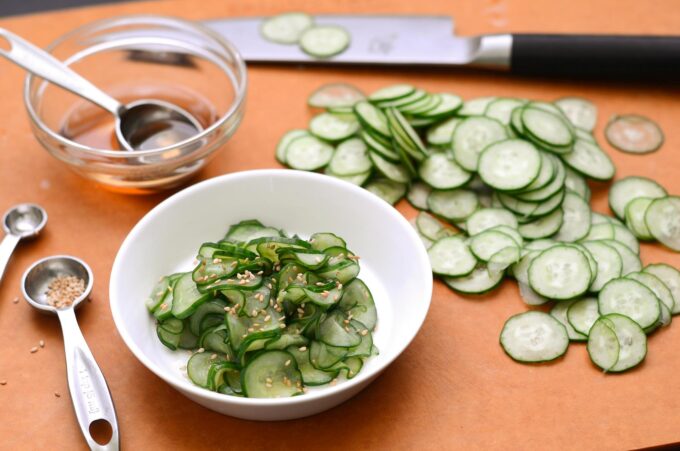 Make a double batch and save a second batch for the next day's meal! It's much easier to double up than to redo the whole thing when you want it again. You'll be glad you did :). Make sure to leave the dressing out on the side if you're planning to serve it on another day though. When you're ready to serve, add the dressing then top with toasted sesame seeds, and you're ready to go!
Try my other pickle recipes!
What is a Japanese cucumber?
Japanese cucumbers are longer and slimmer than typical cucumbers you see at American supermarkets. They're usually around a 12″ long, a bit longer than Persian cucumbers, yet shorter than the very large English cucumbers that you can often find in plastic wrap. Japanese cucumbers have a green skin like the others.
They typically are sprinkled with tiny little bumps throughout the body that aren't prickly. Their flavor is mild, not bitter, so they're great for salads and adding dressing too, or having on the side for a nice light crunchy texture.
Do Japanese cucumbers need to be peeled?
Japanese cucumber skins are relatively thin with a mild to sweet flavor, so no they do not need to be peeled. If you're looking to add some visual flair by exposing the cucumber's whiter interior you can peel some of the skin for a striped effect, but you don't need to spend time peeling the whole thing since I love the look, and the taste and texture is pleasant as is!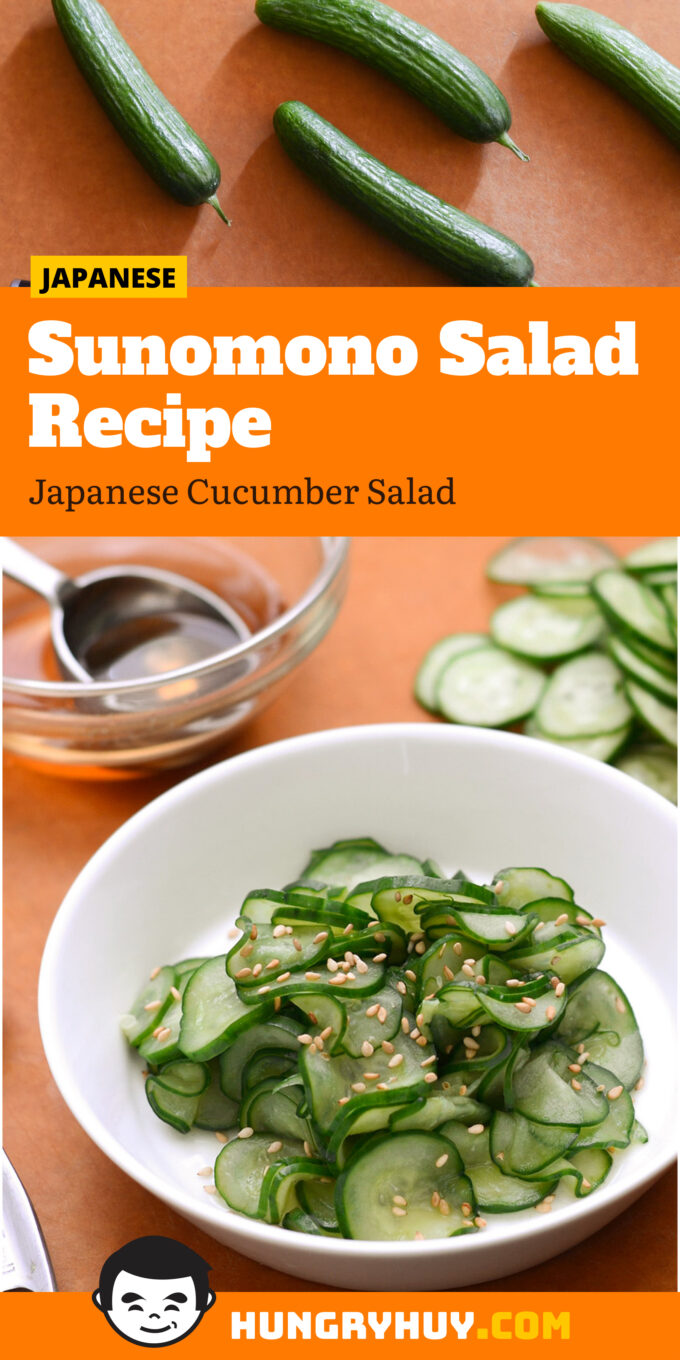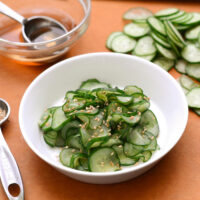 Sunomono Salad Recipe (Japanese Cucumber Salad)
A super easy cucumber salad recipe to make! This side dish is light and crispy, with just the right amount of seasoning to keep you coming back for more.
Ingredients
3

crunchy Japanese or Persian cucumbers

2

tsp

salt

to draw out moisture
Dressing
2.25

tbsp

(

31.5

g

)

rice vinegar

.75

tbsp

(

10

g

)

sugar

.2

tsp

(

.65

g

)

salt

.2

tsp

(

1.05

g

) soy sauce

0.75

tsp

(

2.2

g

)

sesame seeds
Instructions
Slice all the cucumbers very thinly (ideally with a mandolin slicer for uniformity) and transfer to a medium sized bowl.

Sprinkle with salt and toss with your hands to ensure even salt coverage to draw out moisture. Let it sit for 10 minutes.

Rinse the cucumbers thoroughly to remove the salt, drain, then squeeze all the cucumbers to remove excess moisture. The goal is to remove as much water as you can. Don't be afraid to squeeze hard, the cucumbers can take it!

Mix dressing ingredients: rice vinegar, sugar, salt, soy sauce until dissolved, then add to cucumbers to marinate for at least 1 hour. It keeps well overnight too. Keep refrigerated until serving.

Sprinkle with sesame seeds just before serving.
Notes
8/30/2023: Adjusted cucumber to fixed number instead of a range for accuracy. Increased initial salt amount for better coverage to purge moisture from cucumbers. Reduced all seasoning ingredients by 25% to reduce waste, but still season properly.
Nutrition Facts (per serving)
Serving:
0
g
|
Calories:
42
kcal
|
Carbohydrates:
8
g
|
Protein:
1
g
|
Fat:
1
g
|
Saturated Fat:
1
g
|
Sodium:
334
mg
|
Potassium:
82
mg
|
Fiber:
1
g
|
Sugar:
7
g
|
Vitamin A:
59
IU
|
Vitamin C:
2
mg
|
Calcium:
19
mg
|
Iron:
1
mg
Nutrition Facts
Sunomono Salad Recipe (Japanese Cucumber Salad)
Amount per Serving
% Daily Value*
* Percent Daily Values are based on a 2000 calorie diet.
Like this recipe? Subscribe to my newsletter!