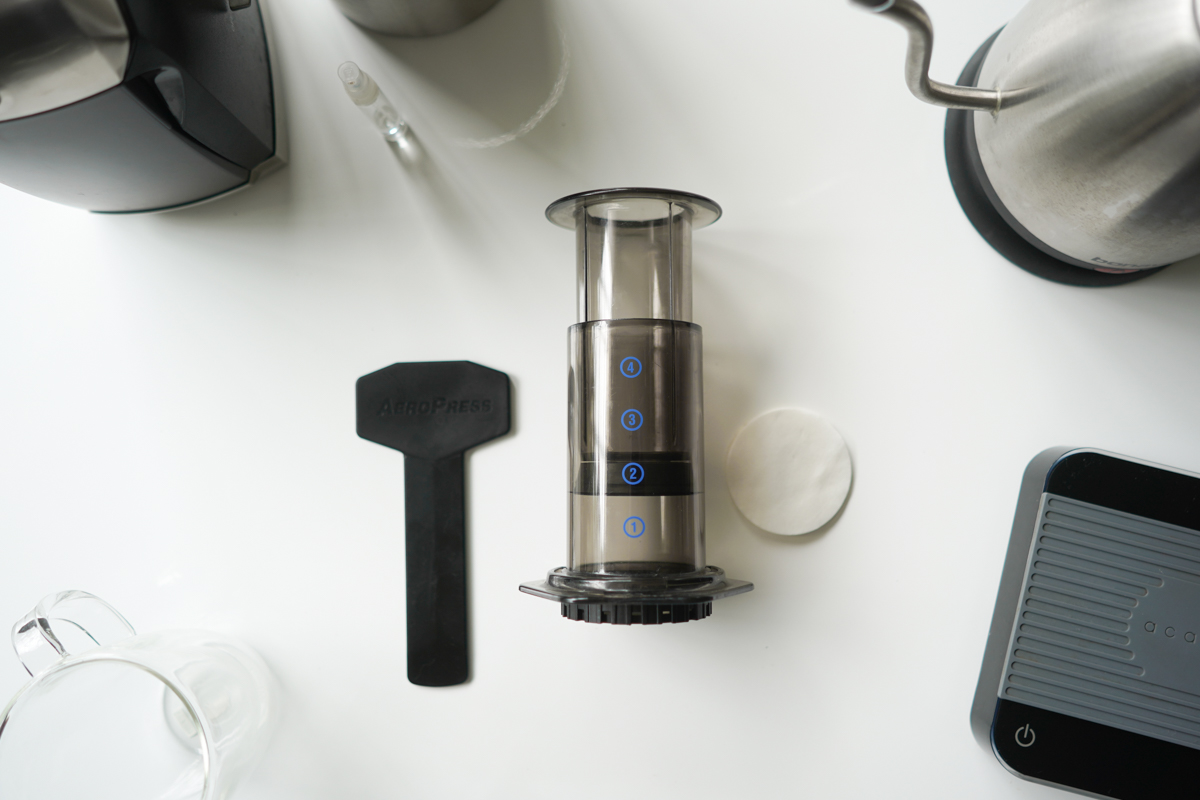 For the mornings when I don't want to wait for my espresso machine to heat up, or to bother having to concentrate on my pour over technique, Aeropress wins. It brews coffee fast, it tastes great, and there's less risk of shattering brewing tools. For those reasons, this is the tool I always bring camping, brewing for all my camp mates.
Instructions on using an Aeropress are easy, and much faster than brewing pour over coffee, espresso, or even Vietnamese coffee. Brew time is about 75 seconds and the total process takes not much longer than a few minutes if you have all your tools prepped!
Although you can calibrate a stronger brew with an Aeropress (something you'd want to do for milk drinks like a latte or a pumpkin spice latte), it is not the same as espresso. Nothing is the same as espresso without its super fine grind, and its higher pressure brewing.
This is not meant to be an espresso replacement or equivalent. I love mixing up methods of how I brew coffee throughout the week for slightly different kinds of taste, and it's just fun.
Weigh & grind coffee beans
Weigh out 17g of your favorite coffee beans. You can adjust this up or down a few grams depending on desired brew strength. Use a kitchen scale with accuracy to 0.1g for better accuracy and repeatability. I use an Acaia – Pearl due to its super fast response time, but response time for Aeropress is not as crucial here as it is for brewing pour over coffee.
Spritz water on the beans with an atomizer or a tiny bit with your fingers to destatic the beans before grinding. This will eliminate any residual beans from sticking inside the gear and create less of a mess on your counter.
Grind size is important. You can use some crazy (expensive) tools to help you narrow down the size but just start with a relatively fine grind, something around the size of fine sea salt. Then on subsequent brews, simply adjust your grind size according to taste. If this cup was too sour, it's under extracted and you want to grind finer. If it's too bitter, increase your grind size.
Warming up the tools
Add one paper filter to the Aeropress cap and pour boiling water on it to give it a quick rinse. This will remove some of that paper taste and warm up the cap. Be careful with splashing the hot water!
Pour some hot water, about 1/3 of the way up on your inverted Aeropress to warm it up too. This will keep temperatures more stable during your brew and yield a more even extraction.
Set the cap aside, and after about 10 seconds, dump the Aeropress water.
Pour in coffee grinds and water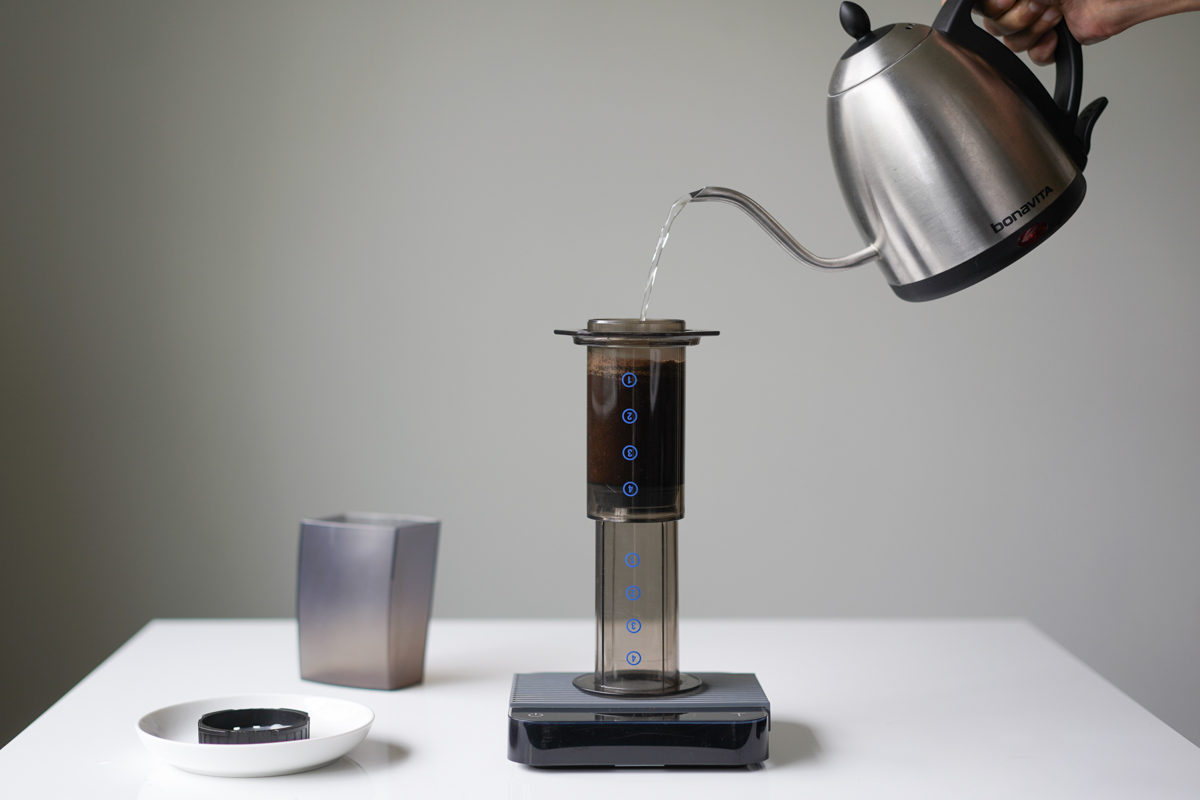 Make sure the plunger seal is at about the #4 on your inverted Aeropress. Pour all the grinds in, tare the scale. Start your timer then quickly pour in water (Around 205 °F. I use a thermometer but you can wing it by waiting ~30-60 seconds off the boil with the lid off. For something like brewing jasmine tea, we did 180 °F, which is much harder to guess without using a thermometer.)
Stir & plunge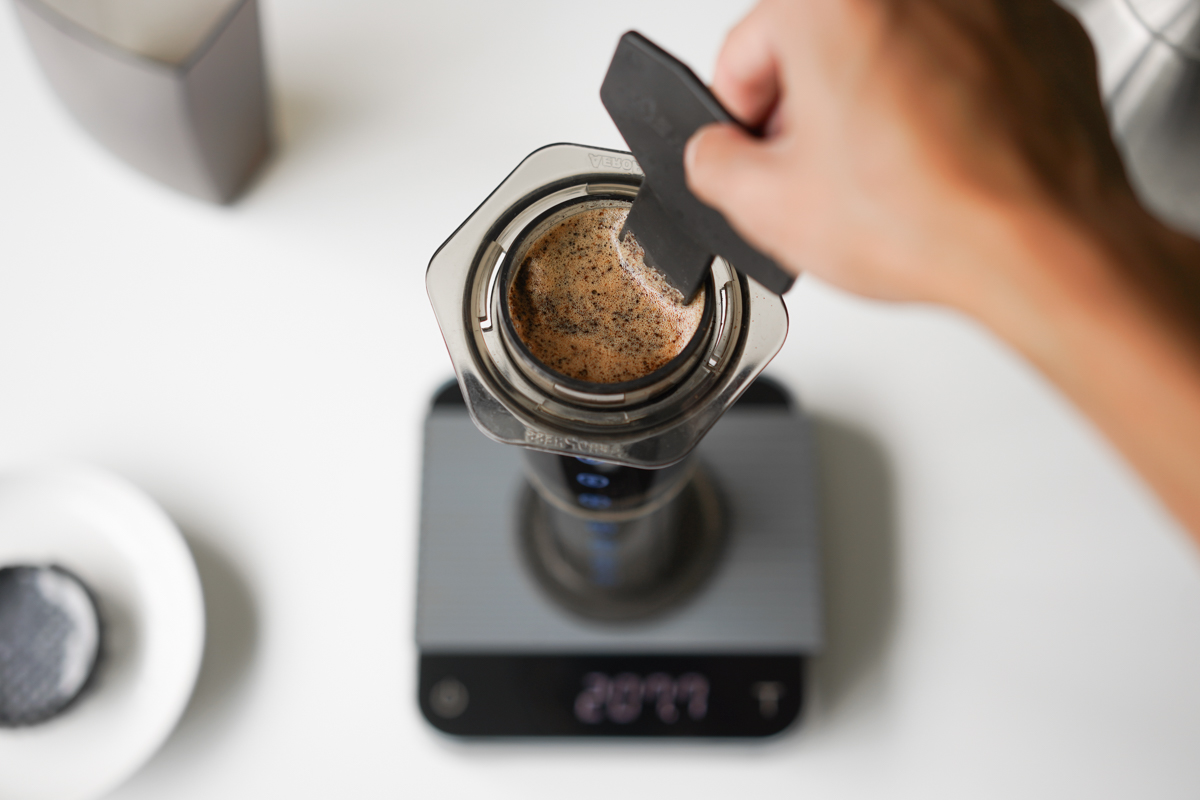 After about 75 seconds have passed, give it a quick stir with the included Aeropress stirrer, place the cap on tight, flip it over and gently press down on the plunger slowly (about 30 seconds) into your cup.
I recommend doing this into a sturdy mug, and not a double wall glass like I used since it is much more susceptible to damage. I love the heat retention properties of this Bodum glass, and basically hold the Aeropress mid-air while pressing into this glass to not put any pressure on it.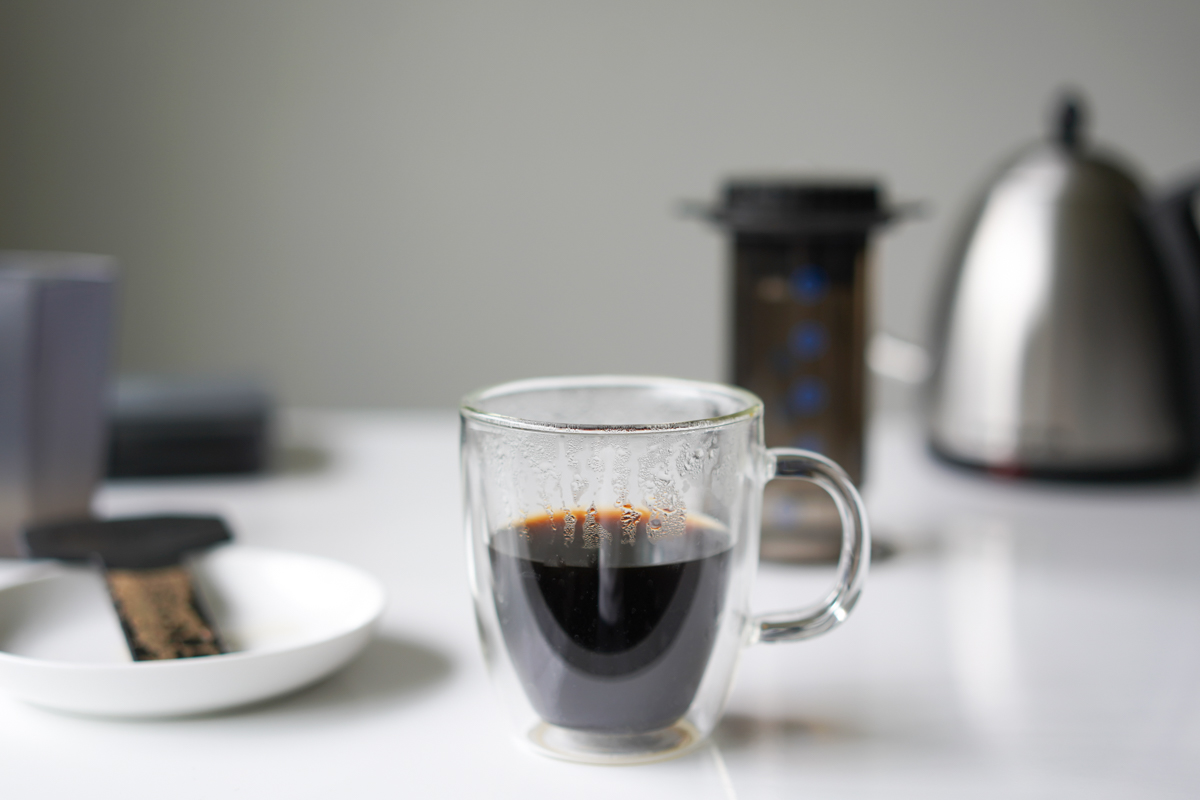 Twist to remove the cap, then discard the spent coffee puck and rinse before your next brew! Aeropress brews around 6-8oz of coffee, which is good enough for one serving, but it's super fast if you have boiling water ready to brew for more people.
How to Use an Aeropress [Coffee Brewing Instructions]
Whether you want a quick and delicious cup of coffee at home, or you want something you can bring to work or on camping trips, Aeropress is a fun and effective choice!
Ingredients
17

g

coffee beans

ground to fine sea salt size

290

g

filtered water

70g is for warming tools
Equipment Used
Aeropress paper filter

spritzer / atomizer
Instructions
Boil 290g filtered water in a kettle.

Weigh out 17g coffee beans, spritz with an atomizer (optional), and grind to fine sea salt size. See notes above for details.

Invert Aeropress brewer and pull plunger so the seal is around the #4 area on the outer barrel.

Add a paper filter to the cap and warm both tools: pour ~10g boiling water on the paper filter and cap, and ~60g into the brew chamber. After about 10 seconds, discard the water.

Place the Aeropress onto your scale, pour ground coffee into the brew chamber, tare the scale.

Start the timer, and quickly pour in about 220g of the 205F water.

After about 75 seconds, give the coffee a quick stir, place the cap on tight and gently press out the coffee over 30 seconds. The entire brew and plunging process should take about 120 seconds total.
Nutrition Facts
Calories:
0
kcal
|
Sodium:
14.5
mg
Like this recipe? Subscribe to my newsletter!