An ice-cold matcha latte is as refreshing as it is delicious and with this recipe, it's absolutely easy to make at home.
Matcha is historically used as a ceremonial tea in Japan, these days its reach has expanded internationally and used in various forms like matcha ice cream, Urth's matcha boba drink, mochi donuts with matcha icing, and even Starbuck's famous iced matcha lattes.
What is matcha?
Matcha, or maccha, is more than just a type of green tea. Its preparation includes the process of shading the tea leaves as they grow to promote the production of chlorophyll. This makes the leaves greener in color and amplifies the taste. Matcha preparation can take upwards of 20 days before harvesting. After the leaves are picked, dried, and aged, they are ground into fine powder.
What's great about matcha is that due to grinding the entire leaf, you consume all of the benefits of the tea, instead of just steeping the leaves. The production process also gives reason for the high price point for matcha powder.
Matcha, along with other types of green tea, are a great source of antioxidants, and could even help with health issues like diabetes and high blood pressure. Since matcha includes the entire leaf, this also gives matcha a higher amount of caffeine (35 mg per cup) than regular green tea (25 mg per cup), so like many things, moderation is key.
Picking matcha for your latte
It's important to note that there are also various types of matcha powder to buy depending on what you need it for. Here are two top variants:
Ceremonial: premium and high-standard quality matcha. It's typically very very dark green and has a rich, grassy flavor, but it is not bitter. Its main purpose is for drinking as a tea so you can fully appreciate the slightly sweet flavor. This is typically more expensive because of the quality.
Culinary: made for cooking and baking, this matcha type isn't necessarily lower in quality, but has a different flavor profile. It's more bitter in flavor and its bright green color makes it a great option for pastries and sweetened drinks with milk.
There are also smaller variants since the quality of matcha is a spectrum like cafe, classic, ingredient, and more. Each of these titles vary by brand, so make sure to check the descriptions before purchasing. For this recipe, we used Jade Leaf Culinary Matcha because it was available locally.
To learn more about tea, visit my post on green tea vs. black tea.
Mixing or frothing matcha
To make iced matcha lattes, the first thing you have to do is mix matcha powder with hot water. Now, this might sound easy, but due to the superfine texture of matcha, you have to watch out for clumps!
There are also traditional tools to make matcha that aid in blending the matcha powder with hot water properly, like a bamboo whisk (chasen) and a matcha bowl (chawan). But if you don't have these at your disposal, you can also use a handheld frother and a small bowl. You may be able to use a small whisk if you don't have a frother, but you may get clumps.
What's important is you need to use hot water and to make the process easier, I like to use my kettle. After the water is done boiling, add the matcha to a small bowl and add one tablespoon of water to start. Then, whisk the mixture.
Move your hand in circular motions around the small bowl to incorporate all the powder into the water and add additional water if necessary. Try not to add too much water since it will dilute the tea. The matcha is fully whisked when there are no clumps and it has a slight frothy consistency.
Types of milk for matcha lattes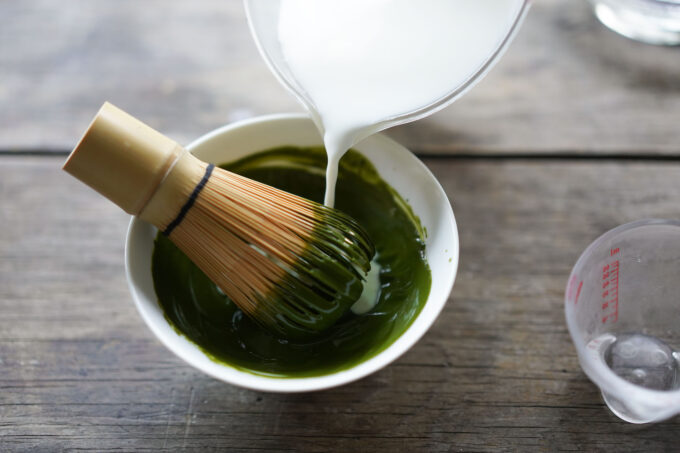 For most lattes, you can use any type of milk or milk substitute for this recipe. I like to use whole milk because it's fattier, but you can also use 2%, oat milk, almond milk, or whatever your preference. Make sure to chill it beforehand to keep the drink super icy.
Now, fill a glass with lots of ice, add the milk and top with your matcha mixture and stir. I like to sweeten my matcha latte with simple syrup by dissolving white sugar in hot water and chilling it in the fridge before mixing it into my latte.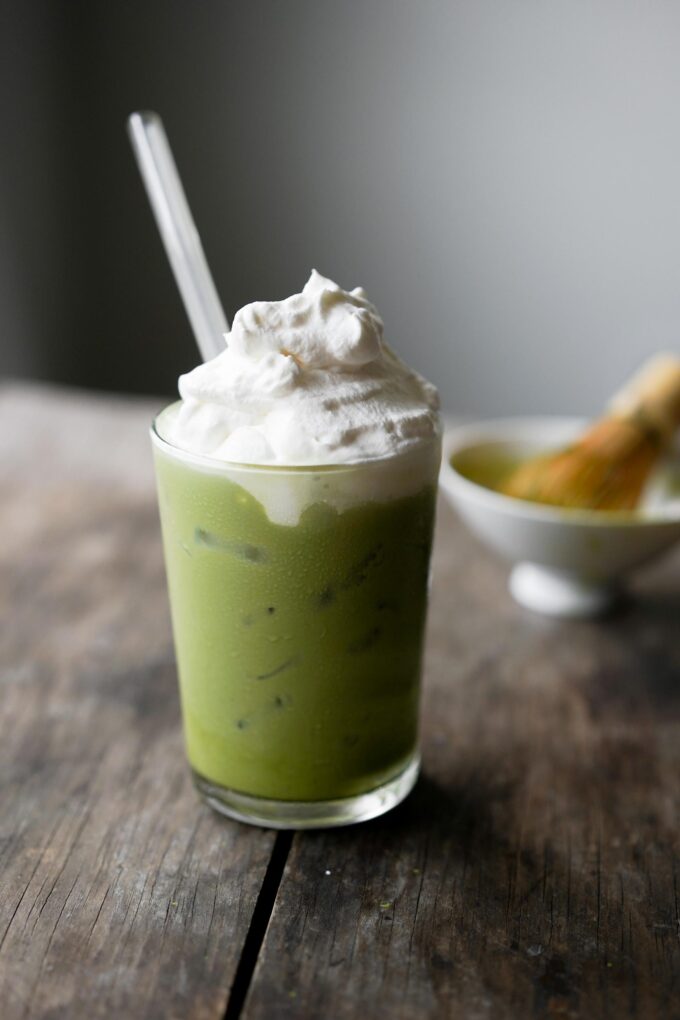 Starbucks latte recipe? What do they do?
Starbucks' latte recipe is pretty well-known around the Internet, but these days they've made it easier for their staff (and harder for customers) to make. While this recipe is fairly similar to what the original recipe called for (they used matcha powder, 2% milk, and sweetener), a close friend told us that they have transitioned to a premade matcha powder with the sweetener included.
This recipe will help you skip the line at Starbucks and let you adjust iced matcha lattes to your taste buds and hopefully save you the cost! You can even make your own boba (or add pre-made boba) and make it into bubble tea. If you want to try other boba tea, I would recommend making taro milk tea or jasmine sea cream boba, too. For more easy Asian recipes (and desserts), click here.
Is iced matcha latte good for you?
While matcha tea has added health benefits like antioxidants, drinking matcha lattes also have added ingredients that aren't necessarily super healthy. It all depends on how you make your latte (are you adding more sugar?) and also if you drink it in moderation.
Is matcha latte good for weight loss?
While there have been studies done on matcha tea promoting weight loss through the benefits of antioxidants, it's still important to note that lattes also have a certain amount of fat and sugar depending on how you like your drink. If want extra flavor, mix your matcha latte with a little pomegranate juice for more antioxidants.
Iced Matcha Latte
Try this super easy and refreshing iced matcha latte that will give you cafe vibes at home.
Ingredients
Simple syrup
¼

c

white sugar

3

tbsp

hot water
Equipment Used
bamboo whisk or handheld frother
Instructions
Simple syrup
Heat the water in a kettle, on the stove, or in the microwave until it's very hot, but not boiling. Add the white sugar in and mix until it dissolves. If the granules are not dissolving, pop it in the microwave for 30 seconds then stir.

Place in the fridge for 15 minutes to chill before adding into the latte.
Matcha latte
Heat the water in a kettle until it's super hot, almost boiling.

Add the matcha powder into a small bowl or a chawan.

Add one tablespoon of water in and use the whisk or handheld frother to stir. Move your hand in concentric circles around the perimeter of the bowl to fully blend the fine powder and water together. Add additional water if necessary. The mixture should be completely smooth and slightly frothy on top when it's finished.

In a glass cup, add ice, pour the milk, and add the matcha mixture. Stir until the latte is combined. Add your chilled simple syrup to sweeten and drink!
Nutrition Facts
Calories:
367.9
kcal
|
Carbohydrates:
60.9
g
|
Protein:
13.1
g
|
Fat:
7.4
g
|
Saturated Fat:
4.2
g
|
Cholesterol:
22.7
mg
|
Sodium:
101.8
mg
|
Potassium:
299.4
mg
|
Sugar:
61.3
g
|
Vitamin A:
967.4
IU
|
Calcium:
256.3
mg
|
Iron:
2.2
mg
Like this recipe? Subscribe to my newsletter!