Ultra crispy skin and garlicky and citrusy notes of lemongrass pieces of tender pork–this is what lechon belly should always be like. In this recipe, I'll show you how to make Cebuchon at home so you don't have to wait for another party to celebrate.
What is Cebuchon?
Cebuchon is the combination of "Cebu" and "lechon". It's a boneless, pork-belly roll version of traditional Filipino lechon and its name is directly named after Cebu–a region well-known for its style of lechon that's stuffed with herbs like lemongrass, scallions, and basil.
Lechon, or roasted suckling pig, originated from Spain and eventually made its way around the world due to colonialism. It's one of my favorite Filipino dishes and a party (especially a boodle fight) is simply not complete without lechon! Its extra crunchy and crispy skin is rivaled by the tender meat that's stuffed with so many aromatics like scallions, garlic, and lemongrass.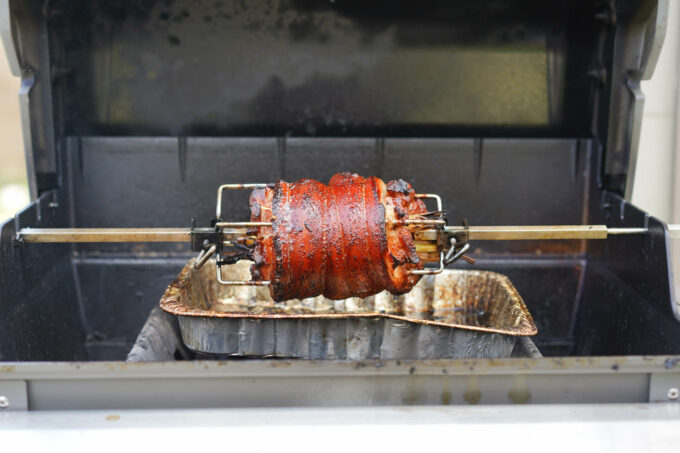 It was always such a treat to get to eat lechon at parties because it's a bit of a hassle (and expensive) to just order a whole pig on a regular weekday. This is where Cebuchon (or lechon belly) comes into play–you get the same crispy skin and flavorful meat, but at a smaller scale.
How to choose the belly
It needs to be large enough that when you roll it, the ends meet, so the filling doesn't fall out. It also needs to be large enough in diameter after rolling, so the claws of the rotisserie can fit most of its prongs in. Seafood City is the place to go because they typically have pork belly at the appropriate size at the meat counter. Slabs of pork belly about 4-5 lb per pork belly have worked well for this.
When you choose meat, make sure to pick the pork belly pieces that do not come with ribs otherwise you will need to cut those off at home. Also, remember to choose cuts that still have the skin intact so you can get crispy skin. I made the mistake of buying pork belly from Costco and they did not come with skin, so my lechon belly would not crisp up.
Brining ingredients and method
To get the most seasoning into the meat, this recipe uses a brine that's first infused with aromatics for 10 minutes on a boil. The brine itself has sugar, salt, peppercorns, garlic, lemongrass, onions, bay leaf, water, and star anise. After it's infused and chilled down, I add vinegar for additional flavor and a tenderizer for the meat.
It goes without saying that the longer the brine, the better the flavor. I like to brine for at least four hours or overnight if I have enough time. Make sure to brine in the fridge to keep your meat from spoiling.
Seasoning and stuffing ingredients
The seasoning and stuffing for this Cebuchon are what make it Cebu-style lechon. I add plenty of salt and pepper, garlic slices, sliced onions, bay leaves, scallions, and lemongrass. After brining, pat dry the meat with paper towels and season generously with salt in between all the folds.
Rolling & tying the belly for rotisserie
When tying up the lechon belly, I like to use at least 5-6 pieces of twine wrapped individually to keep the roll in shape during cooking. The closer you tie the twine to the edges, the longer the roll will be and allow for more crispy skin.
In my experience, I like using separate strings of twine to wrap the pork belly instead of using one long string and trussing it with loops. I found I could tie tighter knots and hold the meat together better. For my Vietnamese pork belly recipe, I simply tied it all up with one long string, which was fine because the belly was just rolled into itself, without having to hold all this stuffing in.
Tips for cooking on the rotisserie
Here are some tips for making the best Cebuchon:
Use a drip tray. Without this a lot of fat can drip and cause a lot of fire and smoke, blackening your belly.
Monitor the grill temperature. Grill burners will vary so use the thermometer on your grill, or a third-party one to monitor the internal temperature of the grill. This is the only accurate way to make sure you're cooking at the right temperatures.
Follow safe grilling practices. Refer to your grill manual for safe placement of your grill away from structures, and distances of how high the roof above should be. This is especially since we're hooking up an electric rotating rotisserie. Also, keep a fire extinguisher nearby just in case.
Lechon belly is best-served kamayan style with a side of sinangag (garlic rice), pork BBQ skewers, and some tangy atchara. If you want a dipping sauce, there's nothing easier than an even ratio of cane vinegar and soy sauce. If you do have leftovers, you can keep them in the fridge for up to 5 days in an airtight container. I like to re-toast them in the oven for 5 minutes at about 350°F.
Lechon Belly (Filipino Roasted Pork Belly / Cebuchon)
Slick, crunchy pieces of skin wrapped around tender and flavorful pieces of pork belly–this lechon belly recipe will teach you how to get the most delectable roll of Cebuchon at home.
Ingredients
Brine
2

tbsp

white granulated sugar

2

stalks

lemongrass

cut into 3 inch sections and sliced in the middle

10

cloves

garlic

smashed

1

tbsp

black peppercorn

1

star anise

½

medium

white onion

sliced thinly

2

bay leaves

3

tbsp

salt

56

fl oz

filtered water

2

fl oz

white vinegar

4

lb

(

1.8

kg

)

pork belly

with skin intact
Stuffing
2

tbsp

salt

¾

tsp

(

1.5

g

)

black pepper

ground

20

cloves

garlic

sliced thinly

4

bay leaves

¼

medium

white onion

sliced thinly

6

stalks

green onion

with roots cut off

2

stalks

lemongrass

cut in half and cut to fit the width of the pork belly

1

fl oz

milk

for basting
Equipment Used
Knife & cutting board

stock pot

Large container for brining

Twine

grill

Rotisserie attachment for your grill

Drip tray

brush
Instructions
Brine
In a large stockpot, combine all the brine ingredients (except the vinegar and pork) and stir. Heat to a boil and continue to cook for 10 minutes.

Remove the pot from the stove and let it cool to room temperature. Once it's cooled add the vinegar and mix.

Turn your pork so the skin is facing down. Use a knife to score your meat in diagonal lines across the pork belly. Aim to score about halfway or ½ inch deep and 1 space in between each line. Turn your pork belly 180 degrees and repeat the scores. You should end up with diamond-shaped scores.

In a container, combine the brine and pork. Make sure it fully covers the pork, then cover with plastic wrap or a lid and brine in the fridge for at least 4 hours or overnight.
Stuffing
After brining, transfer the pork into a rack-lined sheet pan and pat dry with paper towels. And season with salt heavily, then sprinkle the pepper.

Layer the stuffing ingredients. Place garlic slices in between the folds, layer the onions slices and bay leaves, and add the green onions and lemongrass strips on top.

Cut 4-6 strands of twine about 3-4 inches longer than the width of your pork belly (make sure to measure using the width you will be rolling, not lengthwise). Carefully take each strand and wiggle it underneath the pork so that each strand is evenly spaced out. Try to get as close to the edges as possible (about 1 inch from the edge).

Add your rotisserie rack pole in between, try to make this as even as possible.

Roll the pork belly. Take both ends of your pork belly and roll it tight, the ends of the pork should touch or be close to touching when fully rolled. Then wrap each twine strand and tie firmly. Repeat with all the strands until you end up with a roll. Add the clamps on either side to secure your pork belly (if your rotisserie comes with them).
Grilling
Place your belly on the grill and turn on the rotisserie and add a drip tray below to catch all the fat. Baste with milk.

Grill at 180 °F for 2-3 hours. For my grill, I only needed to turn on 1 burner at the lowest heat and it maintained 180 °F, use a thermometer since yours may be different. Check the meat and grill temp, and baste with milk every 30 minutes to make sure things are staying on track. Here's what it should look like at the end.

When the meat's internal temperature hits about 125-130°F, turn up the heat to about 350-375 °F for another 45 minutes. Baste every 15 minutes, and check to make sure the grill temperature is not too hot or cold. When the skin is crisp and the meat reaches a minimum internal temperature of 145 °F, you're done! Do not leave the grill unattended especially towards the end of grilling to ensure the belly does not burn. Here's how it should look when the skin is finished crisping up.

Let it cool for 5-10 minutes, remove from the rotiserrie rod, slice then chop, and serve.
Nutrition Facts
Calories:
1225.46
kcal
|
Carbohydrates:
11.46
g
|
Protein:
22.61
g
|
Fat:
120.54
g
|
Saturated Fat:
43.96
g
|
Cholesterol:
163.66
mg
|
Sodium:
4449.51
mg
|
Potassium:
586.09
mg
|
Fiber:
1.05
g
|
Sugar:
3.95
g
|
Vitamin A:
132.96
IU
|
Vitamin C:
6.9
mg
|
Calcium:
66.79
mg
|
Iron:
2.4
mg
Like this recipe? Subscribe to my newsletter!