At Vietnamese sandwich shops, you'll find a dizzying number of meat options like grilled chicken, grilled beef, sardines, and even some Chinese-influenced options like xíu mại. However, with Vietnamese sandwiches, pork seems to be king–you'll always see pork options like chả lụa (meatloaf), thịt nướng (grilled pork), nem nướng (ground & grilled pork), bì (shredded pork skin), and combinations of these.
In this recipe, I'll show you how to make thịt ba rọi, or seasoned pork belly, for Vietnamese bánh mì.
At sandwich shops you usually won't find pork belly as an option. They'll use other cuts simply to reduce costs. One difference between this recipe and xa xiu/char siu is the latter would call for pork shoulder and barbecuing. Since we're going through the effort of making this at home we're going to use fattier, tastier pork belly!
Choosing the pork belly
Something around 1.5 pounds produces a decent sized roll when sliced for sandwiches. If you choose something too big, you'll need a bigger pot to cook it in, more water, and longer cook times. If your butcher only carries larger pork bellies you can always cut them down to size and cook more than one at a time.
Marinating the pork
Combine the onion powder, salt, soy sauce, and Chinese barbecue seasoning into a bowl, then distribute evenly over the pork belly and let it marinate for 1-3 hours or overnight. I actually let this marinade for 24 hours and it still tasted great without being over salted.
Tying up the pork belly
I made a quick video showing one way to tie the pork belly. There's no need to get real fancy, you could just wind the twine around multiple times and tie it down too. See below:
[adthrive-in-post-video-player video-id="SiMEslJY" upload-date="2020-05-14T00:00:00.000Z" name="Tying Up Pork Belly For Xa Xiu / Char Siu for Banh Mi" description="How I tie up pork belly for homemade Vietnamese sandwiches. We want this xa xiu in a roll shape so it's easier to slice, and looks nice for banh mi / Vietnamese sandwiches!" player-type="default" override-embed="default"]
Roll and tie the pork belly in butchers twine and tie it so it holds together when you boil it. Don't overtighten it because the string will cut into the skin as you cook it. This step is optional and mainly for looks when you slice the pork for sandwiches.
Cooking the pork
Next, add it to a pot of water with a quartered onion then boil it on medium to medium high to maintain a low boil. Rotate the belly 90 degrees every 15 minutes so it cooks evenly on all sides. Repeat until the skin is easily pierced with a chopstick, but not mushy and the belly should still be relatively firm. This should take about 90 minutes total depending on the size of belly and size of the pot.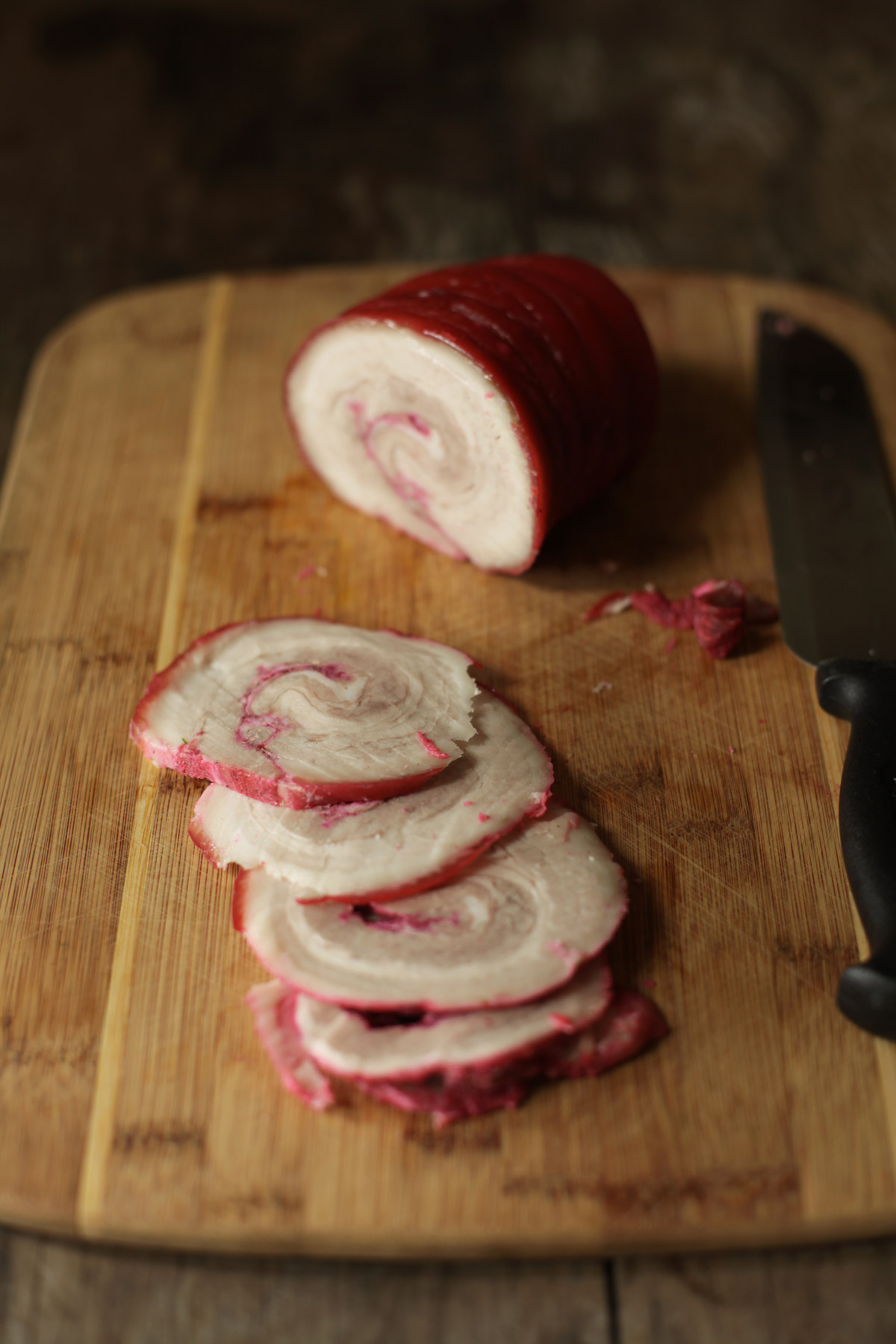 When done, remove from the pot, wait for it to cool, then slice thinly to add to your bánh mì sandwiches. Vietnamese baguettes are the way to go and the only place to get them is from Vietnamese bread/sandwich shops (or to make it yourself!). French baguettes and any kind of bread sold at American supermarket chains could work in a pinch, but it wont be quite the same.
If you want a Filipino version of this entree, you can also fire up the grill and rotisserie to make Cebuchon–an equally tasty and crisp roasted lechon belly recipe.
Pork Belly Recipe for Bánh Mì (Vietnamese Sandwiches)
A pretty simple pork belly recipe for making your banh mi / Vietnamese sandwiches at home!
Ingredients
2

pounds

belly

1/2

packet Chinese barbecue seasoning

I used this kind from Noh

1

medium yellow onion

quartered

2

teaspoon

salt

2

teaspoon

onion powder

1

tablespoon

soy sauce

for color
Instructions
Combine salt, onion powder, soy sauce, and packet seasoning into a medium bowl and mix.

Add belly to the bowl, evenly distribute seasoning, then marinate for 1-24 hours, covered. Longer will be better.

Remove belly from the bowl, roll the belly up and tie so it holds a shape while cooking.

Using a pot only slightly bigger than the pork bellies, add the rolled pork bellies to the pot then fill with water to reach 2/3 up the larger belly and bring to a boil.

Lower the heat to maintain a medium boil, and rotate the pork 90 degrees every 15 minutes.

The pork is ready when the skin is soft and easily pierced by a chopstick, but the meat inside remains firm, about 90 minutes of boiling total depending on heat level. Remove from the water to cool, then remove twine and slice.
Nutrition Facts (per serving)
Serving:
0
g
|
Calories:
801
kcal
|
Carbohydrates:
4
g
|
Protein:
15
g
|
Fat:
80
g
|
Saturated Fat:
29
g
|
Cholesterol:
109
mg
|
Sodium:
1072
mg
|
Potassium:
319
mg
|
Fiber:
1
g
|
Sugar:
2
g
|
Vitamin A:
15
IU
|
Vitamin C:
2
mg
|
Calcium:
14
mg
|
Iron:
1
mg
Nutrition Facts
Pork Belly Recipe for Bánh Mì (Vietnamese Sandwiches)
Amount per Serving
% Daily Value*
* Percent Daily Values are based on a 2000 calorie diet.
Like this recipe? Subscribe to my newsletter!