Savory and crispy fried garlic pieces covered in plump and steamy rice–smelling garlic rice in the air is how I always want to wake up. Sinangag is garlic fried rice and, most importantly, it's also a Filipino breakfast staple.
Mom would always make a big batch of sinangag with pork tocino and longanisa to start off the family's day. This simple, but flavorful side dish is so easy to follow that you'll want to make it every day.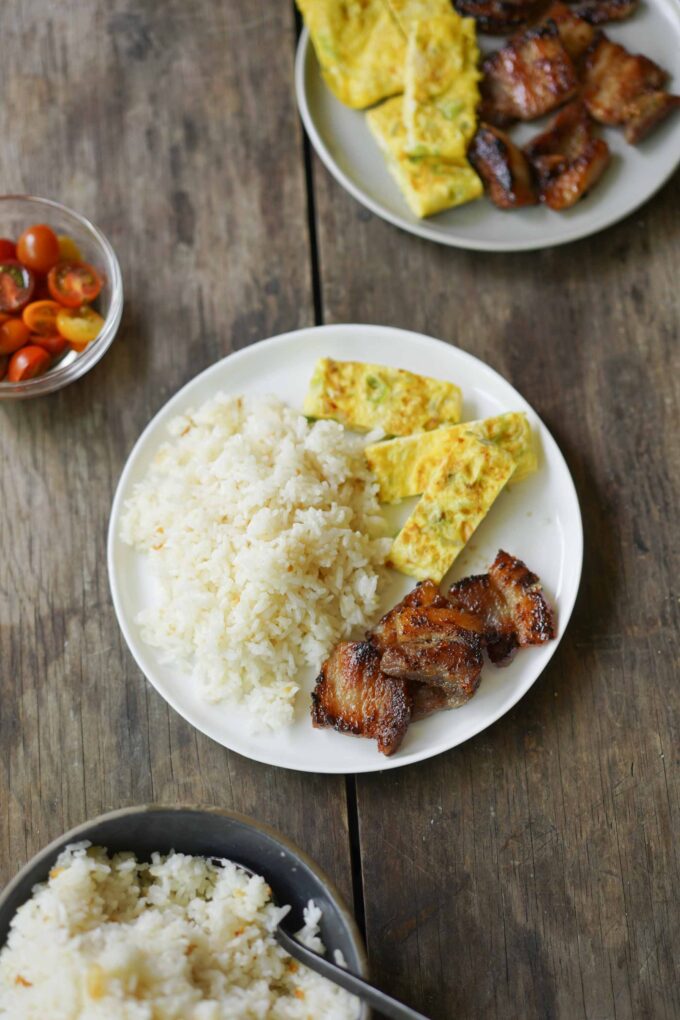 Garlic rice in Filipino cuisine
Garlic rice, also known as "sinangag," is a big staple in traditional Filipino breakfasts (just like pandesal)–this started in the Philippines and you can find it in many Filipino American homes, restaurants, and fast food companies like Jollibee and Chowking.
It's most often served as what is called "silog," a combination of the words "sinangag" and "itlog," or egg. Some of the most popular variations are longsilog (garlic rice, eggs, and longganisa, a sweet Filipino sausage), bangsilog (garlic rice, eggs, and fried milkfish called "bangus"), and tocilog (garlic rice, eggs, and pork tocino, cured pork belly). Mom always made garlic rice to pair with green onion omelets.
Unlike the colorful fried rice with Chinese sausages found in Chinese restaurants or Thai basil fried rice, garlic fried rice has four basic ingredients: oil, minced garlic, rice, and salt. The beauty of this side dish is its simplicity.
While some people like to add green herbs on top, keeping it simple highlights the flavor and aroma of the sauteed garlic. Since it's typically paired with sweeter and/or saltier foods like pork tocino or bangus, having a simple side dish of garlic rice is a perfect way to balance the meal.
The rice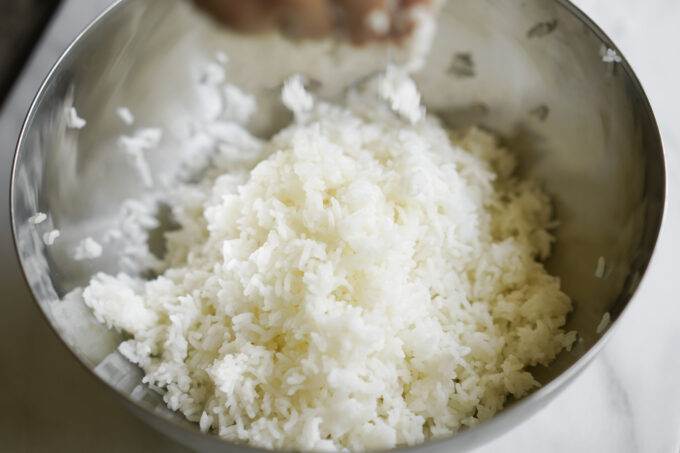 Even though I've had my fair share of garlic rice, I'm not too familiar with the history of this dish, although I can assume that it's the perfect way to freshen up and eat day-old rice. At many restaurants, the type of rice they typically use is long grain Jasmine rice. At my house, I really like to eat medium or short-grain rice, and this works well too.
Ideally, you want pre-cooked or day-old rice because it seems to soak up the fried garlic flavors in the pan. But if you don't have extra laying around, you can use a rice cooker or even cook rice in the microwave about 30 minutes before you want to make the garlic rice.
After you cook the rice, I would fluff up the rice and leave it on the counter to rest until you're ready to cook. If you have day-old rice from the fridge, I would suggest using a rice paddle to break up the clumps of rice so it will cook evenly on the pan–you can even use clean fingers to break up the rice grains, too. I've noticed that if you wait until you have the rice in the pan to break them up, you'll end up breaking the rice grains or having large clumps in your dish.
The garlic & garlic oil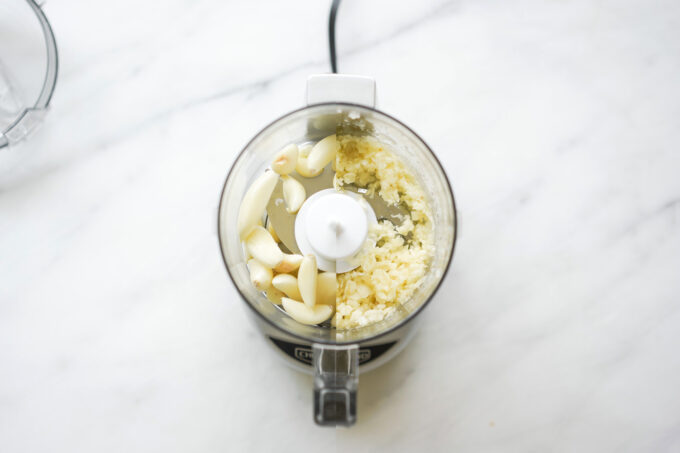 Garlic is one of my most favorite ingredients–to me, there is definitely no limit to how much garlic you can put in a recipe. Who is okay with just putting two cloves in one recipe?! Not me. I probably go through multiple bulbs of garlic every week due to this addiction.
I have homemade garlic oil that I make every month to season everything from eggs to meat to smashed potatoes. All you have to do is use a garlic press or a food processor, and pulse the garlic cloves until you have minced pieces and add it into an airtight glass container. This is perfect for this rice.
Top the minced garlic with neutral cooking oil like vegetable oil or grapeseed. Make sure to cover the garlic with at least one inch of oil. You can keep the oil in the fridge for a month. As you use the garlic oil throughout the month you can continue to top it off with more oil if necessary. The vegetable oil gets super infused with the garlic and it's the tastiest way to season a dish.
The method
To make the garlic rice, gather your ingredients and heat a large pan over medium heat. Add your garlic oil and saute the garlic until fragrant. As the garlic begins to turn golden brown, stir in the broken up rice and continue to cook for about two to four minutes or until the rice is warm and crisp.
Use a rice paddle or a slotted spoon to make sure all the rice grains are evenly coated in the garlic oil. Sprinkle salt over the rice and adjust based on your preference.
Serve your rice asap to get the best flavor, you don't even need to wait to eat this for breakfast! I love to eat this during a boodle fight with fresh crispy lumpia, lechon belly, or pork bbq skewers and a side of atchara (Filipino pickles). The best part is that you can make extra and reheat it for later!
I would recommend making extra fried garlic too to make for future recipe toppings–it's delicious!
Who invented garlic rice?
Sinangag or garlic rice is from the Philippines and typically served as a breakfast side dish with eggs and a meat side, like Spam, fried fish, or cured pork belly.
What are the different types of fried rice?
There are many types of fried rice available depending on the region. You can add almost an unlimited amount of ingredients to fried rice. While traditional Chinese fried rice can have ingredients like carrots, peas, eggs, and soy sauce, Filipino fried rice is a simpler form of fried garlic and rice.
What is Sinangag English?
Sinangag in English is garlic fried rice, which is typically made by stir-frying garlic and day-old rice in a pan.
What rice is best for fried rice?
Many people like to use long grain Jasmine rice for fried rice because it's not as sticky and the grains typically keep their shape. However, I like the texture of medium and short-grain rice the most. I found that fried rice works for many different sizes as long as you make sure to break the day-old rice grains before stir-frying them.
Easy Garlic Fried Rice (Filipino Sinangag)
This super easy to follow garlic fried rice recipe is a popular and traditional Filipino dish for breakfast and after you make this recipe, it is bound to be a family favorite.
Ingredients
Garlic oil (makes 12 oz)
2

bulbs of garlic

minced

1

c

vegetable oil
Garlic fried rice
2

c

cooked rice

preferably day-old

4

tbsp

garlic

from garlic oil above

2

tbsp

oil

from garlic oil above

1

tsp

salt

adjust to taste
Instructions
Garlic oil
Peel all the garlic cloves and add them into a food processor. Pulse until all the garlic pieces are minced. You can also use a garlic press to mince the garlic. If you don't have either, you can use a knife to mince the garlic into very tiny pieces.

In a mason jar or a glass airtight container, add the minced garlic and top with vegetable oil until the oil is at least one inch above the garlic.

Marinate the garlic in the oil for at least 30 minutes to infuse. Keep in the fridge for up to a month. As you use the garlic oil, top with more vegetable oil if necessary.
Garlic fried rice
Prep your rice by using a fork or your hands to break apart some of the rice grains.

In a large pan over medium heat, add 4 tablespoons of minced garlic and 2 tablespoons of the garlic oil in the pan. Adjust these measurements if you want more garlic or oil. Saute garlic until golden brown.

Stir in your rice and continue to cook for another two to four minutes or until the rice is warm and crisp. Stir occasionally and make sure all the rice is coated in the garlic oil. Sprinkle in salt and adjust based on your preference.

Serve immediately with eggs. If you have leftovers, you can keep it in the fridge for up to 3 days and reheat in the microwave.
Nutrition Facts (per serving)
Calories:
176.5
kcal
|
Carbohydrates:
24.9
g
|
Protein:
2.6
g
|
Fat:
7.3
g
|
Saturated Fat:
0.6
g
|
Sodium:
583.5
mg
|
Potassium:
59.7
mg
|
Fiber:
0.5
g
|
Sugar:
0.1
g
|
Vitamin C:
2.5
mg
|
Calcium:
22.4
mg
|
Iron:
0.3
mg
Nutrition Facts
Easy Garlic Fried Rice (Filipino Sinangag)
Amount Per Serving
Calories 176.5
Calories from Fat 66
% Daily Value*
Fat 7.3g11%
Sodium 583.5mg25%
Potassium 59.7mg2%
Carbohydrates 24.9g8%
Protein 2.6g5%
Vitamin C 2.5mg3%
Calcium 22.4mg2%
Iron 0.3mg2%
* Percent Daily Values based on a 2000 calorie diet.
Like this recipe? Subscribe to my newsletter!