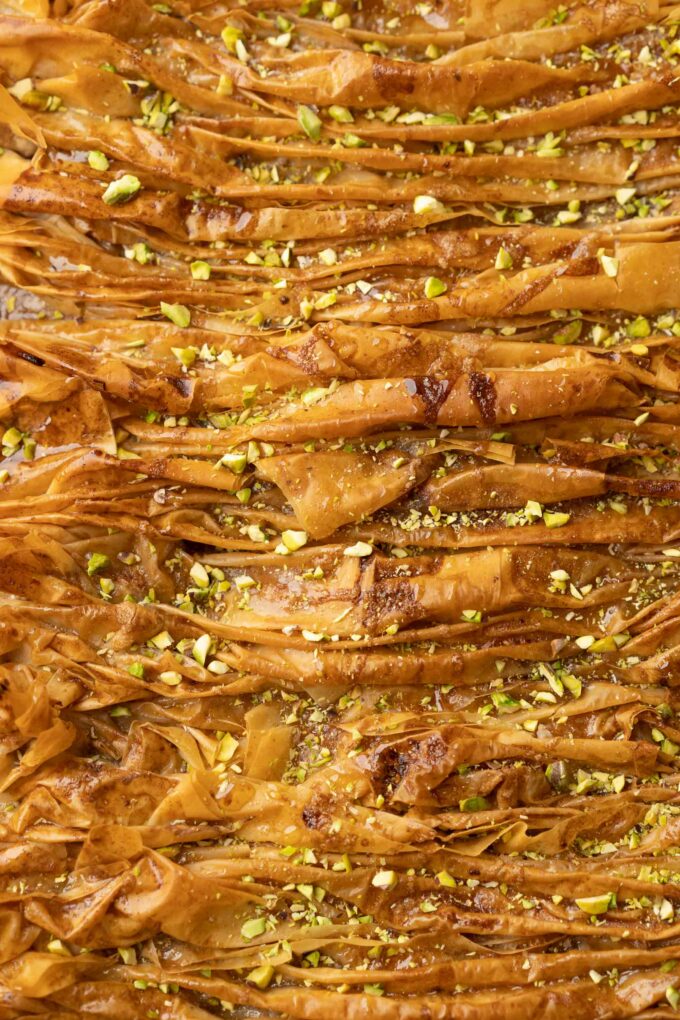 If you've ever experienced delicious Middle Eastern desserts like baklava, you know the allure of crispy phyllo dough paired with a tender flavorful filling. Like baklava, this viral TikTok crinkle dessert actually originates from Middle Eastern desserts but with a twist of an ultra-crispy phyllo shell and a custardy center.
This is perfect to make at home for your next dinner party.
What is this popular crinkle dessert on TikTok?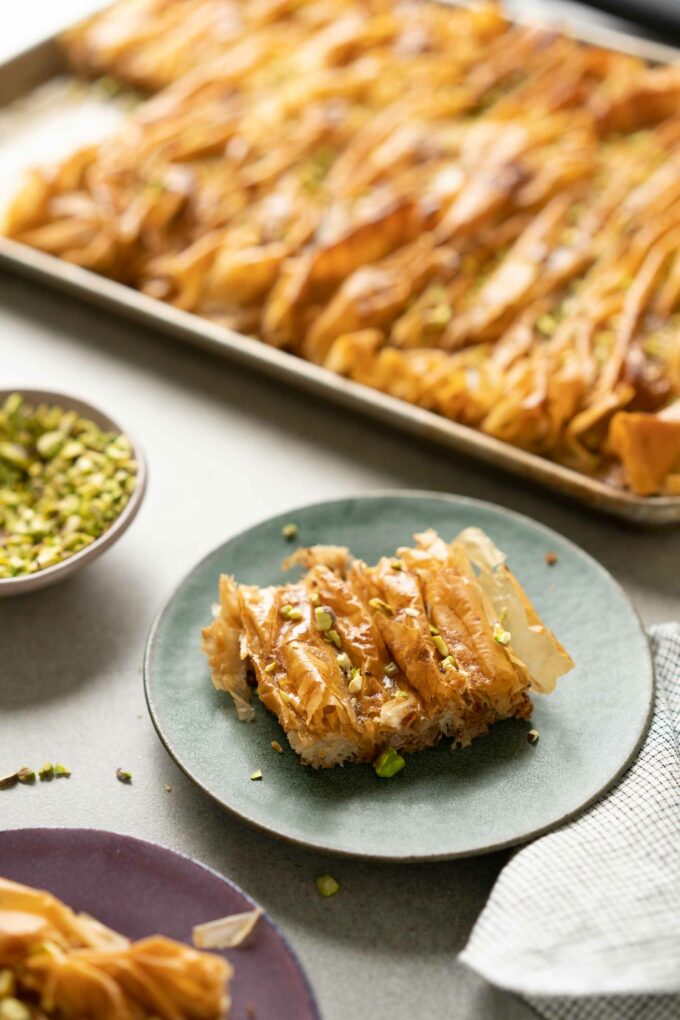 I first found out about this crinkle dessert from TikTok and was obviously mesmerized by the extra crispy top layer and custard center. It definitely is mouth-watering to watch the TikToker Ramena talk about this dish–her most popular baking dish she used to sell.
While this is Ramena's #1 seller, she actually explains it's a Middle Eastern dessert called muakacha. It's made from phyllo dough covered with melted butter and custard. Muakacha is an Arabic word and means "wrinkled," which makes total sense when you see the dessert. 
Ingredients in the crinkle dessert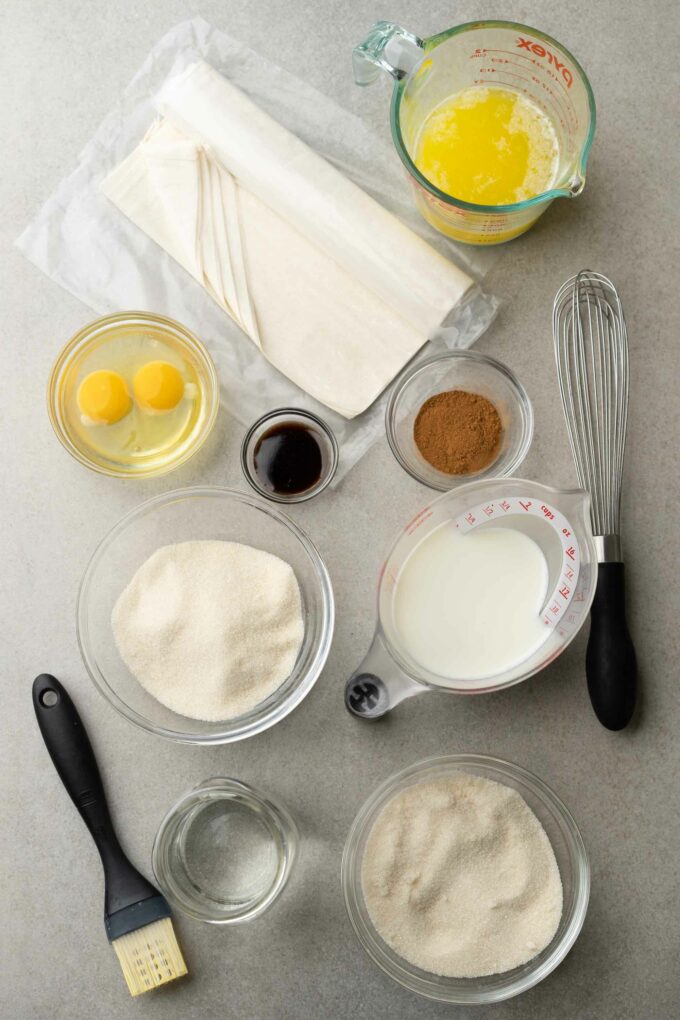 The ingredients of Ramena's crinkle dessert are fairly common with phyllo dough, butter, sugar, milk, vanilla, and water. However, in the traditional muakacha version, there are also ingredients like pistachios, rose water, cardamom, and orange blossom. 
What is phyllo dough?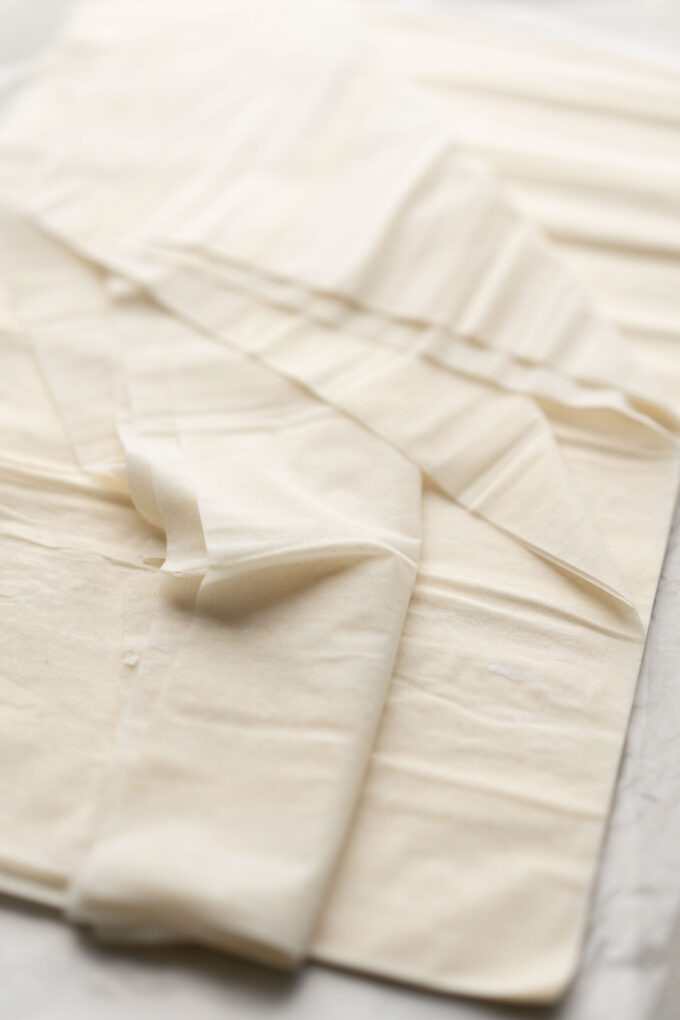 Phyllo (or filo) dough is a super-thin, unleavened dough that is popular in many Middle Eastern and Mediterranean foods. Making phyllo by hand is a rigorous process because it takes lots of skill to roll out such thin layers of dough without breaking them.
We recommend buying them at your local grocery store. Just make sure you are buying phyllo dough and not pastry dough which is completely different. Our favorite phyllo brand is Athens.
How to make the TikTok crinkle dessert?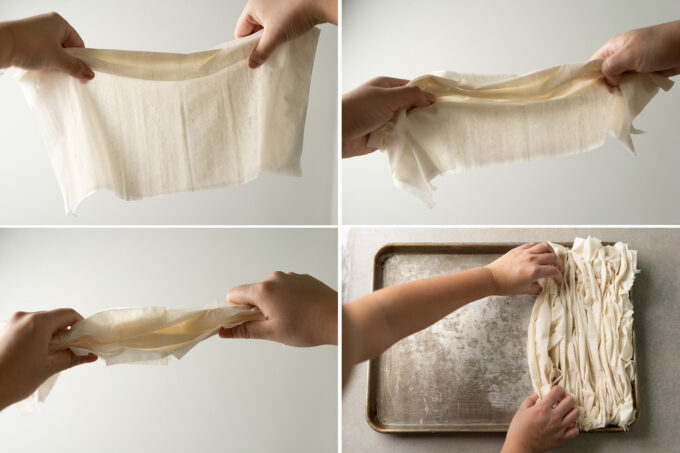 To make the crinkle dessert, or muakacha, preheat the oven to 350 °F. Melt the butter and take a brush, and put a thin layer of butter on the sheet pan. Unwrap the phyllo dough after it's defrosted. 
Take two pieces of phyllo dough and hold them horizontally. Use both hands to hold up the phyllo dough in front of you so that it's hanging. Gently take your fingers and begin to fold or crinkle the phyllo dough from the top down like an accordion, so that you end up with a scrunched-up piece of phyllo dough. They should be about the height of the sheet pan.
Locate the shorter end of the sheet pan (aka the length of the sheet pan should match the length of the scrunched-up phyllo dough) and place the phyllo dough layer at the edge of the pan. Repeat scrunching the next two phyllo layers and butt it against the first scrunch of phyllo layers. Continue to add more layers until it's full.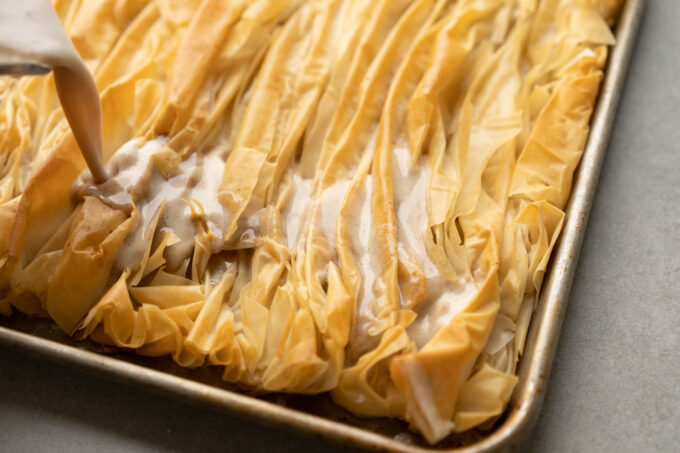 Place the sheet pan in the oven for ten minutes to get the phyllo dough crispy. Remove the pan and then add the melted butter over the layers of phyllo dough and place the pan into the oven for another ten minutes.
In a mixing bowl, combine all the custard ingredients and whisk until incorporated. Remove the pan from the oven and evenly coat the phyllo with the custard mix. Place it back in the oven for about 15 minutes and then turn the pan around to get adequate heat distribution. Bake for another 10 to 15 minutes until it's golden brown.
During the last 10 minutes, make the simple syrup by adding sugar and water over a pan. Cook the syrup for about eight to 10 minutes until it's semi-thick like maple syrup. After the crinkle dessert is crisp and golden brown, drizzle the simple syrup over the dessert and serve!
Tips for making the perfect crinkle dessert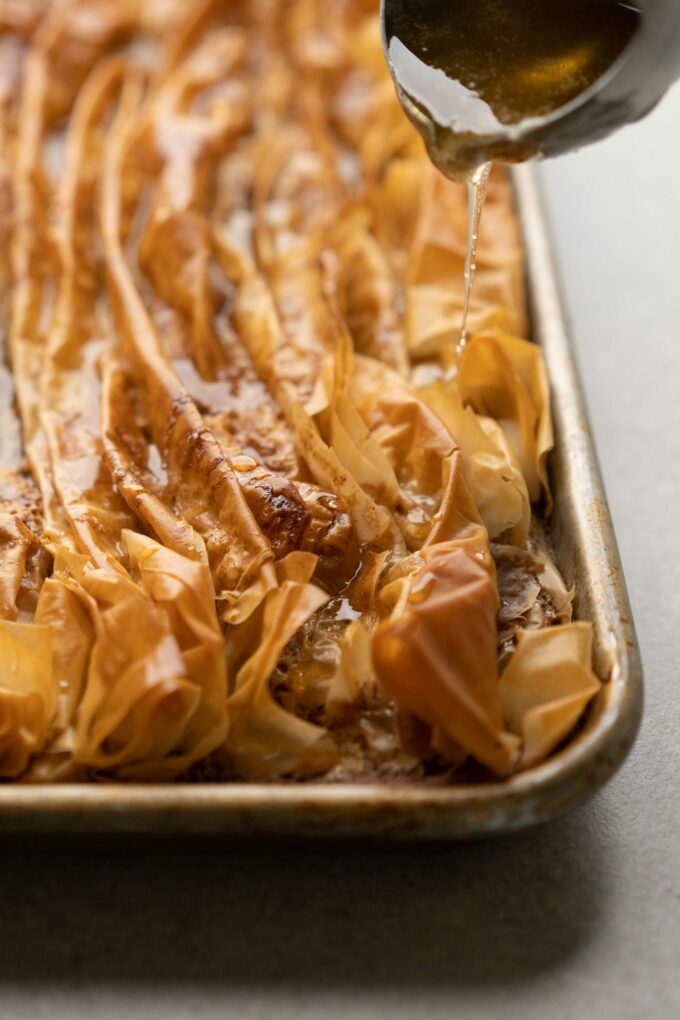 Here are some tips on how to make the perfect crinkle dessert:
Allow the phyllo dough to defrost fully before starting to scrunch or you'll end up with a bunch of torn pieces.
Only use two pieces of phyllo dough per crinkle because if you use too much it won't be crisp. Crinkling each layer also takes time, so I wouldn't use one layer of phyllo dough per crinkle because it will take a long time to assemble.
Be aware of what type of dish or pan you are using for baking the crinkle dessert. Ramena uses an aluminum take-out pan because it's what she used during her bakery days. Try to use a metal pan so that the bottom of the crinkle will cook properly. I tried a glass dish and it made it soggier.
Use whole milk for the custard. I originally used 2% milk and the consistency of the custard was more watery than using whole milk.
The simple syrup should be a slightly thick consistency and I found this was best at about 8-10 minutes of simmering over medium heat. Some recipes use a higher sugar ratio of 2:1 for sugar and water, but I found that to be too sweet for the pastry. I prefer a 1:1 ratio instead.
How to serve and store this crinkle dessert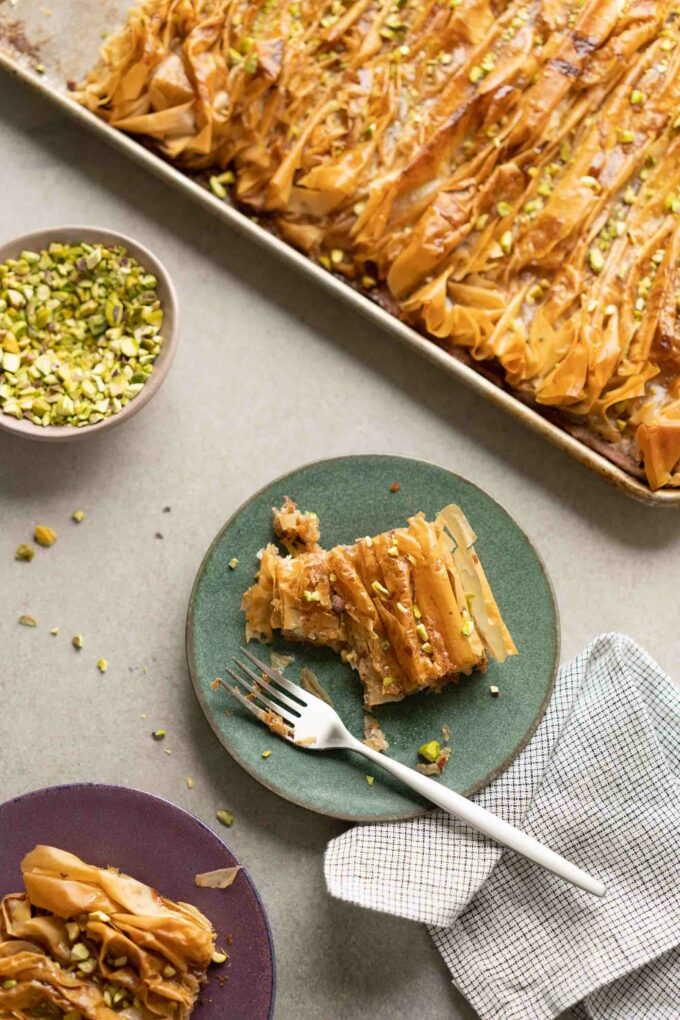 Traditionally, muakacha is served with toppings of pistachios, cardamom, and/or sugar syrup among other things. Adding different toppings is up to you and your preferences. Ramena has even mentioned she's made a Fruity Pebbles version and she's also tested white chocolate pear, too. I prefer topping it with crushed pistachios and eating fresh fruit like strawberries.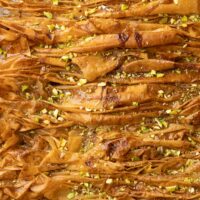 TikTok Crinkle Dessert (Muakacha)
Extra crispy pieces of phyllo dough and sweet custard centers, this crinkle dessert is also known as muakacha is a delicious Middle Eastern treat that's simple to make at home.
Ingredients
Phyllo
1

c

unsalted butter

melted

1

box

phyllo pastry sheets
Custard
1

c

cane sugar

2

large

eggs

1

tsp

vanilla

2

tsp

cinnamon

1

c

whole milk
Equipment Used
sheet pan

microwavable bowl

mixing bowl

saute pan

spatula
Instructions
Preheat the oven to 350 °F.

Melt the butter in the microwave or in a pan on the stove. Lightly coat the sheet pan with butter, about two tablespoons.

Take two pieces of phyllo dough and hold them up horizontally. Fold or scrunch the pieces from the top down in an accordion shape until you reach the end. Place the scrunched-up piece of phyllo dough onto the edge of the sheet pan that has the same width. Continue with all of the pieces of phyllo dough.

Place the sheet pan into the oven for 10 minutes. Remove the sheet pan and evenly pour butter over the phyllo dough.

Place the sheet pan back into the oven for another 10 minutes. In a mixing bowl, combine the custard ingredients until fully incorporated.

Remove the sheet pan and pour the custard evenly over the phyllo dough.

Place it back in the oven for 15 minutes, then turn the pan in the oven. Cook for another 10-15 minutes until golden brown.

During the last 10 minutes of cooking, make the simple syrup. In a pan over medium heat, combine the sugar and the water and stir. Cook for about 8-10 minutes or until it's slightly thick like maple syrup.

Remove the sheet pan and drizzle with the simple syrup. You have the option of adding ground pistachios on the top and serving with fresh strawberries on the side.
Nutrition Facts
Calories:
403.61
kcal
|
Carbohydrates:
54.54
g
|
Protein:
4.54
g
|
Fat:
19.07
g
|
Saturated Fat:
10.91
g
|
Polyunsaturated Fat:
1.12
g
|
Monounsaturated Fat:
5.64
g
|
Trans Fat:
0.62
g
|
Cholesterol:
73.7
mg
|
Sodium:
206.37
mg
|
Potassium:
73.41
mg
|
Fiber:
0.89
g
|
Sugar:
34.45
g
|
Vitamin A:
551.65
IU
|
Vitamin C:
0.01
mg
|
Calcium:
40.64
mg
|
Iron:
1.41
mg
Like this recipe? Subscribe to my newsletter!