Hot and sizzling, fatty pieces of pork with crunchy, sweet purple onions mixed in tangy lime juice and savory soy sauce dressing–this sisig recipe will make your mouth water.
None other than the late Anthony Bourdain claims sisig is the best drinking food, while others will fight with you that nothing beats Korean Fried Chicken for that seat. But in both cases, we all win. With this recipe, learn how to make sisig and treat your guests at your next BBQ!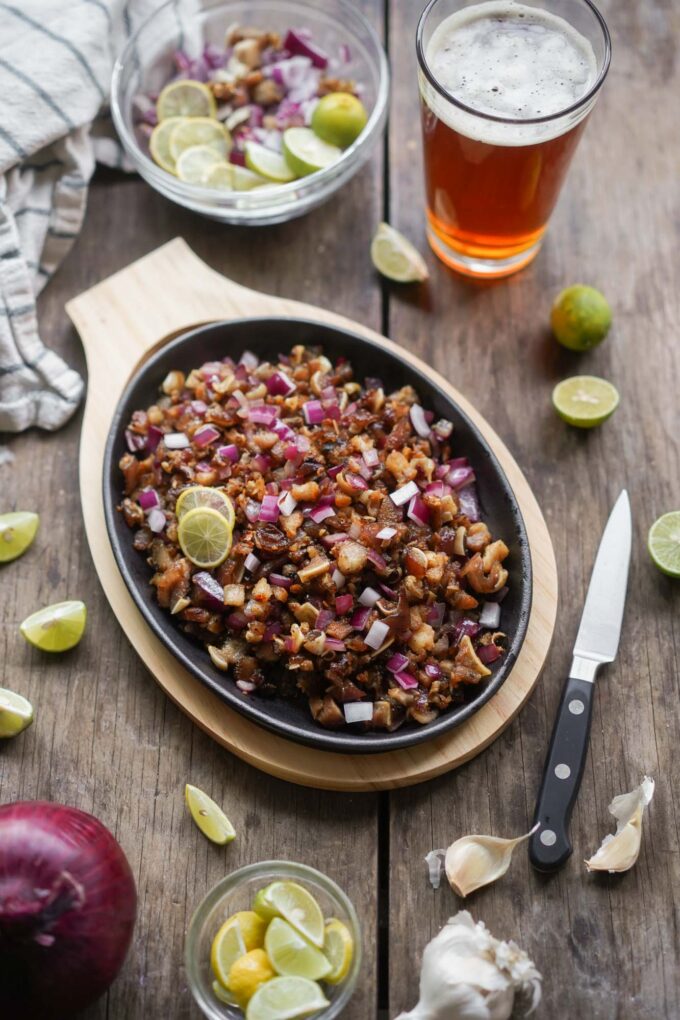 Background
Sisig is a well known Kapampangan dish (or a dish from the Pampanga, Philippines), and it's culinary history has evolved from a sour salad or snack to a sizzling and crispy savory pulutan, or "drinking food," served with beer.
Sisig was originally a remedy to treat nausea or hangovers because it included a combination of sour and vinegared food–something that is still very prevalent in Filipino culture. I have a lot of memories of only eating green mangoes with salty fermented shrimp during my mom's pregnancy with my sister.
It wasn't until the 20th century that the sisig queen herself Lucia Cunanan, or "Aling Lucing," gave us our modern take on meat-centric sisig we know of today. Cunanan used the leftover pig's ears and other unwanted pieces of meat from the American Clark Air Base in Pampanga, chargrilled them over coals, chopped them into small pieces, and mixed it all up with citrus and vinegar juices.
Sisig further evolved with the addition of the hot sizzling plate to serve the dish on to prevent it from getting cold. You can find many different variations of sisig today where people add mayonnaise, include chicken livers, tuna, and more.
Aling Lucing included fatty cheek pieces with the pig's ears and if that doesn't sound like some of the best drinking food, I don't know what to tell you. I have some fond memories of eating sisig at a local karaoke bar in Cebu with my cousins and it's the best way to eat it–with good friends and family, just relaxing and eating.
These days, many Filipino American restaurants feature sisig as a staple and my favorite to get when I'm visiting home is Papa Urbs. Obviously, this isn't a typical option when I'm craving sisig so I learned how to make it at home! Making sizzling sisig at home is a great option for parties that give your guests a special treat especially during summer bbqs.
Cuts of pork to use
While Aling Lucing had an unfortunate fate, she will forever be remembered for her contribution to Filipino food through sisig. Because she was able to take the pieces of pork that were unwanted by the air base (pig's ear/face/cheek) and remake them into completely new dishes, we're able to enjoy sisig.
For this recipe, I chose pig's ear (which you can easily find in Filipino grocery stores like Seafood City or other Asian markets) and pork belly for the extra fatty flavor. You can also add different pieces of pork like the pork cheek, liver, snout, or pork shoulder/butt. These days, I have also seen other variations like chicken or tuna, too. For this recipe, I wanted to stay simple and more traditional.
One thing I do recommend is braising your meat before grilling it to make the meat softer, especially the pig's ear. While this adds an extra step, I prefer doing this to get juicier pieces of meat. I also grilled the meat over a charcoal grill for better flavor. Then, I finished the meat on a cast iron pan directly over the grill to get a nice crispy texture.
Dressing and topping
It's a bit odd to me to explain the toppings as a sauce, since it's more like a dressing (like a traditional salad). The dressing itself is a mix of fresh limes (or calamansi if you can find it), soy sauce, salt, and pepper.
Try to use fresh citrus juice if possible because it really helps cut the fattiness of the pork. While some people use mayonnaise in their sisig, I like to keep the dressing fresh and focus on the citrus flavor with a simple dressing.
I like to add purple onions for a nice sweet flavor and crunchy texture at the end of pan frying. If you like spice, you can also add some thinly chopped peppers too. I serve on a sizzling cast iron plate to make sure the sisig meat stays hot and crispy–there's nothing worse than cold and hardened meat.
Tips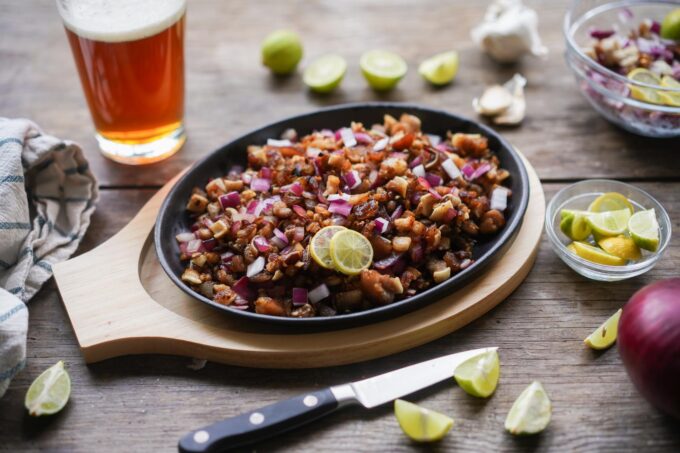 Braise braise braise! Braising is very often used in the Philippines for a good reason. When you are working with tough meat like pig's ear or other meats, you want to soften the meat before grilling and pan frying. I like to braise with aromatics to infuse flavor and season the meat.
After drying your meat from braising, slice the side of the pig's ear to create an opening. This will help during grilling so the ear doesn't bubble up and remains flat.
Use a charcoal grill. While not everyone has this option, I would recommend doing this instead of gas to infuse that smoky chargrilled flavor into the meat. This is how it's traditionally done too.
Chop the meat and use kitchen scissors if you are having a hard time. Pieces like pigs' ears can often be a bit sticky to cut, so it's helpful to use scissors to cut the ear into smaller pieces. You can use a pair of tongs to hold onto the meat while using scissors or a sharp knife with your other hand too.
Use a cast iron on the grill and save time! If you're using a charcoal grill, don't put those coals to a waste. Place your cast iron pan on top and finish cooking the sisig directly over the coals. If you aren't using a charcoal grill or a cast iron, you can also cook over the stove over medium heat.
After pan frying the meat in the cast iron, make sure to cook until you see the edges begin to crisp. Then, remove the pan from the grill or stove before adding in your seasoning and onions. I like to wait to add onions til the very end so they keep their crisp texture and fresh flavor that pairs well with the sisig meat.
Cut extra calamansi or limes to add more while you are eating. I find that no matter how much juice I add during seasoning, I always want more while I'm eating because it's so delicious.
What does sisig taste like?
Sisig has a combination of savory and fatty flavors from the grilled pork with a nice layering of fruity citrus from the limes (or calamansi) and sweetness from the purple onions. It's as close to a crispy meat salad as you can get!
Why is it called sisig?
Sisig comes from the word "sisigan" which means to make something sour.
Pork Sisig (Charcoal Grilled, Served on a Sizzling Platter)
This hot and sizzling dish of crispy pork mixed with a fruity citrus dressing is an amazing dish for your next BBQ. A very popular drinking dish, but great on its own too!
Ingredients
Braise
½

lb

(

226.8

g

)

pork face parts

eats, snout, cheek, jowls

½

lb

(

226.8

g

)

pork belly

cut into 1 inch cubes

¼

c

vinegar

3

garlic cloves

smashed

1

bay leaf

1

tsp

salt

16

c

water
Instructions
Braising
In a large stock pot over medium high heat, add in pig face pieces, pork belly, vinegar, garlic, bay leaf, salt, and water.
Grilling
Nutrition Facts (per serving)
Calories:
244.5
kcal
|
Carbohydrates:
1.7
g
|
Protein:
4
g
|
Fat:
24.6
g
|
Saturated Fat:
11
g
|
Cholesterol:
27.2
mg
|
Sodium:
806.7
mg
|
Potassium:
86.6
mg
|
Fiber:
0.1
g
|
Sugar:
0.1
g
|
Vitamin C:
1.9
mg
|
Calcium:
28.4
mg
|
Iron:
0.3
mg
Nutrition Facts
Pork Sisig (Charcoal Grilled, Served on a Sizzling Platter)
Amount per Serving
% Daily Value*
* Percent Daily Values are based on a 2000 calorie diet.
Like this recipe? Subscribe to my newsletter!