This chicken adobo, "adobong manok," recipe will give you bright, peppery, and savory tender chicken that feels like a warm hug–it gets even better when you mix the adobo "sabaw," or soup, with fresh steamed rice. It's a classic Filipino comfort food that is easy to make at home for any day of the week.
It's no wonder it's one of the Philippines' most famous dishes just like chicken inasal, chicken tinola, and pork bbq skewers!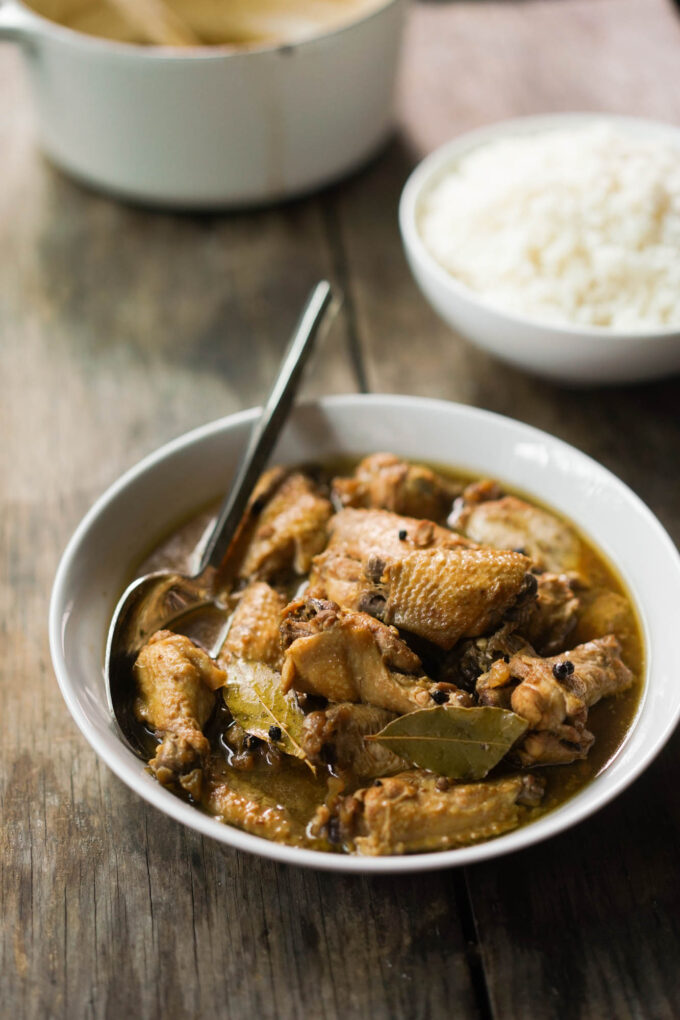 Background
Not to be mistaken with Spanish style adobo that uses paprika and oregano, this Filipino version is something completely different. Filipino adobo is indigenous to the Philippines and each region has its own version, like pork adobo, fish adobo, shrimp adobo, and more.
Adobo is basically a cooking process and dish that can include meats and vegetables that are marinated and cooked in a blend of vinegar, soy sauce, pepper, and garlic. Many regions add different ingredients too, like coconut milk or even turmeric. Chicken adobo is extremely similar to Vietnamese braised pork thịt kho, but with vinegar and a more peppery kick.
When Spanish colonizers saw this cooking method, they noticed how Filipinos used vinegar to marinate meat, which was similar to the Spanish term for marinating or pickling, "adobar." They named it "adobar de los naturales" or adobo of the natives. The inclusion of soy sauce was influenced by Chinese migrants later on.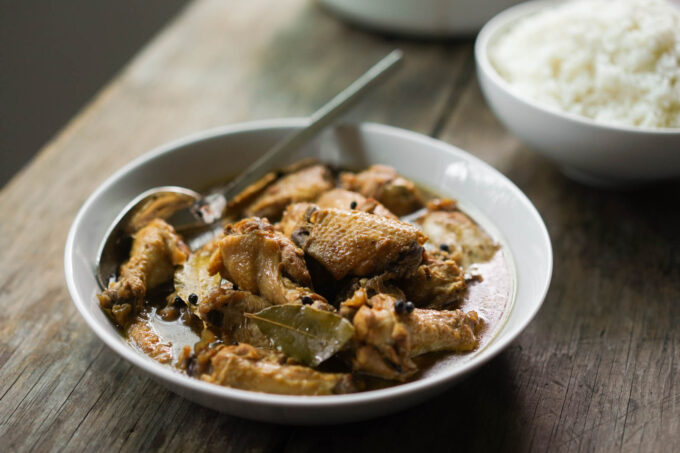 Filipino adobo often tastes sour, salty, and a little sweet compared to Spanish adobo, which can be spicier and offers a different flavor profile based on the herbs and spices used like paprika.
Chicken adobo is probably one of the most popular and well known versions of adobo. For this recipe, I like to stay with the traditional, simple ingredients that give some of the most flavorful, tender pieces of chicken.
The vinegar
Vinegar is one of the most important ingredients for this recipe and I would really recommend going to your local Filipino or Asian grocery store to buy cane sugar vinegar, like Datu Puti Sukang Maasim.

Cane sugar vinegar differs from white distilled vinegar because it's slightly less acidic and more mellow, whereas white distilled vinegar has a sharp and super pungent flavor profile. While you can use white distilled vinegar in chicken adobo, the pungent flavor might come out too strong and you will need to adjust the amount used in a recipe.
If you can't find cane sugar vinegar nearby, you can also substitute with white wine vinegar instead because it has a similar acidity and flavor profile.
Chicken and marinade
I like to eat party wings and drumsticks for this recipe because I love eating bone-in chicken pieces (better flavor and fattier). These pieces also cook faster when braising in a stew. You can also use other pieces of chicken like thighs, my girlfriend's mom chops up a whole chicken into smaller pieces–no waste there! Depending on the thickness of different pieces, you may need to adjust the cooking time–just check for tenderness and internal temperature while braising.
Marinating the chicken is probably one of the most important parts of the adobo process because it helps to flavor and tenderize the meat. While I've seen recipes tout a 30 minute marinating process, I've marinated many chicken recipes (chicken karaage, Korean fried chicken, and cà ri gà) to know that the longer you marinate chicken, the better the flavor. For this recipe, I marinate the chicken for at least 3 hours to get a good amount of flavor, however, I would marinate overnight if I had enough time.
Cooking tips
Here are some tips for cooking chicken adobo:
Marinate the chicken for at least 3 hours. The longer you marinate the chicken, the better the flavor will be once it's cooked.
Keep the marinating liquid to use for braising, but also add enough water to your pot so that it's slightly above chicken and it can braise properly. You want to watch the pot to stir occasionally, taste test, and add more water if necessary. Be careful when stirring so as to not break the chicken meat from falling off the bone.
If you find that your adobo tastes too vinegary and still needs to cook, add one teaspoon of brown sugar to adjust and then taste again. Repeat if necessary.
It's difficult to fix an oversalted stew, so start off by underseasoning and know that your liquid will reduce. You can add water to dilute it, but know this fix will make the stew more liquidy than may be intended.
Like many Filipino recipes, chicken adobo is best served with hot, steaming rice. The strong flavor of chicken adobo pairs so well with the light flavor of rice.
One of my favorite things about chicken adobo is that it gets better the day after! The flavors infuse the chicken overnight and it tastes even better.
What does chicken adobo taste like?
Chicken adobo is brimming with tangy, peppery, and slightly sweet flavors.
What does in adobo mean?
Adobo means "marinate" or "pickle" in Spanish.
What goes well with chicken adobo?
Chicken adobo is best paired with fresh steamed jasmine rice. Chicken adobo also gets better the day before because all the flavors continue to marinate and infuse the chicken meat.
Chicken Adobo (Adobong Manok – Filipino Braised Chicken)
If you want tender and succulent chicken infused with tangy and savory flavors, you'll want to make this Filipino chicken adobo recipe! It's easy to follow and tastes even better the day after.
Ingredients
Marinade
2

lb

chicken

wings and drumsticks

3

tbsp

cane sugar vinegar

Datu Puti brand preferably

¼

c

soy sauce

2

tbsp

garlic (about 10 cloves)

minced

2

bay leaves

½

tsp

peppercorns
Cooking
1

tbsp

vegetable oil

2

tsp

dark brown sugar

1 ¾

c

water
Instructions
Marinade
Prep your chicken. If you have wings, make sure to separate the pieces between the flat and the drumstick to make for easier cooking.

In a mixing bowl, combine the vinegar, soy sauce, minced garlic, bay leaf, and peppercorns. Add the chicken and mix so that each piece is covered with the marinade. Transfer chicken and marinade sauce into an airtight container and place it in the fridge for at least 3 hours. The longer you marinade, the better the flavor is infused into the chicken. The best chicken adobo I've had was marinated overnight.
Cooking
Move the chicken from the fridge to the counter about 20-30 minutes before cooking.

Heat a pot over medium heat and add the vegetable oil. Brown the chicken for about one minute on each side or until the skin turns a light brown. If you can't brown the chicken at the same time, you can do this in batches and transfer the browned pieces on a plate and set aside.

After browning the pieces, place all the chicken into the pot and add the leftover marinating liquid (don't forget the bay leaf).

Add the water and dark brown sugar into the pot and stir. The water level should be right where the top of the chicken reaches, but not above the chicken.

Raise the heat to medium-high (320 °F) and bring the liquid to a boil for about ten seconds and then lower the heat medium-low (260 °F) so that it simmers. Cover with the lid and simmer for 20 minutes.

Remove the lid, stir the contents, and bring the heat up back to medium (300 °F) heat uncovered to reduce the liquid for another 20 minutes.

Check the temperature of the chicken to make sure it reaches 160 °F. Taste test and adjust the soup based on your preference, it should be very savory, tangy, and have enough saltiness. Remember this is meant to be eaten with rice to balance it out.

Tips: If your chicken adobo is too salty, add one tablespoon of water to dilute at a time and taste again. If your chicken adobo is too tangy or has too much vinegar flavor for your liking, try adding one teaspoon of dark brown sugar and taste again.
Nutrition Facts (per serving)
Calories:
383.2
kcal
|
Carbohydrates:
5.5
g
|
Protein:
29.5
g
|
Fat:
26.4
g
|
Saturated Fat:
9.9
g
|
Cholesterol:
108.9
mg
|
Sodium:
1190.4
mg
|
Potassium:
336.7
mg
|
Fiber:
0.5
g
|
Sugar:
2.5
g
|
Vitamin A:
203.2
IU
|
Vitamin C:
4
mg
|
Calcium:
33.6
mg
|
Iron:
1.9
mg
Nutrition Facts
Chicken Adobo (Adobong Manok – Filipino Braised Chicken)
Amount per Serving
% Daily Value*
* Percent Daily Values are based on a 2000 calorie diet.
Like this recipe? Subscribe to my newsletter!