Spaghetti squash is something I've seen online for years before finally giving a try and it certainly paid off. Many years back, my girlfriend was actually craving squash carbonara this week, so I wanted to give it a try. Turns out, this squash is delicious and a great healthy alternative to pasta and we've been eating this ever since!
There are paleo and other 'cleaner' spaghetti squash recipes you could make instead, but if you want to indulge, this is your stop. This spaghetti squash carbonara is packed with cheesey, yolky, bacony goodness.
Prep & cook the spaghetti squash
This is what a 4 pound spaghetti squash looks like. It's huge! You'll only need 2 pounds for this recipe, so split it in half and save the other in the fridge.
Spaghetti squash is a little difficult to cut because of its size and weight, but manageable if you have a large enough knife. It's actually really easy to cut compared to cutting kabocha squash, but you still need to be careful!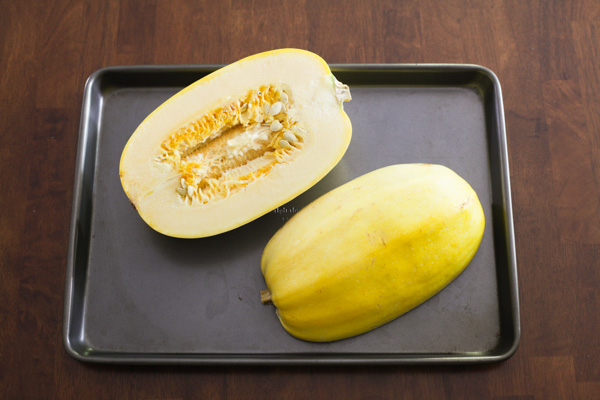 Cut off the stem before halving if you're worried about damaging your knife.
You can bake or microwave this squash to cook it. Seems like most recipes call for over 60-90 minutes of baking, and I did not have patience for that!
I went the microwave route and it turned out great. Just start with ~7 minutes and add 90 second increments, checking the squash between each addition until it's cooked. It's up to you how much to cook it. I like it better slightly al dente and don't want it to turn into mush.
My 2 pound half took about 12 minutes to finish cooking, and since you rubbed it with butter beforehand, it's going to smell amazing!
Check out the strands of squash in the picture below. You can see the direction the strands follow. Pulling it apart with a fork in the direction the strands go helps you get longer strands of "pasta." If you use a spoon it'll cut the strands very short and you'll lose the pasta-like effect.
The bacon
This is the part where your kitchen is taken over by smell of BACON. You can start to render this down while the squash is in the microwave.
I like to render the bacon over medium heat to cook it through evenly without burning any pieces. Then you can use the rendered bacon fat to brown the shallot and garlic to add another layer of flavor.
Spaghetti Squash Carbonara
Popularly made with pasta, this spaghetti squash version replaces the pasta entirely and is packed so full of cheesy and bacony flavor you won't need to go back.
Ingredients
Squash
2

pounds

of spaghetti squash

seeds removed

1

teaspoon

salt

1/2

tablespoon

butter

freshly ground black pepper
Carbonara component
1/2

pound

bacon

cut into small/medium strips

1

tablespoon

minced shallot

2

teaspoons

minced garlic

1/4

cup

white wine or chicken broth

2

egg yolks and 1 whole egg

1

cup

freshly grated Parmigiano-Reggiano

2

tablespoons

chopped parsley leaves

1

teaspoon

salt

freshly ground black pepper
Instructions
Brush the cut surface of the squash with melted butter, season with salt and pepper.

Place on a plate with ~1/4″ water and cover. Microwave for 7 minutes, then add 90 seconds at a time until it's done to your liking. Mine took about 12 minutes.

Let it cool for a few minutes, then gently pull the squash threads out with a fork.

Over medium heat, sauté bacon until just about crispy.

Pour off most of the fat, then add shallots and garlic and sauté until brown. Add your white wine or broth and sauté until the liquid is completely evaporated.

In a mixing bowl, whisk together eggs, cheese, and parsley. Season with salt.

Add eggs to the bacon and warm it up, while continuously mixing to prevent the eggs from fully cooking.

Add squash to the pan and toss until warmed through. Add more salt and pepper if necessary.

Top with some more parsley and serve.
Nutrition Facts (per serving)
Serving:
0
g
|
Calories:
445
kcal
|
Carbohydrates:
14
g
|
Protein:
20
g
|
Fat:
33
g
|
Saturated Fat:
13
g
|
Cholesterol:
140
mg
|
Sodium:
2012
mg
|
Potassium:
361
mg
|
Fiber:
3
g
|
Sugar:
5
g
|
Vitamin A:
740
IU
|
Vitamin C:
7
mg
|
Calcium:
354
mg
|
Iron:
1
mg
Nutrition Facts
Spaghetti Squash Carbonara
Amount per Serving
% Daily Value*
* Percent Daily Values are based on a 2000 calorie diet.
Like this recipe? Subscribe to my newsletter!