If you haven't heard of the viral feta tomato pasta on TikTok (and all the other social media networks it has exploded onto), let me introduce you to your next favorite meal. This popular pasta dish was created by Finnish blogger, Jenni Häyrinen, and it's full of juicy cherry tomatoes, tangy feta cheese, al dente pasta, and topped with fresh basil leaves.
What is the viral Tiktok baked feta pasta?
When this feta cheese pasta went viral on Jenni Häyrinen's TikTok, it was reposted everywhere overnight. And why not? It's a super simple baked pasta dish that uses a whole block of feta and tomatoes as its main flavors. It's delicious, it's pretty, and you get to slap a whole feta block into the pan.
Ingredients in the Tiktok baked pasta
To make this TikTok baked feta pasta, you only need a handful of ingredients because it's so easy: cherry tomatoes, feta, olive oil, seasonings, and pasta. We were able to find the majority of these items at our local grocery store.
If you're having trouble finding feta cheese blocks, we recommend going to Sprouts supermarket because they have a variety of choices.
The best tasting tomatoes for this recipe
This feta tomato pasta works best with cherry tomatoes because they have a sweeter flavor than other varieties. They also stay plump and juicy during the baking process. After growing tomatoes in pots, we've learned that tomatoes taste best during the growing season aka spring and summer.
But if you aren't able to get ahold of these tomatoes at the farmer's market during the growing season, you can still use organic cherry tomatoes from the grocery store. Just note that off-season tomatoes that are imported may taste a bit more tart or less flavorful.
How to select the best feta cheese for this recipe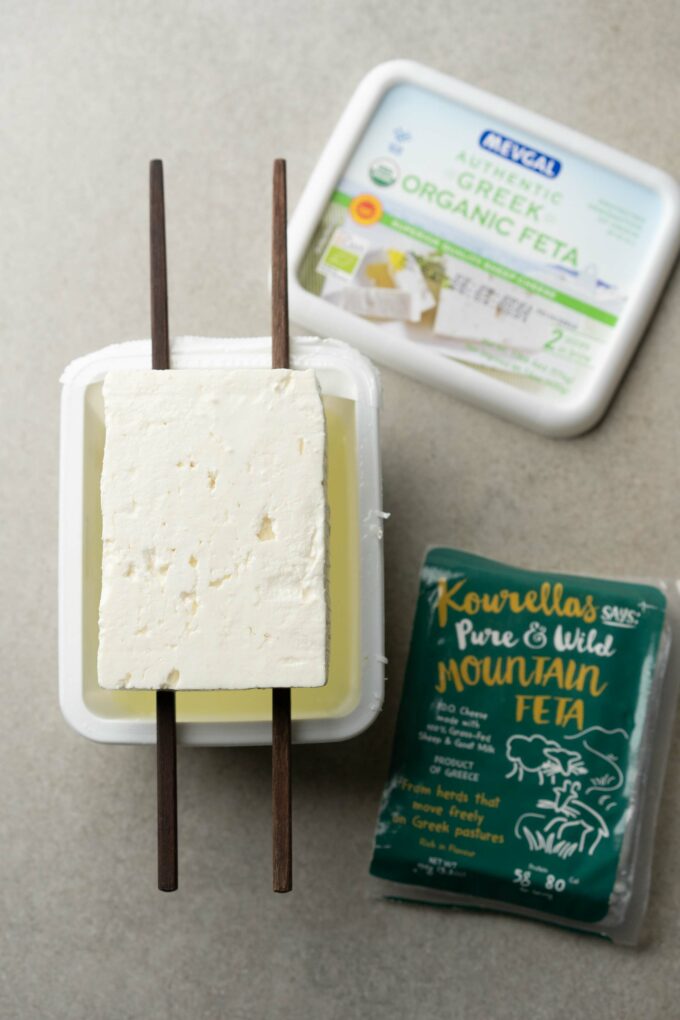 During the heat of this viral TikTok pasta movement, finding feta blocks became such a hassle. Luckily, we were able to find a variety of different types of feta blocks at a local grocery store called Sprouts.
When choosing feta, try to pick a cheese that is in full eight-ounce blocks, made from Greece (so you know it's legit), organic (always, if possible), and white (no yellow tones here). Following these traits will help you find feta that is fresh and tangy in flavor.
Best pasta to use for baked feta pasta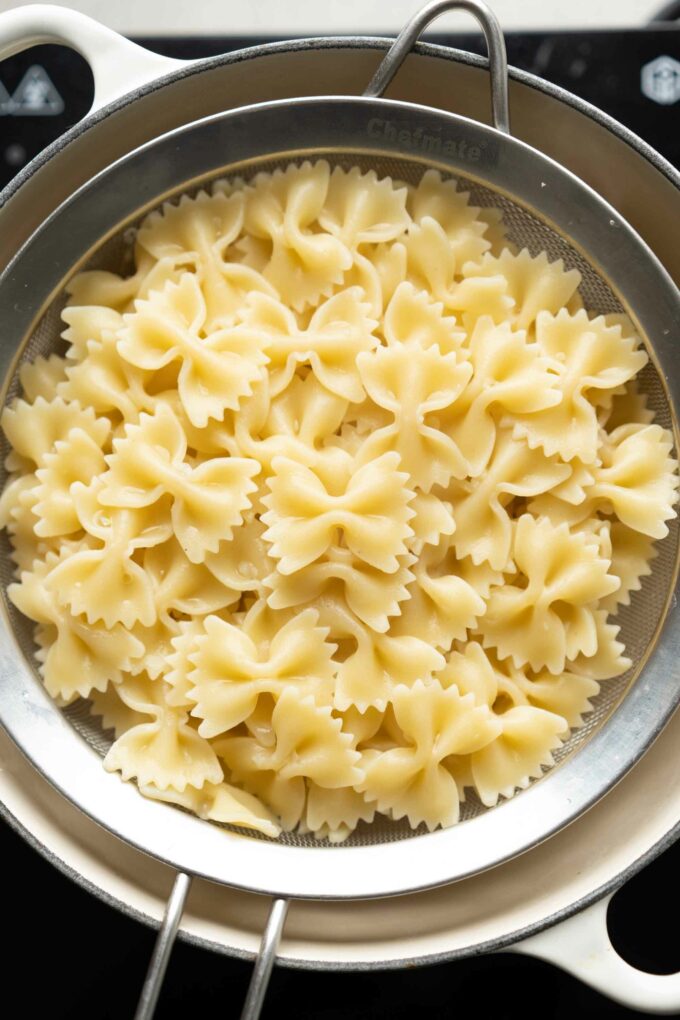 What's great about this recipe is that you can add different types of varieties of pasta. Since this TikTok pasta has a somewhat thick texture and consistency, you can use almost any type of pasta that you prefer. Some of our favorites are spaghetti, bow-tie, fusilli, and rotini. If you're up for the challenge, you can also make your own homemade pasta dough at home.
Baking tips for Tiktok pasta success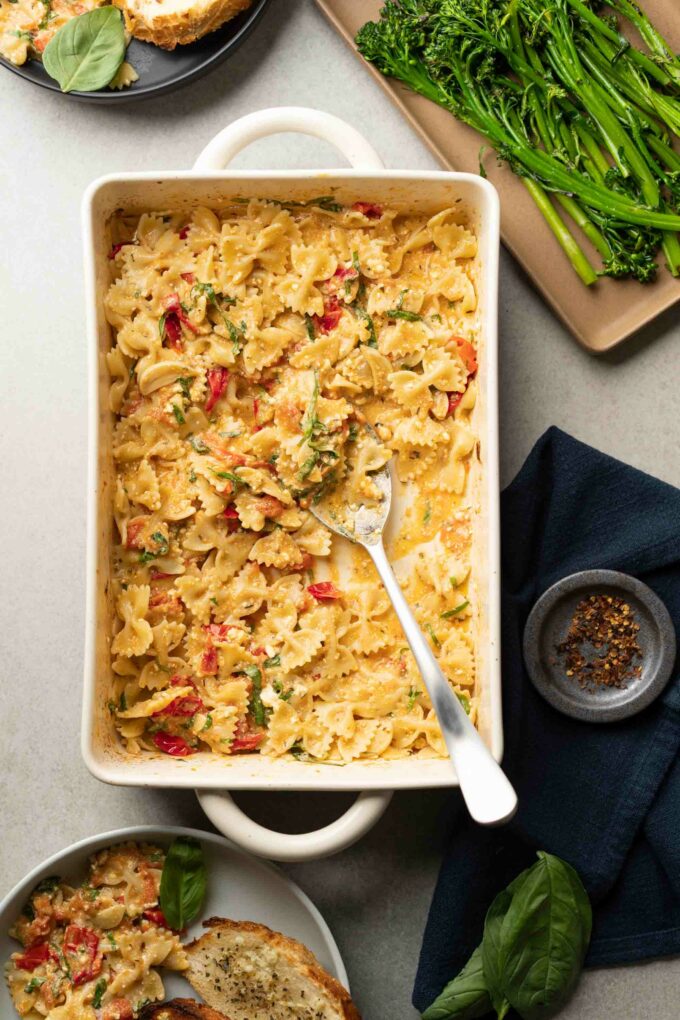 Here are some tips to make sure you succeed on the first try:
Use a large baking dish that fits all the ingredients in a single layer. We used both glass and ceramic dishes and found they baked the tomato and feta at the same time and temperature. The tomatoes and feta will seep out excess juice along with the olive oil and you want enough room for the tasty juices.
Bake the feta and tomatoes at 400 °F because it's hot enough to help blister the tomatoes and soften the feta without over-cooking them. This took about 30 minutes total to bake.
Rotate the baking dish at the halfway point to get even baking and also use this halfway point to start boiling your pasta. This way, the pasta and tomato, and feta will be done at the same time.
How do I add protein to this baked pasta?
You can definitely add protein to this baked pasta too! Here are some of our favorite protein add-ons:
Roasted chicken: save time and buy a pre-made rotisserie chicken from Costco (or your local grocery store) and add it on top of your baked pasta.
Salmon: you can bake your filets of salmon (sprinkled with some salt, lemon slices, and butter) in the oven alongside your pasta for about 15 minutes or until the internal temperature reaches 140 °F.
And while there's no protein in this I love sliced mushrooms: add these sliced mushrooms to your baking dish and bake it along with your tomatoes and feta.
Is this baked pasta dish worth the hype?
Yes!! Not only is this baked pasta dish super simple and easy to make during a busy weekday, but it's also delicious and acts as a great base for more toppings or seasonings you may want. Try adding fresh herbs like thyme or rosemary, slices of shallots, leeks, or red pepper flakes when you try out this baked feta cheese pasta.
If you're on a pasta kick, here are some of our favorite recipes: uni pasta, spinach pasta dough, easy garlic basil pesto, and Asian garlic noodles pasta. If you're a TikTok junkie, you can also make other viral recipes like green goddess salad, crinkle dessert, TikTok ramen, and the tasty salmon rice bowl.
TikTok Baked Feta Pasta
This simple baked feta tomato pasta is perfect for a busy weeknight dinner because it's full of flavor and takes 40 minutes to make.
Ingredients
2

pints

cherry tomatoes

6

garlic cloves

sliced

½

c

extra virgin olive oil

8

oz

feta cheese block

½

tsp

parsley

dried

½

tsp

thyme

dried

½

tsp

oregano

dried

¾

tsp

kosher salt

¼

tsp

black pepper

1

c

fresh basil

optional topping, sliced thinly

red pepper flakes
Pasta
10

oz

dry pasta

your preference

12

c

filtered water

2

tbsp

kosher salt
Equipment Used
baking pan

tongs

Pot

Strainer
Instructions
In a baking pan, add the feta block and tomatoes.

Sprinkle the garlic slices and seasoning evenly over the pan. Drizzle with olive oil.

When fully preheated, bake in the oven for 15 minutes and then rotate the dish (for even cooking) and bake for another 15 minutes or until feta is golden brown (yours may not brown) and/or the tomatoes are beginning to blister and burst.

While your baked tomato and feta are in the oven, cook the pasta. Add filtered water to a pot over medium-high heat with the salt and bring to a boil. Add the pasta and cook the based on the box instructions. Our bow-tie pasta took about 13 minutes to boil to get to an al dente texture.

After the pasta is done, reserve one cup of pasta water and set it aside. Strain the pasta.

Remove the baking dish from the oven and remove the tomato vines with scissors. Use a spatula or tongs to mix the tomatoes, olive oil, seasonings, and feta around.

Add the pasta to the baking and mix until fully coated with the cheesy pasta sauce. If it's a little too thick, you can add some reserved pasta water if necessary, then top with basil and mix.
Nutrition Facts
Calories:
276.76
kcal
|
Carbohydrates:
32.19
g
|
Protein:
6.01
g
|
Fat:
14.21
g
|
Saturated Fat:
1.99
g
|
Polyunsaturated Fat:
1.69
g
|
Monounsaturated Fat:
9.93
g
|
Sodium:
233.98
mg
|
Potassium:
358.16
mg
|
Fiber:
2.14
g
|
Sugar:
3.93
g
|
Vitamin A:
745.84
IU
|
Vitamin C:
28.43
mg
|
Calcium:
32.9
mg
|
Iron:
1.55
mg
Like this recipe? Subscribe to my newsletter!