Swirling bright green & silky strands of spinach pasta is one of my favorite things to pair with a nice creamy sauce or even a nice pesto. All you need for this homemade spinach pasta dough are five basic ingredients: spinach, oil, water, all-purpose flour, and salt.
While you can make a traditional pasta dough recipe from scratch with eggs, this pasta is a great option for anyone who loves that extra fresh flavor of spinach and may not have eggs on hand or have dietary restrictions.
Types of flour
Like many types of pasta, there are various types of flour you can use to make fresh pasta dough. In my basic pasta dough recipe, I used 00 flour because I wanted a smoother pasta. Since this spinach pasta recipe will incorporate pieces of spinach in the dough, I didn't necessarily need an extra smooth texture. All-purpose flour is also much more accessible and most people will already have this in their homes.
Prepping the spinach
To process spinach, you need to blanch the spinach before making your dough. If you don't cook the spinach, it can give your pasta a slightly bitter taste. In a saucepan over medium heat, add the spinach and cook until it wilts, this should only take about one minute.
Strain the spinach under cold running water to stop the cooking process, then use a strainer and slightly squeeze it to remove extra water. Make sure to save this excess water though, you may need it later.
In a food processor, add the spinach, water, and oil to make the spinach liquid. Then add the flour and salt. Pulse the dough until all the ingredients are fully combined and homogenous, scraping down the sides as necessary. The result should look like small bits of sand.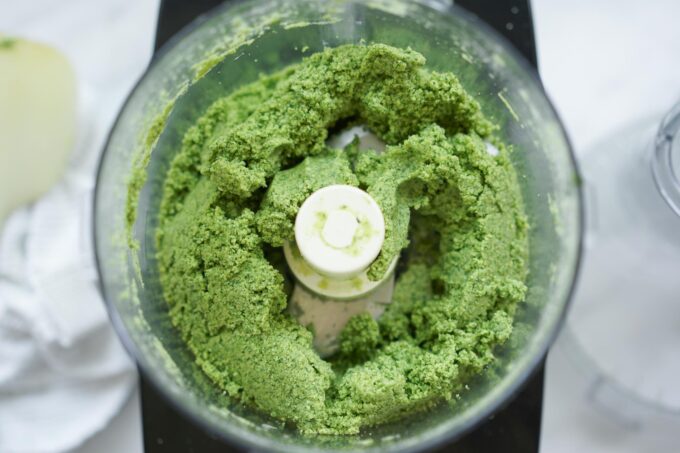 To test the consistency, pinch the dough together and if it holds together, then it's ready. If your dough is too dry, you can add one tablespoon of leftover spinach water and pulse until it reaches the right consistency.
After squeezing out moisture from the cooked spinach, it lost about half of its weight, and I had to add a few spoons of the liquid back to reach this moisture level.
Kneading and resting the dough
Transfer the dough onto a clean surface and use your hands to mold it into a round ball to prepare for kneading. Your dough should feel pliable, but not wet or too sticky. This process should not necessarily need extra flour, but if your dough feels too sticky you can sprinkle some flour and work it into the dough.
Knead the dough. For about eight to ten minutes or until your dough has a nice smooth surface. To knead, press the heel of your hand on the dough and move upwards. Turn the dough 45 degrees and repeat kneading.
Rest dough for 30 minutes. After kneading, wrap your dough with cling wrap and place it in the fridge for at least 30 minutes to rest. After chilling, cut the dough in half and prepare to roll out your dough with a pasta machine. (Keep the other section of dough in cling wrap to prevent it from drying out) While you can use a rolling pin instead of a pasta machine, I would HIGHLY recommend using a pasta machine to give your arms a break.
Rolling out the dough
I use a Marcato – 8320 pasta machine here to laminate and cut the dough. Press the half section of dough with your hands so that it's a flatter shape. Make sure your pasta roller is at the thickest setting: mine is 0. Then push the flattened dough through.
Fold dough into thirds and pass through 0 setting until smooth. Take the dough and make a tri-fold by folding the one side of the dough 1/3rd of the way and then fold the other side on top. Knead by hand again until its just slightly thicker than the widest setting of your roller at its widest setting.
Continue to pass through the lowest setting until your dough is smooth. I like to do this fold and 0-setting pass through about six to eight times. If your dough looks like it's breaking, it may be too wet so you need to sprinkle more dough before laminating.
Reduce the machine's thickness and keep laminating the dough through each thickness setting 1-7. At this point you don't have to keep kneading by hand and rolling through multiple times. Each setting 1-7 only needs one pass without any kneading in between.
You just need to make sure the pasta is not too wet before going through the next level. If its too wet, you can see stretch or crack marks after running it through each setting. A light even dusting of flour may be enough to get it through thinner settings.
If it is still cracking and too wet, you may have to repeat your folding into thirds, or halves and kneading until it can roll through the setting you're on–but you want to avoid having to fix the dough too much at this point.
Cutting the pasta
Depending on the shape of pasta you want to make, continue to pass the dough through the thinner settings until you get your preferred thickness. For fettuccine, I stop at the 7 level setting (about 1 mm).
Then move the handle from the lamination side of the machine to the cutting side. Pass the dough through the fettuccine cutter (these are included in my pasta machine) to cut the pasta evenly.
Flour the cut pasta sufficiently while you cut the rest. Sprinkle some flour on the cut pasta to make sure they don't stick together. Repeat this step with the other section of the dough.
The dough tends to absorb the flour you've sprinkled on so make sure you sufficiently flour it and aerate it so it doesn't stick to itself. It is very difficult or impossible to undo if it sticks to itself.
How to cook the pasta
To cook the pasta, add about eight cups of water to a pot and set to a boil. Remember to salt your water with plenty of salt. It should taste like seawater. Once the water is boiling, add the fresh pasta and swirl with your tongs to prevent them from sticking.
Fresh pasta cooks MUCH faster than dried pasta so this should only take about one to two minutes. Test your pasta to check for the texture, it should be cooked all the way through and soft. Once it's cooked, add it straight to your sauce or mix with olive oil and salt.
Texture difference with vegan pasta
Since this pasta is vegan and doesn't use eggs in the recipe, the texture is slightly different from traditional pasta. While there is a bit of an al dente texture to traditional pasta, this spinach pasta will have a bit of a softer and more delicate texture.
More tips for making this pasta
Here are some tips I've compiled after making spinach pasta:
Make sure to knead the dough long enough to get that smooth texture before resting the dough. If you don't knead enough, it can come out lumpy and take longer to laminate later on.
Take your time laminating the dough, too. Moving up settings too fast can cause your dough to break or split while you are rolling it through the machine.
If you are rolling your pasta dough through the machine and find that your dough is getting longer and longer (like over 24 inches long), but you're still at about halfway to your desired thinness, you can cut it in half and work in batches. It's much easier to handle. Just make sure to cover the cut pieces you're not currently rolling under a damp towel to prevent it from drying out.
Drying for storage
If you want to dry your pasta for future use, I've used several ways of drying pasta:
Hanging drying rack: This is great for cut pasta like fettuccine or spaghetti because it comes with a small stick that helps you transfer the cut pasta from the roller to the poles on the drying rack. The pasta has plenty of room to dry without touching. Depending on the room temperature and thickness of your pasta, drying on a rack could take anywhere from one hour to multiple hours.
Cooling rack: This is a normal cookie or pastry cooling rack. For cut pasta like fettuccine or spaghetti, you can form them into nests so it's easier to pick them up after drying. This process takes longer because of the nest shapes. You also want to make sure you dry the pasta thoroughly because if there is still moisture in the pasta, it can cause mold to grow.
Stackable food drying rack: This is similar to the cooling rack, but these racks are also stackable and you can use it to dry other types of pasta like bow ties or spirals. For nests, I would recommend using a hanging drying rack first for about 30 minutes and then nest them on a flat rack to make sure they dry properly.
Dehydrating machine: This is a BIG shortcut. I recently started drying my pasta in the dehydrator and it's a good way to make sure the pasta dries properly. The only gripe I have is that sometimes the nests get stuck in between the racks.
One important thing to mention about drying pasta is that you need to make sure there is air underneath your drying pasta. Otherwise, there can still be moisture underneath and this can cause mold growth. After you're done drying, you can transfer the pasta in an airtight container. It should last for at least a month.
Is spinach pasta healthy?
Spinach pasta can be considered healthy due to the addition of spinach. However, like all foods, you need to make sure you take into consideration the amount you're consuming as you don't want to load up on too much flour or sauces that pasta is typically paired with.
If you want other options for pasta, here are some of our favorites: TikTok's viral baked feta pasta, uni pasta, easy garlic basil pesto, and Asian garlic noodles pasta.

Homemade Spinach Pasta Dough
This spinach pasta dough recipe will give amp up any pasta sauce with the vibrant color and fresh flavor of spinach added.
Ingredients
110

g

fresh spinach

35

g

olive oil

85

g

water

300

g

all purpose flour

1.5

g

salt
Instructions
Add spinach into a saucepan over medium heat and cook until it's wilted, about one to two minutes of cooking. Immediately move the cooked spinach into an ice-cold bath.

Use a strainer to remove the excess water (save this water for later use in case).

In a food processor, add all spinach, oil, and water. Pulse until fully blended together.

Add flour and salt into the food processor and pulse until the mixture turns into a sandy green texture. Test the dough by pinching pieces between your fingers. The dough should form easily in between your fingers. The dough should be pliable and not sticky. If it's too dry, add one tablespoon of the spinach water at a time and pulse until you get the desired consistency. If the dough is too wet, add one tablespoon of flour at a time and pulse until you get the right consistency.

Move the dough into a clean surface and use your hands to form it into a ball. To knead, use the heel of your hand to press the dough upwards. Move the dough in a 45-degree angle and repeat heel motion. This removes the air bubbles and efficiently blends all the ingredients together to remove lumps. Knead the ball for at least eight to ten minutes or until smooth.

Wrap the dough in a cling wrap and place in the fridge to rest for at least one hour.

Cut the dough in half and leave one half in cling wrap (or a towel) to prevent from drying out. With the other half, use your hands to flatten the dough. Make sure your pasta machine is at the lowest setting or 0, and feed your dough through. Check your pasta dough. If there are tears or rippling, this means your dough is too wet. Sprinkle flour on both sides. Make a trifold with your pasta dough by folding one side a third of the way and then folding the other side on top. Feed the dough through the pasta machine on the lowest setting until the dough is smooth. This should be about six to eight times depending on your dough.

Continue to go through every thickness level until you reach your desired thickness. For fettuccine, I stop at level 6 or 7 (or at about 1 mm thickness).

When you're ready, feed the dough through the fettucine roller and cut the pasta. Repeat with the rest of the pasta dough.

Cooking: In a large pot, add eight cups of water and a couple of tablespoons of salt based on your preference (I like to add enough so it tastes like the sea, yes salty!). Bring this to a boil. Add two batches of pasta into the pot and swirl to prevent the strands from sticking together. Cook for about one to two minutes. Check on the pasta and taste test to know if it's reached your desired softness. Serve with your preferred sauce.
Nutrition Facts
Calories:
356.7
kcal
|
Carbohydrates:
58.2
g
|
Protein:
8.5
g
|
Fat:
9.6
g
|
Saturated Fat:
1.3
g
|
Sodium:
169.8
mg
|
Potassium:
233.7
mg
|
Fiber:
2.6
g
|
Sugar:
0.3
g
|
Vitamin A:
2578.7
IU
|
Vitamin C:
7.7
mg
|
Calcium:
38.5
mg
|
Iron:
4.3
mg
Like this recipe? Subscribe to my newsletter!