Slightly sweet and tangy, tamarind is a tropical fruit that is full of tart flavor that's just as good fresh as it is in savory and sweet recipes. This tamarind paste recipe will give you a concentrated tangy flavor for any recipe that calls for this popular fruit.
What is tamarind?
Tamarind is a fruit that's actually part of the legume family. Yep, you read that right, a legume fruit. But unlike its mild and mushy cousins, beans and peas, it's filled with a sweet and tart flavor that packs a punch. Tamarinds are found on large, slow growing trees that originated from Africa. These days they are predominantly grown and exported from other subtropical parts of Asia like India.
Tamarind has a brown, hard shell that's shaped like a bumpy pea pod that encases a soft, pulpy center where the edible fruit is located—beware though because each pod has a large seed inside. As a child, one of my favorite aunts had a huge tamarind tree in her yard where I would pick the tamarind pods and suck on the fruit, popping out the seeds one by one.
Where to buy tamarind
You can buy tamarind either fresh with its pods still intact, in condensed pulp blocks, in a premade paste or concentrate jar, and many more versions at various Asian grocery stores like Ranch 99, or Mexican grocery stores. Using premade paste or concentrate is the fastest way to incorporate the tamarind taste into a recipe since you don't have to deal with breaking down the pods and removing seeds.
What is tamarind paste?
Tamarind paste is a concentrated and sometimes cooked down paste made of tamarind fruit. For this recipe, tamarind paste is made by soaking fresh tamarind flesh with boiling water, straining it through a filter, and then cooking it down to produce a concentrated tangy flavor.
Tamarind paste uses
While tamarind is delicious on its own as a snack, tamarind paste is also an ingredient in many different types of cuisines, like Vietnamese canh chua, Filipino pork sinigang, or pad Thai. Many of these recipes use tamarind in a paste form that has a condensed sweet and tart flavor. This recipe will show you how to make tamarind paste from scratch using fresh tamarind pods.
Tamarind paste substitutes
If you can't find fresh tamarind, tamarind pulp, or tamarind paste, you can also use lime juice or a combination of vinegar and sugar to substitute for tamarind paste, although it might change the recipe slightly. I like to add some lime juice in my tamarind paste to give it a tangier flavor too.
Whole tamarind pods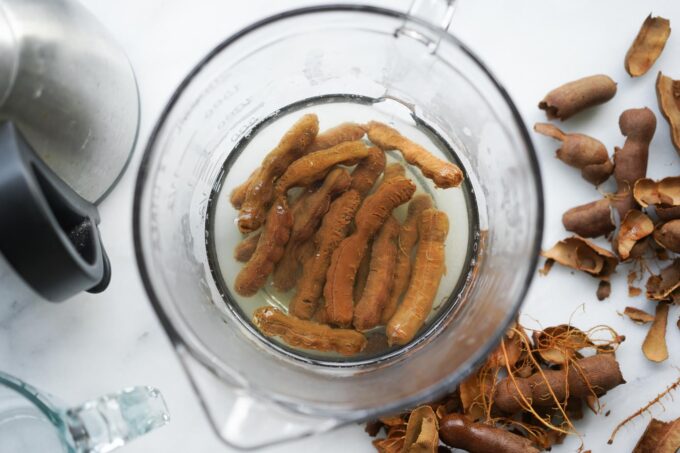 While I was trying to make sinigang, I unfortunately couldn't find premade paste or even the concentrated pulp version of tamarind. I was able to find fresh tamarind pods available at my local Filipino supermarket called Seafood City. These pods were imported from Thailand directly and are a regular item at many Asian grocery stores. You can also buy fresh pods online if you can't find any instore.
Tamarind pulp (solid blocks that need rehydration) 
Tamarind also comes in the form of condensed pulp. These blocks are deshelled tamarind fruit with the seeds removed that include all the fruit in a very dense and compressed cube. This varies from the paste because the pulp is not yet strained or cooked down.
Using tamarind pods vs pulp to make a paste
For this specific recipe, I used fresh pods since they are more available to me through my local Asian grocery stores and I was unable to find tamarind pulp. One point to mention is to use tools that are non-reactive metals since tamarind is very acidic and can damage cast iron or aluminum.
Storage
You can then transfer it to a heat-safe, non-reactive container like glass and wait for it to cool. I typically use my paste immediately in another recipe or leave it in the fridge with an airtight lid. I've kept tamarind paste in my fridge for a few days before I've used it up in a recipe. I try to make this fresh to get the best flavor out of my tamarind.
Tamarind Paste
This tamarind paste from scratch will give any recipe a slightly sweet and very tangy condensed flavor that packs a punch. 
Ingredients
12

pods

tamarind (4-6 seeds per pod)

8

fl oz

boiling water
Equipment Used
strainless steel saucepan
Instructions
Rinse the tamarind pods under running water and peel the shells off along with any veins. You should be left with the soft pulp of the tamarind. Put the tamarind in a non-reactive bowl and repeat until all pods are peeled.

Pour the hot filtered water into the bowl of tamarind, making sure all the tamarind is covered. The water should be around 200 °F. Let the tamarind sit in the hot water for about 30 minutes or until it's cool to the touch.

Use your hands to massage out the fibers and seeds of the tamarind. The water should begin to turn brown and thicken from the tamarind. You can stop once all the seeds have popped out of the flesh.

Pour the tamarind water over a strainer into a bowl and push the excess pulp through the strainer. I like to use my fingers to push the liquid through and massage the fibers.

Pour the tamarind liquid into a small saucepan over medium heat. Bring the liquid to a boil and bring down the heat to a simmer. Continue to simmer for 5 minutes or until the liquid has turned into a paste. You should be able to make a line down the middle of the pan with your spoon or spatula and the paste will stay put. Here's how the final texture should look.

Transfer the paste into a heat-safe container and rest until it's cool. Store in an airtight container in the fridge or use it immediately in a recipe.
Notes
Since tamarind is highly acidic, it's best to use tools and pans that are non-reactive metals (stainless steel) or glass when working with and storing the fruit. 
Nutrition Facts
Calories:
4.78
kcal
|
Carbohydrates:
1.25
g
|
Protein:
0.06
g
|
Fat:
0.01
g
|
Saturated Fat:
0.01
g
|
Sodium:
2.53
mg
|
Potassium:
12.56
mg
|
Fiber:
0.1
g
|
Sugar:
1.15
g
|
Iron:
0.06
mg
Like this recipe? Subscribe to my newsletter!