This dish is one I love because it's packed with flavor and color. I've been eating this for a while now and never considered how to cook Pad Thai. I decided to give it a go (or four)! After dancing with this recipe for a while I learned a few things.
There are very many recipes for Pad Thai available whether or not they are supposed to be "authentic". Some will call for vinegar, some do not use peanuts. Some use multiple types of noodles within the same dish, and some variations do not use palm sugar. Some say shrimp is the only way to go, and some will insist scallions are not to come anywhere near this dish.
It can get pretty dizzying, but in the end it's all about finding what tastes good to you. This is how I do it:
Noodles & Prep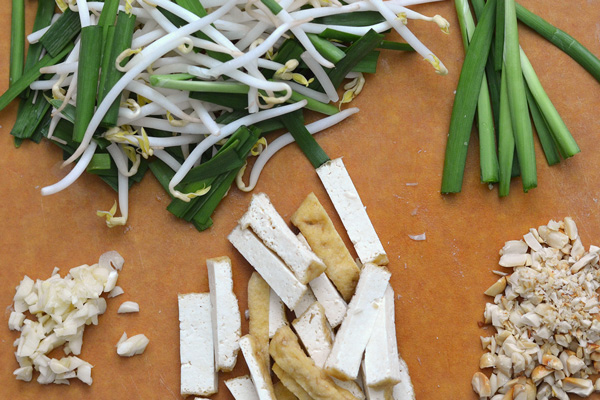 For this entire recipe, please note I split this up into 2 cooking batches since my measly 14″ nonstick pan will absolutely not fit all the ingredients here.
The first thing you should do is soak your rice noodles in room temperature water. This typically takes about 25 minutes to do, so do this first so you can work on the other ingredients.
Get yer Pad Thai mise en place! This will keep you organized / set you free.
Wash the mung bean sprouts and chives, and roughly chop the chives about 1-2 inches long. Chop up the garlic, slice the tofu, and lightly crush or cut up the roasted peanuts.
The Sauce
On to the Pad Thai sauce! For this recipe I'm going with palm sugar. Chop off a block large enough for your recipe. I use a kitchen scale to measure the weight since it's tough to do it any other way. Chop this fairly small so it dissolves faster. It kind of irks me to cut this since it tough. It's like grinding sandpaper on the edge of my knife.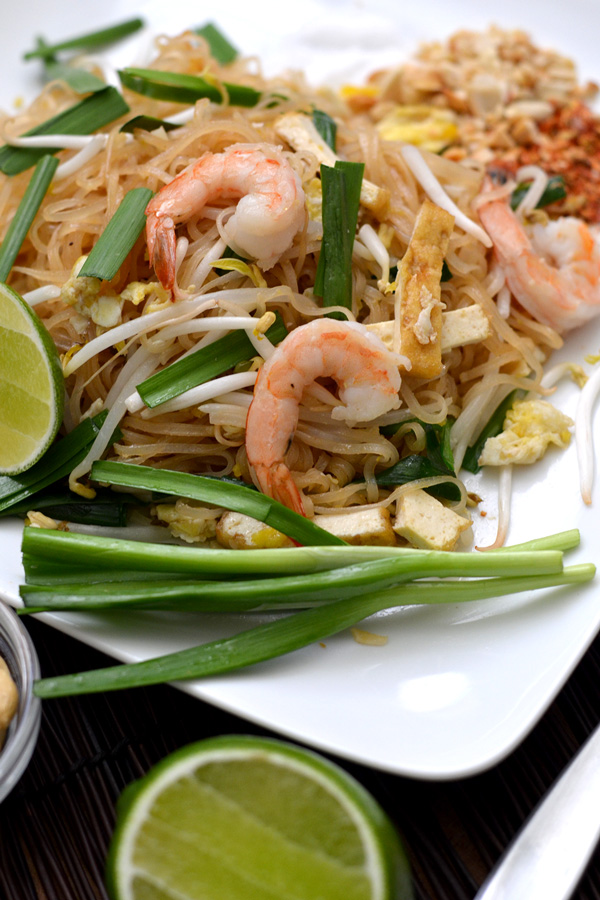 Palm sugar is pretty cheap, but if you don't have an Asian market around it may be tougher to find. A few cooks online suggest you can swap this out with brown sugar, but I have not tried that.
For the tamarind paste, I used a 16oz. block. Soak that in 16oz. of water for about 15 minutes, then mash with your hands or put through a sieve to remove the shells and veins.
Some of my favorite dishes to serve with pad Thai are Thai basil fried rice, pad see ew, Thai iced tea, and mango sticky rice.
Pad Thai
One of the more popularized Thai dishes which I happen to love. This dish has very forward flavors that balance sweet, sour, salty, and spicy for a delightful combination.
Ingredients
Pad Thai
1/8

cup

oil

8

oz.

dry rice noodle

2-4mm wide

1/4

cup

pad thai sauce

2

cloves

of garlic

minced

12

medium shrimp

deveined

2

eggs

1/2

lb.

mung bean sprouts

8-10

stalks of Chinese chives

crushed peanuts

chili flakes

sugar
Instructions
Rice Noodles
Soak your noodles in room temperature water for about 20-30 minutes
Pad Thai Sauce
Make the Pad Thai sauce first by mixing all the ingredients over low heat until dissolved. Set aside.
Pad Thai
Add 1/3 of the oil and sautee the garlic, tofu, and shrimp on medium heat until the garlic is lightly brown. Remove the shrimp and tofu from the pan when done. Add the paprika.

Add the remainder of the oil on medium high heat. Add the noodles and Pad Thai sauce and mix until evenly coated.

Push the noodles to the side and add a little bit more oil if needed, then the eggs. Let the egg set a bit before scrambling them. Continue to mix the noodles so it cooks evenly.

When the noodles are just about done, you can begin to mix in the egg and the tofu and shrimp.

Add the chives and mung bean sprouts and toss just for a few seconds with the heat off. Add peanuts, chili flakes, lime, and sugar to taste.
Nutrition Facts
Serving:
0
g
|
Calories:
376
kcal
|
Carbohydrates:
61
g
|
Protein:
11
g
|
Fat:
10
g
|
Saturated Fat:
1
g
|
Cholesterol:
127
mg
|
Sodium:
735
mg
|
Potassium:
178
mg
|
Fiber:
2
g
|
Sugar:
11
g
|
Vitamin A:
206
IU
|
Vitamin C:
10
mg
|
Calcium:
59
mg
|
Iron:
2
mg
Like this recipe? Subscribe to my newsletter!